For many years Sportquest Holidays have searched the world high and low so we can bring you some of the most exciting fishing destinations known to mankind and not always do we have to look far. Some of the best waters can be found by only travelling a few hours by plane. Places such as the might River Ebro in Spain for the huge Wels Catfish, the sea off the coast of Northern Norway for Cod and Halibut, the mighty Blue Marlin of Madeira and Tenerife and some truly stunning Fly Salmon and Trout rivers in places like Norway and Iceland These are just a few of our most popular short fishing breaks destinations that you can reach from the UK with short-haul flights.
Don't get us wrong, some of the most remote fishing destinations around the world like the Amazon and the seas that surround Christmas Island are some of the best fishing you will find but with the best fishing comes travel and if you are limited to time or simply do not like flying long hours then you really should look closer to home which is why our short fishing breaks do so well. Within only a couple of hours, you could be sitting in warm weather targeting that dream fish and remember that we can organise flights from anywhere in the world to ALL our Short-haul flight Fishing Destinations all you have to do is mention the airport of your choice when you contact us.
We have listed some of our most popular Short-haul flight Fishing Destinations that are a maximum of 4 hour flight times from the UK. If you would like to speak any of the Sportquest Team about these destinations then please do call us on 01603 407596 or email info@sportquestholidays.com.
River Ebro Catfishing in Spain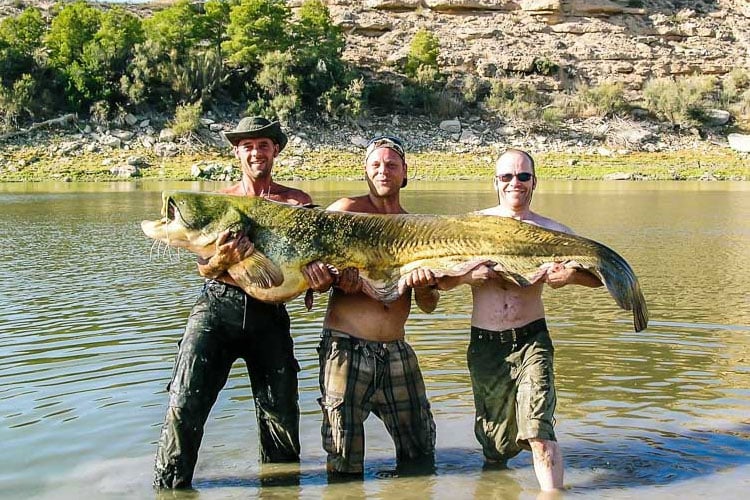 When it takes 3 men to lift your catch you know you've landed a specimen!
Just a short two-hour hop to Spain can see you hooked up to one of Europe's biggest freshwater species, the Wels Catfish. During the best months (April-October) anglers can make the short journey and catch both Catfish and very big Carp in the PB size category. With flights leaving the UK every day it is an easy destination to tailor to your specific criteria to maximise your fishing experience. During the winter months, the Carp are more prominent so if you are looking for a huge river Carp then travel from October to April. We have several different options in Spain so simply call our office and we can discuss some options.
Remember that ALL our Catfishing trips include tackle so you just simply turn up with some clothes, camera and sun cream and leave the rest up to us.
Salmon Fishing in Norway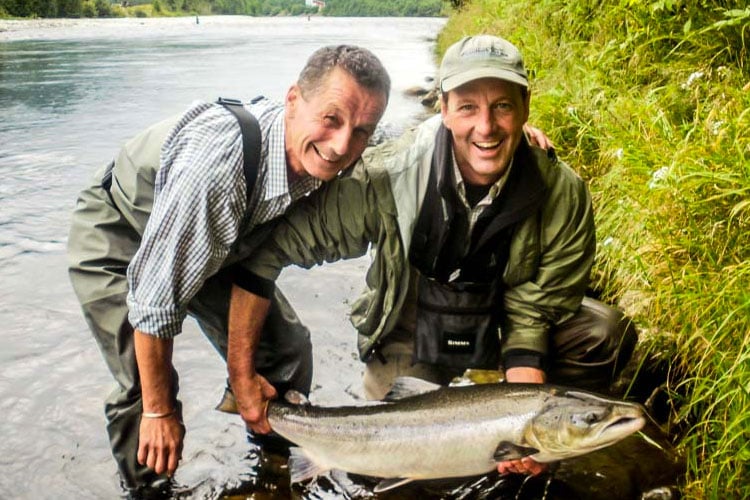 A kyped male Atlantic Salmon from the river Orkla!
If it's top-class Atlantic Salmon that you are after then both Orklagaard Lodge and Winsnes Lodge can provide the goods but we also offer many other lodges in Norway which can all be found here. With direct flights to Trondheim from London and then a short drive to either the Orkla or Gaula rivers Salmon fishing in Europe has never been so easy. Both rivers have been holding their own in what has been tough times for Atlantic Salmon of late, with consistent numbers of medium to large Salmon and would certainly give you the best chance of a 25lb + Salmon within five hours of travel time of London. Fishing runs between June and August at Orklagaard and extends until September at Winsnes Lodge, Both lodges get booked very far in advance so be sure to call and check for up to date availability.
Lake Thingvallavatn in Iceland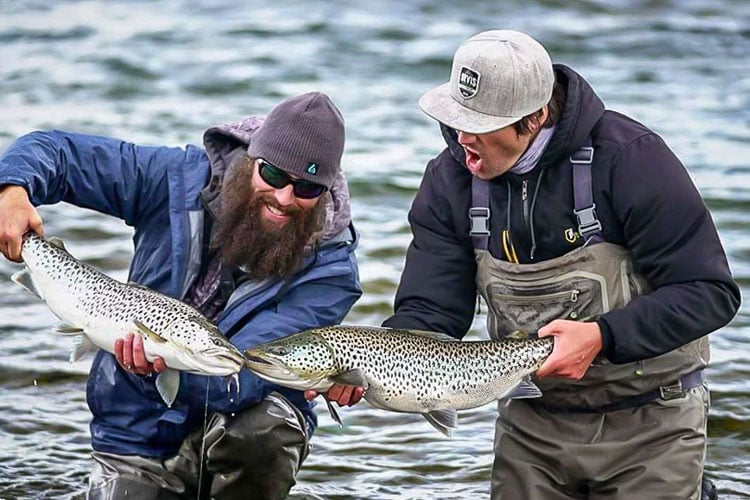 A pair of Lake Thingvallavatn Brown Trout
Who would have thought that a three-hour flight and a one hour drive could bring you to the banks of the worlds best wild Trout lake? There are so many reasons to visit Iceland but as an angler lake Thingvallavatn must be right up at the top, perfect as a short fishing break. The Season runs between April and September with the best big fish action in May and early June. Our Lake Thingvallavatn trip falls in this peak time and is designed to give anglers a really good chance of breaking their PB Brown Trout many times during the week. With Iceland being such an easy place to visit it is another superb place to add extra days to your trip that we are happy to advise and organise for you. We have now added lots of amazing new Lodges in Iceland all offering something different.
Blue Marlin Fishing in Madeira
A stunning Marlin next to the boat after a long hard battle!
Big game fishing destinations are often thought of as trips that you need to travel halfway around the world, but as a big fish destination, Madeira is right up there. It is sometimes hard to get your head around that four hours from a London based flight are sporting fish in excess of 1000lb. These big fish fight exceptionally hard and if you found yourself on a really good fish week you could spend more time in the fighting chair than in your plane seat, not a bad way to spend a short four-day break. The fishing for Blue Marlin runs May to September.
This destination is perfect for those of you who travel with a non-angling partner as the Island of Madeira offers so much more. Please enquire when booking about other non-fishing activities.
Blue Marlin Fishing La Gomera Tenerife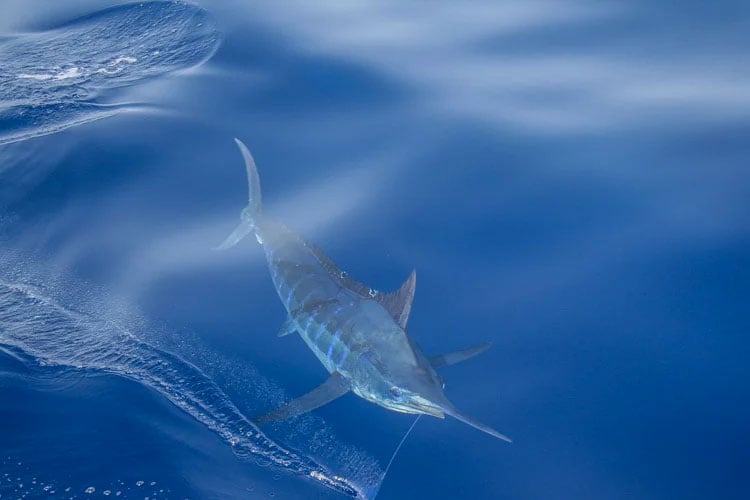 A massive Marlin in the water just before a quick photoshoot and release!
La Gomera is another spot where the fight time can take longer than the flight time. With both Madeira and La Gomera it is always worth calling to see where the best chance of action as the fish tend to migrate between the two destinations depending on the food available. Both are great options for big game anglers looking for a short break with the chance of a massive fish. La Gomera gets a huge run of Giant Bluefins in the early part of the year, from the Middle of February to the middle to the end of April is the best time.
Yet another fantastic destination to take non-angling partners. We can also offer family style resort hotels so if you are looking for that family getaway with a bit of fishing thrown in then La Gomera will fit everyones criteria.
Northern Norway Sea Fishing destinations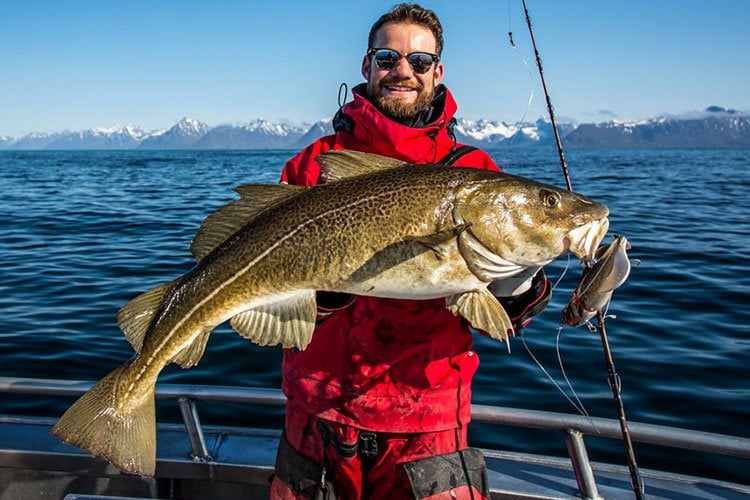 A typical Norwegian Cod
For years Sportquest Holidays have built a reputation in Northern Norway for offering the best locations in this fish packed part of the world, places such as Sørøya, Havoysund, Lofoten Islands, Mefjord, Bodo, Vesterålen, Saltstraumen, Sandbakken, Loppa, Batsfjord, AA-Gård, Mikkelvik, Torsvag and Seiland House are just a few of the top sea fishing Short-haul flight Fishing Destinations we offer. All are only a couple of flights away from the UK and with both these flights only being 2 hours each you will soon arrive at your destination. We have areas in Norway that specialise in certain species so all you have to do is call a member of the Sportquest Team and they can find out from you what species you are looking at targeting then make our recommendations accordingly. Don't worry if you are a single angler as we run many fully hosted trips to most of our Norway sea fishing adventures leaving you to simply worry about reeling in your monster fish.
You can view all our sea fishing adventures here and if you would prefer to sit back and be completely guided then these trips can be found here and if you would prefer to stay on land and fish this amazing place we can now offer fully guided Shore fishing in Norway
So if you are looking for that fishing holiday of a lifetime but a little stuck for time or don't fancy flying halfway around the world then the above Short-haul flight Fishing Destinations will suit you.
Tight lines,
The Sportquest Team
Contact us
If you would like to discuss any of the trips above with our team, you can contact them anytime in the offices on 01603 407596 or by emailing info@sportquestholidays.com and one of our experts will help you along the way. We are sure that if you took the time to look through our entire fishing holidays or our YouTube channel you will find somewhere in the world that would fit your schedule!