This week at Å has been fantastic! The weather has been perfect, with sunshine, calm winds, and temperatures over 20 degrees. Going Halibut fishing in this weather is something truly special. Sitting in the sun waiting for a rod to bend, followed by a rush, is magical and incredibly addictive.
On the first day, Daniel drove the guide boat towards Cod fishing. Once at the mark, there were some instructions to the guests on how to fish before they made their first casts in northern Norway.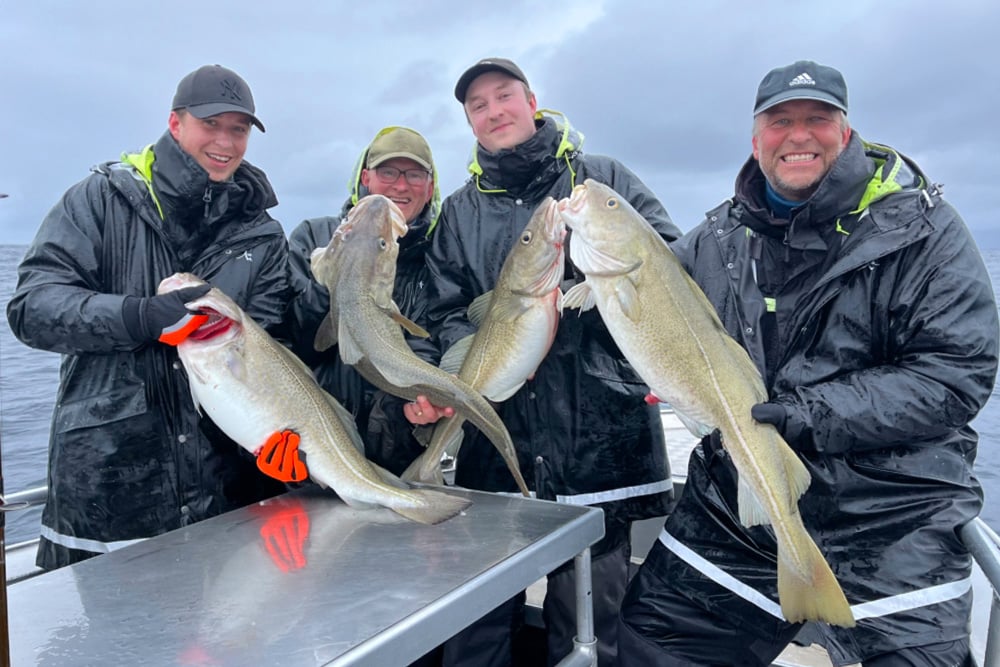 Seeing everyone hit bottom simultaneously and crank up a couple of cranks before being bent into a fish was amazing.
Cod after cod rolled in over the rail, with good-sized food fish around 7-15kg. It was like they were floating on clouds as they, time and again, hardly had time to hit bottom before the next cod was on the hook. After under 2 hours of exceptional fishing, the sight switched to Halibut.
At the Halibut marks, however, it was not quite the same action, and it would take a couple of hours before the first fish was finally in the boat. After that, there was again a dead period followed by a slightly better period where a bunch of contacts and some excellent food fish landed.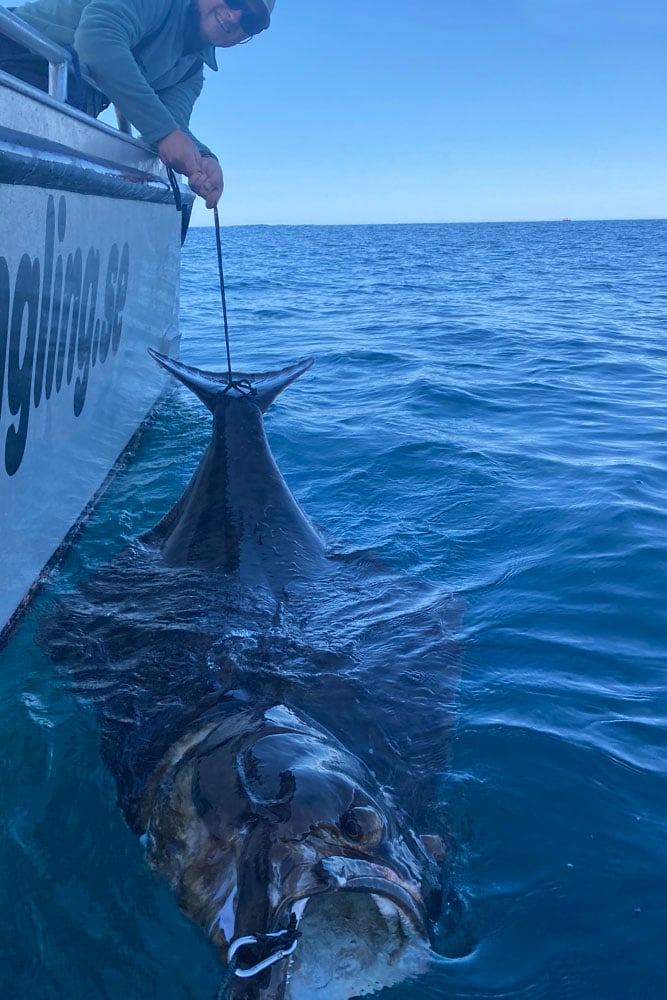 During the week, there have been good Halibut landings in the boats where everyone has managed to pick up one or two nice food fish. There have been several nice fish with a top of 198cm, followed by 180cm and 160cm. These are magnificent fish, and they all swim on after a quick photo. Releasing these sized fish is incredibly important and something we insist on for our guests.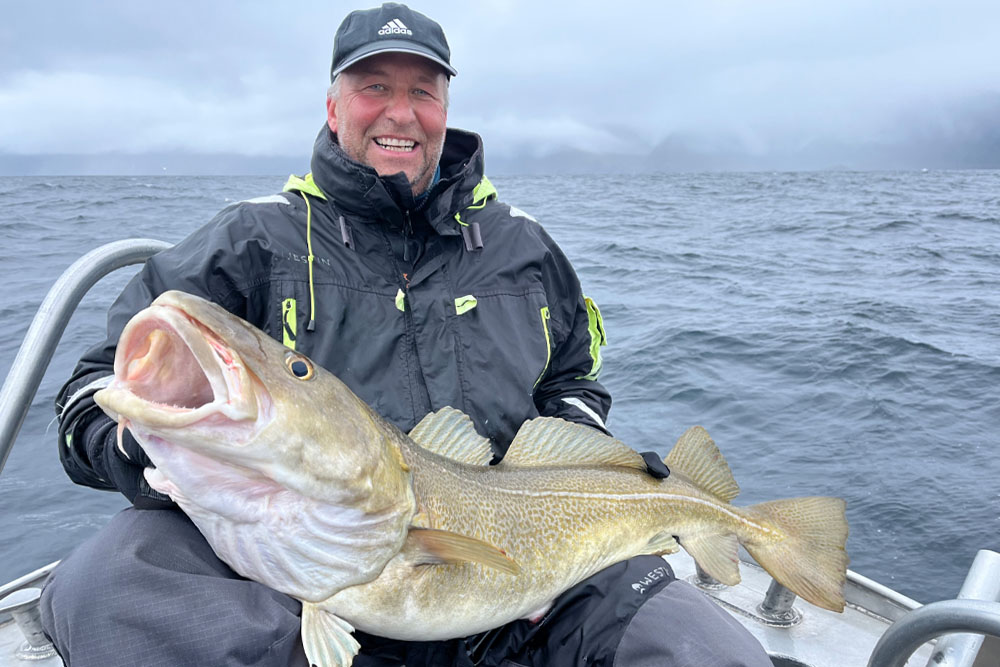 In addition to these incredibly nice top fish, we also want to offer some other good pictures from the week, including when the guide boat pulled nine nice Halibut only 15 minutes from the camp. This fantastic fishing in the local area lets you get the most out of your week and focus a lot on the fishing.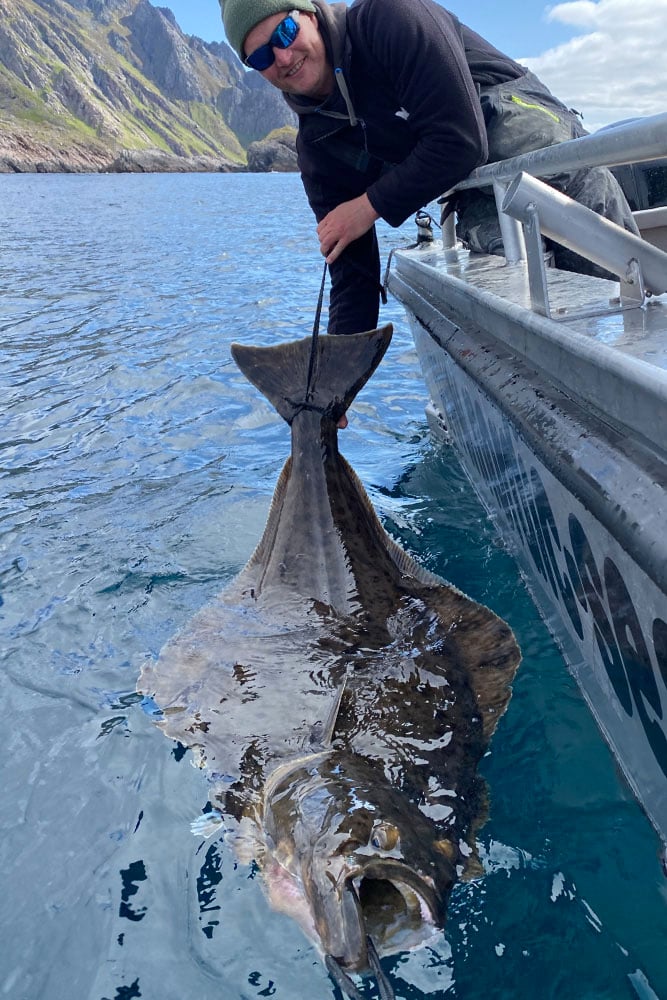 Contact US
If you, like many others, have ever dreamt about fishing the prolific waters of Å on the Lofoten Islands in Norway and would like to know more information on how you can join us, you can contact our sea fishing specialist, Paul Stevens, on 01603 407596 or email at paul@sportquestholidays.com.