The last week on Å has offered nice weather as well as fantastic fish. On the first day, several boats went out for Cod fishing with the guide boat in the lead. Good quantity fishing, but the larger specimens were missing. But anyway, there were a lot of fish in suitable food size around the 5-8 kg class, also a couple of good Halibut were landed with a top of 150 for the Garmin/Omega gang!
Otherwise, the fishing has been stable, with the exception that the mornings and a bit into the middle of the day really delivered strongly, while it died off in the afternoon, what this is due to is difficult to say, but it could be because the incredibly good weather we had with pale and sun for several days.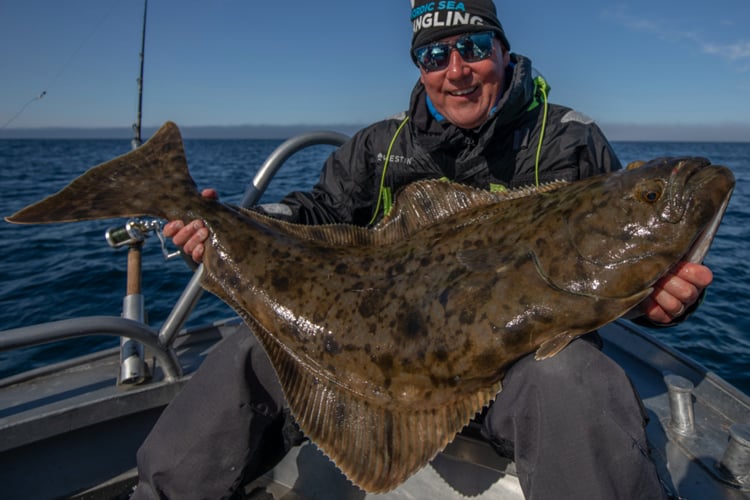 Last Saturday there was full focus on Halibut in the guide boat and at 07 Daniel met the guests at the pier in a t-shirt and sunglasses, Some of the Dutch guests were sitting outside sunbathing and drinking beer after a lovely night shift and it really felt strange that was actually in northern Norway and not in the tropics. After a while of looking for bait fish the fishing could finally start and it didn't take more than a couple of minutes before Dan in the guide boat hooked a really good looking fish which after a couple of turns could be landed and measured to a good 130cm! Good start and shortly afterwards it was time for Torhill to deliver in the usual order and finally sat the other guests who were amazed when every time a Halibut came up on the sonar, it was on Torhill's rod that it hit!
But after an efficient morning, it required a long waiting time before it would start swinging in the rods again, It was only Geir and Grabbarn in boat 7 who really succeeded and were able to report 7 Halibut where the two largest were around 130cm. Dan starts with a nice one at just over a meter, followed by Torhill again excelling with a couple of fast ones with the largest at 129cm. great fishing and great company in the guide boat was clearly a success and it was only a matter of time before someone hooked a better fish!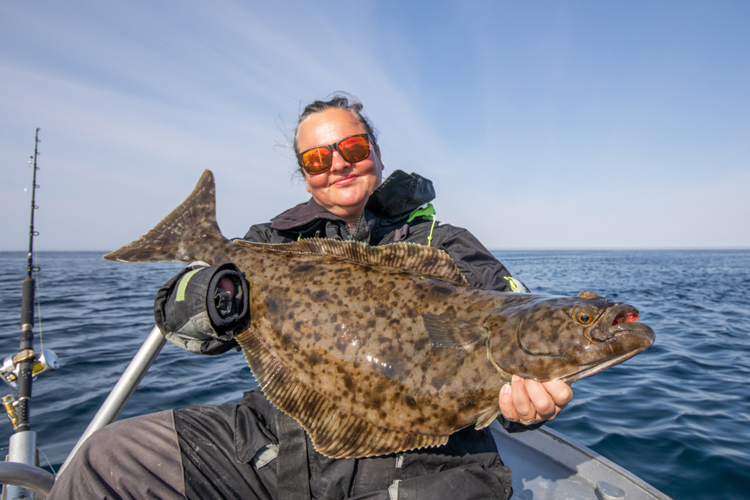 Last day and once again fine weather which has clearly been a consistent theme this week. Again Halibut in sight and already in the first drift a really big fish comes up on the sonar in the guide boat followed by Dan setting the circle hook nicely, a go fight in the sun takes place and after a while we can glimpse a nice fish approaching under the boat. a semi-smooth landing later, Dan Fotas was able to take his second Halibut over 150 with this magically fine fish of 166cm! After that, all eyes were on Fanny, who hadn't landed a single Halibut during the week, new sinker, new hook and a bit of bling bling on her rod would prove to be the melody when out of nowhere everything dropped and she was proudly photographed with 4 fast Halibut in just under 1 hour time!
But to row the boat in port, we want to crown one of this week's Omega boats (boat 6) as this week's flounder kings, with no less than 11 landed Halibut on the last day, it was finally time for Christer to refine his previous Pb after many trips. When you heard boat 6 shout out that Christer is drilling the fish of his life, probably all the boats got a little goosebumps and after waiting for the radio to reveal something, if after long-awaited cheers and an incredibly nice fish of 218cm, it could be landed! Big congratulations Christer!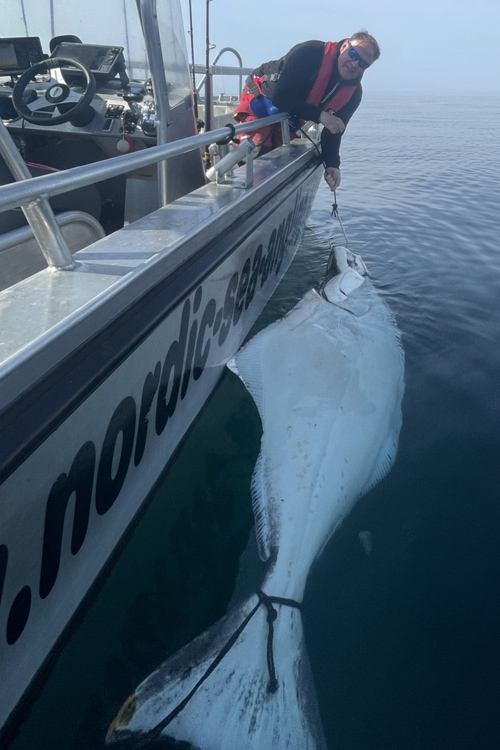 Now we are waiting for all the upcoming guests for the new week, but some have had a false start and it is no less a Jakob "Terminator" and Mads who barely had time to wet their baits and already landed something huge!
More on that in the next report!
Tight Lines, Daniel, Marcus, Alex and Ludvig!
CONTACT US
If you, like many others, have ever dreamt about fishing the prolific waters of Å on the Lofoten Islands in Norway and would like to know more information on how you can join us, you can contact our sea fishing specialist, Paul Stevens, on 01603 407596 or email at paul@sportquestholidays.com.