It always amazes us just how good the fishing experience is for the anglers who visit our amazon basin destination. In just two and a half days, this group of anglers managed a whopping 1,510 Peacock bass with over 104 of them being over 10lbs!
Amazon Basin – 9/10/2021
This fish tally includes only this last Saturday afternoon up to yesterday (Monday) in order to rush to the incoming 4 parties of the conditions they will find on arrival this coming Saturday on our private rivers Matupiri, Igapo-Acu, and Omero lakes selected as the best water levels in the Amazon during this week.
These 4 parties, totalling 30 anglers landed in only 2 ½ days 1.510 fish of which 104 were over 10 lbs, 8 were 16 to 19 lbs and 2 were 20 lbs. The most effective lures were mostly all topwater's, jigs and streamer flies (large Mikey fins). Along with peacocks came lesser fighting species but "variety is the spice of life". These were jacunda, wolfish, aruana, bicudas and piranhas. And, a few monster catfish were landed by those anglers wishing to go deep in the afternoon.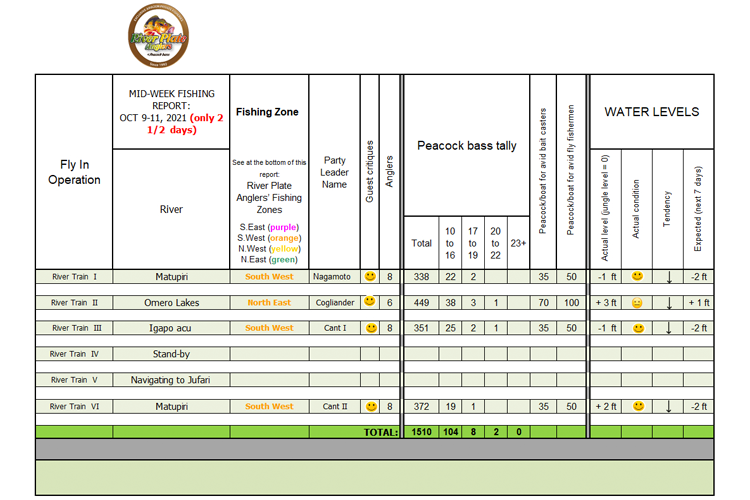 Last week's parties, Romoic and Kako I , II, each with 8 anglers were excited with landing a total of 2780 peacocks during the 6 day week despite water levels still being a bit high and rainy days as forecasted in our last report.
Water level report on South West Zone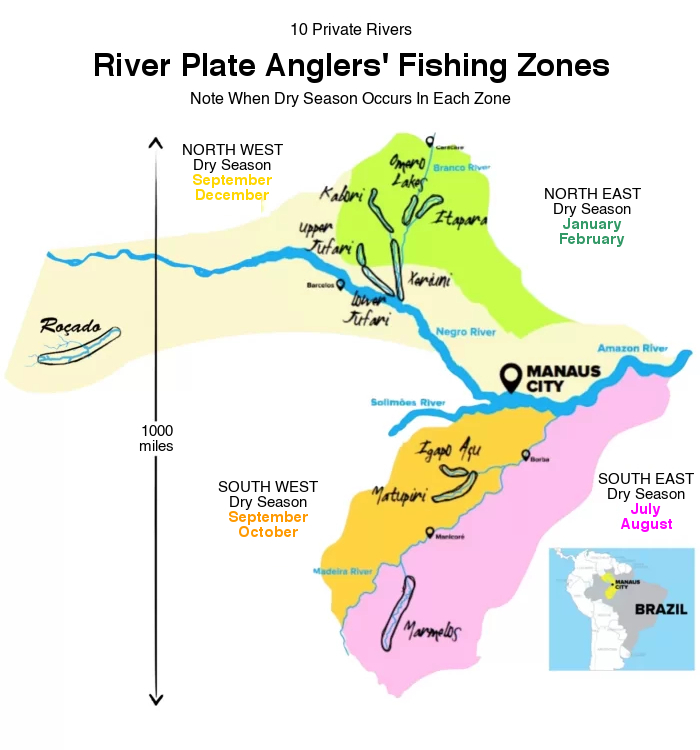 Water levels which were dropping very slowly will now drop a bit faster, as a consequence of the 10-Day Accumulated Rainfall Forecast shown below. Fish size should be going up day by day as the last water pours out of the jungle as evidenced by the great results in today's 2 ½ report. This trend should stabilize just 3-5 ft below the jungle line in as much as 10-20 days.
Contact us
If you would like to learn more about our amazing Amazon river basin destination make sure to take a look at the full tour page. If you have any questions regarding any of our tours, get in touch with our fly fishing experts at 01603 407596 or by emailing them at info@sportquestholidays.com and one of our professionals will help you with your query.
Tight Lines,
Peter