Weeks 1 and 2 at Battle Hill were good but week 3 produced some ridiculous numbers. The 8 rods at the lodge logged 231 Sea Trouts in 6 days of fishing, which makes 28,8 fish per rod for the week or 4,8 fish on average per day per rod. We hosted anglers from the UK, the US, and Germany this week.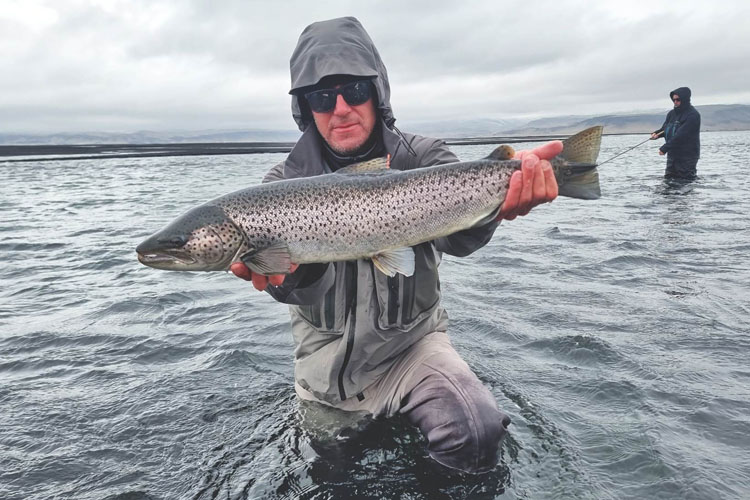 The week we struggled a bit with low water conditions in Geirlandsá River but thankfully the fishing in Vatnamót was on fire. Both streamers on the swing, as well as upstream nymphing, were productive.
Weather
Weather was chilly most of the days with multiple windy days as well as a couple of rainy days.
Typical temps around 6°C(43F),
River Conditions
Water levels in Geirlandsá were low after the cold snap the week before. We were still seeing plenty of fish in the Geirlandsá river but low water levels made the fish static and hard to catch. The Vatnamót system however was producing an exceptional number of fish
Fishing Summary
Lots of fish! We were both catching them on swinging streamers, stripped sunrays and nymphs fished upstream.
Sea Trout – 231
Arctic Char – 4
Biggest fish – 95cm
Fish over 85cm – 6
Fish over 70cm – 14
CONTACT US
If you fancy doing battle with the hard-fighting Trout of Iceland, then the Battle Hill Lodge is the destination for you. If you'd also like any further information, you can contact our fly fishing specialist Peter Collingsworth on 01603 407596 or email at peter@sportquestholidays.com.