The cool fall crisp weather is upon us and this September week has been one to remember! It was an absolute wonderful week in camp. Our guests were mostly all regulars whom we love to catch up with every year and create more memories with. Many of our guests were successful on the rivers this week and some were even fortunate enough to land their personal best!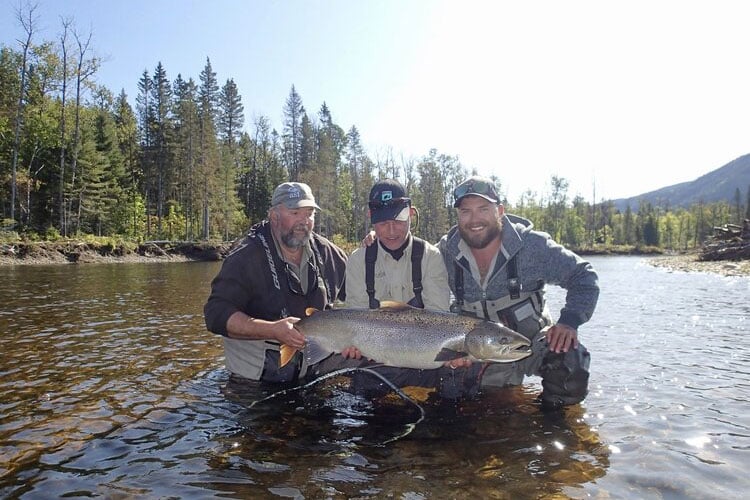 Our good friend Thomas beat his personal best twice during this one trip to Salmon Lodge! Here he is and he can't take his eyes off this beauty he landed on the Grand Cascapedia! Congrats Thomas! We are so happy for you!
Our hearts go out to all those who were found within Dorian's path last week and over the course of last weekend. In our neck of the woods, we were very fortunate to only receive the very tail end of her destructive path and she simply dropped on us the rain our rivers needed.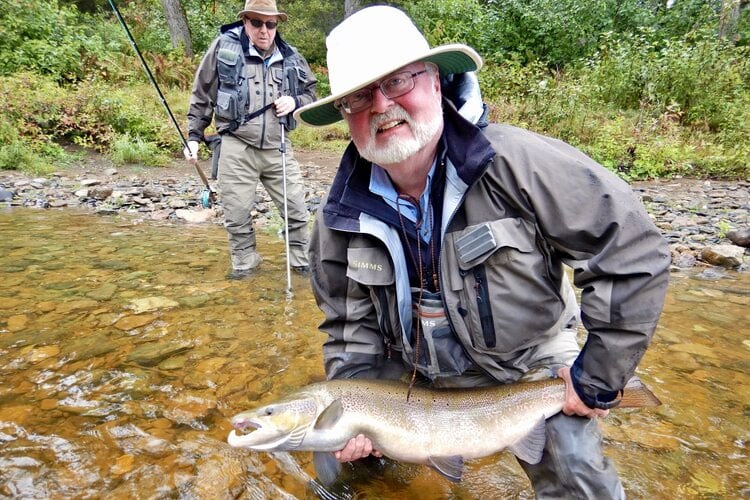 Our first-time guest John landed his wonderful salmon on the Grand Cascapedia! Well done John! Can't wait to see you back next year!
The weather this week was in our favour. Our days are much cooler now and even when the sunshine is shining down on us, our temperatures hover in the 15 to 18 degrees Celsius range. Our evenings drop down to anywhere around the 8-degree Celsius range, which is keeping our rivers fresh and the salmon active. River temperatures this week have varied anywhere between 45 degrees to 55 degrees all depending on the time of day and the weather received.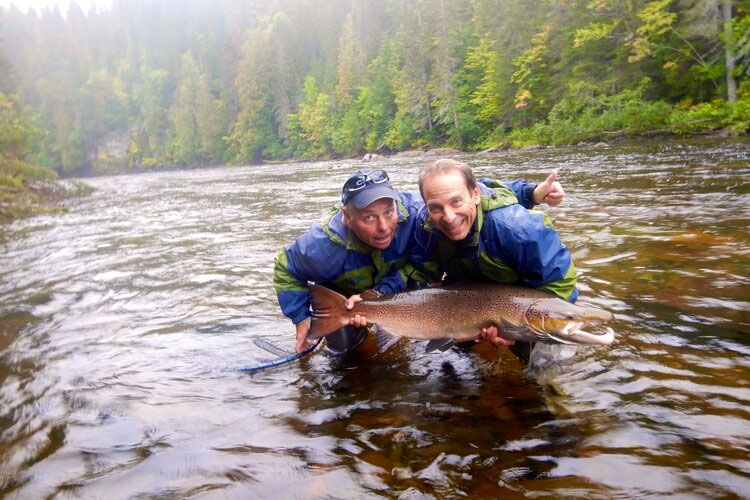 Here is Eric with his personal best landed and his brother Roland! Nicely done Eric!
The Beautiful Bonaventure River has been very generous to our guests at Camp Bonaventure this week! With the rain, we received last Sunday and again on Wednesday the Bonaventure river slightly rose from 8 cubic meters per second to 14 over the span of a couple of days. Nothing drastic but just what was needed to refresh the river and excite the salmon.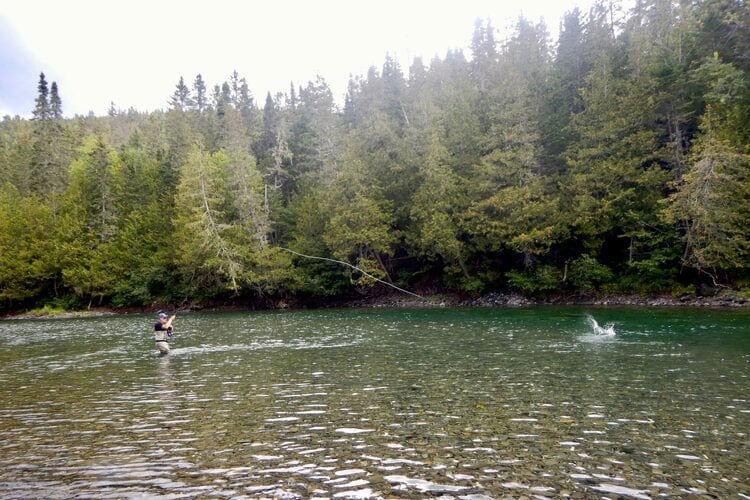 Claus had a wonderful week at Salmon Lodge and also landed his personal best during his stay which you can see in the Photo Gallery for this week. I just had to post this action shot! It is truly wonderful! Nicely done Claus!
The ever producing Grand Cascapedia had an interesting week. The rain received last Sunday brought the Grand up quite significantly. She peaked on Monday at 214 cubic meters per second. The rise in the water levels did not stop us from fishing but for a day or two, the Grand's colour was very dark and muddy. In the span of 48 hours, the Grand dropped in levels just ask quickly as she rose and got back to her nice tea colour. The Grand Cascapedia at the end of the week was sitting comfortably at 27 cubic meters per second.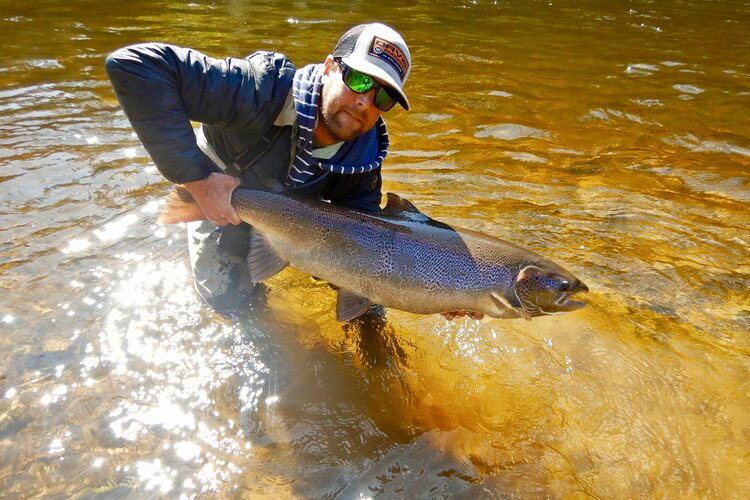 In the photo above is our guide Renaud who is posing with an absolute beauty landed by our new friend James! It is officially his personal best and we are so happy to welcome him to our family.
The classic Petite Cascapedia has delivered some wonderful salmon this week. She also took us all by surprise with her water level fluctuations. The charts for the Petite Cascapedia this week resembled a roller coaster. The Petite Cascapedia rose from 6 cubic meters per second to 12 then fell down to 9 and then made its way back up again to 13 cubic meters per second. The Petite is now sitting pretty at 11 cubic meters per second and the salmon seem to really be enjoying the ride.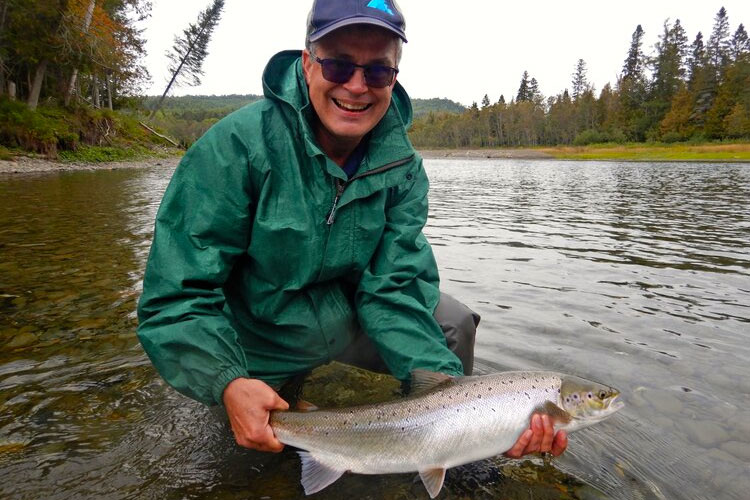 Francois is a dear friend of ours and has been coming to Salmon Lodge with the Czech brothers for a few years now. Here he is with his salmon landed on the Petite Cascapedia! Congrats Francois! Nicely done!
The flies of choice this week are shifting mostly back to wet flies. With the fall temperatures creeping up on us and the water levels being what they have been, the most successful flies this week have been John Olin, Ally Shrimp, Silver Rat and Out to Lunch. The sizes this week truly varied. Depending on the timing of the week you were fishing (beginning or end) and which river you were on, everything from sizes No. 4 to 10 were used.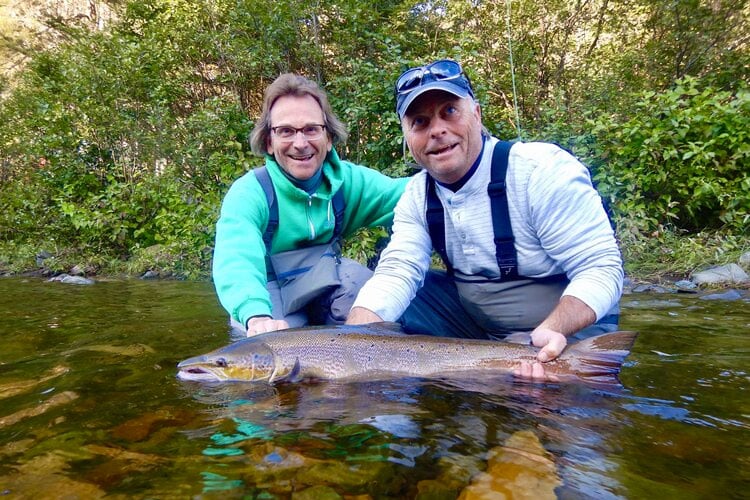 Brothers Roland (on the right) and Jan (on the left) had an outstanding day on the Grand Cascapedia. Here they are with Roland's prize salmon! Great Job Roland!
Tight Lines,
Peter