We have our seventh report in from Roy over at Costa Rica, it looks like the Sailfish are still on the feed, they're even jumping in the boats to join the anglers! If you missed day 6, you can read the full report here. I'll now hand it over to Admiral Marlow –
Its day 7 of our Big Adventure in Costa Rica and you will be pleased to know that we are pacing ourselves very well. I had a bit of a scare this morning when I woke up, I could hear it raining and thought I was back in England. But no worries I opened the door and it was 24 degrees.
The birds and monkeys thought the rain was great as they all made extra noises. Wide-eyed and bushy-tailed we were on the dock just after sunrise.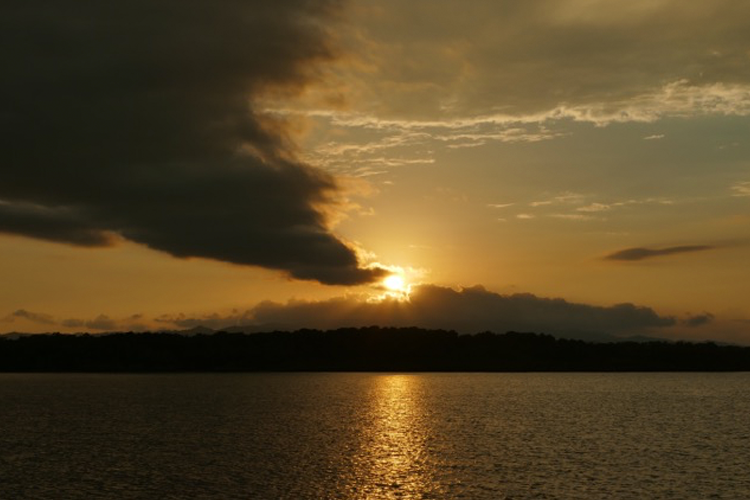 The stunning sunset at Costa Rica
Today we were on a Strike boat, they are bigger boats and are the ones with a Tower. Our Captain today was Manual and the mate was Saul. I fished with Manual last year, he is an excellent Captain.
Saul, as I got to know him very quickly, is also top-notch and a first-class angler who on his days off catches loads of Snook and Tarpon. With just Chris and myself plus Saul and Manuel on the boat, it felt like we had moved up a league. In fact, we had, we were now Formula 1 and were working as a skilled team. Manuel even promoted me to Admiral.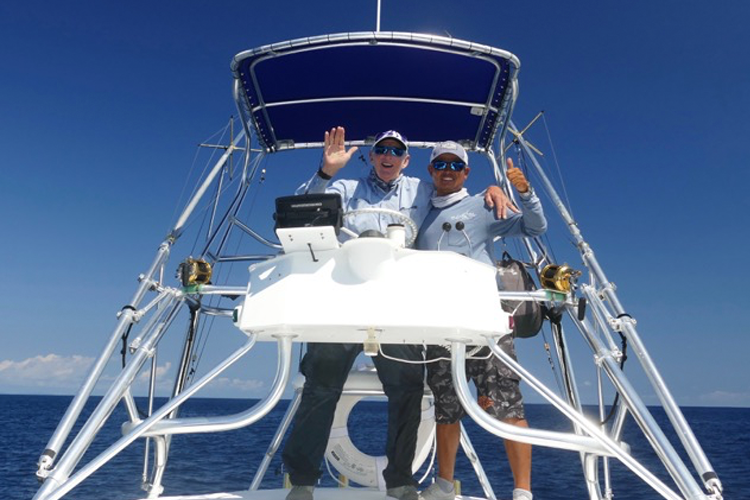 We planned to fish for Sails and if we saw any Yellow Fin Tunas we would check them out. We were like a finely honed team with the tackle to go with it.
We ran out about 5 miles where Manuel saw a free jumping sail so we set out our outfits. Initially, we had 5 sets of Teasers, 5 Ballyhoo outfits 1 close to each teaser. In reserve, we had a 3lb Yellowfin already mounted and on ice set on a Marlin outfit. Also in reserve a popping rod, a jigging rod, and two outfits with Rapalas for Tuna. We were ready for any opportunities…
Just for the record trolling is the least enjoyable way for me to fish. However, today was different, with so much tackle needing constant attention there was no time to get bored. Trust me if the Captain and crew don't know what they are doing this will lead to one almighty tangle.
Within 5 minutes we had our first strike and it was 1-1 Sail after a spirited fight. I have virtually given up in trying for a good leaping Sailfish photo because they always tuck their sail and fins into groves in their bodies when they jump. We were very lucky with our first fish because the hook is right at the tip of the beak.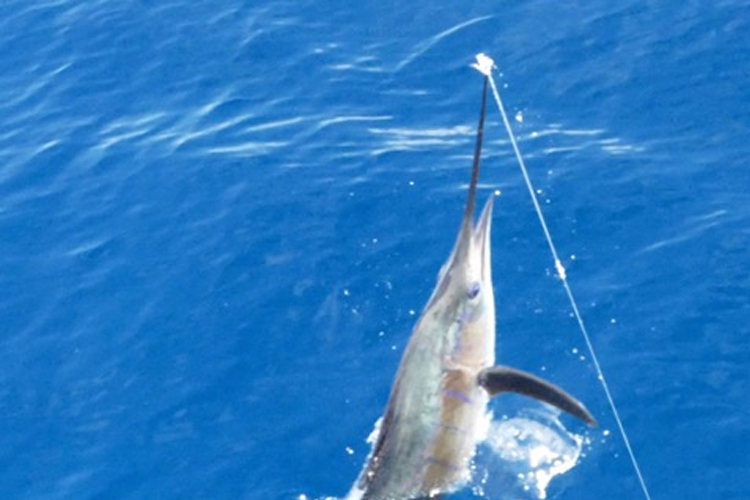 Anglers were lucky to keep this brute on!
Cutting to the chase we caught another 3 fairly quickly, they all look the same so here is a great release photo. Pacific Sails are bigger than the Atlantic Sails and these averaged 100lbs. Our last fish was a classic, I had passed my rod with a Sailfish on to Chris and climbed the tower for photos. The next 4 photos are about a second apart. The first one shows the Sail about 6' off the stern, it is all lit up and still green (That means it isn't tired out)! About a second later it leaps out of the water and lands on the platform at the rear of the boat.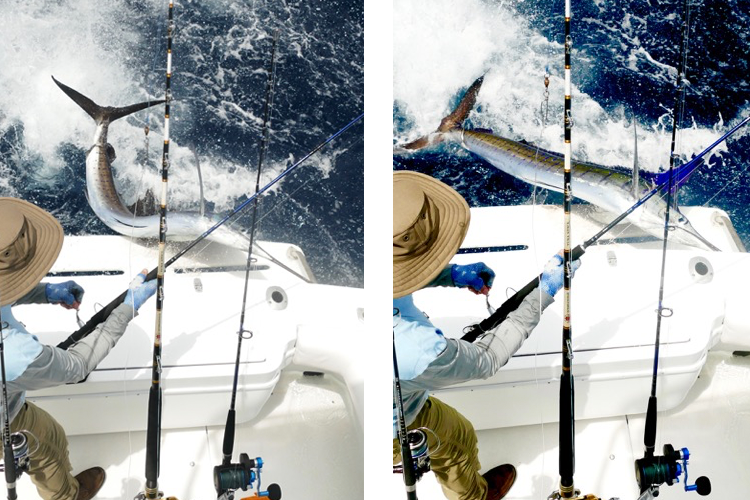 I reckon possibly the best 4 sequence photos I have ever taken.
The fish jumped back into the water and continued to put up a spirited fight. Taking any release photos when you are on the same boat is very difficult. I got a great shot on this one.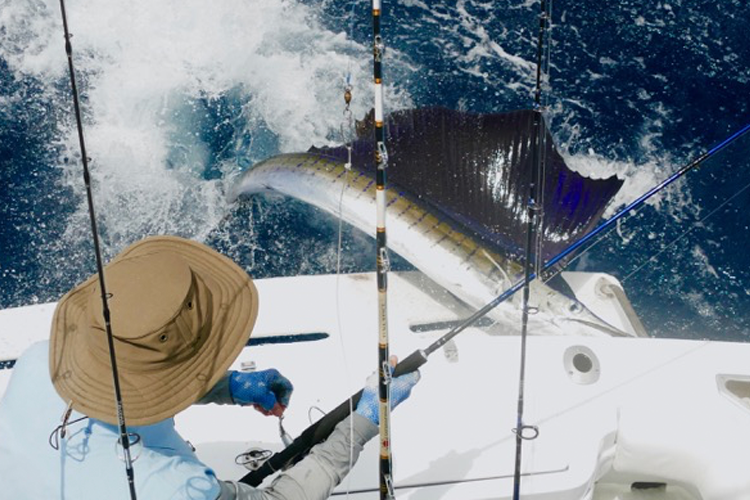 This Sail wanted to come and say hello to the anglers!
I think we went 11 for 5 on the Sails and 5 for 5 on the Tunas.
All on our light outfits. We kept moving out as the day moved on and finished some 42 miles out in 5300' of water We were like a well-oiled team today, not one angler error and no tackle malfunctions. I was a proper Admiral today and the fishing really switched on for everyone.
Signing off
Admiral Marlow
Contact Us
Crocodile Bay Resort really is a one-of-a-kind destination, catering to both anglers and holiday-makers. Visit our Crocodile Bay Resort page for even more info, Alternatively, you can request a free brochure or simply call us today on 01603 407596 with any questions you may have.