One of the best parts of our job is talking to customer when they return from their adventures with us. Just listening to how excited they still are, reliving the events of their trip. Below is a report from one such good customer Mike Green. These are his own words and his own pictures so we will leave it to Mike to see if he can convince you to visit our Silver King Lodge.
CHASING SILVER GIANTS IN COSTA RICA
After two previous trips to Silver King Lodge in Costa Rica, I was looking forward to a return visit, and introducing my good friend Ken Dawes to the monsters that live there. Ken had accompanied me to Cuba last year (when virtually everything went wrong !), where we caught quite a few bonefish, snappers and jacks etc. and I managed a single tarpon of about fifteen pounds from the mangroves. This one had impressed my companion with its strength and multiple leaps into the air, and he had somewhat of a job to believe it when I told him that it was just a "baby" compared to the huge Costa Rican specimens.
he announced on the outward flight, to which I replied truthfully that I had never seen one that small, and about 80 lbs was the smallest I had caught there in past trips. I also warned him about their awesome power and stamina, and that a hook-up was part exciting and part TERRIFYING in equal measure ! Words however do not fully convey the reality of the situation which literally has to be experienced to be believed.
Unlike last years adventure, the outward journey went without a hitch, and having retrieved our luggage, there was a cheerful man with "Mike and Ken" on a sign, who soon conveyed us to our hotel for the night. Early the following morning we were aboard a twelve-seater aircraft for the enjoyable 35 minute flight to Barra Collorado where the lodge is located. After a brief settling in period and an excellent and welcome breakfast, we met up with Mani – the guide I had fished with before, and were soon speeding down the river towards the fish !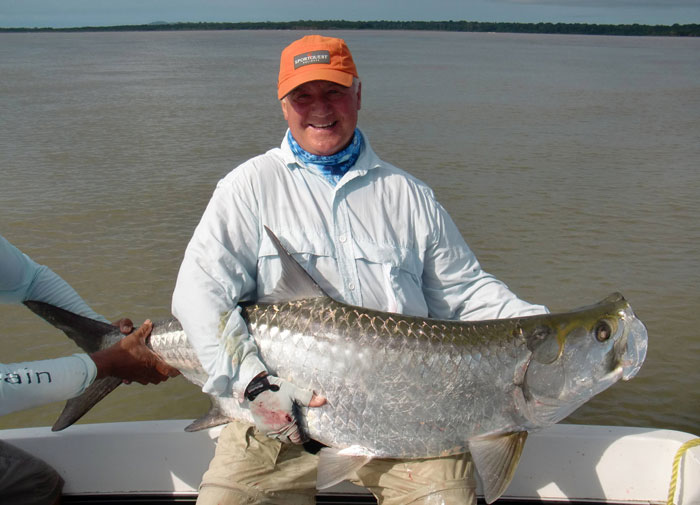 Tackle consisted of 14 and 16 weight fly rods, big reels loaded with Airflo "Depthfinder" sinking head lines, 120 lb leaders and 4 to 6 inch "flies" tied on with a loop knot. I already had flies from previous visits, but the ones we used this time were tied beautifully for us by my good friend Ricky Varley, the preferred colour (as usual) being black and red, – the well-known "Black Death" on seriously strong 3/0 hooks. The actual fishing is not challenging, no casting being essential. Mani takes the boat as close as is safe to the "breakers" on the bar at the river mouth, and the considerable current of river water creates a seaward drift, while we trail our flies out about 40 feet behind imparting some movement by gentle stripping/ releasing etc. Hopefully the big tarpon are waiting in this area for whatever food items arrive in the 900yards or so of river mouth, but you can only see them when they jump or roll, due to the fact that the river water is very coloured, and forms a 6" brown "carpet" over the more dense salt-water.
After an hour or so there was a sort of strangled oath from my right, as Ken`s line shot off at a rate of knots and his rod "bounced" vigorously, followed by a six foot jump by a tarpon about that length, and more excited oaths ! A look of total disbelief came over his face as the fish did virtually whatever it wanted, and he hung on grimly, almost breaking a finger on the spinning reel handle. I had warned him to keep well clear and let the drag do its job, but at times like that all well-meant advice is instantly forgotten. In fairness the drag on the very pretty Hardy Ultralite reel proved to be no match for the power of the mighty tarpon, and later had to be replaced by a Reddington reel borrowed from the lodge. Not having ever been attached to such a monster before Ken played the fish a bit as if it had been a pike or carp, and although he protested that he couldn`t have played it any harder, after 90 minutes the rough mouth of the tarpon frayed the 120 lb leader, and it parted as Mani grabbed it . Although that is technically a "caught" fish, Ken was inconsolable, feeling that he had somehow "cocked" everything up. After a "cooling-off" period, and a few words from Mani and yours truly, all was well and it must be said that he gave subsequent fish a lot more "hammer"!
The format at the ultra-hospitable Lodge was a call at 5AM, breakfast at 6, and then off fishing at approx 6.30 `til 11A.M. In the extreme heat it was pleasant to have a break, zoom into the camp, and have a swim in the gorgeous little pool, (or sauna if preferred). Lunch was at midday, with a choice of meat – chicken, pork, beef etc. in barbeque sauce, or delicious fish – usually the exquisite "Snook", which tastes very much like our Zander, plus all the trimmings, followed by mouth-watering deserts. It was hard not to consume too much, and I found it difficult to manage the equally "yummy" evening meal at 6.30P.M. One nice little touch, introduced since last time, was a nightly complimentary Robusto cigar, which I invariably smoked sitting in a rocking-chair at the dock – over-looking the River Collorado in perfect peace – absolutely wonderful!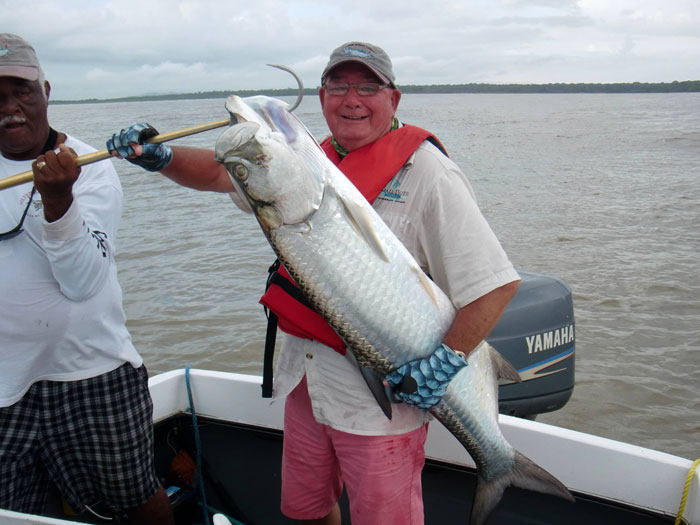 Yvonne – the bar lady, was still on great "smiley" form, and her rum/fruit "Smoothies" and "Coco-locos" were seemingly better than ever! As if this wasn`t enough, all dirty clothing left in a bag in the early morning was waiting for us – washed and pressed by lunchtime by the friendly and cheerful laundry ladies, – terrific service !
Back to the fishing. We were very fortunate with the weather, only losing an hour or so one morning due to a thunder-storm, the rest of the five days being pretty sunny and calm. In all, between us we hooked up on nineteen Tarpon boating seven of them, – not a bad effort as one out of three is considered good, and we both had fish of 140 pounds – which amounts to a real "work-out" for anybody!
It seems comical to recall that we both fished for the last hour of the final day – PRAYING that we wouldn`t hook another one, – I think age may be catching up with me!!
In addition to all this, we were for some unknown reason "up-graded" to "Business-class" for the long flight home, so it was "wall-to-wall Champagne" prior to a deep sleep. I awoke with a mere hour and a half to "touch-down"! – What a result!
Lastly we need to say again a huge thank you to Sportquest Holidays for managing and putting the complete package together for us. The hats were a nice touch and also did us proud as you can see from some of the pictures.
Regards Mike Green
If you would like to visit and enjoy the same experience as Mike at our Silver King Lodge you can find out the full trip details CLICK HERE