Four of our lucky clients made their way to the beautiful hunting areas of Southern Sweden for a 5 day holiday to decoy the many domestic and wild Greylag, Canadas and Barnacles which are abundant at this time of the season. They are enjoying an amazing trip and have already hit mammoth-sized bags over the time spent in the hunting areas. During their first flight, they managed a substantial 85 birds, followed by 47 on their second day and 140 on their third. The wildfowl were skilfully called into the decoys by Kristofer who is the best guide there is, able to call the shyest of Geese into the decoy pattern so that the clients are poised and ready for an exciting mornings shooting. Don't forget in Sweden there are no bag limits, which means there is no set number to go by, no overages and lastly, no worrying. You will just be nestled in your blind until they stop coming into the decoys.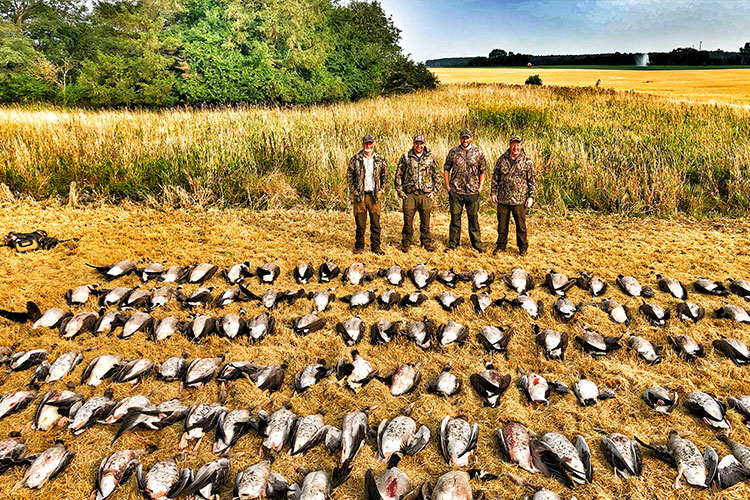 The guns were to arrive at the hunting grounds in good time before sunrise so that they could go through a compulsory safety briefing, familiarise themselves with the handling of the semi-auto shotguns and gather their ammunition for the day in the field. All this would be done whilst the decoys were being set out by the guide and his team, taking into account flight lines and types of decoys which would suit the hunt. The hunts provide effective protection to fragile grass plants for next year's harvest as these birds are in vast numbers and come to feed on the stubble and crops of the agricultural land.
Following the morning's hunt which will have ended around 11:00am or until the birds stop flying into the decoys, the guns will have had the opportunity to enjoy an afternoon and evening of sightseeing or in their case a few hours on the Pigeons. But before all that, the guides, field staff and their dogs will be on hand to clear the area of fallen Geese before a respectful parade of the quarry will be laid out to see. All the stock will be gathered and prepared for all to take home and enjoy.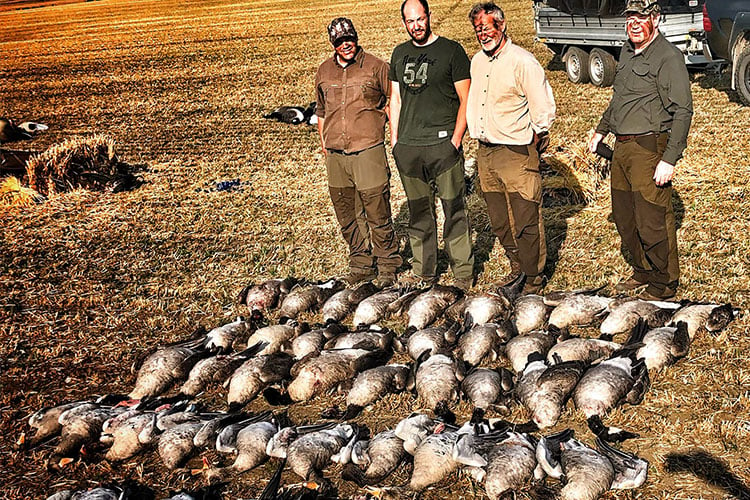 The weather has been extremely kind to the guns, despite it being over 30 degrees has proved to be ideal shooting conditions for the Geese to really power into the pattern in their droves. Kitted out in the latest camouflage clothing, camo paint and use of the latest high quality calls the clients were really treated to the best in hunting gear there is and of course some incredible shooting.