We have thanked and waved bye to this week's guests here in Havöysund, and the week has offered varied fishing and as many times before it is high peaks and deep valleys, we have seen the fantastic fishing up here from its finest sides and most intricate moments. We started the week by going for some new areas for this year and we were set on doing our best to hook into something big. At midnight we went and the weather was absolutely magical, there is something special about that midnight run, fishing under glorious sunshine and something I can warmly recommend to anyone who comes up to try. 
Unfortunately, the fishing did not go well this night, but when we tried a new bay, they managed in Andreas' boat to catch a wonderful flounder of 125 centimetres. The next day, however, we had a little more wind over the area and we were, unfortunately, a little limited to fish.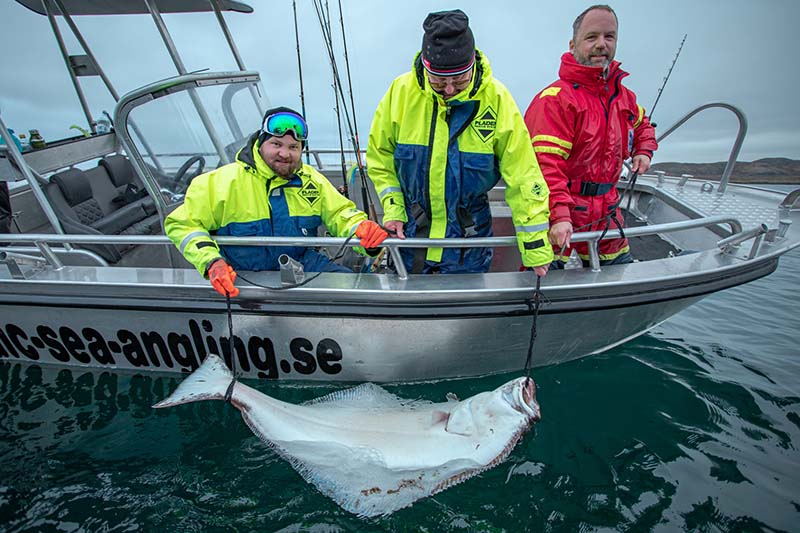 All boats have caught large quantities of cod and wolfish and enjoyed some very nice fishing, but when we could not really get further out, the size was a little smaller, but boats 3 and 10 went out to a really good area when the winds were light and the water had calmed down a bit in search of flounder and managed to land three fine flounder with a peak of 140 centimetres. On Tuesday it was really nice conditions and we went out at 05:00, it did not take long before boat 7 called me and announced that they were fighting a good fish inside a really powerful place that was both shallow and distant, the fight was long on the shallow water and they finally managed to salvage the nice lady of 160 centimetres!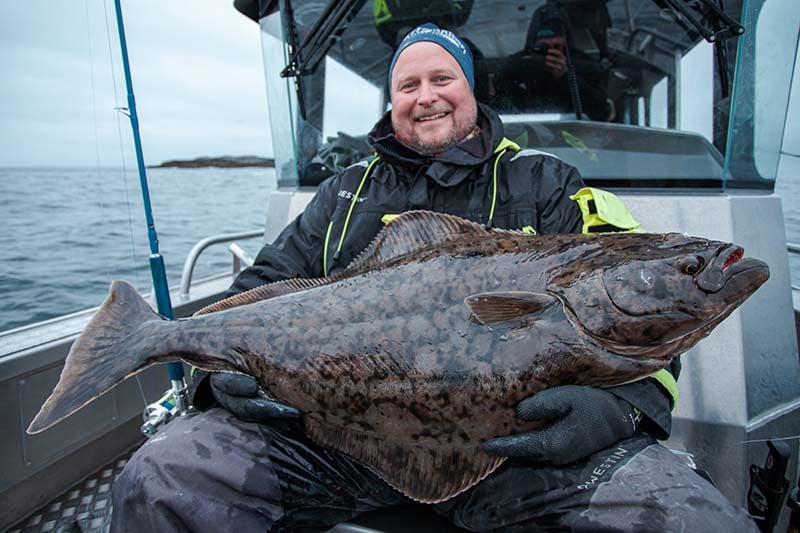 After a while, I found a good spot where it did not take long before a Halibut stepped up on the sonar and smacked Johan's bait and offered a nice fight before we could lift in a perfect flounder of 110 centimetres. Soon after, we drifted between a couple of peaks further out and in one of the holes on the spit, Johan's bait got slammed again! There was a little better weight in the fish this time and after pumping for a while in the heavy swell, the rod came a little high and the pressure became too much and it broke in two! Unbelievably, the line did not go and I was able to get hold of it, the fish was still on and I could calmly and slowly crank it up to the boat and land it, a really nice fish of 124 centimetres and Johan was very happy and thought that such a fish was worth a broken rod. 

After this, it was time to go out and find some more cod, on the fish finder there were sick amounts of bait fish all over the area and it really felt like we would find some big cod . After pulling a good amount of smaller cod in good food size, Jesper got the cod of his life at 19 kilos! A couple of other boats that were in another area during the day also managed to pull sick quantities of cod with peaks of 15, 19 and 20 kilos!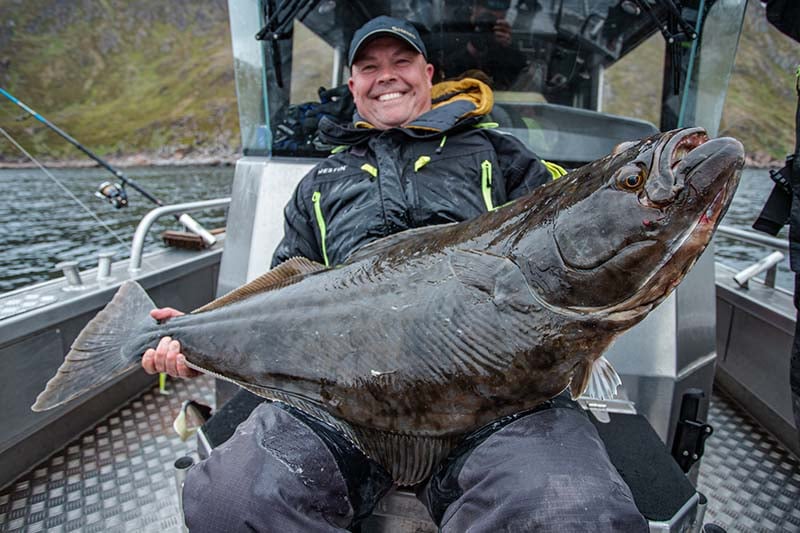 A little later I looked down to other areas where I found more huge amounts of sandeel, saithe and cod and it did not take long before the first Halibut hit, however, I missed it but soon after I connected properly, passing over the rod to Jesper who had to fight in the fish that offered a nice fight, it measured a nice 115 centimetres. It was a really good day and everyone at the camp was more than happy that the fishing really loosened up, wonderful atmosphere. The last day was all a bit muddy and most people went for a bit of relaxed fishing.
Tight lines from Havoysund.
CONTACT US
If you, like many others, have ever dreamt about fishing the prolific waters of Havoysund and would like to know more information on how you can join us, you can contact our sea fishing specialist, Paul Stevens, on 01603 407596 or email at paul@sportquestholidays.com.