This week in Havöysund has really offered its finest side with several days of flat water, This has meant that we had plenty of opportunities to be able to explore different areas based on its best potential.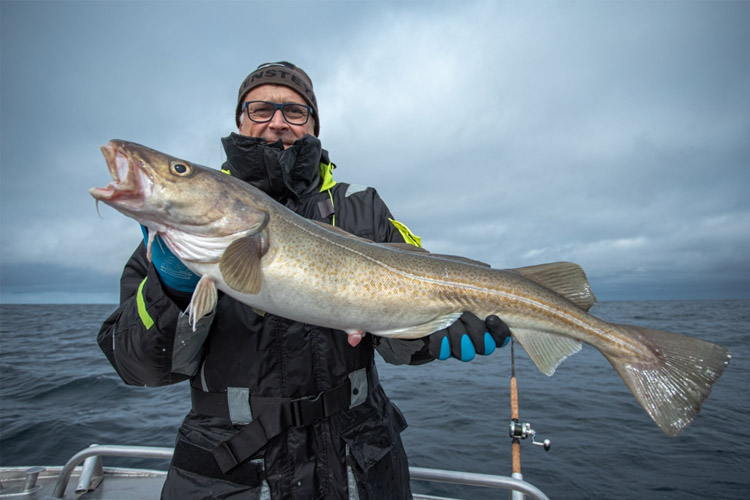 On Friday, all boats went a bit north in search of a mixed fishery for mainly Cod, Halibut and Coalfish. Immediately a bit into the first operation, we get a report on the radio that the French in boat 5 landed a really nice Halibut of 155cm that offered a rock-hard fight in 50 meters deep water. Shortly after, the Cod fishing loosens for the other boats and several double and triple hookups broke off in the boats with nice Cod up to 12kg and a bunch of lovely Coalies who regularly attacked our jigs and jigs as soon as you got close to the bottom .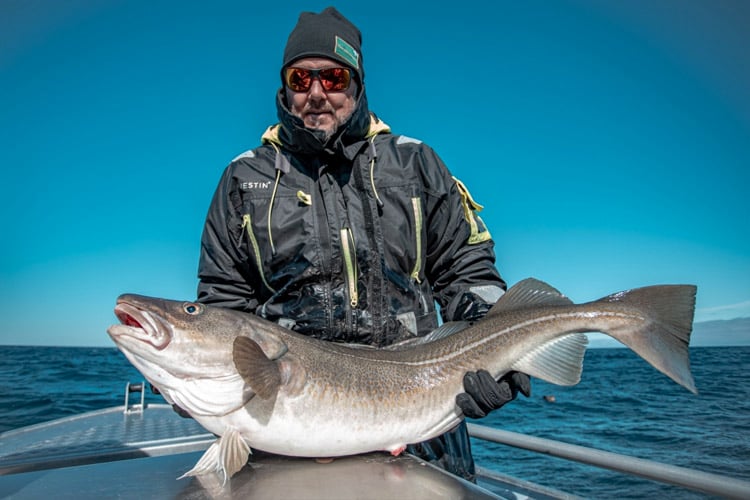 Oscar and Eric Lundahl who are old colleagues are also here with their dad and little brother this week and already day one they coax up little brother Johan's first Halibut for life at a nice 107cm, Dad Magnus did not want to be worse and after a while he showed the sons how to take them with a nice fish of 175cm!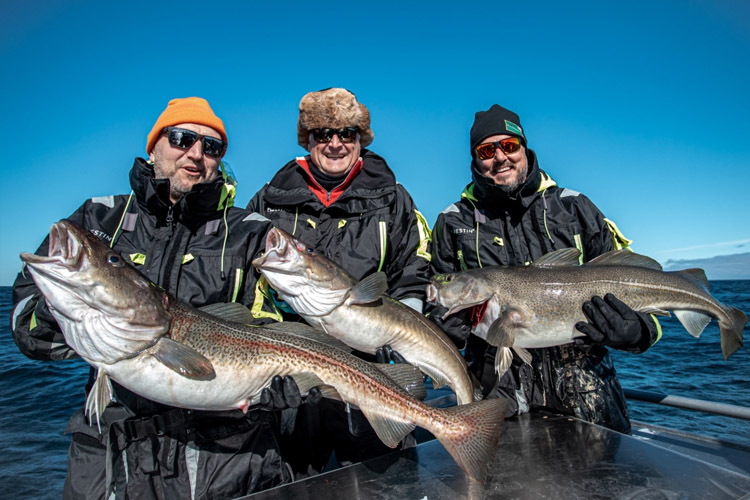 Douglas who this week drives the guide boat with his dad and his friend this week slipped after a while away from the Cod fishing and further into a bay and did some spin fishing for Halibut and could after a while land a delicious food fish of 114cm to Johan, after that the current died down and the fishing was the same so we decided to leave the area for the day and drive into the harbor to enjoy a really good dinner with some of the fish from the day.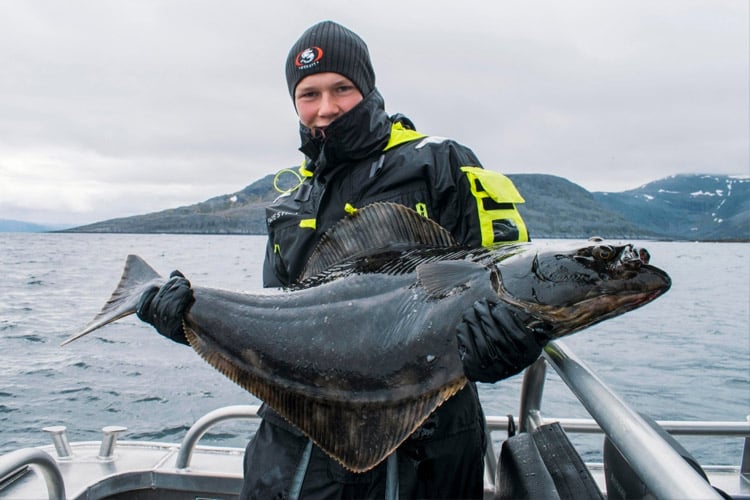 With the weather this week, we have as previously mentioned some days been completely unlimited with where you could fish and on Monday Daniel steered with 4 boats on a real Halibut venture where the goal was to start targeting really big fish and then in the afternoon go on a little more bulk fishing. The day starts in the best possible way for Daniel's boat where they already second drift smack in a real heavy swing on a bait fish in the 3kilos class and after a bunch of intense minutes, Daniel was able to land Marc's first Halibut at 181cm, what a start we and everyone applauded when the sea queen set down to the depths again.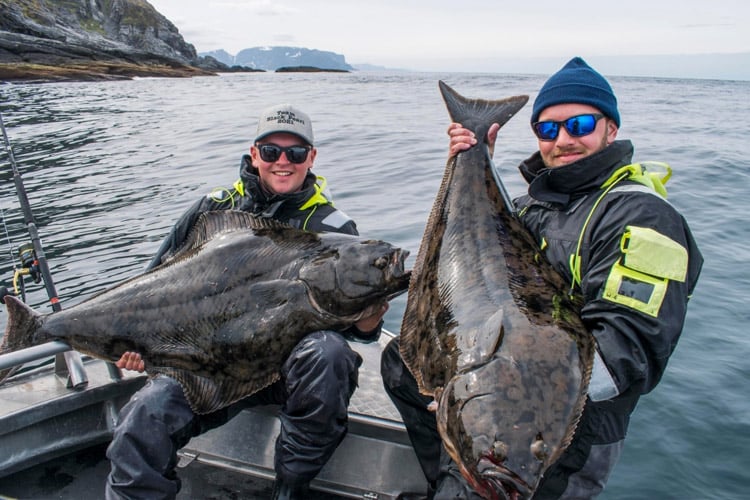 The drifts continue and the Halibut chops at regular intervals on our jigs and smaller bait fish and we therefore decide that we go on more mass fishing and after an intense 2 hour rush we were able to sum up about 20 Halibut distributed between the boats with a walk around 130cm at the top. This absolutely fantastic fishing for Halibut with a mix of methods such as spin fishing combined with angling is really absolutely fantastic, so why not bring a little coarser spin stuff up and try it out, we guides highly recommend this!
The Lundahl family who took part in the venture also had a sickly good fishery with a handful of Halibut with a size of 137cm on spin fishing for Oscar. Unfortunately, Johan dropped a really big fish after a couple of real head shakes and up on the jig comes a chub in the three-kilo class that was half slapped, talking about nonsense but a story that will most likely be told for generations to come !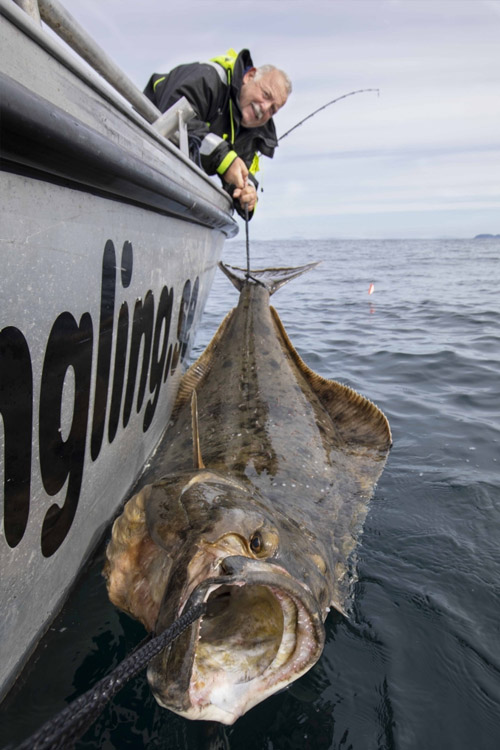 Douglas who steered the boat to another area could after a while of persistent attempts around the peaks and gutters meet in a really nice spot where they had really nice fishing with 5 landed up to 130cm. After that the power turned and Douglas got the go feeling on a really big fish hook and at the end of the operation he dots a really nice fish for his dad and after an explosive karate-ninja rush the fight starts, the fish messes up properly but can after a small moment is landed and measured to 152 fine cm.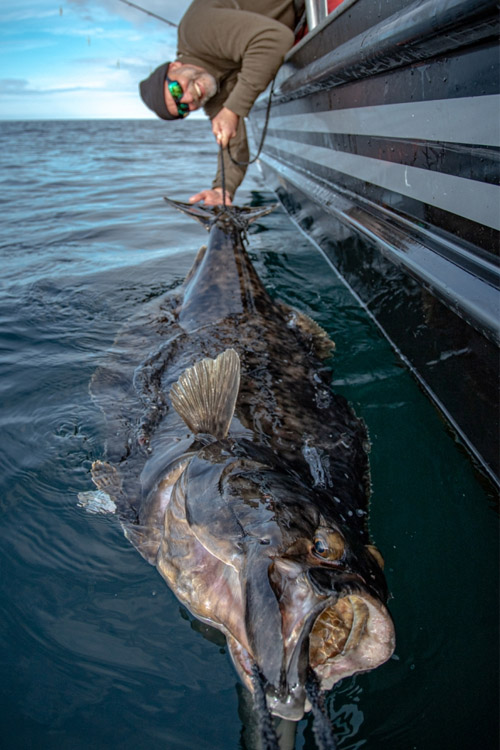 The last day we also drove a directed fishing session for Halibut, once in place all boats have a bit of a float with several nice fish that were dropped with a real ace out on a flatbed that Douglas will have shivers of several weeks ahead, Danne who was a bit away Managed to score 3 quick and drove after that to an old well-known area to test some spin fishing, once in place they smack in a fish of 127cm on spin that they miss the counterattack 3 times before it sat, Danne runs a new strategy and the angling with thin fillet strips went down into the depths and barely a minute later, a Halibut is sitting on and so it continued for a while with 4 landed between 125 and 130cm.
Now a new week begins with new opportunities and we are loaded to the brim!
Tight lines,
Daniel Freland and Douglas Dahlberg
CONTACT US
If you, like many others, have ever dreamt about fishing the prolific waters of Havoysund and would like to know more information on how you can join us, you can contact our sea fishing specialist, Paul Stevens, on 01603 407596 or email at paul@sportquestholidays.com.