Summer time up here can be magical in its own dimension and this week we have spent time at sea under the fantastic midnight sun on a mirror-like sea and got to experience absolutely incredible "golden hours" that give you goosebumps when you sit and look back on the week. We have been visited by a large group of Englishmen who filled five boats as well as Swedish groups and one from Latvia who have just left the camp and to see all the smiles when people get on the bus and leave us is absolutely fantastic.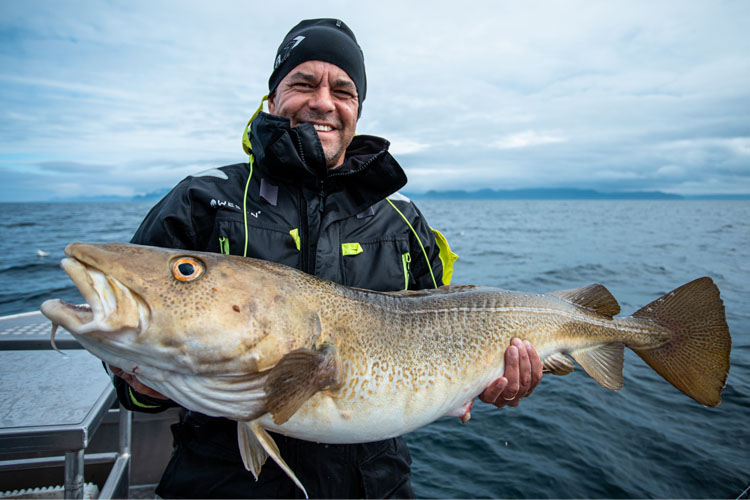 At the beginning of the week, we did a bit of mixed fishing where some boats invested more in Halibut and others more in Cod to really get warm in their clothes, I steered the guide boat and fished for Cod but unfortunately the "good" Cod fishing had to wait until later in the week when selected area does not want to deliver and it was difficult to find the fish but we managed to find some with a top of about 12 kilos. Andreas had the English armada and the guys in boat 9 with him and was targeting Halibut in the area which delivered big fish in the last week of the previous week, it was difficult fishing but boat 9 managed to start the week by finding a productive spot where they riveted two nice Halibut of 128 and 130 centimeters!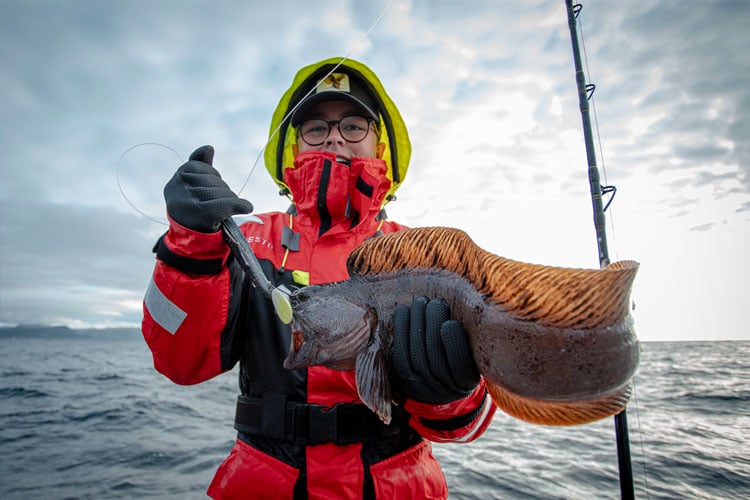 That day we tried to defy the westerly wind by going out west but we made a mistake there and on the way out had to turn the boat towards other areas in the vicinity as it was far too noisy and rough seas to succeed in getting away. He and I were fishing on the rising water in a nice place just north of Havöysund and on the first drift a Halibut came in on the echo sounder that didn't want to bite, I went back shortly after to put the same drift again and on the first cast it really pounded on my sand eel! There was a good weight in the fish, so I passed the fish on to the guys in the boat, who got to have a good time when the fish chose to set off at good speed and offered a really good fight, the fish measured a full 130 centimeters and brightened the day to the fullest.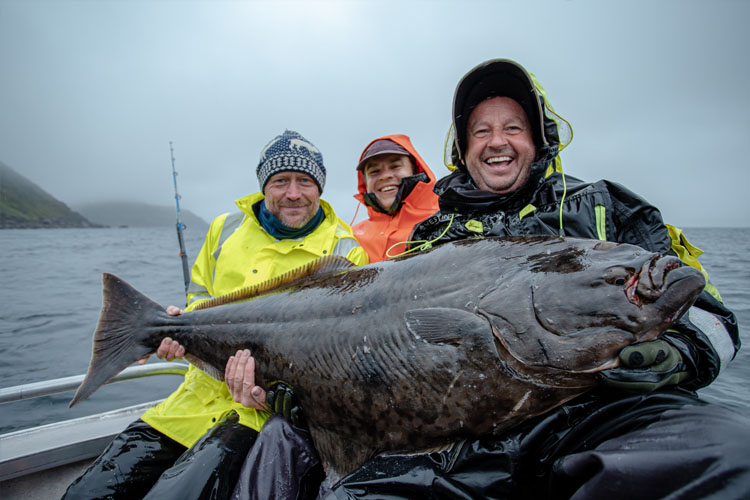 At the beginning of day three, it was very windy in the morning and everyone chose to drive a late start as the evening and night promised fantastic conditions and zero wind! When the weather finally started to clear, we were on our way out and had rough seas at first but it was worth it as we immediately found a top that held a lot of bait fish and under them patrolled really fat Cod and we had for a couple of hours nice Cod fishing with a high average size, when they decided to stop cutting, it was time for Halibut, but it was a mess. One of the English boats stayed out until the morning and then succeeded in hooking a nice Halibut of 120 centimeters.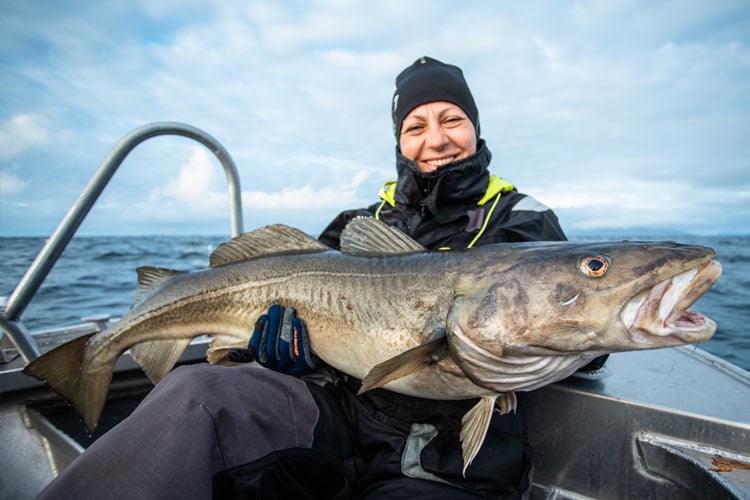 The following day, the guide boat wanted to fish more Ccod and Andreas went further west and managed to find brutal amounts of good Cod standing out on an 80 meter edge. The fish were very willing to bite and everyone in the boat pumped Cod between 10-15 kilos throughout the day until their arms turned to jelly! This was very necessary as the following day there was a long trip for Halibut, so now everyone in the Guideboat was warmed up to do battle with flatties! So at 07:00 the next day we drove with all the boats at the camp towards the intended flounder spot that would hopefully deliver, and of course it did! Once there, I stopped with most of the boats at an earlier spot and Andreas went on to another area, it only took a couple of minutes before the first boat landed a food Halibut of 90 centimeters and then it was on, I had to reposition the boat once before we managed to hook our first one, which was a nice 115cm food Halibut, but when we just landed this one, it banged in the next rod and the reel almost started to smoke in the first rush, on a lighter spinning rod, the fight became absolutely magical and up came a fantastic Halibut of 132 centimetres! Now we really got going and after several Halibut between the boats, things got better for the boys in boat 8 and they got to play with a nice fish of 145 centimeters.
After a while I headed down to the next spot and it didn't take long before it sizzled like never before when I was spin fishing, the second it sizzled the reel screamed and I quickly realized something was strange and suspected a wrong hook , indeed, it turned out to be a fish well over 140 centimeters on which the jig had managed to get stuck in the tail fin. Right behind me in the same drift, the guys in boat 8 came drifting and they got to feel the power of an incredibly large Halibut that sucked one of their bait fish and offered them the fight of their lives! Three times at the edge of the boat, the fish turned and when they were about to try to land the fish, it unfortunately went wrong and the fish managed to sting and tear the line, I just got to them when this happened and got to see a fish that everyone days a week stretches well over 170 centimeters, unfortunately that's part of this fishing, it's one thing to get the monsters to bite and quite another to safely land them, this fish had luck on its side… In this direction the day continued and all the boats landed Halibut and most even double digit numbers in the boat, as usual probably 80-90% of all fish go back and above all on this day when actually the majority of all fish that were caught were around 130 centimeters and over, so the cut size was incredible! Vincent, 13 years old in the guide boat, stood around lunchtime waiting for the first flounder of his life and it was now time to experience the brutal strength of these fish for the first time when the jig finally sucked properly for Vincent and after a cruel counter-stab it was it started, the fish took off in a couple of sick rushes and Vincent had to put a lot of power behind the rod to tame the fish. With full control of the equipment, Vincent finally coaxed the fish onto the boat and Andreas was able to secure the fish at the edge of the boat and measure it at a whopping 135 centimeters! Huge mega congratulations Vincent for an incredible first Halibut!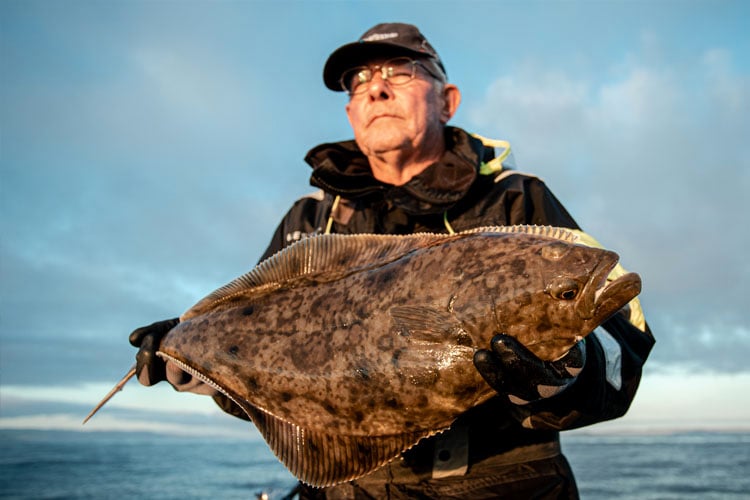 Boat 9 was very interested in the nice Plaice that we caught in previous weeks and gave it a proper try, they lay and varied between Plaice and Halibut fishing throughout the day and managed to land around 40 Plaice with an incredible average and a top fish of 3, 4 kilos! In addition to that, they also managed to catch two numbers of Halibut of a funny size with a top of 125cm, so an insanely productive day for the guys in boat 9. During the last day we had really bad weather with heavy rain, fog and northerly wind which offered rough seas in addition which resulted in us being just two boats that went out for a kortis and gave it a try, but to no avail and everyone was happy to end the week there.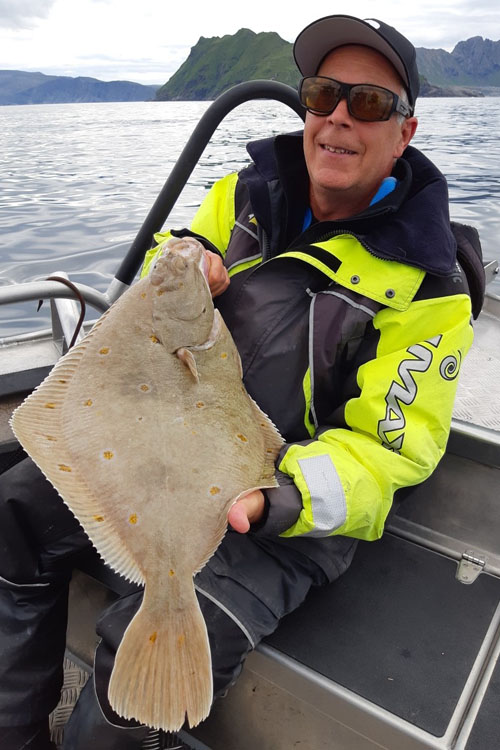 We thank everyone for an absolutely fantastic week, see you soon!
Tight Lines// Douglas Dahlberg & Andreas Hugsén
CONTACT US
If you, like many others, have ever dreamt about fishing the prolific waters of Havoysund and would like to know more information on how you can join us, you can contact our sea fishing specialist, Paul Stevens, on 01603 407596 or email at paul@sportquestholidays.com.