The past week has offered fabulous conditions and fishing experiences that the guests at the camp will not forget. With the warm air passing back and forth over the area, it has brought really thick fog at times on certain days, so you really thought you were driving around in a milk carton at times. We have done quite a bit of mixed fishing as Cod, Haddock, Pollock and Plaice have been some species of great interest to most people, we have returned many times to an area that was completely superior when it comes to Cod and bonus Halibut have arrived on a rolling conveyor belt .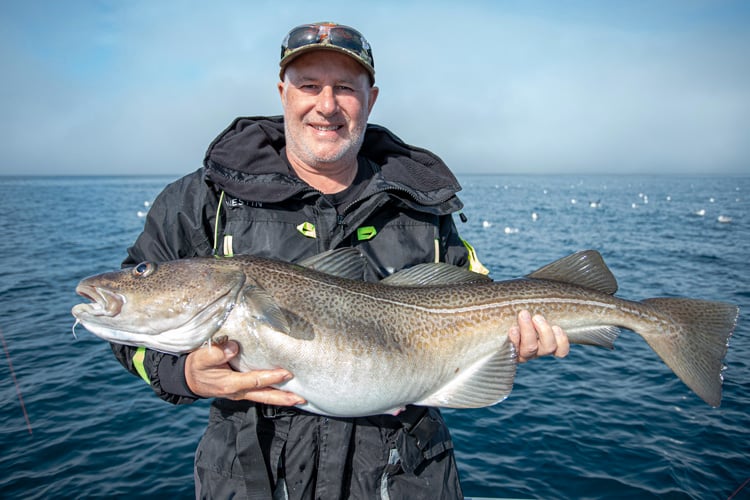 So on our first day of the week we were on the "cod bank" and it didn't take long before huge shoals of small Cod appeared all over the sonar screens, for those of you who have been part of the Cod fishing up here before, you know that this usually means that the stuff will be pounding! Very true, it was good with nice Cod under the shoal that wanted to devour our jigs and darts. As soon as we had passed all the bait fish, we see how the Halibut start to enter the sonar, in my boat there was a double bite with two small Halibut of 70 and 75 centimeters at once, while the guys in boat 11 pulled in with a nice Halibut of 110 centimeters. We continued pushing and it only took a little while before boat 11 had another Halibut on, this time a heavier fourr and after a hard fight in the 60-70 meter deep water they managed to land a great Halibut of 154 centimeters, really fun and great start to the week.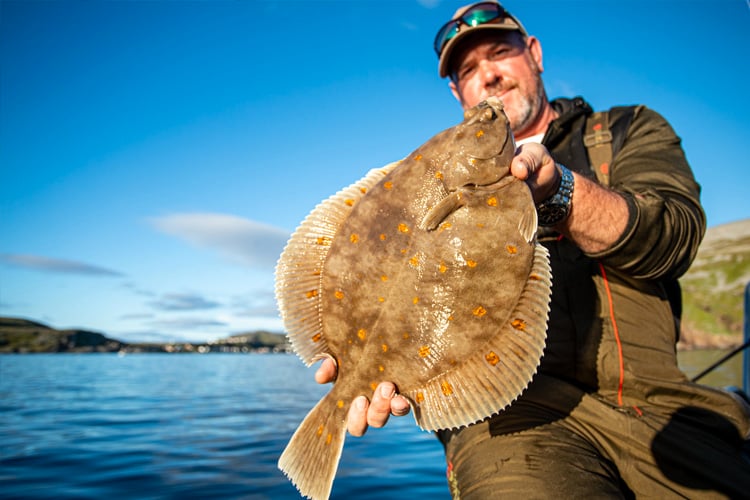 Our top Cod this day ended up at around 15 kilos. Our Norwegian guests were fishing in another area and during their Cod fishing a bunch of Halibut stepped on there too, but memorable for them was when it stopped abruptly for one of the guys and after countless turns in the surface with the fish, they finally succeeded land a dream Halibut of 170 centimeters! Our Danish guests the "luxus boat" and the "prospect boat" who have visited us several times before and obtain the all-time record for the most Halibut caught in one day in one boat, a record that I believe will never be broken, they always go for quantity fishing on Halibut and on this day they succeeded really well in the vicinity of the camp with double digit+ numbers in both boats which was a really nice start to the week as well.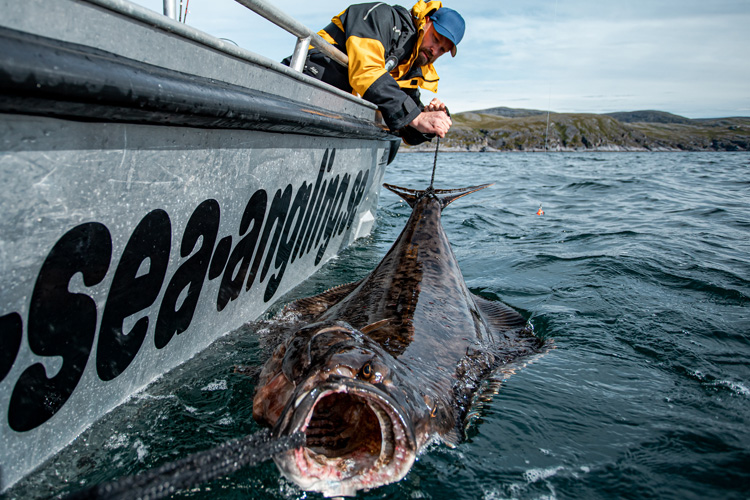 A real high light was when one of the days I drove the boys in boat 12 where the father Christoffer and his two sons Neo and Tim were really excited to experience a fantastic Halibut fishing. We thundered away to an area that holds good amounts of fish and already on the first drift on the third cast it stops in Neo's (11 years old) rod and he tries to hook the fish but unfortunately after just getting the rod to bend the fish got off, right there after when Tim has jigged his jig all the way in towards the boat, it really rips and he manages to hook one like this sat properly and after a few good rushes on the spin stuff, Tim's first Halibut of his life came up to 78cm, absolutely fantastic and the fish of course had to swim back after a few quick photos.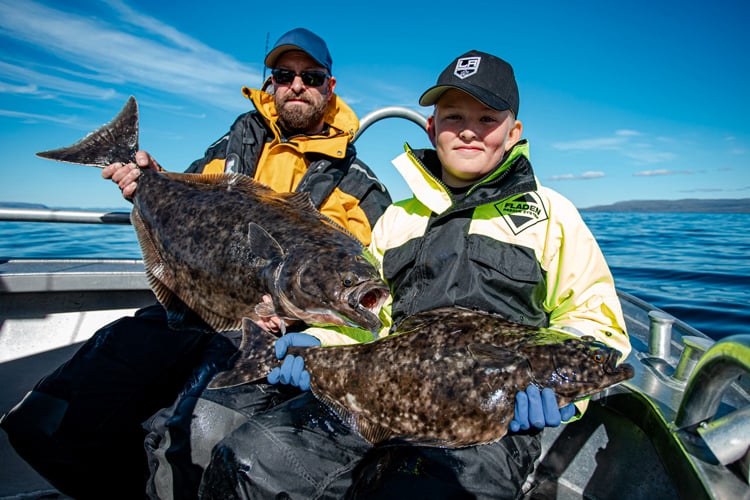 After lying in this area for a while and pulling in a few more Halibut, it was finally time for Chrisoffer to get his first Halibut of 97cm in his life, which crushed a small baitfish in a double bite when Neo stood and pumped up another Halibut. I decided that we would try another area on the way home to get some bigger Halibut, so we steamed up to the next spot and once in place there was good action there too and we caught quite a few Halibut in a spot where the Tobias had congregated. On one of the drifts, a better echo came out of nowhere and came like a rocket up from the bottom towards one of our bait fish and hit Christoffer's dead bait, there was no talk and now Christoffer stood with a properly bent rod and pumped a real dream Halibut, the fish was not compliant and offered a good fight. After a while I was able to land the fish and we measured it at 148 centimeters! Absolutely fantastic and the joy in the boat was now total.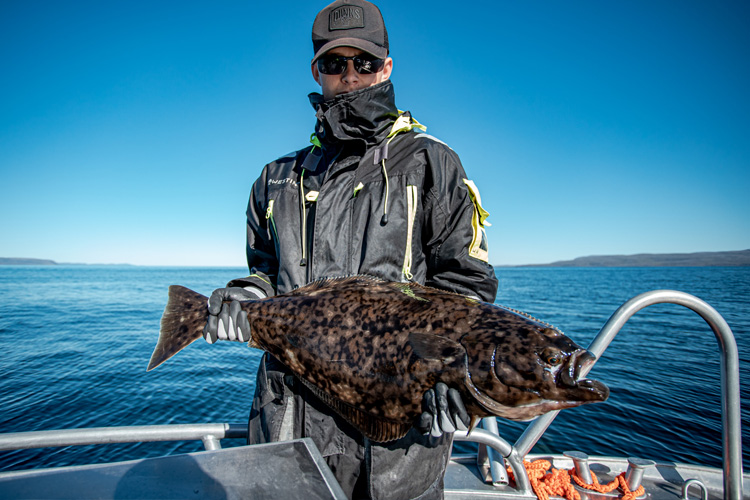 During Sunday, there was mixed fishing on the schedule for the Englishmen in the guide boat and the other Englishmen in Ross's boat, we started the day by trying to catch some fat Plaice, but for several hours we thundered around in my absolute favorite area for big Plaice, but they were blown away and it didn't matter how deep or shallow we fished, there was absolutely no one at home or they had just gone off the deep end or something. So after this we pulled and fished Halibut instead, we targeted big fish and didn't count on so many bites. The hours went by and finally one snagged on Roger's rod, but when it was time to rivet the circle hook, unfortunately the fish spat… alas, we reloaded and I made a real ninja drift out on the edge of the base plate instead, it would turn out to be good as on one of the tongues that stuck out it absolutely took two stops in John's rod and there was no talk of it being a big Halibut. His somewhat light equipment had to show color but what a wonderful fight he had and up came a real dream fish of 166cm which after some nice photos had to swim back home.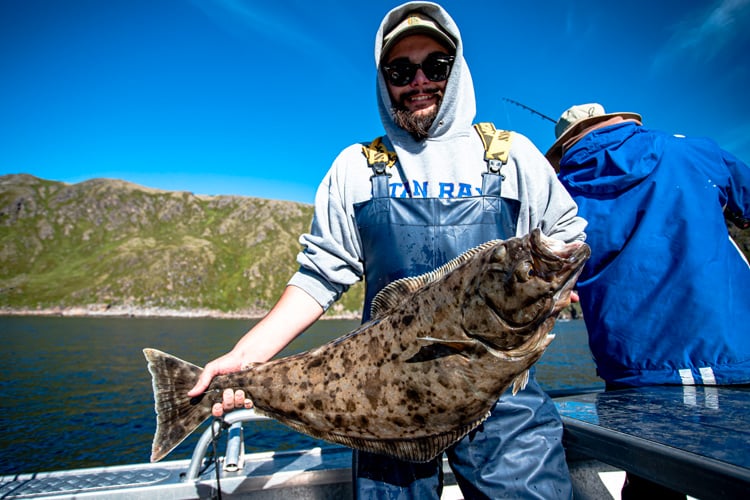 Luxus and Prospect were on a long trip one of the days and went for a lot as usual, the number they managed to land we will leave unsaid but they had a real dream fishing and landed many Halibut of 130-150 centimeters with a top of 158 centimeters, at the end of the week they were able to add up 3 fish over 150 centimeters and a total number of landed Halibut which also remains unsaid but there were many! Mats, Inge and Peter steered a really good Cod pass one of the days side by side with the guide boat, the big Cod moved in a little from day to day and on this particular day a lot of big Cod had moved into the area and they had a great time fishing with a lot of Cod between 10-15 kilos and Mats managed to pull the biggest Cod of the week at a whopping 18 kilos!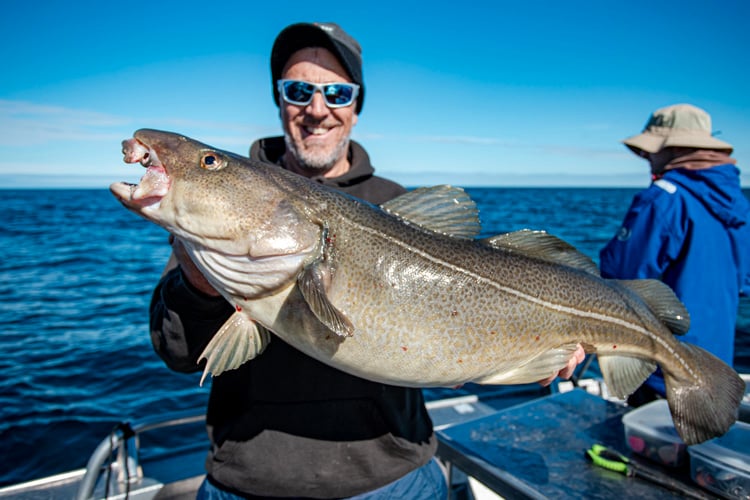 Now it's time for the eminent World Championship competition in Halibut fishing up here and we're charging for a full camp and competition tagged guests! We thank everyone for a great week, see you soon!
Tight Lines// Douglas Dahlberg & Andreas Hugsén
CONTACT US
If you, like many others, have ever dreamt about fishing the prolific waters of Havoysund and would like to know more information on how you can join us, you can contact our sea fishing specialist, Paul Stevens, on 01603 407596 or email at paul@sportquestholidays.com.