After an absolutely fantastic week up here on Havoysund, we are now sitting and thinking back on fanatical joy roaring and many hours of abrasive, completely unforgettable nature experiences at sea.
Our beloved flatfish, Halibut, have been extremely difficult during the week and you have really had to fight for them, but the wear and tear and commitment has paid off. The Cod fishing is still good but difficult to find the really big Cod. During the first day of fishing, our guests from Lithuania in boat 5 had runs in a really good place where they in a short time managed to land some nice Halibut with a top of 145 and 165 centimeters, while many boats lay in the Cod areas and pulled good quantities of nice Cod.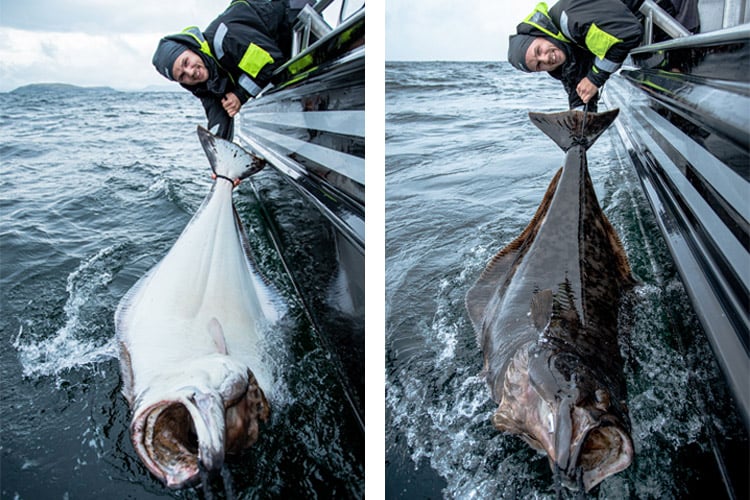 During the day there, however, we had slightly tougher conditions but nothing that prevented us from getting out in hot places, I steered the guide boat and after an attempt at Cod which resulted in us catching Halibut instead as it was a bit too much sea, turned out to be a good decision. We went into a channel that I scouted but never fished before and with previous weeks of fishing it looked like a perfect spot, Erik who made his life's first trip here lowered a fat bait fish and once down he asks me for a little review on how to go about it and do if it hits and actually how to fish for Halibut. I did not tell him much more than how he would think with the placement of the bait before it thumped in the rod tip and I told him he had a Halibut, a little confusion arose but Erik grabbed the rod and I pulled up the brake on his reel and told him to crank, the result was a really good rod bend and there it sat, the first Halibut of his life after 10 seconds of fishing. The fish offered a good fight and Erik pumped up the fish really nicely so that I could secure the fish and measure it to a full 160 centimeters, it was an absolutely fantastic joy in the boat and an unforgettable moment where the dream fish came to visit record fast.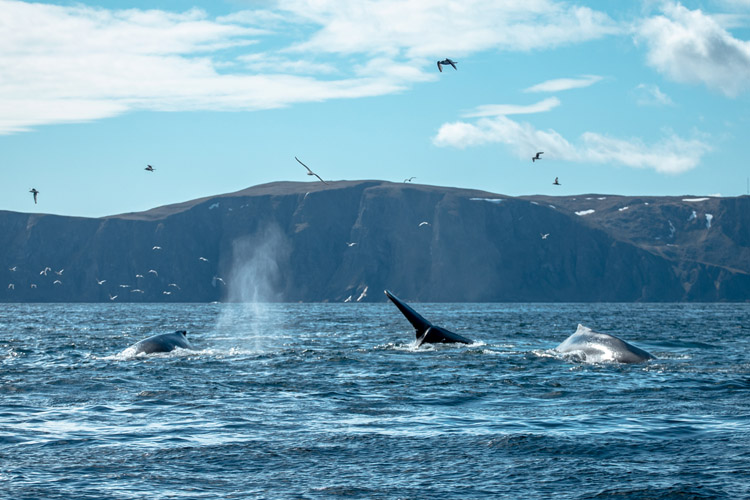 On Sunday we were treated to weather that enabled a long trip and a couple of boats set off. After driving for an hour, we had to stop and witness a completely crazy whale spectacle where crazy amounts of whales showed up, it was more of an inferno of humpback whales chewing Herring and wallowing in the surface.
Lots of crazy big humpback whales came up and showed their brutal size and it was definitely a completely magical start to the day, however we were looking for Halibut and even though you felt you could have stood there all day and watched the majestic animals, it was time to stick to catch the current. The fishing started well but gave us a slap in the face when we started the day by missing 5 Halibut in the guide boat, they took our bait fish up to the neck and just stood and held them, no matter how long we waited for time and time again, we pulled the fish out of their mouths and they were gone. In the end, Robban managed to catch a Halibut on spin fishing of good food size, but the day continued in the same pattern and the Halibut were unbelievably difficult, we had many bites during the day but it was NOT possible to hook them… Kollbergarna in boat 3 finally found a spot that gave dividend in the form of two fine Halibut of 125 and 122 centimeters.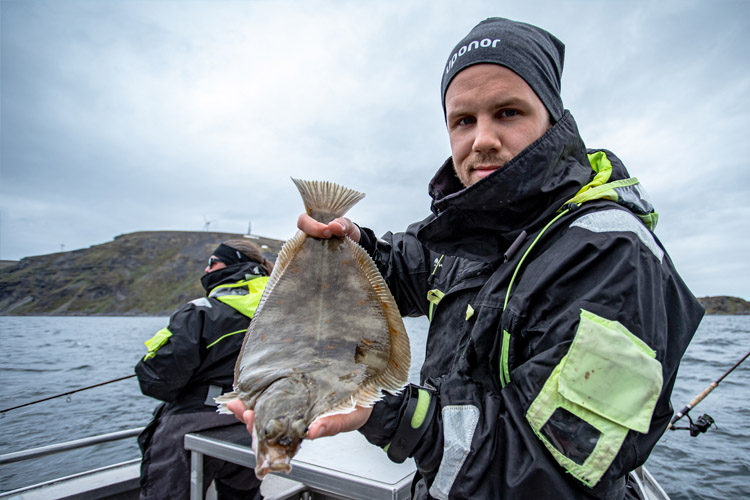 When later in the day was still sluggish, I went back to the spit where we started the day in the hope that current in the other direction would result in the missed fishermen choosing to hook a little better, which turned out to be true. The weather would change and at 19:00 the wind would blow hard and force us to go home, it would blow us in the back so the fishing continued until the wind came, 18:58 it tore away in Robban's rod and there was no doubt this time, the fish sat and a completely mental fight broke out where the fish pulled hard and we were pushed against the rocks during the fight.
In a completely different area, Andreas was guiding the gang in boat 9 and they did not hold back, the area has in previous weeks delivered monster fishing and this day was no exception. On a king drift out on Andreas' special hook, it bombed properly in Torbjörn's rod and when he had hooked the fish, there was no talk that it was a solid piece they had hooked in, the fight was long but in the end Andreas managed to secure the Halibut and measure it to 180 centimeters!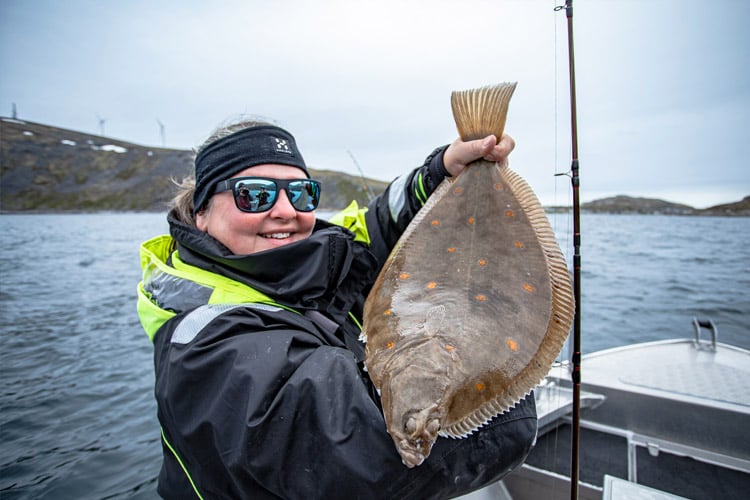 The next day was a start of Cod fishing on the schedule for us in the guide boat, while we first had a lot of wind we got lots of nice Haddock and when the wind then settled we came out on nice Cod grounds where we hooked good food fish. Well satisfied with this, it was time again for Halibut and we went down and fished off a free-standing Halibut mark and Dan who was waiting for his first Halibut for the week hooked in a really good fish on the first drift… We came down on a nice edge below a base and there it tears away like the train in Dan's rod and he puts the circle hook in a messy fish that did not want to follow up, finally Dan started to get control of the fish and was able to pry it up so that I could land and measure it to a full 153 centimeters!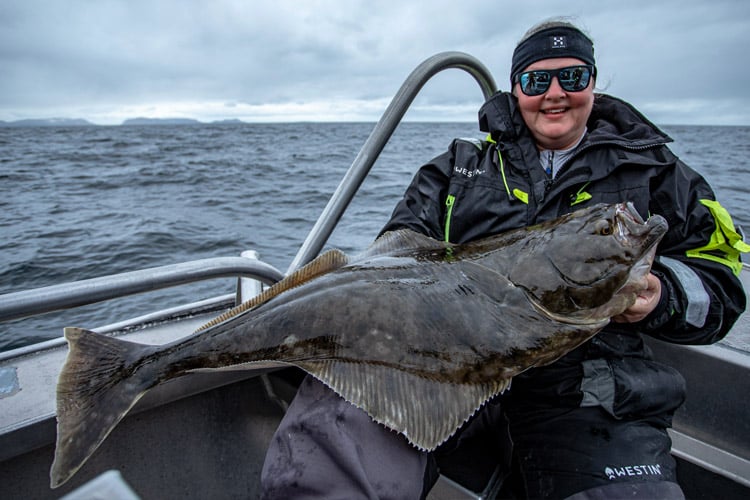 Tuesday offered more wind and we started the day with Plaice fishing in the area, it was successful and it did not take long before we caught good amounts of Plaice between 1-1.5 kilos and Erik pulled the longest straw with a cannon Plaice of 2 kilo. When everyone was happy with it and the current was right, it was time for more Halibut fishing, we fished around a peak that held bait fish and on the second run it tears away in Fanny's reel, she was also waiting for her first Halibut for the week and finally it sat! She had a really fun fight and came up with a beast of a Halibut of 98 centimeters which was allowed to gild their freezer with really good quality meat and lots of joy. The boys in boat 11 also managed to get a nice fish when they drifted off a nice edge and on a jig smacked a cannon Halibut of 116 centimeters. The last day of fishing was uncertain and there was a limit to having to set the fish, however it turned out to work and when the current matched in the morning we went out for one last shot, Lasse in the guide boat had still not caught a Halibut and we were aware that it was the last chance…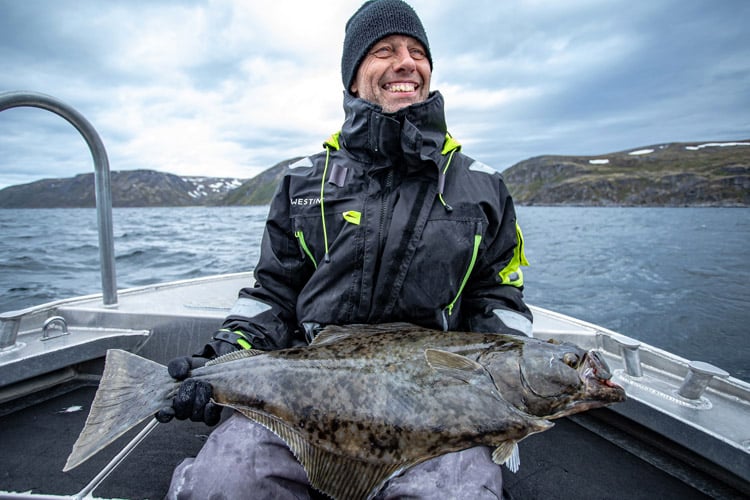 We did some real bang drifts in hot places that did not deliver, we did not get any bait fish so the jigs had to go hot, I scouted out a deep flake that I had never tested before and got the feeling. We went out and put an operation but without action, so I ask everyone to crank up when I wanted to test another hook, but then on the way up it slams into Lasse's rod and out of the blue it finally sat there! Lasse got to pry göt in the rod and feel a good rush in the roll…
Tight lines from Havoysund.
CONTACT US
If you, like many others, have ever dreamt about fishing the prolific waters of Havoysund and would like to know more information on how you can join us, you can contact our sea fishing specialist, Paul Stevens, on 01603 407596 or email at paul@sportquestholidays.com.