Fishing Report Norway, I cant believe its nearly been a week since I returned from Havoysund, Northern Norway and what a trip in fact I think for large Halibut it was the best so far out of all the years I have been going there. We even managed to set 2 new camp records for the year in the form of a 183cm Halibut around 190lb and a 53lb Cod and we even had a Haddock of 9lb……
I will do this blog in 2 parts, as there is a lot to report.
PART 1:
Well as normal the trip started with meeting all the keen anglers at Gatwick and over a beer or two every one got to know each other, some had met before on my previous trips and the rest were newbies. After the first flight from Gatwick to Oslo went with no delays we found ourselves at our overnight hotel in Oslo around 7pm. Rooms sorted it was time to have a lovely evening meal in the restaurant and it would have been rude not to have another couple of beers. So with a time set for an early start the following day, it was fast approaching bedtime, as we were due to leave the hotel at around 04:30am ready for our 07:00am onward flight to Alta, so i decided to start writing my Fishing Report Norway
After only a couple of hours sleep my alarm was soon waking me from what only seemed like a couple of minutes sleep and I am sure the others felt like that as well. So with a hot shower and a quick bite to eat in the restaurant we made our way back to the airport for the next short flight. Oslo is a great airport as things just seem to move very quickly and with no hold ups we soon found we were standing by the gate ready to board the plane.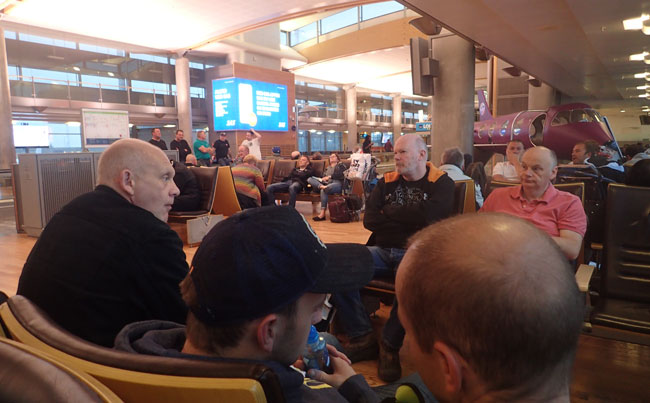 A couple of hours later after touching down at Alta the coach was waiting to take all 12 anglers and their tackle up to one of my favourite camps in Norway and the guys were buzzing by this time as I had been talking to them the previous night about what to expect over a couple of beers. Just a little story to keep in your mind that will become clearer later in my report; an angler on the trip, Ray, was waiting for his cool box to come round on the belt when it appeared the lid had come loose and one of his fishing boots had gone missing and after a quick check with the very unhelpful information desk Ray was heading to the camp with only one fishing boot. This will become a very funny joke later in my report
With the anticipation of what was going to greet them the coach journey soon went by and we soon found ourselves rounding a corner to be greeted with the Island of Havoysund. If you have never heard of this Island in Norway then Google it as you will soon see that it is the highest point in Norway you can travel to and the scenery up there is breath-taking. Some of the finest Salmon Rivers were seen and many reindeer crossed in front of the coach, which made for good photos and an awesome Fishing Report Norway
With a great cheer from the anglers as we pulled in to the camp we were greeted by the guides located at the camp. Ulf who is the camp manager and head guide, plus Fredrik and a new guide this year Henric who was going to be driving the other boat for the whole week. So with introductions done I soon had the guys set up with their cabins and informed them that there would be an introduction talk in 2 hours held over at the onsite restaurant/bar.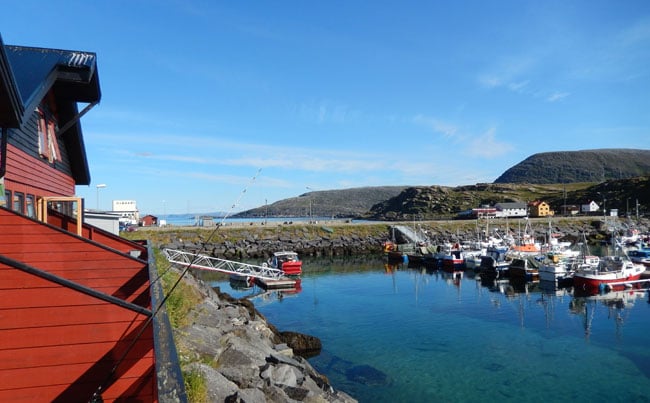 After a frantic couple of hours unpacking and setting gear up we all made our way over to the restaurant for our briefing. This is a great thing for the guides to do as it breaks the ice and a good way to meet the anglers that will be spending the next 6 days fishing with. They go through things such as safety at sea, what to do with large Halibut and more importantly how to fish for them. After listening to the guides I could see the guys on the trip looked even more keen than ever in fact they looked more excited than my 2 year old boy at Christmas. As the weather was so good and with it only being around 5pm I made a decision to mention that if any body wanted to go out fishing then we can go out for 4 hours to get the guys use to it, well as you can imagine every single angler jumped at the chance as it was around 24 degrees, no wind and the sea was flat calm.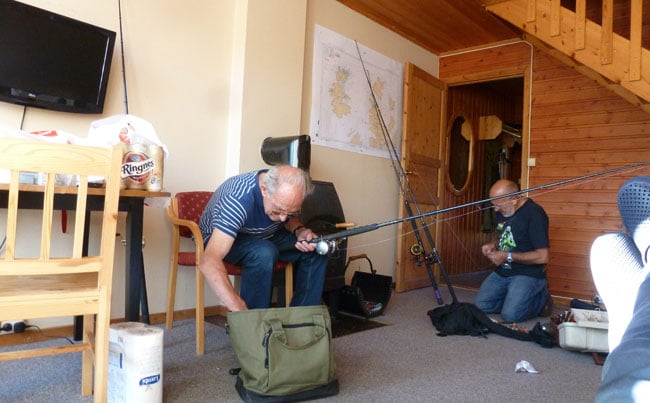 Every body rushed back to the cabins and hurried their gear together and the atmosphere in the cabin was great as the guys did not think they were going out until the next morning, but how could I keep the guys on land in weather like this. I quickly rushed around the 3 cabins making sure people were equipped with the right gear to target the Cod and Coalfish as this was going to be the plan for this evening session. With pirks and small shads rigged up it was time to take this group out on the water. I had kindly been given some great looking new shads from a company called Seabooms to test out on the trip and was excited to see how they worked and to report on them in my Fishing Report Norway.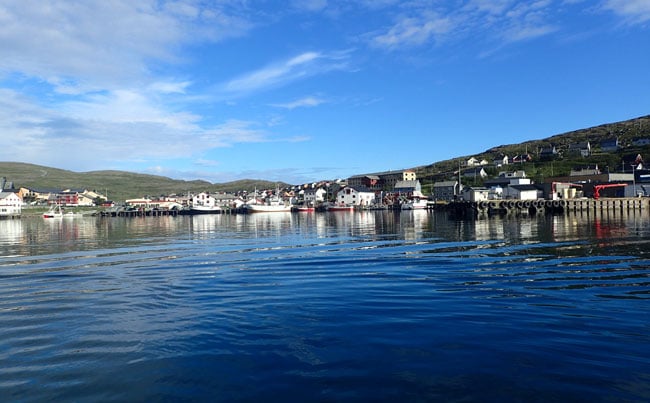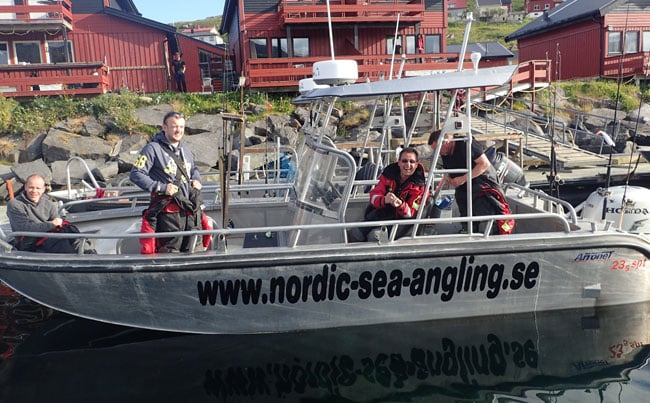 | | |
| --- | --- |
| | |
The boats were soon loaded with what looked like an entire tackle shops worth of bits and pieces and we were off on our way to a mark north of the camp around 3 nautical miles so with flat seas we were soon searching the area for tell tale signs of the shoals of Cod feeding. After only looking for a couple of minutes we soon found the fish and down went 12 rigs all hoping to hook something and before long all guys were catching fish that they could only dream of back in the UK. Cod after Cod came up all between 10lb – 30lb then all of a sudden as we were drifting we came across some Coalfish feeding mid water, so a shout went out over the radio that we had found some good Coalfish and the other boats joined us for what turned out to be a great start to the holiday. At around 11pm the guys were looking a bit beaten up as they had been up since 03:30am and done a fair bit travelling so I got on the radio and suggested we all head back to the camp for a hot meal and some sleep and prepare ourselves for the following day as the plan was to try for the Halibut first thing as the tides were looking good for them.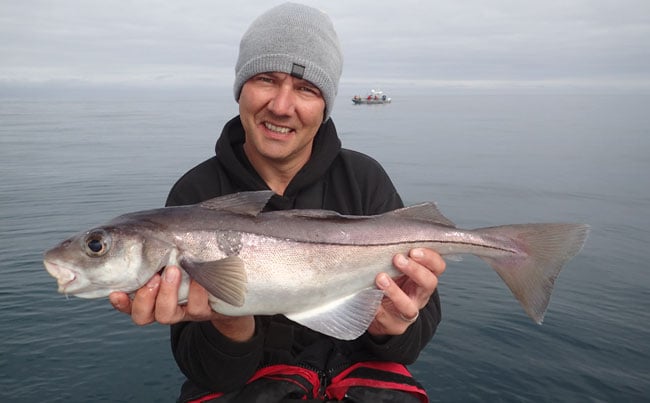 | | |
| --- | --- |
| | |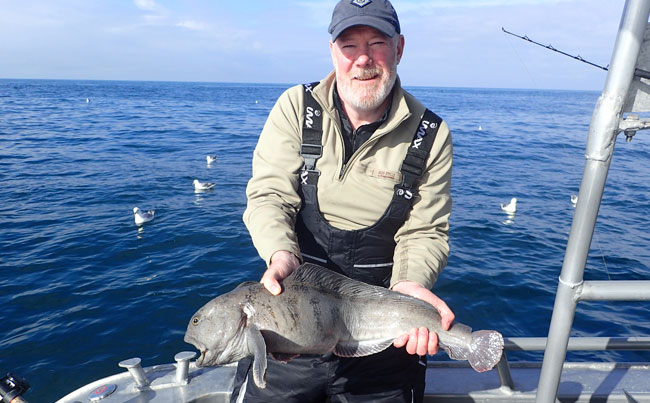 Back at the camp the guys were all exhausted and soon found them wanting to go to bed so I quickly spoke to the other guides and hatched a plan to get on the water for around 10am the following day so the guys could at least get some good rest. With this in mind the guys all went to bed for a well deserved rest and I can only imagine what was going through their minds as the lay there thinking of what was going to happen tomorrow. I Quickly made some notes for my Fishing Report Norway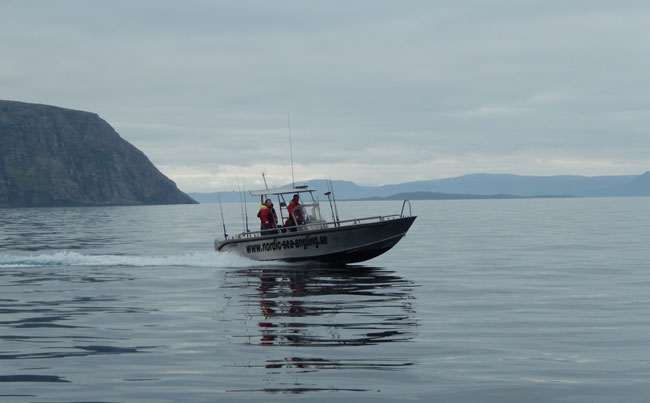 Fishing Day 1:
Thursday morning soon came around and once the guys had filled their bellies with the buffet breakfast we soon were heading down to the boats for our first official days fishing. A plan was hatched to see if we could get some Halibut and to visit an area that had been very productive on a previous trip to Havoysund. Unfortunately this meant a steam of about 45minutes which does not sound far but the sea had a bit of a chop on it so it took a little longer but it was the first day and the guys were so excited that the time went quickly as there was plenty of banter going around. Once at the mark we all split up and fished a lovely bay, which in the past had given us great rewards.
| | |
| --- | --- |
| | |
| | |
| --- | --- |
| | |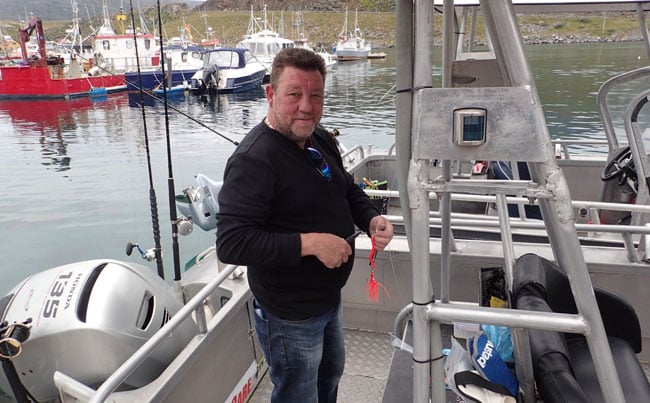 The hours ticked past with out so much of as sniff from the Halibut so I quickly got on the radio and made a suggestion that we should go and fish for Some Cod and Coalfish purely to give the guys a break from the Halibut fishing and to get a bend in the rod. Halibut fishing, if you have never done it before can be very boring sometimes as they are not shoal fish and are sometimes very elusive.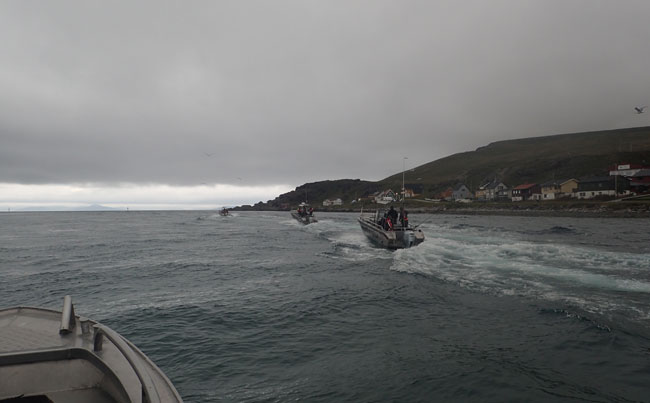 With a new mark picked we head off in search of the Cod, this mark was north of the camp on the edge of a steep drop off. Once we arrived we soon found the Cod and fished hard for them boating Cod to 20lb with the odd Coalfish thrown in for good measures. It wasn't until I moved the boat to a different area for a drift that we found some better Cod and it did not take Kevan long and he was bent in to what looked like a great fish. Kevan's PB Cod was only around 20lb and I assured him that this fish was going to beat it and then a Cod hit the surface and even I could not believe it, what an amazing Cod and would look great in my Fishing Report Norway .This Cod was long and very fat and I just turned to Kevan and said "Well chap, you have a new PB" we couldn't believe it and once we carefully lifted the fish in to the boat we heaved her on to the scales and she went 53lb….. this was a great summer Cod and a huge jump up on Kevan's PB, he was made up. We very quickly took some pictures and released her to carry on with her life, just the way I like it. Huge congratulations to Kevan. This was caught on a test lure from Seabooms called 'Cod Bomber' in a black colour. This shad held up very well and another thing I like about them is how fast they get to the bottom, being very heavy in the head. The single hook was perfect and held strong, thanks Allan Yates for providing yet another fantastic lure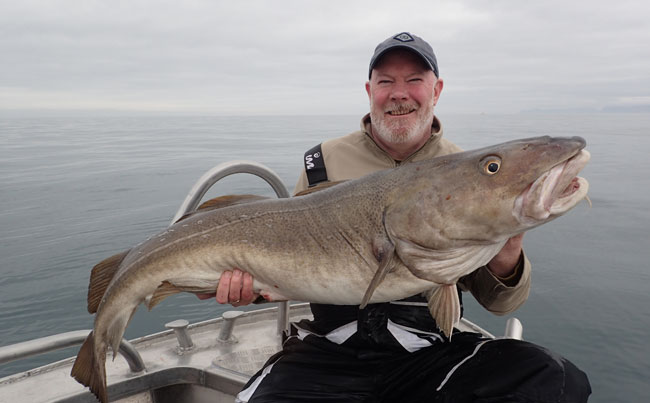 | | |
| --- | --- |
| | |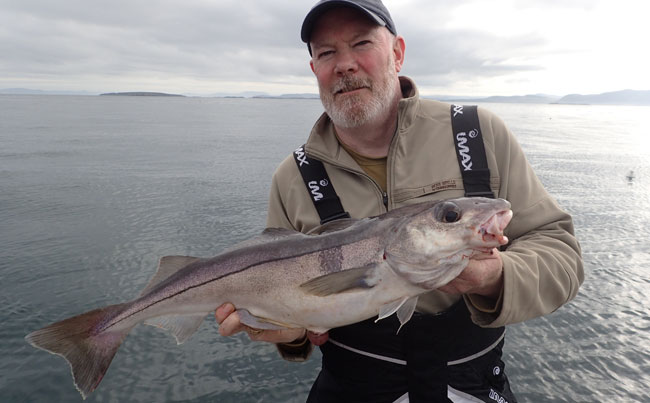 | | |
| --- | --- |
| | |
The fishing soon slowed down on this mark so we decided to try one more mark close to the camp on the way back and after a lovely steam back on flat seas we were drifting over a new mark. This time we were in much deeper water, fishing around 130mtrs. The mark was a deep channel with 50mtrs each side and when you get this the tide pushes through areas like this very fast so I had to be on the engine to hold the guys on the mark as this is where two currents met. Ray was the first one to hook up and blow me it was a Halibut, after the hours we spent fishing for Halibut in the morning to finally get one fishing for Cod….. that's the way fishing goes sometimes. After a short fight up popped our first Halibut of the trip, not massive however it was Ray's first Halibut at around 20lb's it was a good start. With a few Cod caught it was soon time to head back for some hot food and maybe a few beers, so with the call over the radio that we were heading in the other two boats also decided to head back.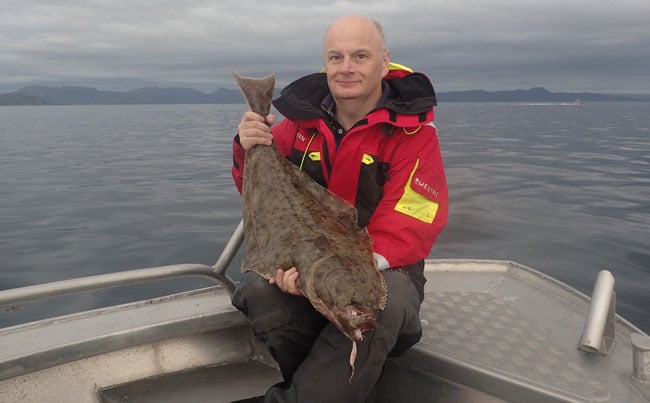 Fishing Day 2:
Friday and the weather was a little windier so the plan was to go again for the Halibut as the tide was much better in the morning than the afternoon plus the wind was due to pick up to around 15mtrs a second which is fishable but not comfortable. We decided to head to a bay not far from the camp that is almost a banker area for Halibut so fingers crossed they were in the feeding mood. We soon found ourselves patrolling the bay looking for some areas to fish, now this bay was shallow with average depths of around 18mtrs. I decided to start off on 10mtrs and drift down the slope in to around 20mtrs, once the boat was set up down went our shads and with in 2 minutes something was playing with my shad and after a very sharp strike I was in. Now this didn't feel like a Halibut as the fight lasted all of about a minute and to my surprise and very small Halibut hit the surface, we all laughed and said is this what we have come here for????? After a very quick release we fished on hard for the Halibut to no avail, I just could not work out what was going on. There were 11 boats out fishing and hardly any Halibut were being caught, had they vanished or were they just not hungry, then the wind picked up and was blowing all the boats every where so the guides decided we should think about heading back and maybe trying again later in the day as it was going to be a rough ride back to the camp. This was good news to some of the guys and some of them had not been out in this type of weather so with every one in agreement we slowly and carefully headed back.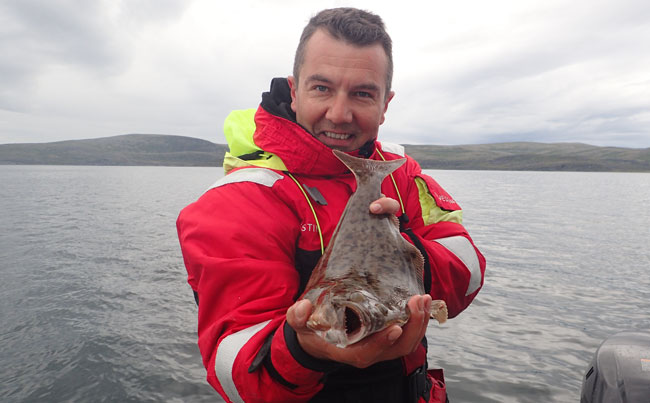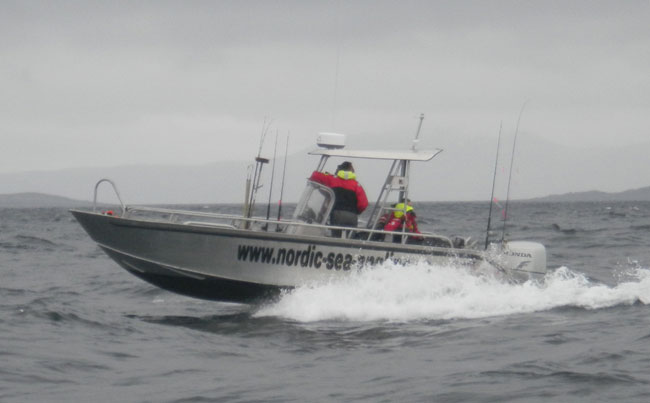 The journey back was a lumpy one and once back at the doc a few guys decided to hang around outside the dock fishing for Plaice and Dabs while the other guys fancied trying the Plaice fishing from the dock, both sets of anglers done well and had a few nice Plaice. Some of us decided to go in to the bar and watch the footy on the big screen, which is where I ended up and believe me I felt a lot warmer than they looked fishing off the dock brrrrr
Fishing Day 3:
Saturday morning was looking good and after a lengthy conversation with the Norwegian guides we decided to split up a little today and one group fish the day for the Cod and Coalfish and the other group for the Halibut. I took the Cod guys and off we went in search of some more rod bending action and the hope for some of those big Coalies. Before we left the guides and myself were talking about why the Halibut fishing had been so hard and the only thing we could think of was that we had a big low pressure hanging over us and we all knew the Halibut do not really like low pressure and the only thing we had in our favour was that Sunday was due to be high pressure so we could only keep our fingers crossed for this to change the Halibut fishing as this is why we head to Havoysund.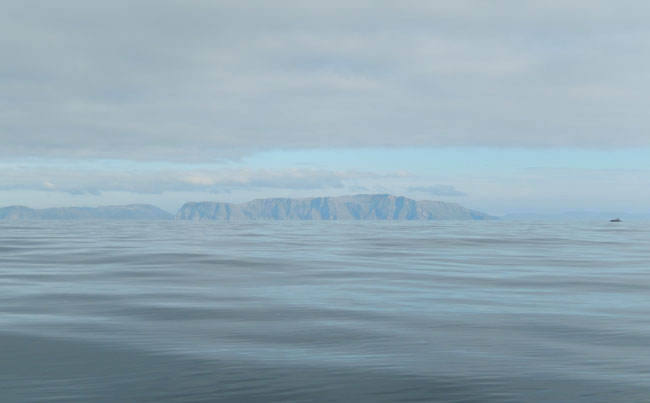 Back to the Cod fishing, we decided to head North again as it had been good to us a couple of days ago and the Halibut guys headed South. We eventually started to loose sight of the Halibut boats as we headed the opposite direction in search of the Cod. We finally arrived at the grounds and after 5 – 10 minutes searching I had the boat held over a healthy looking shoal of Cod. 4 rods were put in to action and one after the other I saw them bent over playing what looked like nice Cod. what great news for my Fishing Report Norway. The guys pumped the fish up and I soon found myself unhooking 4 lovely looking Cod all around 15 – 20lb what a great start. The sea had now gone flat calm and we soon found ourselves surrounded by porpoise, which keep us all entertained. The day just seemed perfect and it was a real pleasure to be an angler that day, good company on the boat, plenty of fish and stunning surroundings, life can not get better than this. The hours soon ticked by and once the guys had a boat full of Cod it was time to head back to camp for a shower and our All you can eat King Crab meal that is a must if you visit this camp.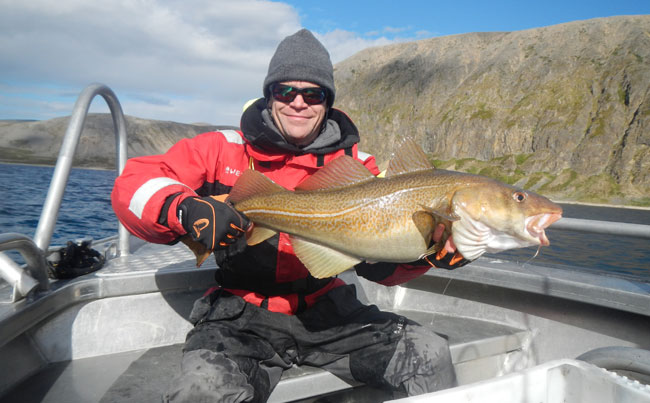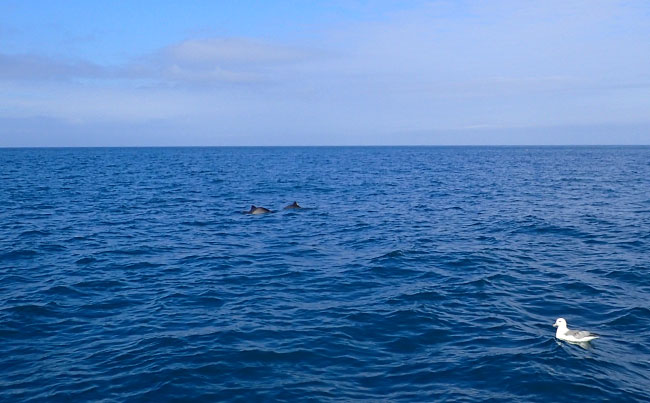 That is it for Part 1 I will post the final part of the report in a couple of days and be sure not to miss out as we really did finally find the Halibut and boy were they worth the wait…..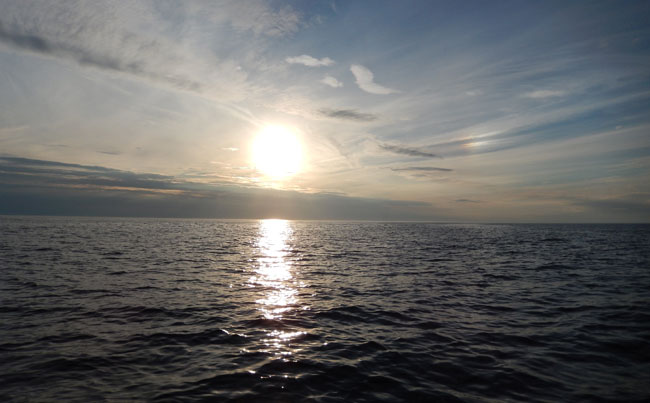 Until the next instalment, tight lines
To view this Hosted trip Click Here
Paul