The week begins…
As always on day one at Mefjord, it takes some time to sort out boat contracts, shop run and getting all hire equipment sorted and everyone was finally ready to go around 11:30.
With an ok weather forecast of around 7-10 m/s wind and a decent 1-2 meter swell the group were eager to get out there. After a bumpy ride out we arrived on the Skrei cod grounds and found some impressive shoals.
Everyone soon had their shads down in the kill zone and it didn't take long before the first Skrei Cod was landed. We managed to stick it out for about 3 – 4 hours before the wind got up and we had to call it a day. The biggest fish of the day was mid 30's to Mark Thomas's boat and most other fish were in the 20 – 30lb bracket.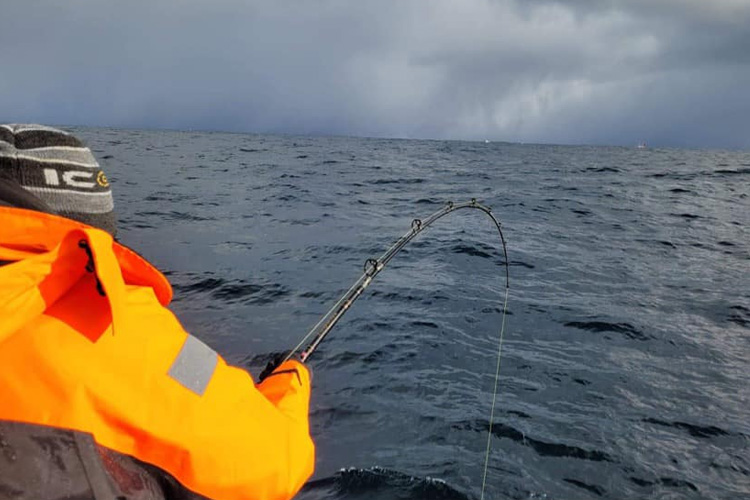 Hopefully, once the swell settles down, the bigger fish will be easier to find. Fingers crossed for some calm days. If the weather forecast stays the way it is looking we should get some really good days in.
Snow, snow and even more snow…
With small windows in the weather today, we could only venture out in to the fjord outside the accommodation due to westerly northwesterly winds putting a good swell on the open ocean Cod grounds.
Everyone loaded on the boats for about 8am we headed to the end of the fjord just before the open ocean and you could see the big white water swells just a few miles off shore so we decided to stay where we were as we had some good shoals showing on the finders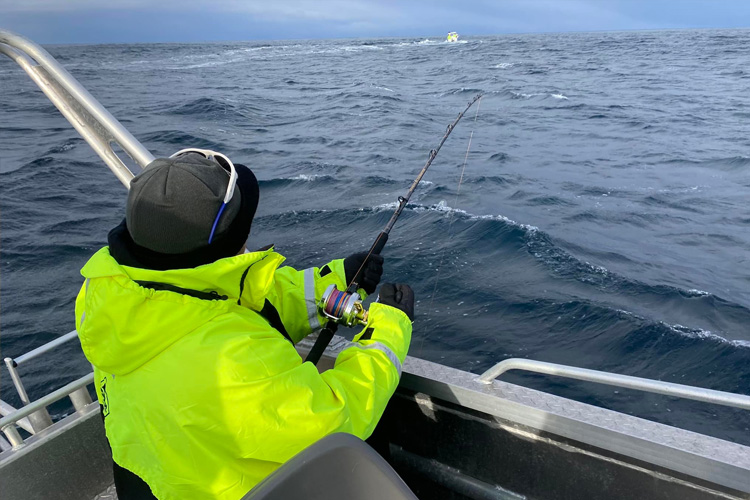 We still managed a few good ones today and everyone was just happy to be out. Around lunch time the wind built up so we headed back for lunch and then headed back out mid-afternoon.
All in all it's was a good day and everyone caught, the biggest cod was mid 20lb.
The weather begins to improve…
The last couple of days have been long days due to weather improving and being able to get out to the main Cod grounds.
Over the last couple of days we have caught so many Cod that I have simply lost count, not the huge ones but the number of fish has been excellent with Cod to mid 30's being landed now by most of the group, everyone is really happy with the fishing. One last day tomorrow and we can't decide what to fish for, Skrei Cod or Halibut…
The final day on the water…
That's another hosted Norway trip done and dusted. We finished the week off with a Cod just over 60lb to Nick and lots of fish around the 30 – 40lb mark. The fish really started to switch on once the sea had calmed down and the bigger Cod started to show, shame we had to leave.
It was a great week with some tough days with regards to the weather but we all made the most of it and soldiered on. Thanks everyone for attending and see you on the water soon.
Until next time,
Tight lines,
Paul Stevens & Mark Thomas
CONTACT US
If you, like many others, have ever dreamt about fishing the prolific waters of Mefjord, Norway and would like to know more information on how you can join us, you can contact our sea fishing specialist, Paul Stevens, on 01603 407596 or email at paul@sportquestholidays.com. Alternatively, you can find the full hosted Mefjord tour page here.