Another fantastic week comes to an end!
We were happy to welcome another great bunch of anglers in our realm of giant Sea Trout, good wine, endless skies, and hearty cuisine, to battle the elements at the end of the world and chase dreams in the troubled waters of the Río Grande.
Cheryll and Peter, old friends who have been fishing with us for over a decade; Jim and Robert, who we had the pleasure to get to know here last year and have been truly embraced into our Kau Tapen family. JR and Spain, two friends and very keen fishermen for their first time down here in Tierra del Fuego; and finally, Juanjo's friend Eduardo from Argentina. An intimate group of "only" seven guests that gave us all a bit more space to roam freely around our beats, to rest some pools in between, and of course get to know everyone a bit better and refresh old friendships.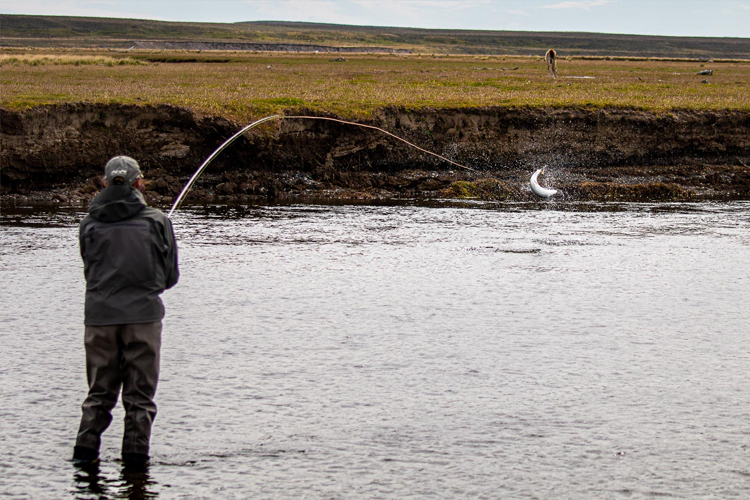 The water conditions were not easy, for the first time this season, the water dropped rapidly – approx. 4 inches along the week – and stayed crystal clear. Although we had reached a normal water level now (+/- 0cm), if the wind dropped, one had wade really carefully and cast as quietly as possible. Luckily, the fish that had entered the river with the big tide early last week and were filling up our beats now and you could feel that more fish were around. Even though the river conditions were not easy, for the first time this season we were getting the feeling of consistency. The fishing was far less patchy than in previous weeks, and the usual "hotspots" would start to produce more takes.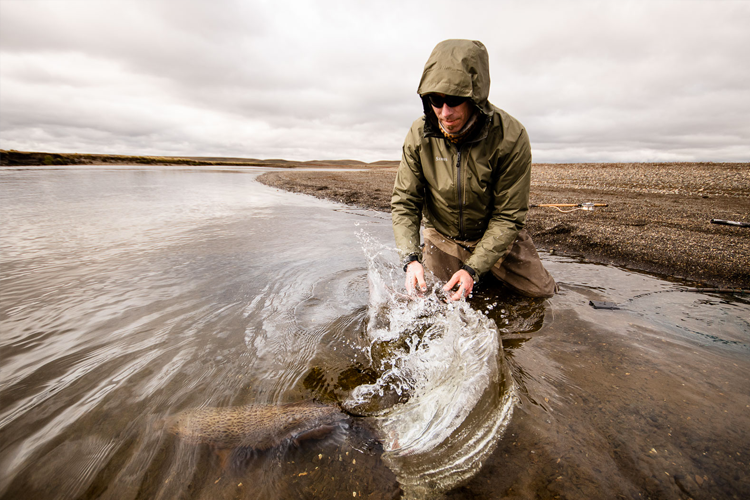 Due to some rather warm days with chilly nights in between, the water temperature fluctuated between 10 and 16 °C. With these temperatures, the metabolism of the fish is working fast, and if aligned with the right weather conditions, they will be very active. Some of the fights that these fish were putting on (even the smaller ones) were unbelievable – acrobatic, strong and fast – and the overall quality of the fishing, outstanding. We even saw the backing a few times this week, which (considering the size of most pools here) is rather unusual. Cheryll hooked into an 8 lbs fish during one evening that made her Tibor reel scream like a banshee on a set drag and went straight into backing in one run.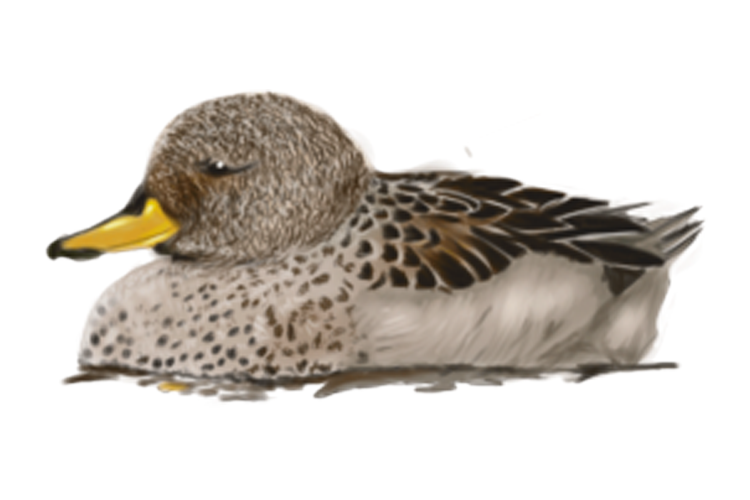 The amount of 8-15 lbs fresh running fish that we saw, hooked, or caught leaves us very hopeful and they are amazing sport to hook into! More and more big fish were hooked and seen as well. The first day already showed us that, with Spain and JR landing two incredible fish in their first session on Río Menéndez, a 15 lbs and a stunning 17 lbs fish. Spain kept going with another great 17,5 lbs in the evening and also Cheryll got a head start into the week with a cracking 16,5 lbs fish amongst some others. Most of these high-teen fish were very fresh and fought like freight trains.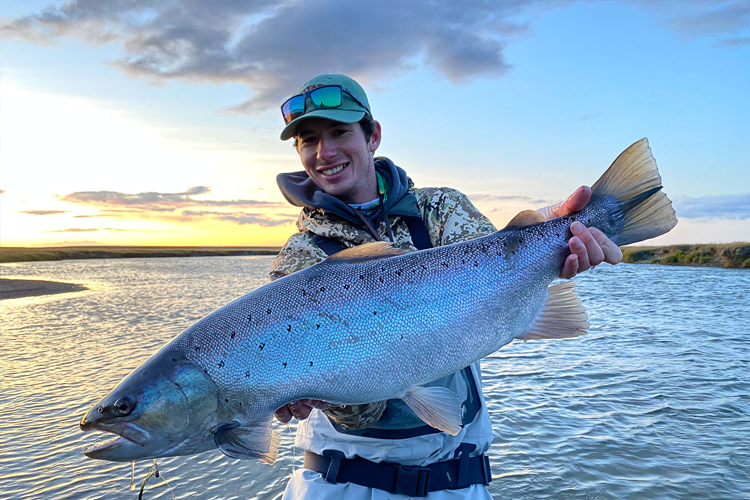 While Sunday produced good-sized fish, Monday produced numbers – only six anglers hooked into a stunning number of 31 fish (!!) and everyone was able to land at least a couple that day. Cheryll managed to land an incredible 19 lb fish, Robert was able to bring in a few double-digit fish, amongst them a cracking 15 pounder. Eduardo was able to finish his evening with two amazing fish – a 14 lbs and a 16 lbs. While Cheryll was in charge of the numbers this week, it seemed like Eduardo was picking out the big fish, just like the 19 lbs he landed on Tuesday morning, and then topped by an outstanding 20 lbs on Thursday night. This great specimen would remain the biggest of the week!
Spain and JR were taking care of consistency – they would come back from almost every session with at least one mid-teen fish, and just like they kick-started their trip on the Río Menéndez, they finished it off on two beautiful 16 lbs fish during their last evening session.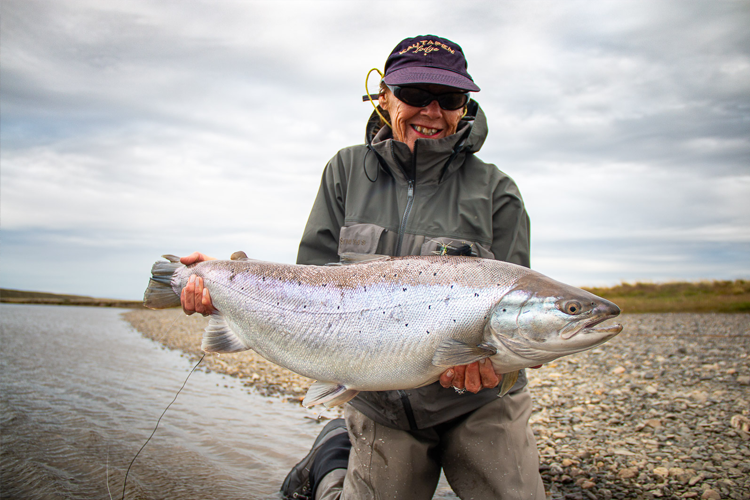 Just as we saw many great fish make it to the next, it was also a week of lost battles. Such as the fish that Jim hooked on Thursday, that – after some deep and heavy headshakes – took off downstream, went into backing, and finally snapped the line. While landing a fish is what we aim for, losing a giant is what makes great stories and fuel the urge to come back!
These fish were incredible this week – not easy to hook, but in such great condition – and I am very confident, that (if the river keeps this water level for just a bit longer) we will have some outstanding fishing ahead.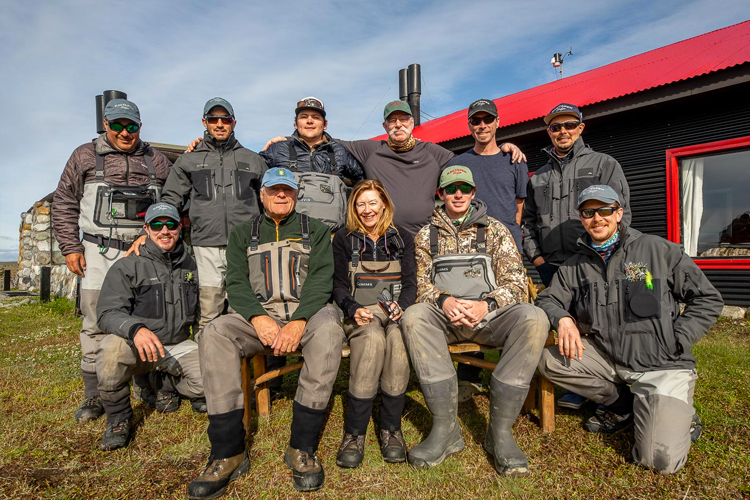 It always amazes me how fast the time flies by down here. It still feels like the season has barely started, but our third week is already in the books. I am not complaining though, time that goes by fast is usually time very worth its while – and if everyone else is having as much fun as I do, this season is going to go by in a heartbeat. Thanks for a great week, to be repeated next season!
Tight lines,
Paulo Hoffmann
Kau Tapen Fishing Guide
What a great report from the banks of Kau Tapen from Guide Paulo, If you would like to enquire about this destination feel free to contact us on 01603 407596 or click the enquiry button on the tour page to fill out the form and we will contact you.
Tight lines,
Peter