We couldn't ask for a better week to start our 2023 fishing season! We kick off the Kendjam season, hosting an incredible fly fishing family from USA, and the best, all great anglers and fun people to spend the week. Ladies had an amazing time also with some non-fishing activities in the jungle. It's also so cool to see a new young generation of fly anglers starting to discover the jungle fishing. This week we could say we guided 3 generations of fly anglers and they all did an amazing job catching lots of nice fish.
The river is still a little high for the season standards but is dropping every day and we expect to be able to do more wading in the next couple weeks.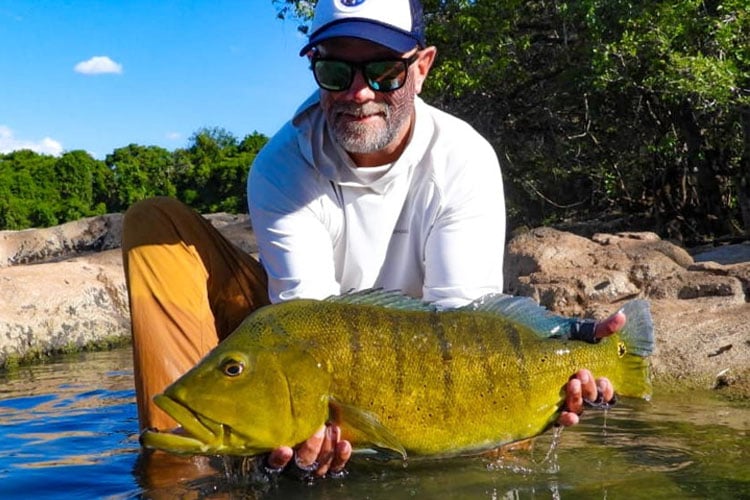 Water conditions:
Water Color – Not super clean yet
Water Level – Dropping slowly
Weather conditions:
Temperature – Average 29 C
Sunny during all the week
Highlights of the week:
There were some many highlights this week, but we pick two ere.
First, Toby with 67 cm monster Peacock bass (The all-time record in Kendjam is 69cm). Remember the Kendjam peacock bass is an endemic specie from Xingu river basin – Chicla Melaniae.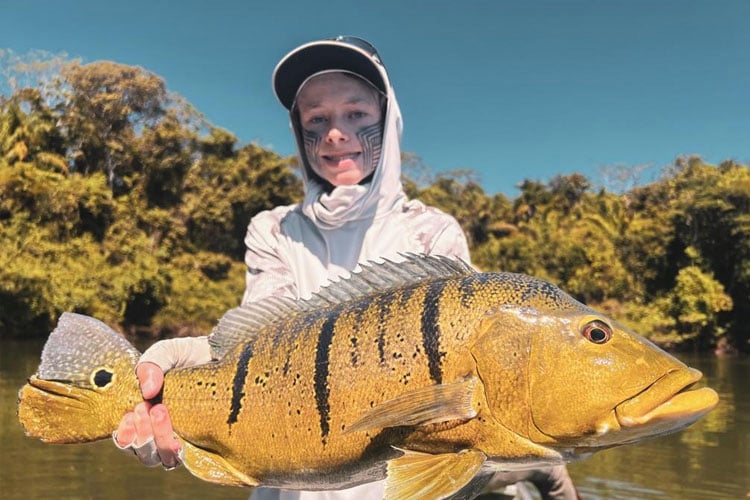 And second, Matt with the first Payara of the season, plus a long list of multi-variety species caught. It was super cool to see Matt, the youngest angler on the family, putting the work and getting better every day. He even came up with a new fly fishing technic that I would prefer keep in secret for now. But it seems to work really well, right Matt?
Fishing stats:
Anglers: 8 anglers from USA
Total number of fish landed this week: 387
Biggest fish landed this week:
Wolf Fish 81 cm
Peacock Bass 67 cm
Mantrinxã 47 cm
Pacu Borracha 43 cm
Pacu Prata 39 cm
Bicuda 82 cm
CONTACT US
If you fancy doing battle with the hard fighting species of the Amazon basin, then Kendjam Lodge is a destination for you. If you'd also like any further information, you can contact our fly fishing specialist Peter Collingsworth on 01603 407596 or email at peter@sportquestholidays.com.