Week 6 had us welcoming a group of very excited anglers from the UK, Canada, Sweden and Denmark. They arrived to a river in good shape, with a water level mark around zero. As is the tradition in Las Buitreras, guests are welcomed to fish on their own on arrival day, adding an extra half day of fishing to the normal six day guided routine. After a quick briefing and lunch, most guests jumped on the opportunity to get some extra fishing in and headed down to the river to try out their setups and get a taste of the river. After a few hours of fishing we ended the night with a welcome dinner consisting of Beef Tenderloin and a glass or two of local Malbec wine.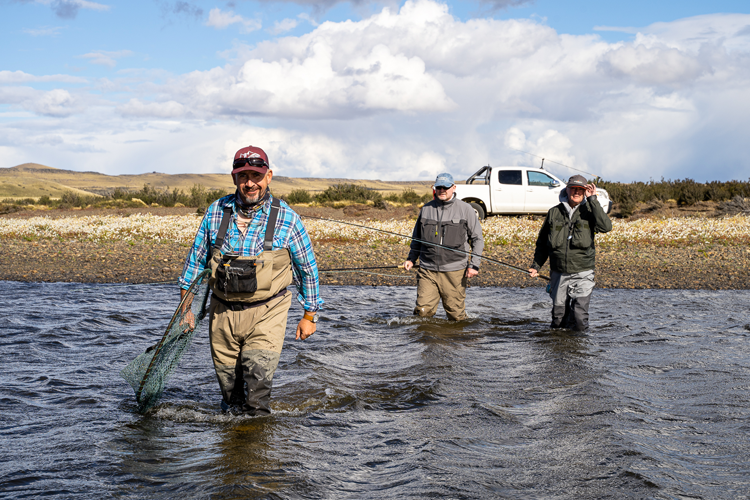 It doesn't happen very often but this week, most guests visited us for the first time. Take Angy and Tom for example: they estimated they had been planning this trip for almost 15 years and were now finally here to try their luck with the sea-runs of Rio Gallegos. When waiting that long to finally wet a fly in Patagonia it came as no surprise that they got serious from the get go. During day one they landed 5 fish between them, including a stunning 17 lbs fish and a very nice 12.5 lbs fish.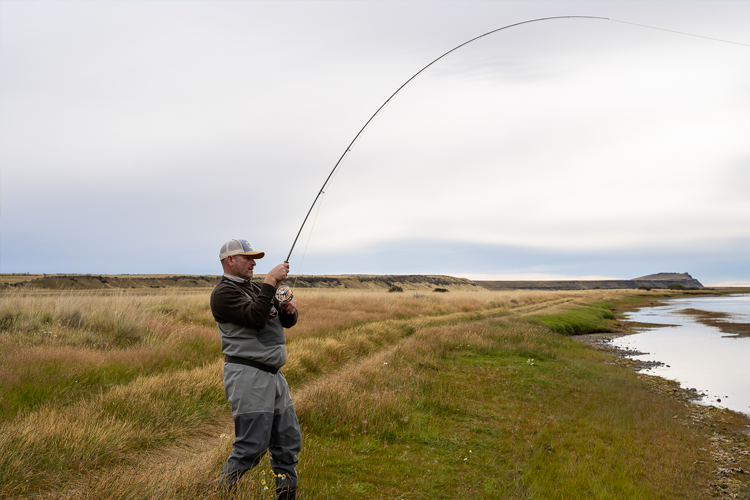 The weather remained stable throughout the week with consistent, warmer temperatures ranging between 16-20 C (60-68 f). During the first few days we had a tough northeast wind, which luckily changed into west/southwest around mid week and stayed like that. With clear water and a dropping river, small rubber leg nymphs accompanied by long leaders continued to be the key to success.
A stunning Spotty Sea Trout
On day five, Robert, fishing one of our lodge favorites, a small Copper John, managed to trick a real dream fish into biting. After more than 20 minutes of sweat, nervous laughter, and disbelief, running up and down pool 75, he landed the biggest sea-run trout of the week. A beautiful fish weighing in at 20.1 lbs.
During the week we had no less than three different occasions to celebrate with bubbly. First up was Robert's amazing 20 lbs fish which always requires the pop of a champagne cork. Second was the double birthday celebrations of Pontus and Denis which required cake, champagne, and singing. What the singing lacked in quality was certainly made up for with passion. Third, we had the successful video proposal by Mel, who was brave enough to send a video to his partner of him releasing a sea trout before turning to the camera and asking her to be his wife. Hours later a smiling Mel showed up and we knew it was time to pop another bottle of champagne. This time to congratulate Mel on his engagement. Brave man…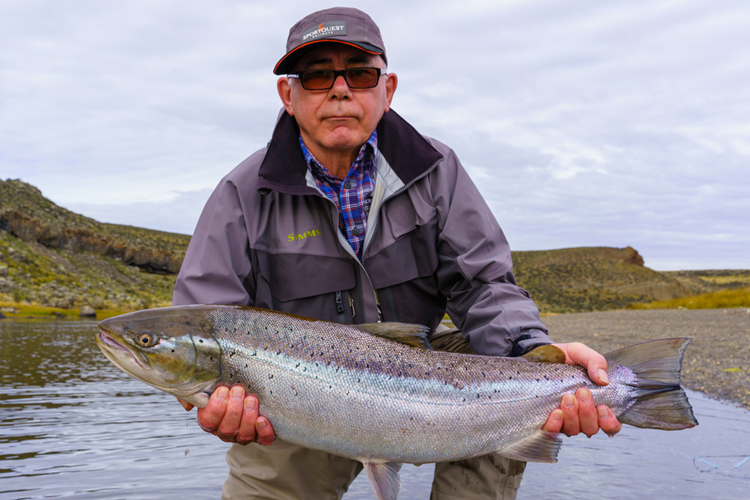 Our good friend and host Pontus was one of few guests this week that had visited Las Buitreras before. Even though Pontus was fishing as rod number three all week, his relaxed approach combined with years of experience from fishing Rio Gallegos saw him catch a number of really nice fish. With 9 sea-run browns landed, the biggest weighing in at 15.5 lbs, Pontus ended up as top rod of the week.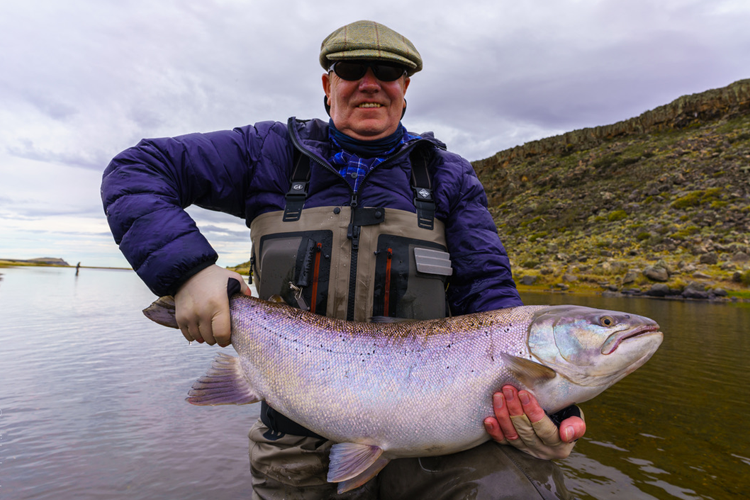 A true specimen sized Sea Trout!
With that we add another great week to the books. What a fun week guys! Thanks for all the laughs, the great singing (we now know birthday songs in at least 4 different languages), and the positive spirits throughout the week. We really hope to see you all again in the future.
Looking ahead into next week we are predicting a low river, calling for small flies and stealth mode fishing. A nice challenge in this magnificent river.
Tight lines,
Peter
Contact Us
Las Buitreras is a paradise for fly anglers! If the sound of this trip interests you, take a look at our Las Buitreras tour page for even more info, Alternatively, you can request a free brochure or simply call us today on 01603 407596 with any questions you may have.