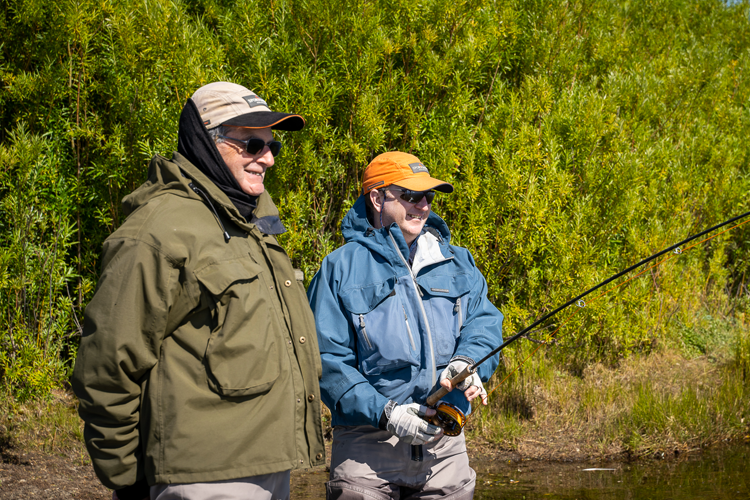 A pair of anglers assessing the river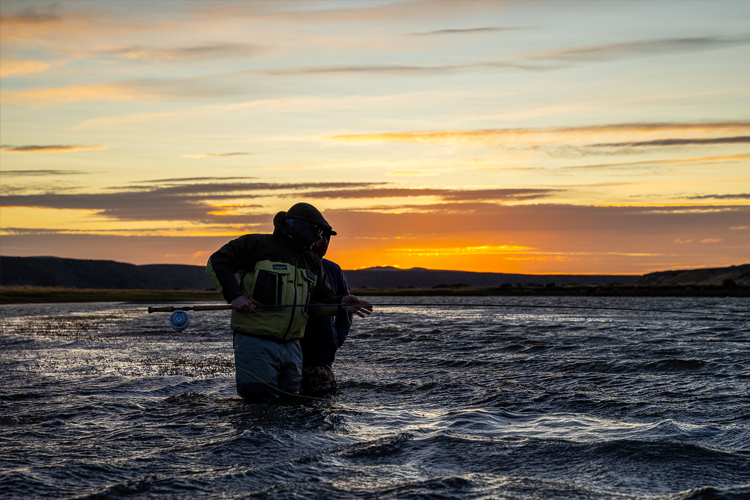 Even Sea Trout are fond of an ariel display
Neil and John were also top rod of the week with 9 fish each landed. The rest of the group was not short in great fishing stories, like Andy who was able to land an amazing 15 lbs fish with his single hander in Kitchen pool, or Dave who caught a superb 14 lbs sea-run brown almost on the last cast while covering Old Bridge pool in the evening. You could certainly see that everyone knew what they were doing, all enjoying the Las Buitreras atmosphere and creating a really great vibe throughout the week.
In terms of temperatures, the weather remained warm during the day combined with slightly colder nights for the whole week. By Wednesday we got a small push of cold water from the mountains and were expecting more the next days. Thursday evening then saw the water rising to 45 cm above zero which unfortunately made fishing impossible on Friday. With summer temperatures and a blue sky most of the group decided to go for a walk up the mountain next to Old Bridge pool the last day which offers a great view over the whole valley.
A double hook up on the bank
Big thank you to Peter and Tracey for again bringing such a great group over to Las Buitreras and thanks to all guests for a very fun week.
Tight lines,
Peter
Contact Us
Las Buitreras is a paradise for fly anglers! If the sound of this trip interests you, take a look at our Las Buitreras tour page for even more info, Alternatively, you can request a free brochure or simply call us today on 01603 407596 with any questions you may have.