Day 1:
Fishing today at Bung Sam Lan with a return client by the name of Jon from the UK.  Last time we guided him was exactly 18 years ago at the old BSL lake where he caught amongst his many fish captures a nice Arapaima on live bait.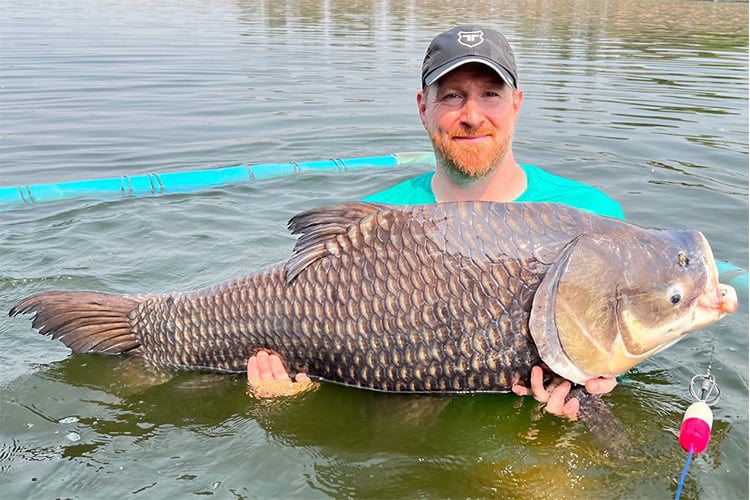 Jon who had a free plane ticket booked a 5 days short vacation to Thailand including a 3 days fishing trip with us (1 at BSL + 1 tomorrow at Ratchaburi + 1 on Monday at Kampaeng sen).  His today's target was to catch a Siamese Giant Carp which he had not done to date. His first fish catch early this morning was a 15.00 kg 'Caho'.  His wish was already fulfilled.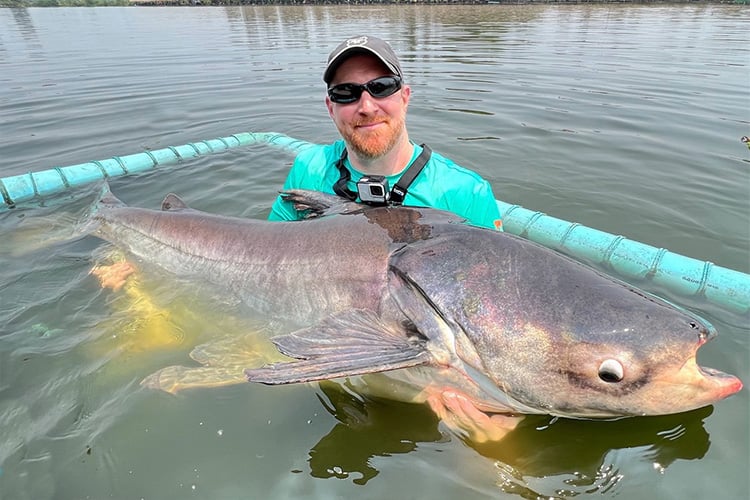 Highlights of the day came later just after lunch with the catch of a 100kg Mekong Catfish.  The fish might look small in Jon's arms (a tall Viking weighing 125 kilos himself) but his Pla Buk capture was no doubt in the 220 lbs mark, we're good at estimating them without lying like most guides or anglers would too often do.
A second Siamese giant Carp catch followed weighing in the 90 lbs mark, and the day is far from over with another 3 hours of fishing to go for this first session…
Day 2:
The second fishing session today at Ratchaburi for our UK client Jon. he landed almost 30 Redtail Catfish catches both on the lure and dead bait fishing. As well as a few other species including a rare 'Pla Kot Kang' (Hemibagrus wyckioides) in the 6kg mark.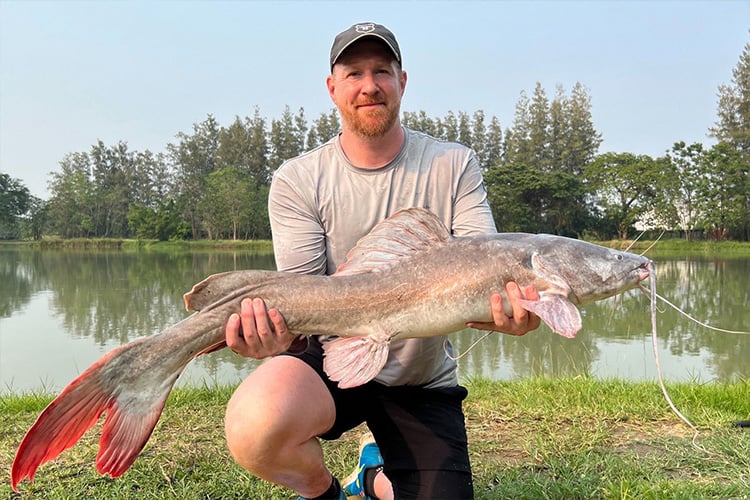 It had been a long time since we captured one of them at Ratchaburi. Since COVID appeared more than 2 years ago, the lake has very rarely been fished, and predators there have forgotten to be cautious. They bite at anything moving in the water…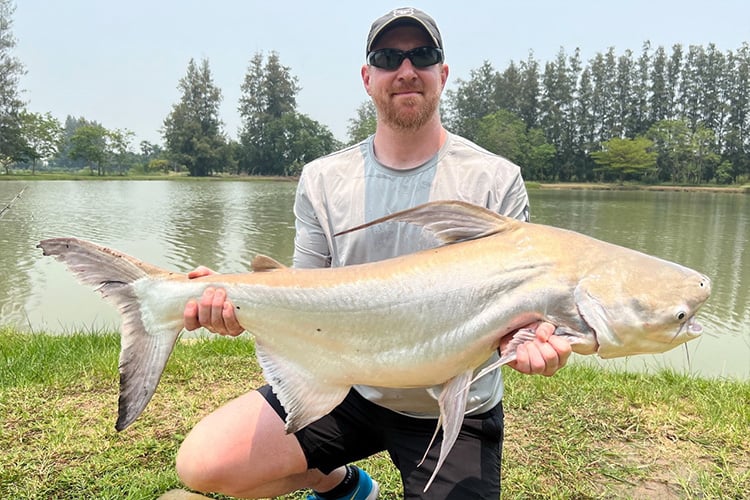 Day 3:
Today was the 3rd and last fishing session for our British client Jon.  In this case at Kampaeng Sen lake where the client's objective was to catch a bigger Arapaima than the one he caught with us 18 years ago at Bung Sam Lan lake.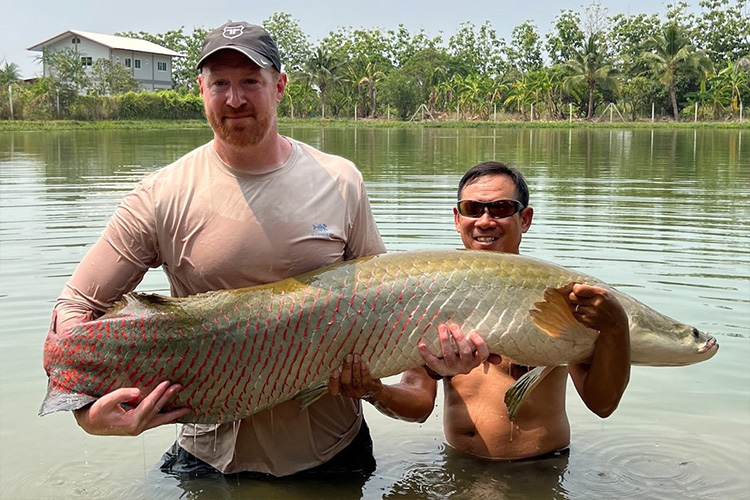 It is not one but 3 that our happy fisherman caught, beating his personal record with his biggest catch Arapaima estimated at 60.00kg. As well as many Red Tail Catfish and a fighting Chaophraya Catfish caught on a lure.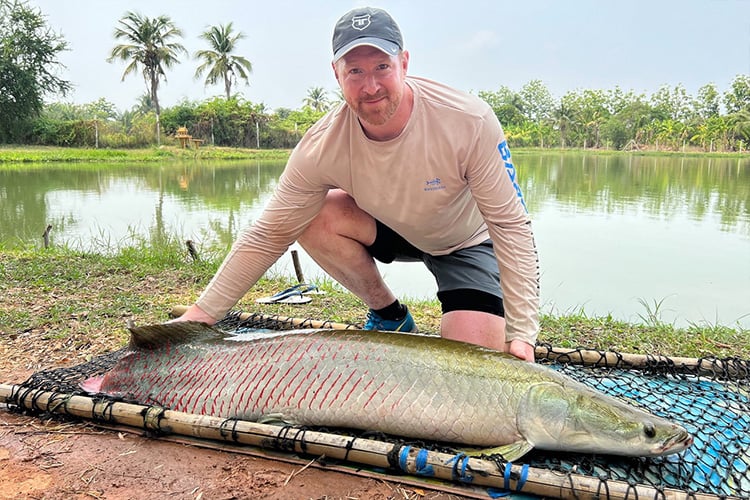 A very successful trip for our client from London who flew to Thailand for only 5 days to fish with us for 3 days. Thank you Jon for trusting us once again!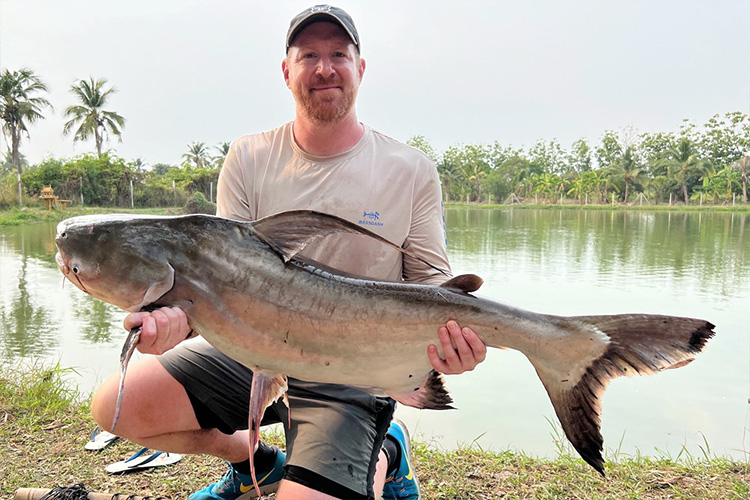 Now we are waiting for you, who must surely be bored at home and need to travel after such a long period of various restrictions due to these never-ending viruses. A change of exotic scenery is needed, your best medicine for health and wellness!
Tight lines,
Fishing Adventures Thailand 
CONTACT US
If you'd like to join us for a fishing holiday in Thailand, guided by Jean-Francois, one of the most famous and respected guides in the country, then visit our Multi Lake Fishing Adventure tour page.