Many have probably been waiting for the fishing report from Nappstraumen as we normally do a half-game report in the middle of the week. But if you've looked at the weather reports, you've got the answer. A week that was largely blown away with strong winds from the southwest and lots of rain. A bitter week to say the least, but the guests have still kept their spirits up at the camp and took the slightest chance to get out to sea to do what they came there to do – fishing!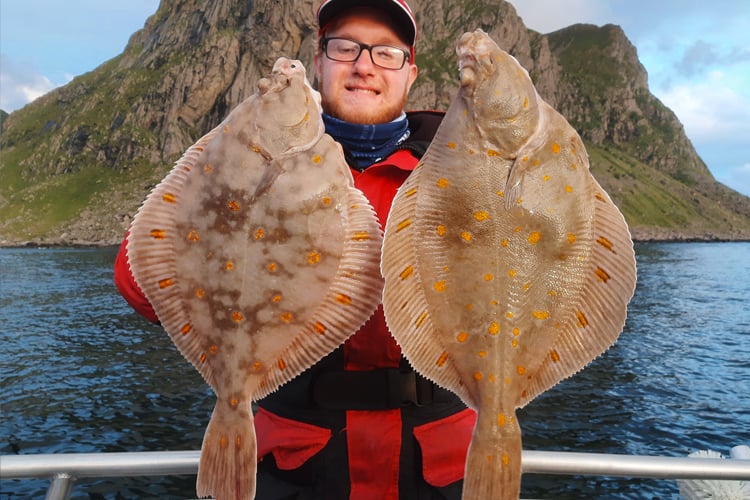 Pretty much all fishing has been done on the south side or outside the cabins in Nappstraumen. Our fishing guide Johan Mikkelsen guided Krister, Niclas and Ronny from Sweden and steered the boat towards the south side on a windy day on Sunday morning. The fishing would turn out to be really successful despite the difficult conditions and after only a couple of hours of fishing they had landed nice wins in the 3-6 kilo class. A bunch of nice Cod with a top of 10 kg for Krister. However, it was Ronny who was responsible for the quantity fishing this day as he pumped up one Cod after another. Not only that, but meet them on a shoal chasing Whiting where they got a double hit on Whiting and a really big one of 5 kg for Krister!
When the current slowly began to wane, the fish became increasingly difficult to catch, so they chose to go home a little earlier to recharge their batteries for tomorrow's only chance to get out on the open sea on the north side. A decision that turned out to be the salvation of the whole week, but today's result was also amazingly good considering the tough weather.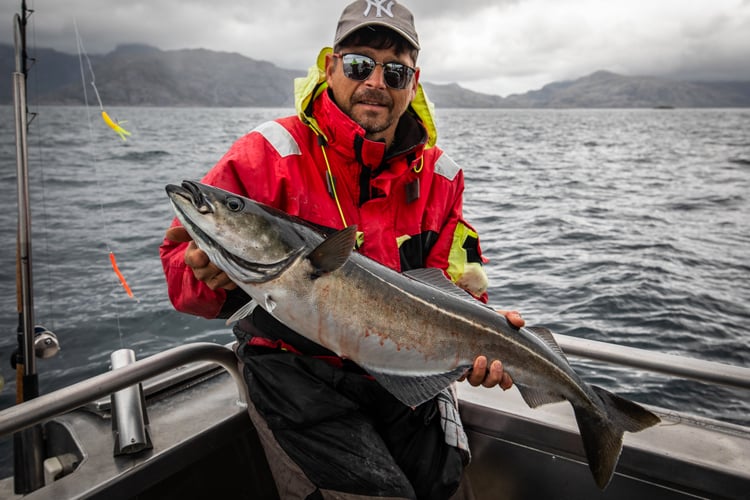 During the evening on Sunday, the wind finally started to subside and several boats took the opportunity to go out late this evening even though there was still a lot of rough sea out on the North side. Johan, who finished fishing earlier that day, instead set the alarm for 02:30 to meet the same group the next day and with hopes that the lake had subsided further. They also thought they wanted to try something completely new after hearing about the fantastic Redfish fishing that Nappstraumen has reported on earlier this year.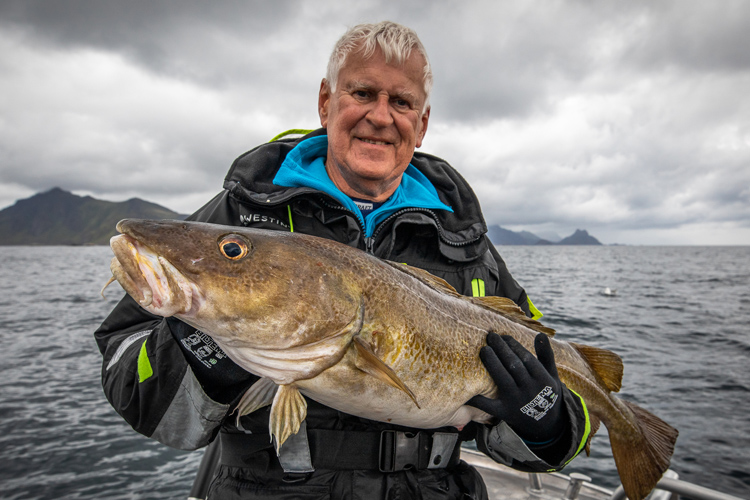 With gravel in their eyes and the coffee thermos in full swing, they went out on a calm sea on the north side. The whole gang was full of anticipation and even the guide Johan seemed very excited to take the guests to this relatively new fishing spot. The first part they could drive at 20 knots without problems, but the further out they got, the bigger the waves got, but now they were so close that they chose to continue, however, at a much slower pace. Johan tells how he sees a front starting to approach and follows it closely to be able to make quick decisions in case it blows up again. It turned out to be just a rain shower and the gang could now exhale and drop their Kingfish tackle at a depth of approx. 160-210 meters. They barely have time to reach the bottom before the whole gang is standing with bent rods.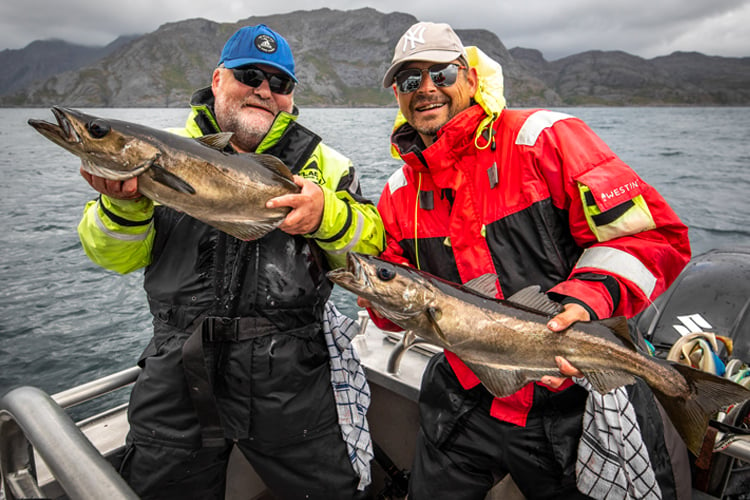 Now it was just a matter of winding it up again, easier said than done. A number of swear words and gasps were exchanged as the lactic acid began to feel in the arms. But what do you not do to get your dream fish?! Quite literally, a bunch of Nice kingfish and the Ling pop up. The gang fished for a couple of hours and caught many more and finally Krister stands with a slightly stronger rod bend than before. Up comes the first long of the day, not long after Niclas responds by taking the biggest Ling of the trip of about 10 kg, a dream fish for Niclas who is making his first fishing trip to Northern Norway. A couple of Whiting were also caught, the largest weighing up to 1 kg! When the arms hung far down to the knees, they decided to round off the fishing before the wind would again increase in strength. On the way home they made a quick stop and scooped up a bunch of nice Mackerel. The box was filled and the guests were happy, what a great day!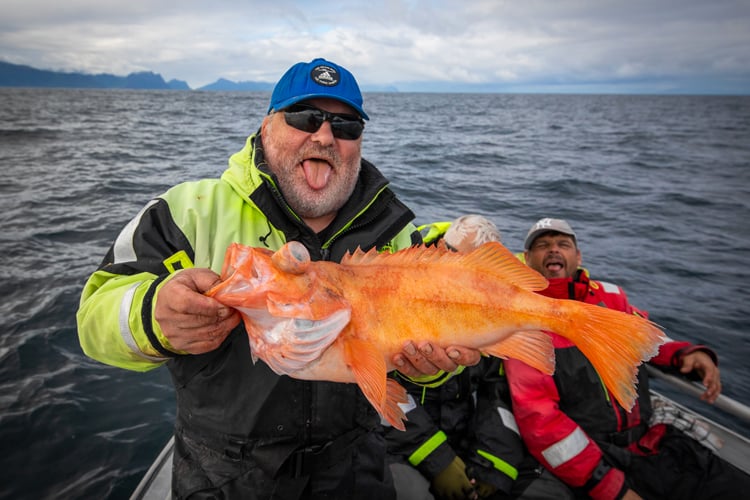 Our guide Calle Hjelm, who has a visit from his family from Lysekil, chose instead to go Halibut this day, not long after, his brother Pelle was able to boast the first Halibut of his life of 82 cm! They too have braved the bad weather during the week and have been rewarded with really nice big wins and the occasional Cod. But since the weather has been so tough, they have instead spent more time on Plaice fishing in the local area, where they managed to catch a lot of nice ones around the kilo, with the largest of 1.3 kg for his brother Pelle. In addition to this, they instead took the opportunity to experience Lofoten and its fine restaurants and climbed a mountain when the weather was not favorable for fishing. At least a pleasant week despite very bad weather.
Åke Sigg and the gang also reported a great fishing when they finally got out on the north side. With a bunch of nice Cod and Coalfish up to 12 kg+! It was really the saving grace for this week, when most of the week was very limited to the cabin, on the last day they were in a Halibut of a better caliber in Nappstraumen, however they lost it after about 10 minutes of fighting.
Stig and the gang also reported Cod up to 10 kg this day and good quantity fishing.
But now you're going to hear something you've NEVER heard of before… Johan got a day's guide on the last day and went out with a Swedish family who were driving through Lofoten. It was only a 2-hour trip, so Johan took aim at the south side and the nearest base peaks. Halfway through, Johan sees something hitting the surface and quite quickly he spots the tail fin of a Halibut frantically trying to catch an injured baitfish on the surface. This is an incredibly unusual sight but it still happens every now and then, but what you haven't heard about is coming soon. Once there, they are met by a majestic sea eagle and they quickly fish up a couple of bait fish that they throw out to the sea eagle. It turns around and dives down towards the bait fish which is only a couple of meters from the boat. An incredible experience to see such a large and powerful eagle swoop down for the kill at such close range. Even here, the day felt perfect and they had barely started fishing. Yvonne takes over the rod and pulls one Mackerel after another. Then Niclas sees something brown and strange in the water right next to the boat. Johan rushes there to see what he is pointing at. At first Johan couldn't understand what it was, but finally he realizes that it is a Monkfish that swims right up to the surface and hunts our bait fish. That a fish that is known to lie still on the bottom would now swim around and hunt our bait fish was an incredibly strange sight but something they will never forget. Unfortunately, it never got hooked, but probably took some bait fish around the boat and then swam contentedly back to its place on the bottom of the sea.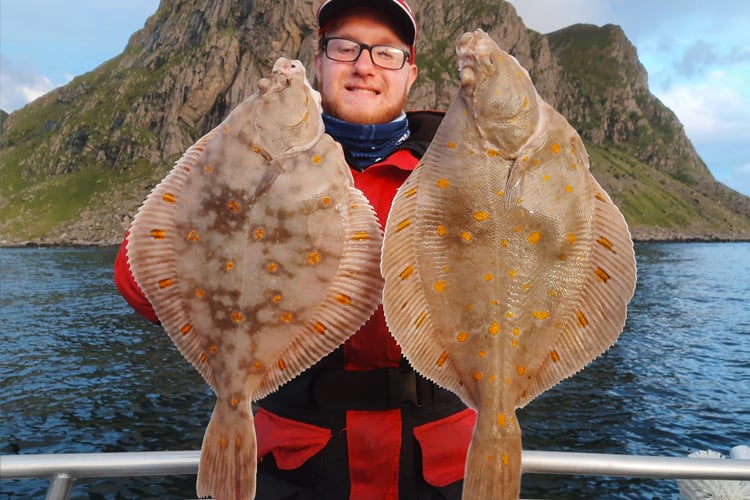 As you understand, anything can really happen here in Northern Norway and it's not always just the fishing that makes the trip a memory for life, but it's at least as much all the natural experiences and fantastic people you meet with the same interest in fishing as yourself that make the trip golden.
Despite one of the worst weeks in terms of weather, we want to take the opportunity to thank all the guests for having managed to keep their spirits up and take the few chances we got during the week.
However, it looks like the storm will last, but we hope it will pass soon so we can get out to our best fishing spots again and continue delivering fishing reports from our camp Nappstraumen in Lofoten.
Tight lines,
Johan Mikkelsen, Calle Hjelm & Didrik Stavervik
CONTACT US
It looks like its been a fantastic week at Nappstraumen. If you would like to know more about this fantastic sea fishing tour to Nappstraumen on the Lofoten Islands and how you can join us, you can contact our sea fishing specialist, Paul Stevens, on 01603 407596 or email at paul@sportquestholidays.com.