Here is a small summary of the first days in Nappstraumen. Unfortunately, we have had some groups that failed to reach us due to the current pilot strike at the airline SAS, including the British group that would have been in the guide boat. As a result, we have a little less image material than normal. However, the guides Calle and Didrik have been out a couple of times with other boat teams where they tell us that the fishing already started after Wednesday's information meeting. I think everyone recognizes the feeling when you are finally in place and the sea is right outside the cottage and it really starts to itch in your fingers.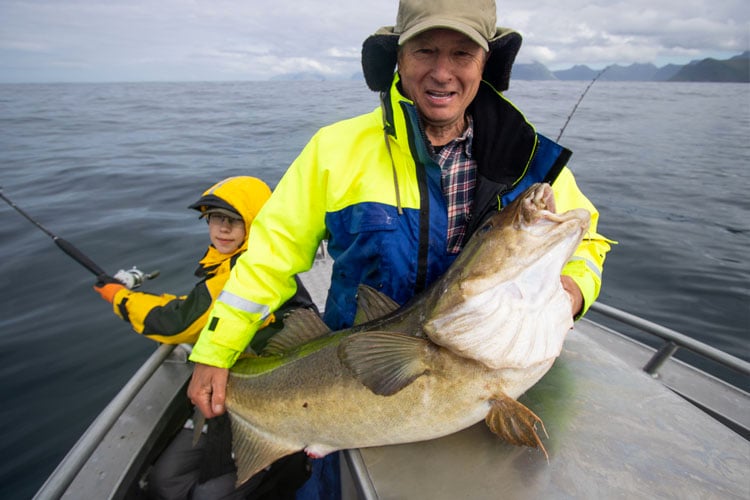 So it was for our Swedish guests who chose to go out already on Wednesday night to calm the fishing abstinence. It turns out to be a cruel start when Pierre manages to hook on a Halibut of 127 cm when they were out on the outside and drifted by one of the base peaks. It fell for a bait fish and the guests were quite happy with such a good start. They also got a couple of Cod before they went home again to recharge their batteries for the next day's fishing.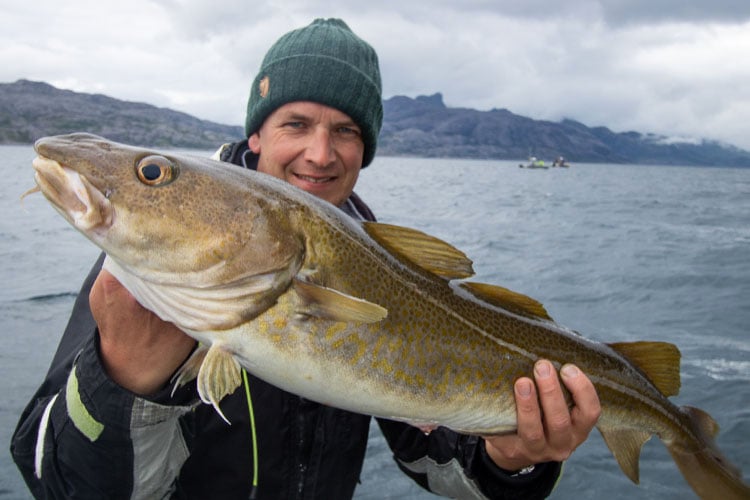 On Thursday, all boat teams went out on the outside Lofoten in search of Cod and Coalfish. Once there, they find large quantities of bait fish, but the Cod and Coalfish were not really in the hunting mood. Despite this, Didrik managed to guide up a couple of nice Cod and the guests were at least surprised what nice fish were here when they had just started fishing. Then Didrik chose to go out on a little deeper water where he found hunting big Coalfidsh. An intense victory race with a peak of about 7 kg for his Dutch guests, unfortunately they had to break shortly after when the seasickness came on the sly. The seasickness is something that can affect everyone and it is especially the first day at sea that it is usually felt. Then the body gets used to it and the remaining days usually go well. The other boats also said that the fishing got better later in the afternoon.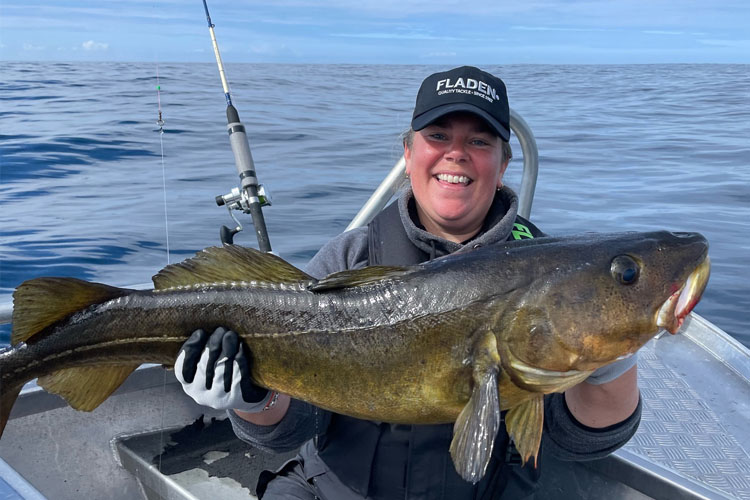 On Friday, a stable 10 m / s came from the northwest which built up some waves on the outside Lofoten. The boats then chose to go out on the south side where the water was all the better. Unfortunately, the fishing was very difficult on the south side, so after a couple of hours of searching, Didrik chose to go out on the outside and fight his way out to the edge in the much larger waves. It was difficult conditions but Didrik still felt safe so chose to test his luck on the first deep edge. They scored right away and got to experience a wonderful victory race with fish up to 8 kg. All this in 1.5 hours of fishing. A good end to an otherwise really difficult day. Some other boat teams chose instead to fish for a Plaice and got a nice pair.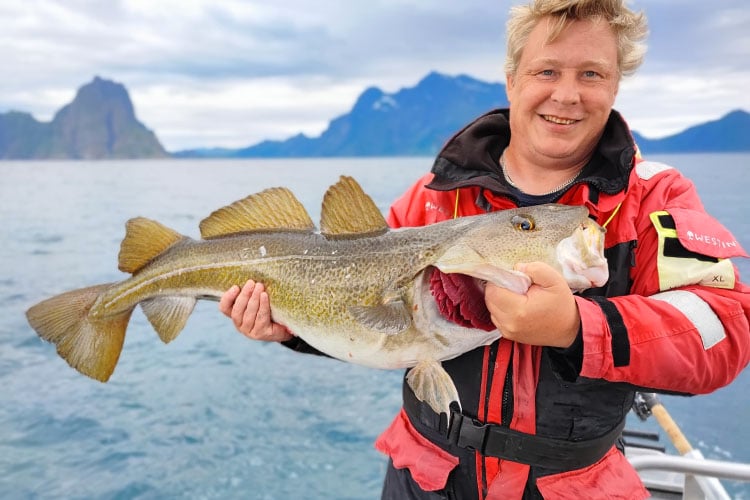 On Saturday, the fine weather came and the boats chose to go a little further out on the outside, despite some swell from yesterday's storm. They are met by huge shoals of Mackerel on the surface. Didrik says that they hooked a Halibut quite quickly but which unfortunately comes loose after less than 2 minutes. They then manage to lure up some Cod, but even this day the fish stood along the bottom. There was a really bad current in the water but as soon as the water started to move again in the afternoon, the fish also started to bite. They went out to a base a little further out to sea and where they found large quantities of bait fish and just below, the Cod. They land a nice one of 14 kg and a couple more in a nice size.
The great Coalfish also hunted when they drifted off the base peak in a little deeper water. Several nice ones with a top of 9 kg in Didrik's boat. The Dutch who followed Didrik also got nice Cod and Coalfish in this place. Pierre and the gang reported a Halibut that followed all the way up to the boat edge without chopping. A fish in the 120 cm class. An awesome sight but, unfortunately, they did not manage to get it to bite, but there was no doubt that the fish was there. Although the fishing started a little more in the afternoon, it was also a relatively sluggish day, with poor current in the water. An otherwise beautiful day at sea with almost no wind and large swells rolling in.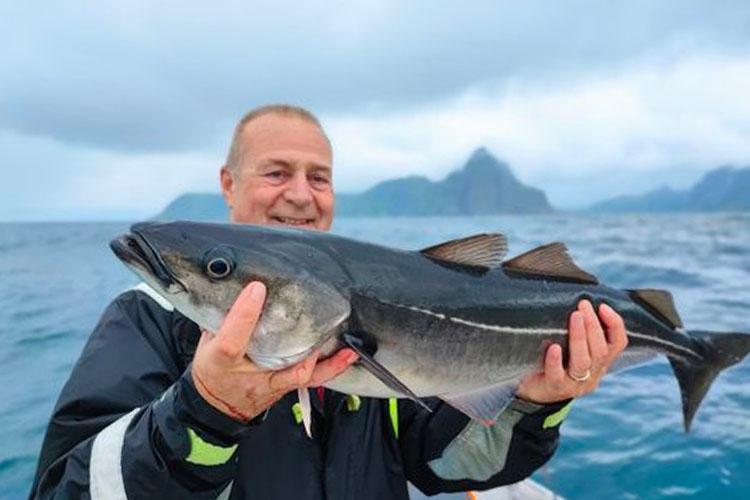 Today Sunday it is great weather so the guests are out on the outside and fishing. We hope for good fishing and there will be more reports from us here in Nappstraumen soon.
Regards,
Calle Hjelm, Didrik Stavervik & Johan Mikkelsen
CONTACT US
It looks like its been a fantastic week at Nappstraumen. If you would like to know more about this fantastic sea fishing tour to Nappstraumen on the Lofoten Islands and how you can join us, you can contact our sea fishing specialist, Paul Stevens, on 01603 407596 or email at paul@sportquestholidays.com.