Then the 2022 season is officially over and the last guide ended with a dream fish over 100 kg caught a stone's throw from the camp. You can even see the camp from the place the fish was caught from…
This autumn we have received a few days of guided tours during October/November, we have then chosen to fish close the camp when our last bookings are completed. We've always known that Halibut fishing can be really good in the fall. However, there have been few who wanted to book this period because of fewer daylight hours and some tough weather.
We are now a week into November and it is only now that the daylight hours decrease towards 7-8 hours per day. In other words, there is still plenty of time at sea for successful fishing. Even the weather in October/November has offered several really beautiful days with sunshine and calm winds with an air temperature between 5-10 degrees.
Here is a summary of the few days we have been out this autumn, take into account that there has only been one boat that fished and we have also unfortunately dotted several of the days with really difficult conditions.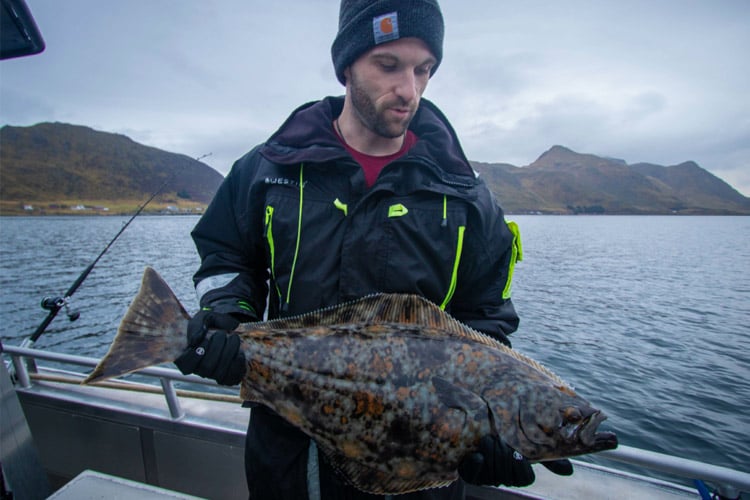 During the last few weeks, our guides Alexander Lindgren and Johan Mikkelsen have guided a total of 6.5 days with a completely crazy result! Some of the days they have had pretty good quantity fishing where the numbers are 6 to 7 Halibut up with top fish of 140 cm, 139 cm and several nice fish between 100-125 cm below that as well. These days they have also missed a lot of fish and contacts so the activity on the Halibut has been crazy good. They have averaged between 3-4 Halibut per day.
The days that have been a little quieter in numbers have instead delivered large Halibut – The top fish this autumn are 162 cm, 173 cm and the last fish of the season at a whopping 197 cm, a fish that according to the table weighs a whopping 102.1 kg!
Read on to get the whole story about this fantastic fish but first a little report from our guide Alexander and former colleague André Starkenberg who went out last Saturday in search of the Halibut. The water was so clear that you could see the bottom at a depth of 17-20 meters. They tried to fish both really shallow and deep, finally they found the melody for the day and they were able to quickly land 3 nice Halibut around 80-95 cm and lost a couple of smaller caliber this day. This now meant that Alexander knew exactly where the fish was when he went out on the last guiding of the year the next day..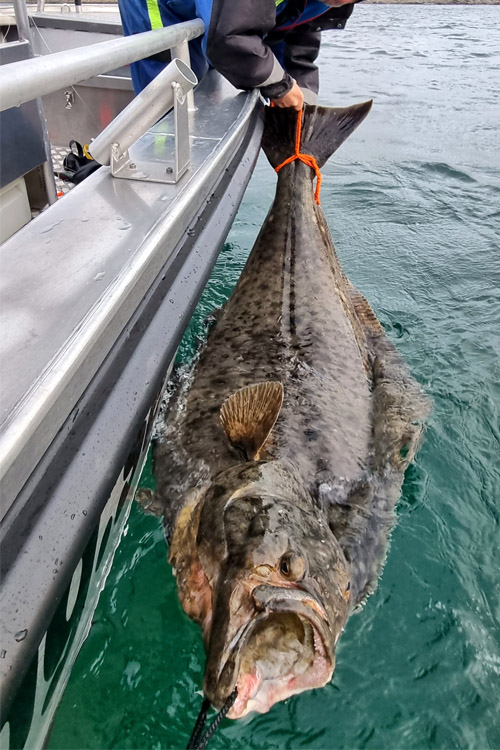 Alexander meets the two guests Brandon and Luke from the USA who had seen our reports and now wanted to try a 6h trip aimed at Halibut. Alexander then chose to start the day by fishing in some new places at the depth he had found the fish at yesterday. However, the current was bad at first and after a while without contact with Halibut, he began to think out the next plan. At the same moment that Alexander intended to say that they should wind up to reschedule the operation, a blow comes but which unfortunately was missed. He gives it one more chance then decides to reschedule anyway. He then chooses to test another depth, but after 2 drifts and no contacts, he goes back to the original plan, after all, that was where they had all the contacts during yesterday.
In the third drift, they stand and talk about how nice it would have been to have a bite right now after a few hours of grinding, then the bite they were waiting for came, the first proper bite of the day and the first fish hooked. A nice Halibut of 82 cm that raised hope again.
Time passed without further contacts despite perfect drifts and a few climbs on the sonar as well as a couple of cautious pacifiers. Time is running out for the day and Alexander says this will be the last drive. As always, they seem to be the magic words, because after only a couple of minutes into the final drift, Alexander sees a giant echo rising from the bottom and he barely has time to say this before Brandon's rod shakes and bends slightly. Alexander knew right away that this was a big fish that had just come up and inhaled the fish so he yells to Brandon to crank as hard as he can to reel in the circle hook. The rod is weighted more and more followed by a big shake of the head, Alexander immediately saw that this was a BIG fish, then it takes off at full speed!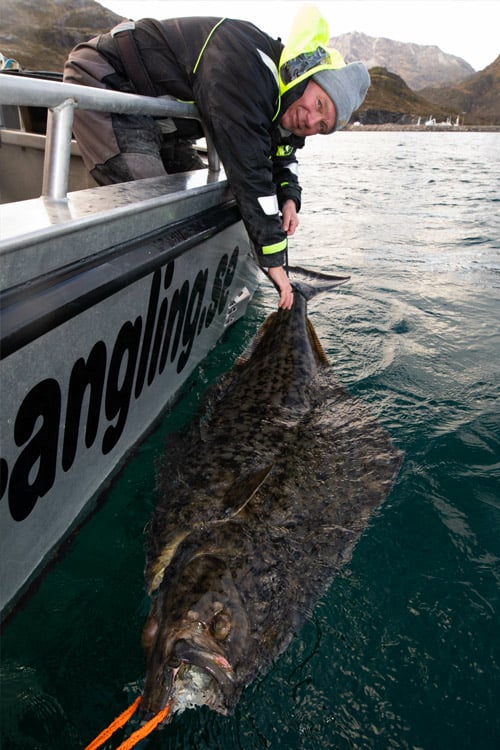 Luke and Alexander hurry to get the other rods in and then drive after the fish. Brandon does an exemplary job behind the rod despite it being his first time fishing in the ocean. He keeps calm and follows Alexander's advice. After only 6-7 minutes, the fish comes up towards the boat. Brandon is so focused on getting everything right that it's only when his friend Luke hangs over the railing and sees the fish that he shouts "It's a MONSTER"! as they understand how big it is. Alexander who has landed many big Halibut in the past could only confirm that this one is BIG! He gets ready with the Halibut hook, the fish comes up and breaks the surface, he places it perfectly, the fish is SAFE! It is a giant that was measured at an amazing 197 cm, and according to the table weighs 102.1 kg! All handling of the fish takes place along the side of the boat and after a few quick pictures, she got her freedom back. What power, what an amazing fish! There is nothing better than seeing such a big fish get its freedom again! A fish that is more important in the sea than on the plate. What an amazing experience!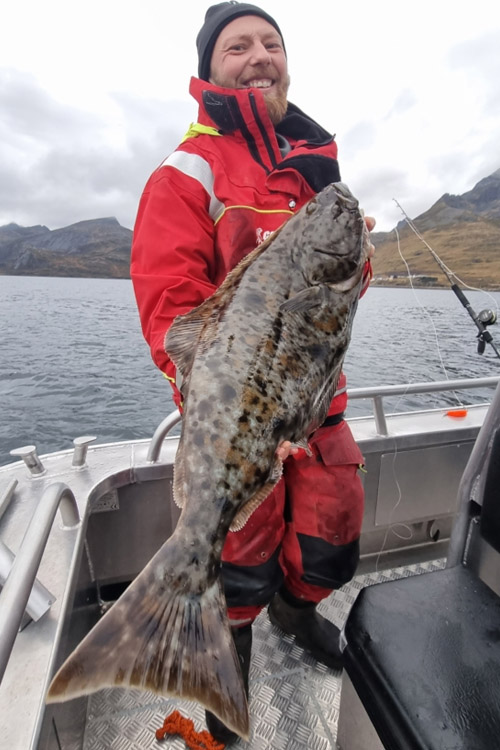 This was the last guide of the year and we want to take the opportunity to congratulate Brandon on a dream fish but also thank all our guests that we had during the 2022 season.
Now we look forward to the 2023 season, we are ready as always and look forward to doing what we are best at – Creating memories for life and unforgettable experiences here in Northern Norway.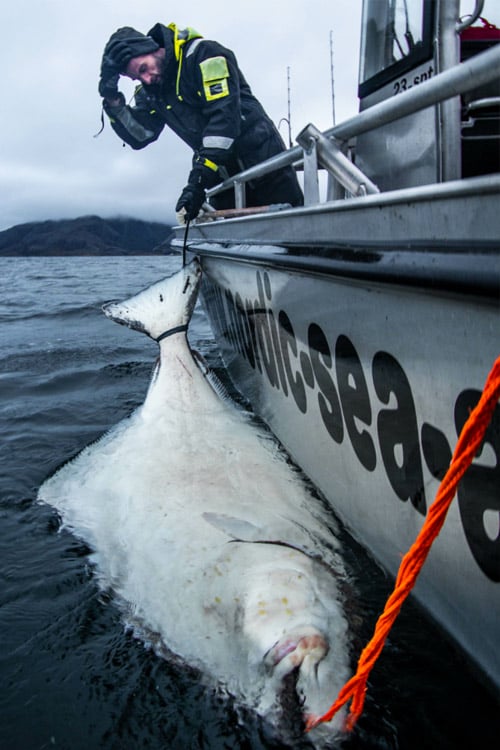 A warm welcome to us at Nordic Sea Angling 2023
Best regards,
Alexander Lindgren & Johan Mikkelsen
CONTACT US
It looks like its been a fantastic week at Nappstraumen. If you would like to know more about this fantastic sea fishing tour to Nappstraumen on the Lofoten Islands and how you can join us, you can contact our sea fishing specialist, Paul Stevens, on 01603 407596 or email at paul@sportquestholidays.com.