Autumn has come to Lofoten in every possible way. This autumn came storming forward. From a mild, pleasant late summer to crisp autumn/winter cold and fresh snow on our mountain peaks here in Lofoten, we can definitely say that autumn has arrived. The fishing – yes, it has also started, one could say! There has been quite a lot of wind lately, but one of the best things about Nappstraumen in the fall is that you can often get out and give it a try, even if just for an hour. On Thursday, a smaller storm caused us in 3 boats to delay fishing until Friday, but what a banging start at 07:00 when we, in 3 boats, left the harbor to fish a little further from the bite. Once on location, it didn't take long before we in boat 4 had the first contact with Halibut. This time we did not hook the fish but hope surged that we would soon get another chance. A little over an hour after the first contact, we once again have a contact that we miss. Minutes later, however, the first one is on the hook.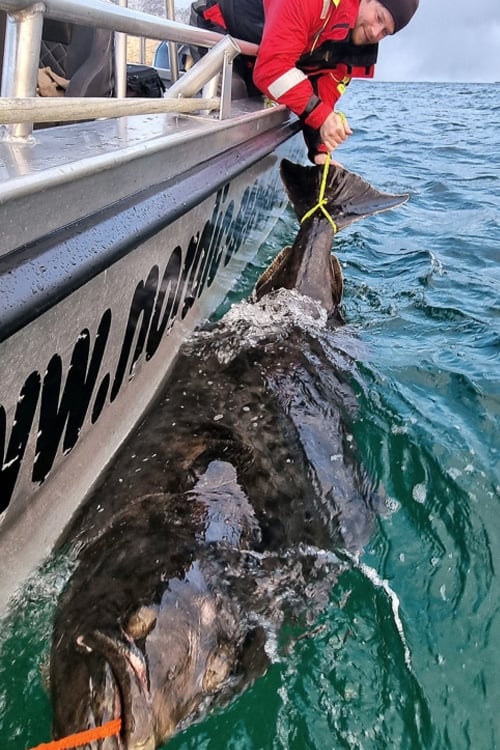 A smaller eating Halibut of 86 centimeters that was allowed to come home with us. Shortly after, Calle calls over the radio that they've hooked a better fish not far from us, so we got to see how they had to chase the fish with the boat in shallower water. Calle manages to land and secure the fish after a good fight and this splendid fish measures a full 158 cm. While they photograph the fish, we continue fishing in the boat and soon there is a hefty tug on the rod for one of the guests who stood spin fishing in the bow. Very quickly we realize that this is also a really nice fish. After a good fight with the spin gear, we finally get to see and secure the fish, which measures a whopping 166cm! After photos, this beauty was allowed to swim home again. It would take until the last moment again for us in the boat before we got another chance, which again was taken on spin – a lovely meter fish that was also allowed to come home. Calle and Co managed at the same moment to land an awesome Halibut of 122 cm before it was time to head home.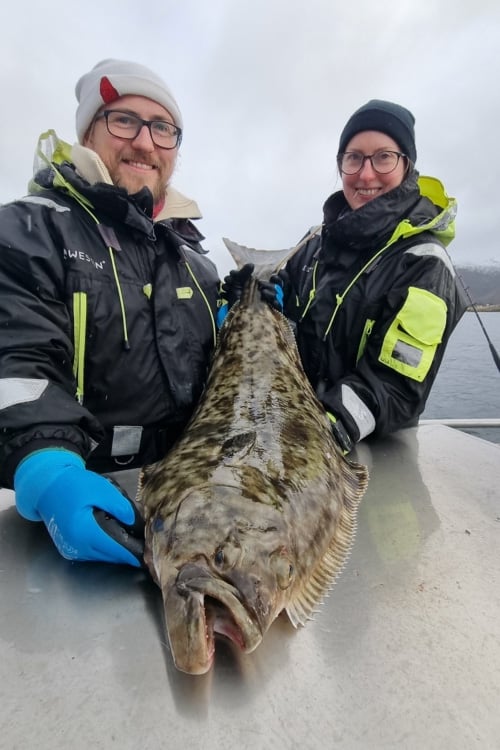 Saturday morning at 07:00, both I and Calle leave the harbor with a bit of worry in our stomachs for a changing weather: a bit calmer winds in the morning but would get significantly stronger by lunch. But you don't get any fish if you don't go out and try. So, with the prevailing weather, we decide to fish very locally near the camp and oh how surprised we would soon be. Already on the first drift and just a minute in, we have a substantial run on one of our float rigs that is 20 meters from the boat; without success on the first attempt, it doesn't take long before the same float strikes again. But now the float is very oddly on the surface as if the weight was on the bottom. Joakim goes to his rod to reel in and check, after a second he shouts, it's a fish and he reels the circle hook in properly.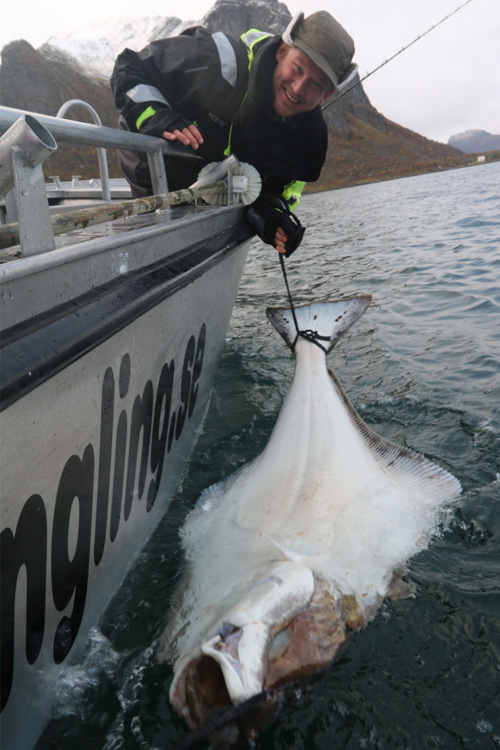 We immediately realize that this is a large fish model. Up with everything else and the fish dashes away towards a couple of rocks in shallow water. After we come with the boat, trying all the time to stay with the line above, after about 15 minutes the fish moves towards deeper water and safer water so that lines or the like won't break. Another 15 minutes pass before we can glimpse the fish and right after the Halibut hook is set, we realize that we have just landed a real dream fish. We now measure the fish and the yardstick is not enough at 200 cm, which is the dream for all Halibut fishermen, the fish measures in at 216 cm and we can confirm that we have a new NSA Record on Float fishing for Halibut!! This was the only fish of the day after Calle's boat also lost a very fine fish but which unfortunately broke the line. But what does it matter after such a fish in the morning.
Sunday was harder for me and Calle while the guys in boat 8 managed better, landing two fine fish in very close areas. It will be really exciting to see what this autumn has to offer in Nappstraumen with this great start!
Tight lines from Napp! Alexander Lindgren & Calle Hjelm.
CONTACT US
If you would like to know more about this fantastic sea fishing tour to Nappstraumen on the Lofoten Islands and how you can join us, you can contact our sea fishing specialist, Paul Stevens, on 01603 407596 or email at paul@sportquestholidays.com.