Now it's autumn fishing. Over the past week, there has been a strong focus on Halibut. The winds can be tough for going out and trying Cod and Coalfish fishing, but we always have the opportunity to fish in sheltered areas instead. This week is no exception to the autumn weather, with wind, snow, and hail, but we have also experienced some magically beautiful days in Lofoten. Autumn Halibut fishing mostly takes place in shallow waters, preferably with baitfish and jigs in the form of spinning fishing. Over the past week, we've had a group of 6 people from Linköping visiting, and this is exactly what we did – fed the Halibut in shallow waters with excellent results!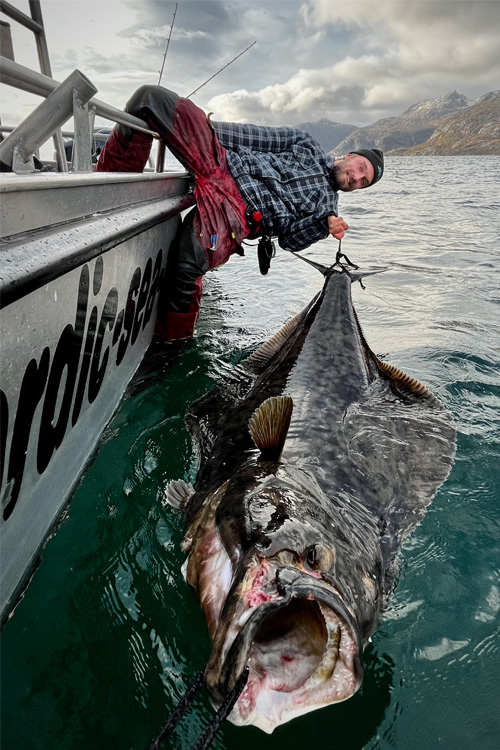 Last Friday, we went out in pursuit of the famous Halibut. On the boat that day, we managed to catch a total of 8, with a couple of fine food fishes, and the highlight being a dream fish measuring 151cm that was released. Over the weekend, the weather worsened. On Saturday, we fished half the day for some Plaice, with a few nice ones that were brought aboard and then released, the biggest being just over 2kg. In the afternoon, we focused on Halibut and caught 2, with the biggest measuring 122cm. On Sunday, the gentlemen decided to take a day off and drove around Lofoten to explore its beautiful nature and dramatic mountains and landscapes.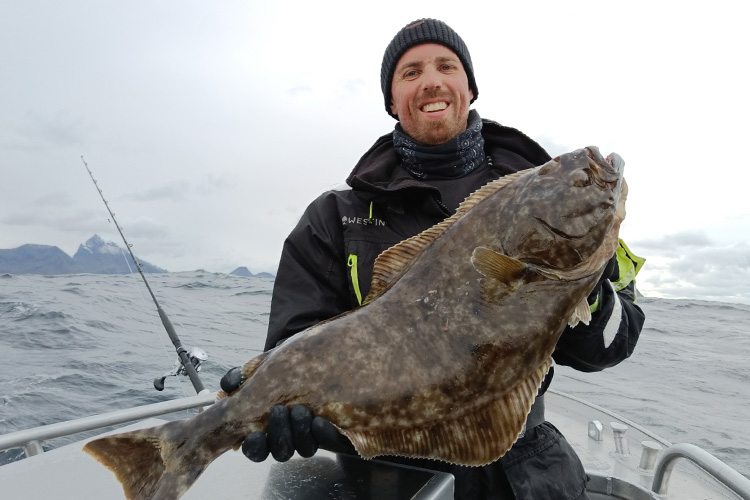 On Monday, we tried fishing for Cod half the day, but unfortunately with no better result, due to swells of just over two meters in the open sea which not everyone in the group was comfortable with. After lunch, we made a short attempt at Halibut, and managed to catch another 2 nice food fish just minutes from the harbor. This meant that all 6 guys had caught at least 1 Halibut each during the trip, and we had very high hopes for Tuesday, the last fishing day of the week. Our colleagues Markus, Douglas, Jörgen, and Andreas have also now arrived at the hotspot to fish for a week. They didn't waste any time heading out and trying their luck in the nearby waters, and it wasn't long before we received a message with a photo showing that Douglas had landed an impressive fish measuring 157cm, also just minutes from the harbor.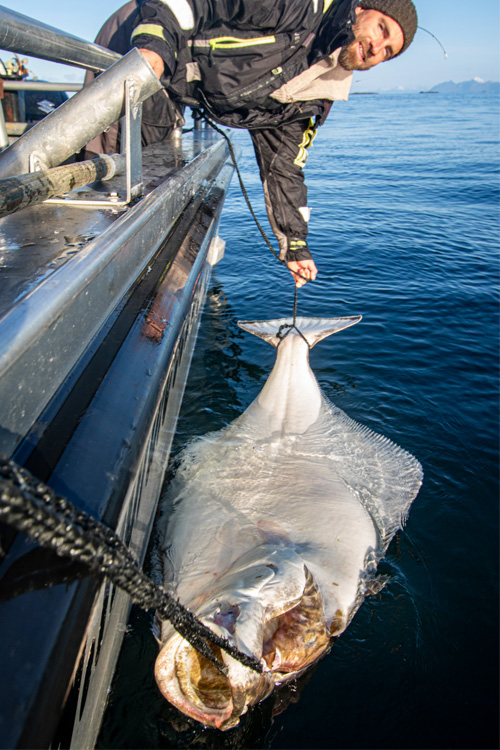 On Tuesday morning, everyone was fully charged, and we left the harbor in perfect light to get to our spot as early as possible. Once there, it wasn't long before we heard shouts of joy from the boat Calle was steering that day. Shortly after, we heard that he had landed the day's first Halibut measuring 152cm. Amazing start! Soon after, in Alexander's boat, there were two quick catches, almost a double hook-up, of two nice food fishes measuring 84 and 103 cm. Shortly after, we heard shouting from Calle's boat which was a bit further away. We could hear and see but couldn't quite make out the size of the fish, until Calle shouted out 163 cm. TWO over 150 cm in the first hour, where was this day heading? An hour passed before the next fish bit. This time, Alexander was near the colleagues' boat, who saw that there was activity and quickly realized that a better fish was on its way.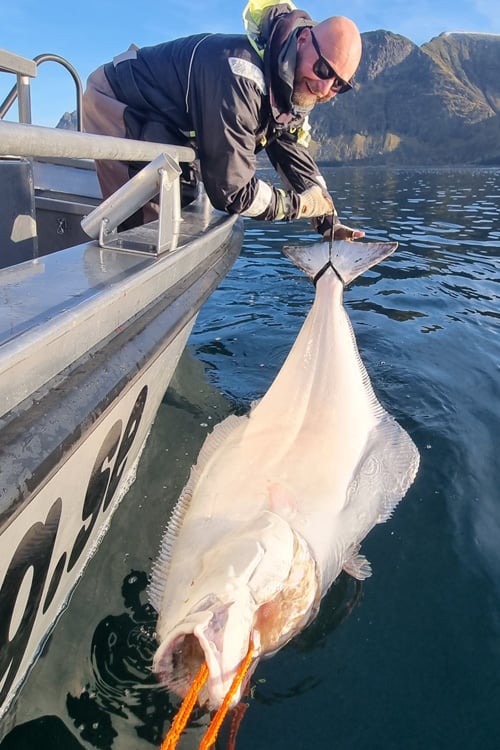 Douglas was at it again, and a few minutes later Markus announced that they had landed another impressive fish for Dogge measuring 155cm. Seconds later, Asplund's spinning rod bent and we immediately saw this one was big! An exciting fight ensued but eventually, we emerged victorious and secured a new personal best by 1 cm with a dream fish measuring 152 cm! The day concluded in our boat with a double hook-up of two delightful fish measuring 119 and 121 cm. Calle landed another in their boat measuring 122cm, followed by Dogge having an epic fight with a very strong Halibut measuring 130 centimeters, fought with pike fishing gear! What an amazing day on the sea during an equally amazing autumn day here in Lofoten Nappstraumen. The rock n' roll fishing in shallow waters during autumn here in Lofoten is fantastic, and we're not done yet; the last big Halibut hasn't seen the side of the boat this season.
Tight Lines // Calle Hjelm & Alexander Lindgren
CONTACT US
If you would like to know more about this fantastic sea fishing tour to Nappstraumen on the Lofoten Islands and how you can join us, you can contact our sea fishing specialist, Paul Stevens, on 01603 407596 or email at paul@sportquestholidays.com.