Now it seems that spring is starting to approach here on Lofoten, and although the weather in recent weeks has been characterized by a lot of snow and cold, it has really been some very nice days here. The last few days it has still not reached plus degrees on the scale, but it has been really nice with quiet weather and brilliant sunshine! And you could see the squealing out here too…
At the beginning of the week, the weather was rather dull, and we were rather limited as far as fishing spots are concerned. Some boat teams tried to get out on the outer edges, but the conditions were simply too tough. So several boats therefore chose during the week to rather focus their fishing on Halibut. The Norwegians in boat 5 really cracked the code and pulled away with a practice sample, just 2-3 minutes away from the camp! The fight must have been absolutely brutal, and after a few tough minutes they were able to land an incredibly nice Halibut of 165 cm! It really is a sure sign of spring that the big individuals are getting into shallow water in here. Several Halibut also came up in other boats around the meter mark.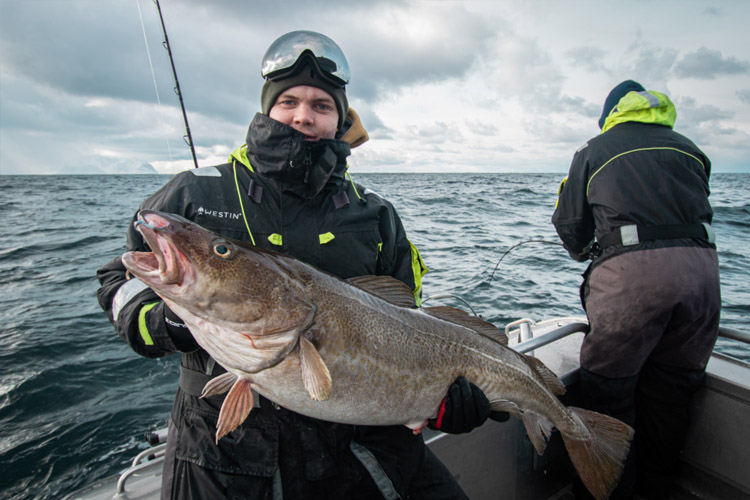 But the weather would finally work in our favor, and even though we haven't had a guide boat this week, we've been deeply invested in how the fishing has gone for our guests. And already over the phone a few days ago, Calle got a message that a nice Skrei of about 23 kilos had been landed! And when the remaining boats came ashore, we heard that several fine specimens over 15 kilos had landed that day in several of the boats. We also landed a nice Halibut near the camp of a fine 133 cm!
On Saturday, Calle went out with one of the boat teams in the main cabin, and the goal of the day was to find a Skrei! All the boats at the camp headed out towards the deep edge and began their search. Calle quickly found the fish, and it didn't take long before there were 20+ fish in the boat! Although the Skrei have mostly been pushing along the bottom lately, they were far more willing to bite today! All in all, it was a very successful day at the camp, with several fine specimens around the 20 kilo mark.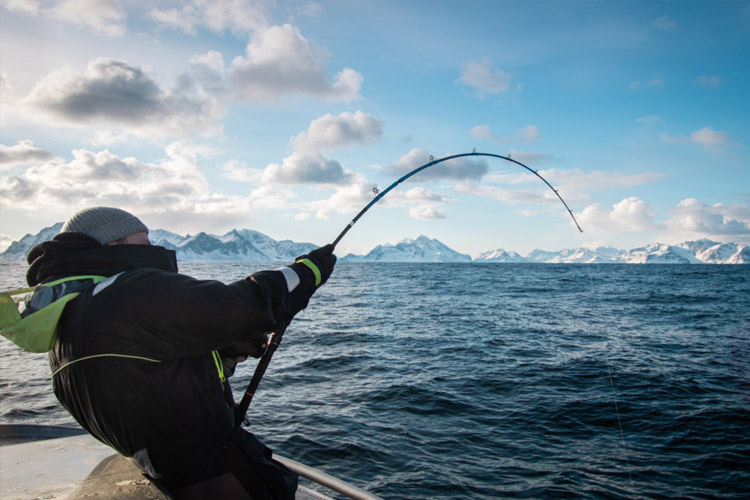 The fishing has held up well the last 2 days as well, but the Skrei have been somewhat more difficult to get a bite. Today we were out ourselves to try to locate and catch some Skrei. There were a lot of fish to be found, but they were very scattered, and were still pressed to the bottom. We saw quite quickly that the sea out here was full of capelin, and so were the Cod we caught. They are probably quite full, and difficult to fool! But not impossible. On a short morning trip with a nice fish around 15-16 kilos!
Now we rest up, and wait for the last boats that have been out today. Some boats have gone all-in on flounder out here, and others were out with us on the deep end – and you're still there. It will be very exciting to see what has appeared on the different boats when we meet our guests in the harbor tonight! Stay tuned for the next report – it looks like the weather will last a while longer!
Tight Lines // Jørgen and Calle
CONTACT US
It looks like its been a fantastic week at Nappstraumen. If you would like to know more about this fantastic sea fishing tour to Nappstraumen on the Lofoten Islands and how you can join us, you can contact our sea fishing specialist, Paul Stevens, on 01603 407596 or email at paul@sportquestholidays.com.