It has been fantastic weather with both warm winds and temperatures above 20 degrees. It really has been a summer feeling in Lofoten. The fishing has also been fantastic as a few Cod around 15 kg and a lot of nice Cod around 8-10 kg have come up. The Pollock fishing is still very stable, it is very tough with fish around 5 kg and then some top fish around 12 kg also come up occasionally. Also on site are Jimmy and his family and good friends of his visiting this week. They really got to experience Lofoten at its best with this summer weather.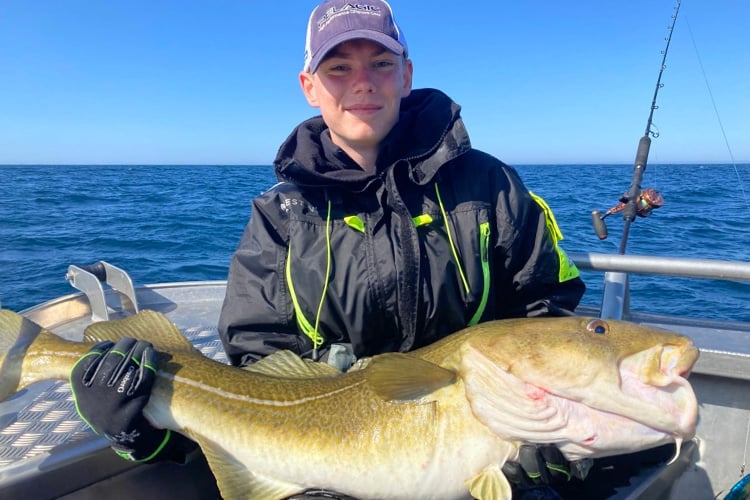 One of the days, Kristian was out with one of our Danish groups that we had visiting that week. They had their sights set on Halibut and managed to lure up three smaller Halibut and were in contact with a larger fish as well. Nappstraumen offers both good chances to catch your first Halibut or feel the primal power of a really big fish.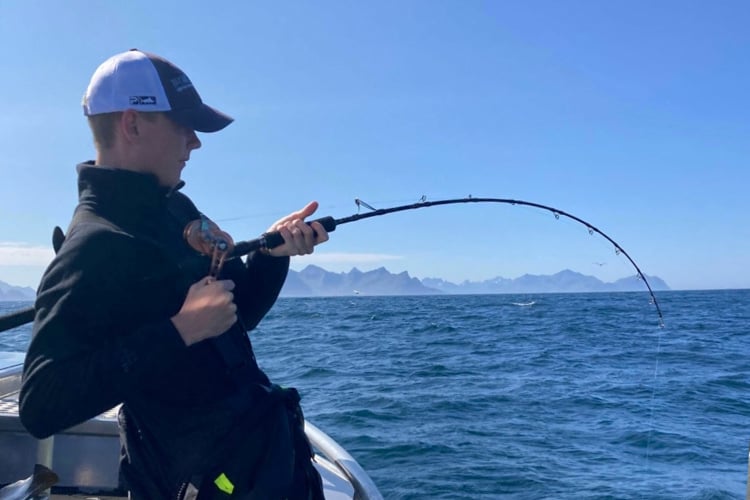 The last day also offered the summer heat and with light winds we set course for the outer side of Lofoten. We chose to go a little further to test an area that we had not previously visited during this week. It turned out to be a very good decision because already in the first place, on the first drift, Calle called out on the radio that they had a nice Halibut that followed a Cod that was coming up. Mattias, who was in the boat, said with great confidence "I'LL TAKE THAT FISH". A few minutes later, Mattias is standing with a big rod bend, he says that now I'm sitting at the bottom.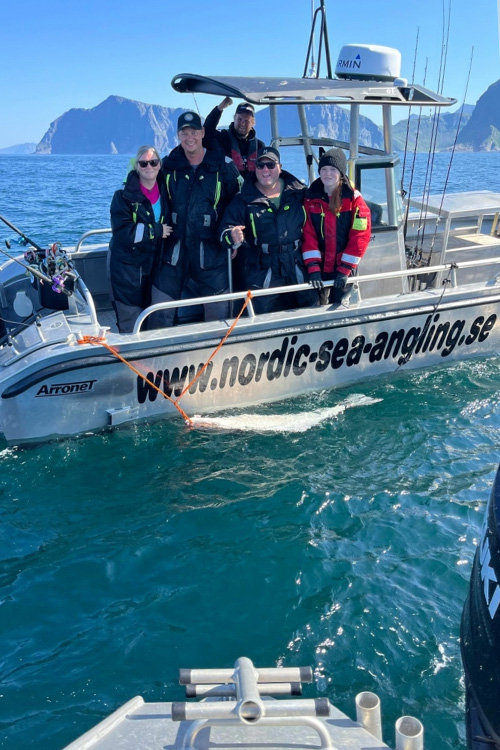 Calle quickly informed him that the bottom doesn't usually move, so his confidence paid off and he was now facing the fight of his life with the Halibut! After a hard fight and a good fight by everyone in the boat, we were able to land this fanatical fish of 163cm. Great job and big congratulations to you Mattias. Another Halibut was also caught in the same area by another boat that measured 84 cm.
It was a great end to this week, both with fantastic weather and good fishing. Now we reload for a new week and await the new groups!
Greetings//
Calle, Kristian & Gustav
CONTACT US
If you would like to know more about this fantastic sea fishing tour to Nappstraumen on the Lofoten Islands and how you can join us, you can contact our sea fishing specialist, Paul Stevens, on 01603 407596 or email at paul@sportquestholidays.com.