The Nappstraumen autumn of 2023 is coming to an end, and we are now entering the last 2 days with guests.
What a closing week it has been! Initially, we had a bit of tough fishing last week with only a few Halibut landed in the boats when the current was slow, and the fish were somewhat inactive.
The weekend and the full moon approached, and the current began to pick up significantly, which usually yields results based on previous experiences. Both Calle and I were ready to leave the harbor with our boats on Friday morning, deciding after a couple of days of challenging fishing that we would try an area that hasn't been fished much and has remained unexplored since the previous week, but isn't too far from the camp.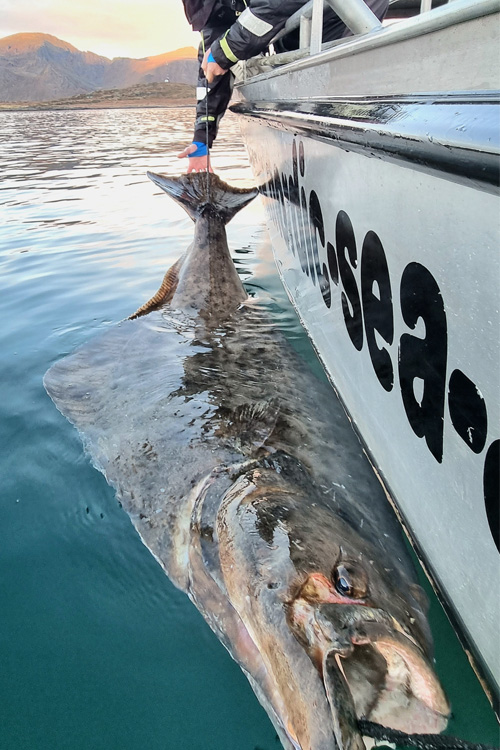 As we began to set up on the spot, I quickly threw down a baitfish on the first rod, set up rod number two, and while rigging the last one, I heard Daniel say, "There's a GIANT Halibut under the boat, I think he took my bait now, YES I believe I got him now." All this within 45 seconds from when we started fishing, and in crystal clear water at a depth of just 6 meters, it was like watching the entire event in an aquarium!! One of the most powerful fishing experiences I've ever had.
After a thrilling and intense fight in the shallow waters, we finally managed to land the biggest Halibut of the year in Nappstraumen. The fish measured a whopping 218 centimetres!
A few minutes after releasing this fish, we got a report from Calle that they had landed their first of the day, a fine fish measuring 122 centimetres. Then a minute later, boat 4 announced they had hooked and landed a fine fish of 118 cm. The area felt very hot. About 45 minutes later, our boat had another good bite, and another exciting fight began in the shallow water. This time we caught a beautiful fish measuring 144 cm. The tide began to slowly recede and would soon turn and pick up again. There was slower fishing for a while, but then the turnaround came, and just minutes into it, our boat was again ready for a heavy strike. The third fish of the day turned out to be another dream fish, measuring 159 centimetres, and after a well-deserved photo session, it was, of course, released back.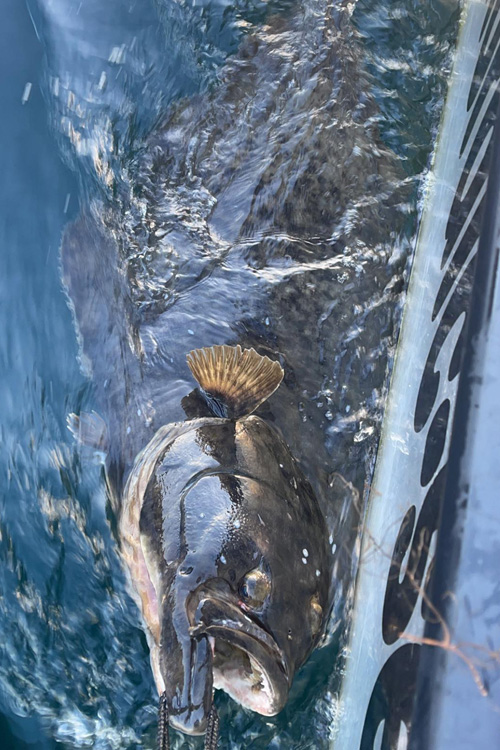 Shortly after this, I decided that we would spend the last hour near the camp, just outside the harbor. This move quickly paid off as two nice edible fishes came into the boat on the last drift of the day.
Kristian Hausken, who had been here and fished during the week, had been on the boat for a couple of days and was in another area. However, he also fished extremely well with impressive top fishes of 170 and 152 centimetres and a few others between 120-147 cm!!! Absolutely amazing fish. Autumn fishing can be truly magical with impressive average sizes of the fish!
The next day, the winds had changed, and the temperature dropped very quickly. The fishing was completely off in the morning and felt quite slow. But then suddenly, we saw a fish on the echo sounder rising towards one of our baitfish, and we could immediately see that it was a reasonably large fish, which also bit! There was no doubt in the bite; it was just a matter of tightening the drag and putting pressure on the fish. When we first saw the fish near the boat, we realized that we had hooked another monster Halibut. After a while, we could finally secure the fish and measure it to a magical 188 cm!!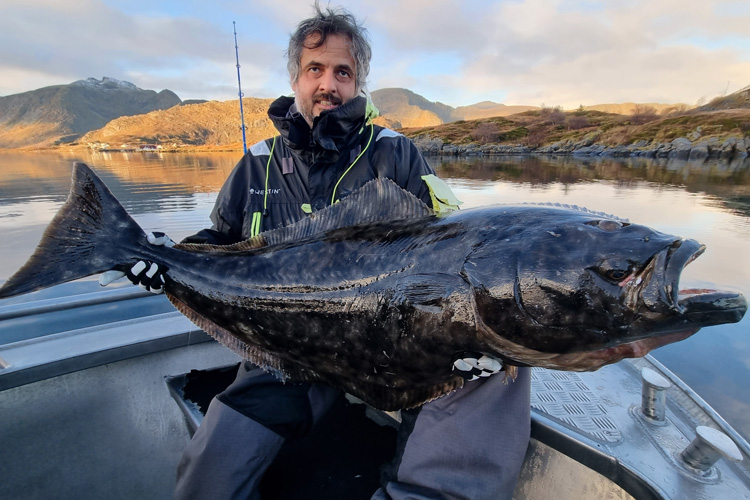 After some photos, this lady too was allowed to swim on. We caught a slightly smaller fish at the end of the day, but the day had been tough for most, with little action, so we felt very fortunate after these two days with amazing results!
But as mentioned, the season is now drawing to a close, and if the weather permits, we hope for some additional sessions and updates from us guides who will remain for a few more weeks for training in navigation and safety courses.
Until then// Tight Lines from Nappstraumen!
Alexander Lindgren, Calle Hjelm & Kristian Hausken.
CONTACT US
If you would like to know more about this fantastic sea fishing tour to Nappstraumen on the Lofoten Islands and how you can join us, you can contact our sea fishing specialist, Paul Stevens, on 01603 407596 or email at paul@sportquestholidays.com.