When we went into this week with new guests, we knew that it would unfortunately be a tough start when a real storm came over Lofoten on Thursday, but that it would be so difficult to fish after that, we had probably really counted on.
On Thursday, the guests woke up to the wind blowing between the cabins and when they looked out over the sea from their terrace, they could only see white waves walking across the sea. Everyone understood that it was not weather for fishing, but instead, it was time to sharpen hooks and make plans for the coming days instead. The wind was stable at 19 m / s with gusts up to 25 m / s.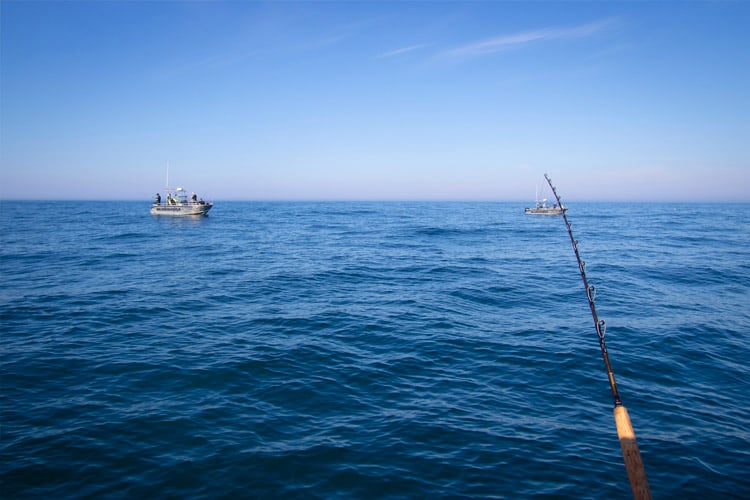 On Friday, the wind force finally started to settle, but the wave height was still far too high to be able to go out on the open sea on the north side. Instead, the boats chose to run a shorter afternoon session when the wave height was a little more manageable. They went south and fished just outside Nappstraumen. It was still difficult conditions for fishing but they still managed to get the jigs wet and feel a little rod bend from both Cod and Coalfish in a good food size. When the weather reports promised really good weather the next day, everyone decided to instead go home and recharge for a full day out on the North Side where the fishing is usually much better.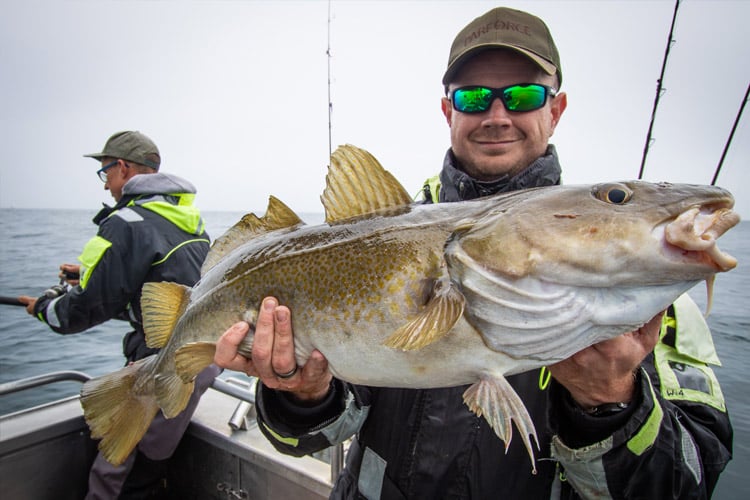 On Saturday, the boats finally set off on the north side and the guides Calle and Didrik set course for a place we call Mixflaket. A place that usually lives up to its name as we usually catch most types of species here. On the way out, they could feel the warm easterly wind that warmed their windswept cheeks from the previous strong wind. There was still some sea when they went out so they had to parry the waves for a smooth and good ride. Once there, they find endless amounts of small Coalfish along the base peaks and also a lot of larger fish that lay and pressed to the bottom just during the Coalfish hour. Calle and Didrik take on all their tricks to get the fish to get a bite, but the fish refuse. The frustration spreads and all boats find a lot of fish but very few manage to get them to bite.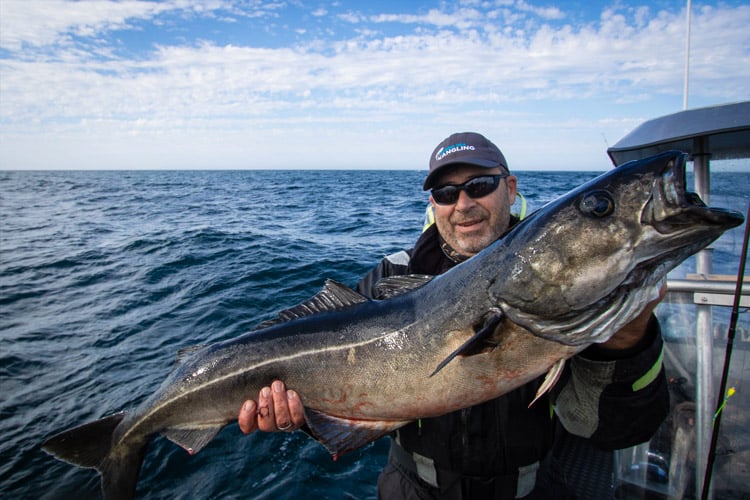 Finally, they found today's trick and not long after, Calle was able to report on several fine Cod and Coalfish in the 10 kg class. He also called to the other boats over the VHF so more people could feel a little real rod bend!
The day can be summed up as very sluggish, but where they finally found the trick of the day that turned this sluggish day into a good day! Something you should always carry with you, fishing is fishing and no matter how sluggish it can be, it can turn around just as quickly.
Sunday offered good weather again and now the guides had hoped that the fish had started to bite more actively during the day. The heat, the sun, the calm sea, now it can not go wrong.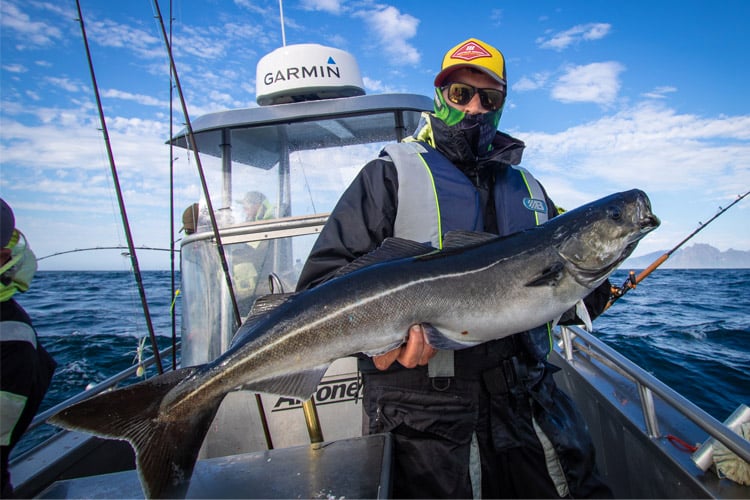 We set course for Skarvskär and are then met by a fog that lies like a curtain over the islands out at sea. The temperature difference was probably 10 degrees and the thickness was so dense that it was not possible to navigate safely in it. Calle and Didrik decide to fish just outside this one instead. As in previous days, they find lots of small Coalfish, but the bigger Cod and Coalfish shine with their absence even if they are visible on the sonar. It simply refuses to bite. It was a day where they tried with all the tricks of the art to get them to bite, but today they could not find the right medicine. An otherwise fantastic day at sea but where the fishing was all the more difficult. A boat team, on the other hand, reported that they were joined by a group of killer whales, which gilded their day.
The weather still looks good for today Monday and Tuesday so now we hope that the fishing starts really so we get a good end here in Nappstraumen!
With Kind Regards //
Didrik and Calle
CONTACT US
It looks like its been a fantastic week at Nappstraumen. If you would like to know more about this fantastic sea fishing tour to Nappstraumen on the Lofoten Islands and how you can join us, you can contact our sea fishing specialist, Paul Stevens, on 01603 407596 or email at paul@sportquestholidays.com.