This week at Nappstraumen, we have had everything from a storm, rain and +10 degrees, as well as a couple of minus days, sunshine and a landscape covered with snow. The Cod still seems to be a bit out at sea, so we are struggling to actively search for the fish and have to be quick to fish the small shoals you find. Another boat reports on a Cod in the 18kg class and Darek and his boat team also managed to land a nice Halibut of 125cm in Nappstraumen. More boat teams also tell of several lost Halibut, many contacts and climbs.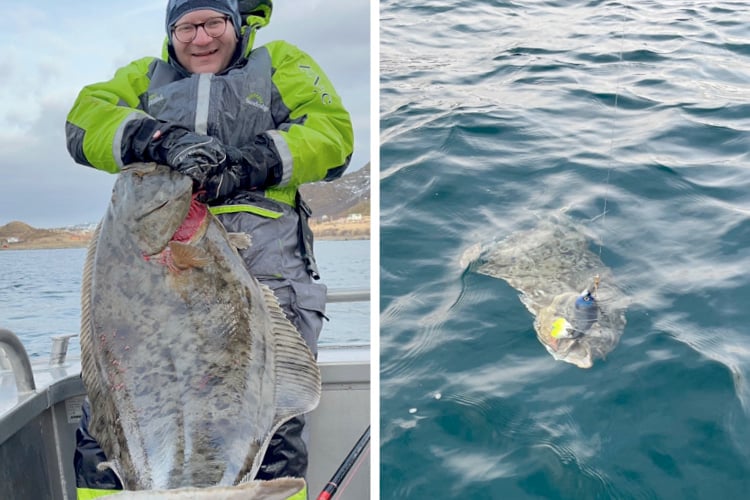 Our German guests Kuhl from last week also told us that they met a large group of Killer Whales that were hunting Herring very close to the boat. Up to 20 individuals actively compressed the Herring shoal. It swam completely under the boat and was incredibly curious. An experience that gilded their fishing trip that they will never forget.
The day before the World Cup in Skreifiske, a rod-caught Cod of 40kg was also reported here in Lofoten, so even though it has been a little harder to find the fish so far, it seems that a little bigger fish is coming in right now. We are crossing our fingers for more big catches here in Lofoten. The weather finally looks a little more promising for the coming days so we hope the forecasts hold up. More reports coming soon.
// Johan & Calle
CONTACT US
If you would like to know more about this fantastic sea fishing tour to Nappstraumen on the Lofoten Islands and how you can join us, you can contact our sea fishing specialist, Paul Stevens, on 01603 407596 or email at paul@sportquestholidays.com.