Week 1 Day 1: A slow but steady start…
With our first group arriving late last night, today we decided to keep it local and fish one of our newest venues, the bait station, especially seeing as it fished so well this time last week.
Unfortunately, fishing was far from hectic, with just the odd bite here and there throughout the day. It was nice that everyone in the group at least caught a fish, though. The largest fish of the day fell to Kevin, a cod of 10.1lb, with a few other cod of 8-9lb caught too. Aside from that, there was a spattering of dabs to 1.7lb and a lone wolfy.
Tomorrow, we head back north to some deeper water. Hopefully, we'll find some fish of a better stamp.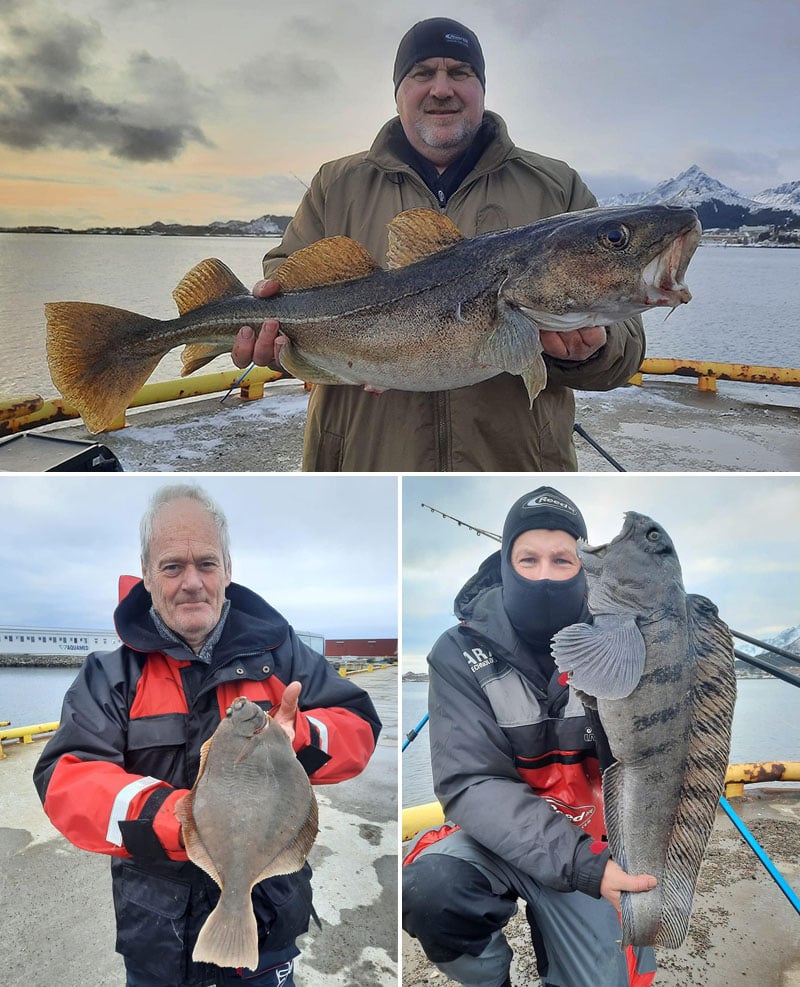 Week 1 Day 2: A few nice fish, but still slow going…

Today, we split the group in two. One group would fish with me at Fiskebol, whilst the others would fish with Zac at last week's cod hot spot to the north. For my group, it looked like it was going to be a great day when on the first cast of the session, Michael hooked up to a really nice halibut of 42.4lb! It gave him a great scrap too, which seemed to clear his hangover a little!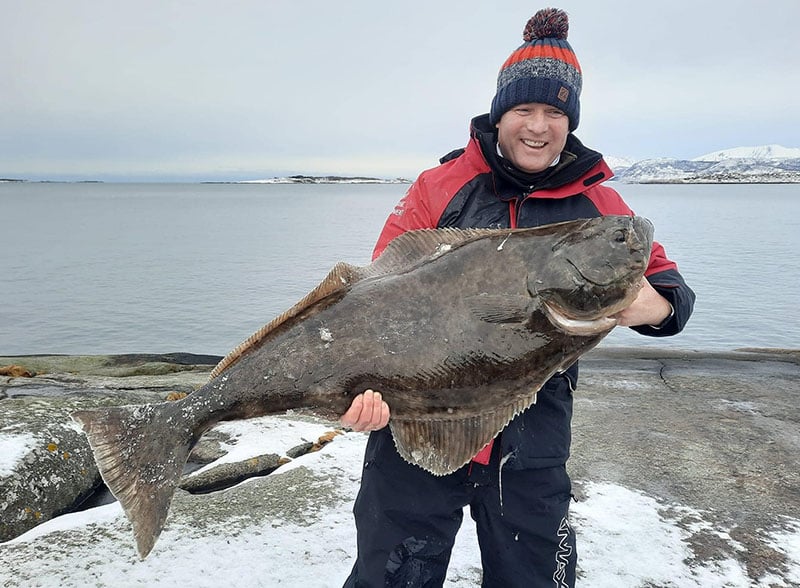 From that point on though, fishing was dire, with lots of small bites and just the odd little fish getting caught. For Zac's group, it was a steady start, with some lovely cod up to a best of 13.4lb for Ollie and a few more fish close to, or just into double figures. They also had a quiet period in the afternoon, with very little action, but finished with a few more cod at last knockings.

Tomorrow, we split up again, with one group going for some halibut on one of our more tidal venues and we others hitting up the bridge for a mixed bag. Fingers crossed the fishing picks up a bit.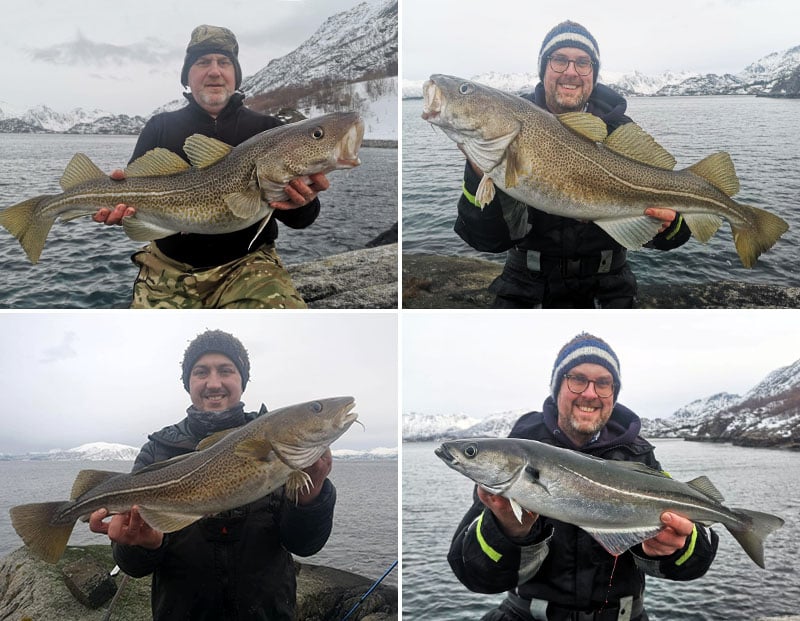 Week 1 Day 3: It's not getting any easier…

Another very tough day today. So much so, that the boats going out from camp had a blank! Now we weren't quite that unlucky, but it's definitely not easy going here at the minute. The fish just don't seem to be in the same mood that they were last week. It happens though and all we can do is plough on, keep the baits going in and hope it picks up tomorrow.

Anyway…. today's result. Splitting up again, the lads that went after halibut in the Nappstraumen with Zac had a real tough one. No runs at all and just a few bites at the end of the day from a lonely cod and a nice dab of 1.14lb saved a blank. My group hit the bridge which has always produced the goods in the past 2.5 years. Today was the toughest I've experienced on there though. Plenty of small rattly bites but very few good pulldowns. In the end, we had around half a dozen small cod, 2 small butts, a wolfy and a redfish. Not the day we'd hoped for. Needless to say, we go at it again tomorrow. Let's hope the fish come out of their slumber.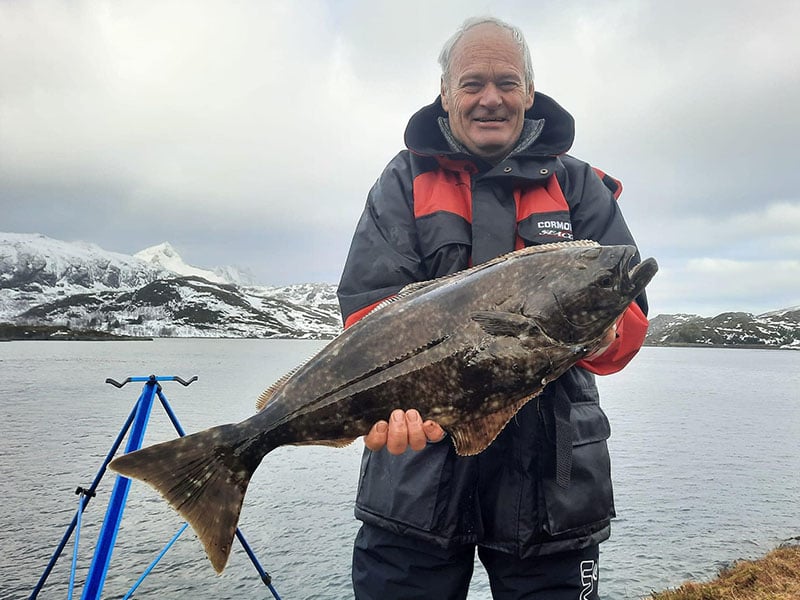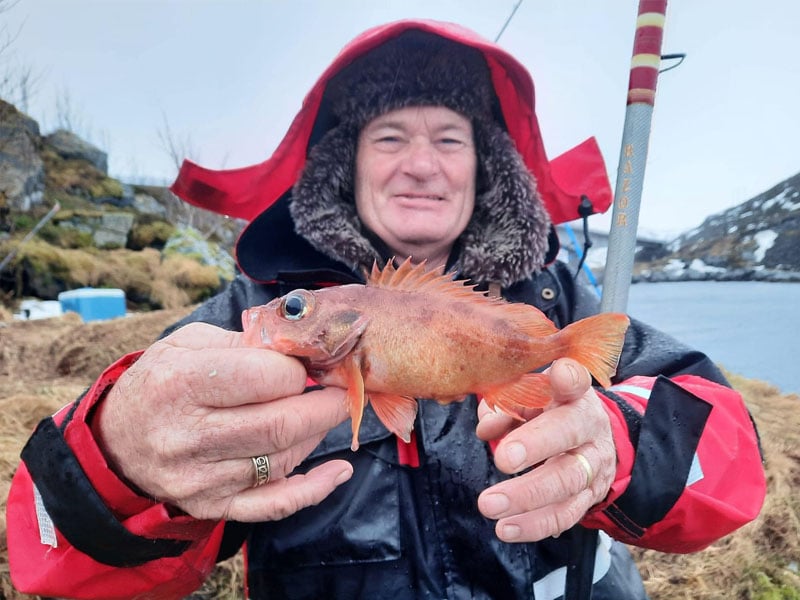 Week 1 Day 4: Promising signs…

Today was a much better day on the whole, with a good number of fish caught. Nothing huge by Norway standards, but it was just nice to see the rod tips going over again.

For my group of three, it was a very slow start, with a blank whilst targeting halibut on Rays Rock in the morning. As a result, we decided on a move to Half Tide Rock in Kabelvag, where we'd seen some really good catches of cod and haddock in previous years. It took 40 minutes for the fish to start feeding, but once on, it was a pretty hectic afternoon. Over three and a half hours, the guys landed 22 cod to 11.1lb and a single haddock of 4.4lb Much more promising signs.
The other group led by Zac hit up a Jetty mark nicely tucked out of the wind in Svolvaer. Unlike us, they had the perfect start, with a fish on the first cast which was followed by a steady flow of fish throughout the day. By the time the last cast was called, they totalled 17 cod to 10.1lb and 2 bonus halibut to 10.8lb. Well fished guys!

Tomorrow, we go again. Decisions on where to head are yet to be made. I'm sure we'll have a laugh and a few fish wherever we end up though.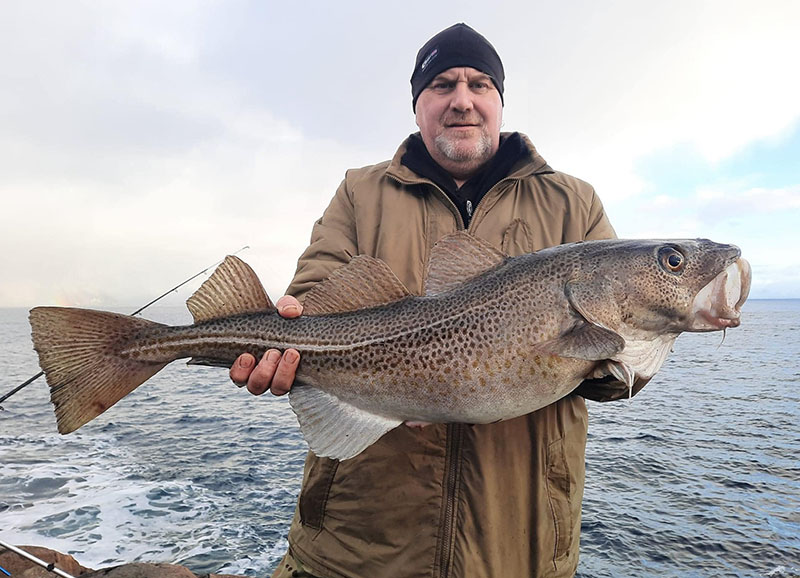 Week 1 Day 5: The Oliver Neill show…

Today was another day of two halves for my group of three. In the morning we hit up the bridge mark, but unfortunately, it failed to produce anything significant. A few bonus wolfies being the only highlights.

A change was required, so in the afternoon, we headed down to Cod Rock, just 10 minutes further down the road. On this venue, it was pretty much non stop action. First hitting into a few cod, ling and lumb and later getting non-stop action from a shoal of 3-4lb haddock. We must have had nearly 20 over the session, with most falling to Ollie's rod. The man of the day also had the best fish of the session, a cod of 11.14lb as well as the rough ground grand slam, consisting of a ling, lumb and wolffish. Top job that man!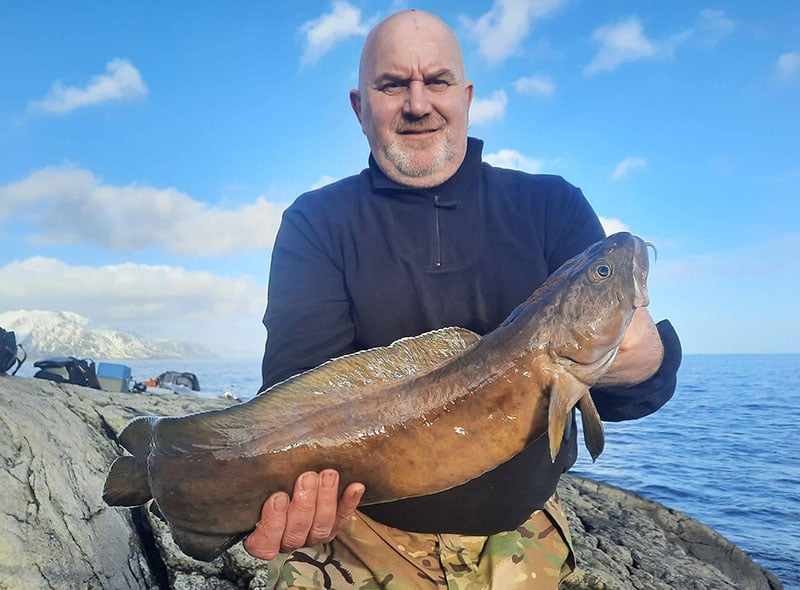 The other group had a good morning on the codling and dabs at Fredvang Pier. Ray had another small butt to add to his tally and I hear he had a really good run on a herring head, but sadly, the fish in question dropped the bait before the hooks could be set. In the evening they headed back to the baitstation, but the fish just didn't play ball for them. Last day tomorrow, so let's see what happens…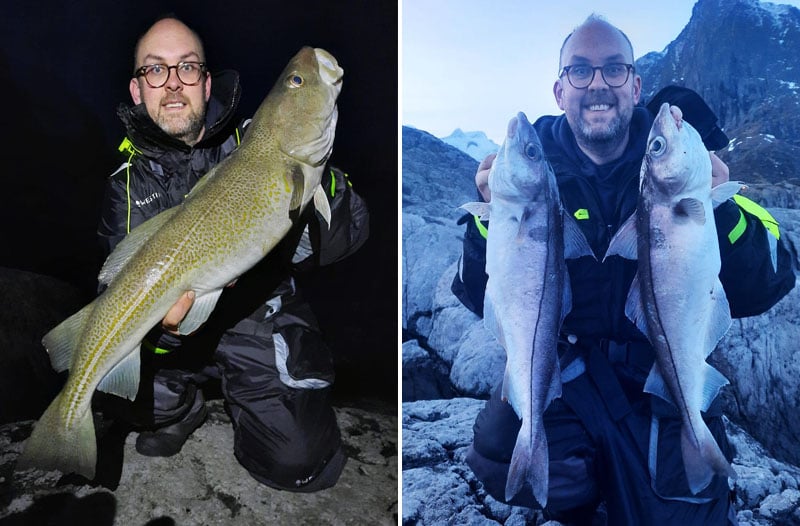 Week 1 Day 6: One last push
Today, something a bit different for the group. 4 of our anglers decided to hire a boat for the day and go out targeting the Skrei cod that are currently in Lofoten. Skippered by Calle Hjelm, they had a very enjoyable day landing some lovely cod to around 25lb and then targeting Halibut in the nearby Nappstraumen. Unfortunately, that was an unsuccessful venture, but a great day had either way.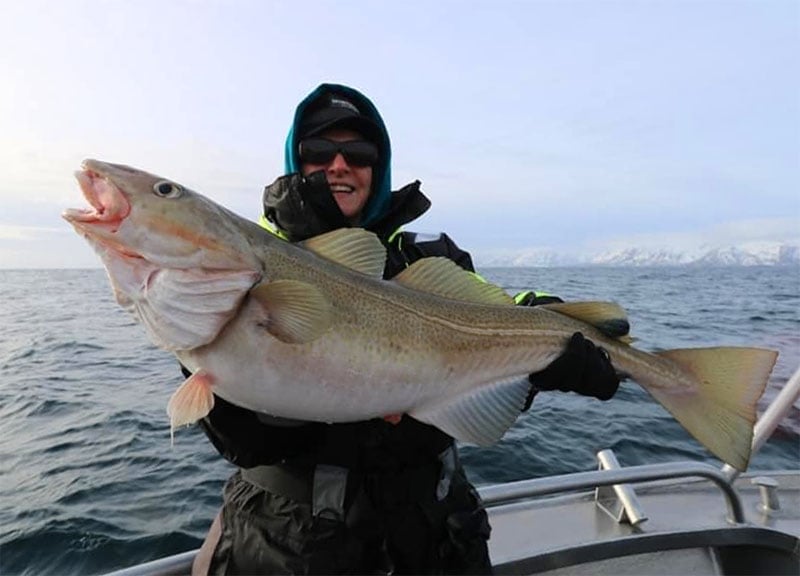 For us left on shore, it was one last attempt targeting halibut. Although we had one good run that was dropped, it was extremely quiet on the whole. The only action we had was from ravenous dabs that were hammering our fish baits all day. With the weather still nice though, it was a very enjoyable day to be out. Tomorrow, we say goodbye to our first group in the camp and welcome 4 more anglers to Nappstraumen. Let's hope there's plenty of fish to be had. Next report coming Thursday.
CONTACT US
If you would like to know more information about the amazing shore fishing on offer, read our full tour page for the Guided Shore Fishing In Norway. Alternatively, you can contact our sea fishing expert Paul Stevens on 01603 407 596 or email at paul@sportquestholidays.com.