Guided Shore Fishing Norway, Nappstraumen Lofoten Islands – Spring Season 2023.
Week 1 Day 1: Blankety blank…
This just about sums up day one. One missed halibut run and a few dropped cod. Very difficult conditions.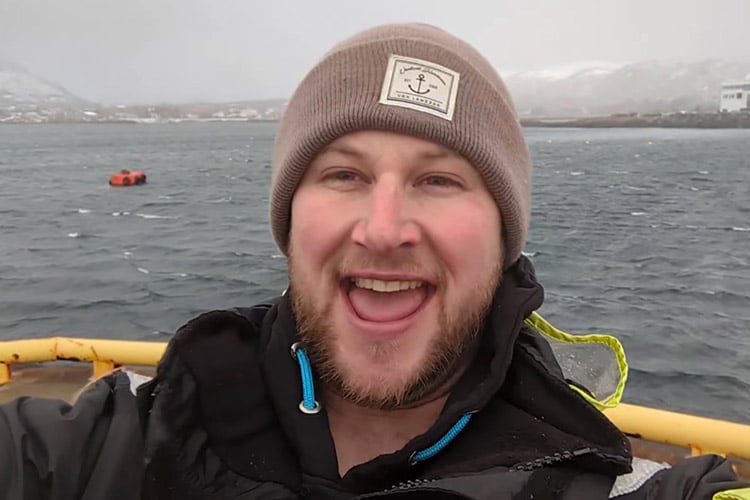 We had planned to go north to get out of the wind a bit, but with two of our guests missing luggage, we were forced to stay local until their stuff had arrived. Unfortunately, this wasn't until gone midday, so the option to go north was lost and sticking it out with the wind on our backs was out best option.
The weather is not going to be on our side for the first half of this week, but looking good from Sunday onwards. We'll just have to find some shelter for the next few days and see what we can pull out. I'm sure it will be better than today
Week 1 Day 2: A Slight Improvement…
Another day of strong winds and snow, but at least we could get away early today and try one of the harbours to the north.
Fishing was still very difficult, but at least fish have been landed, with a couple of small Halibut for Ray and Piers and a spattering of cod to just over 7.5lb.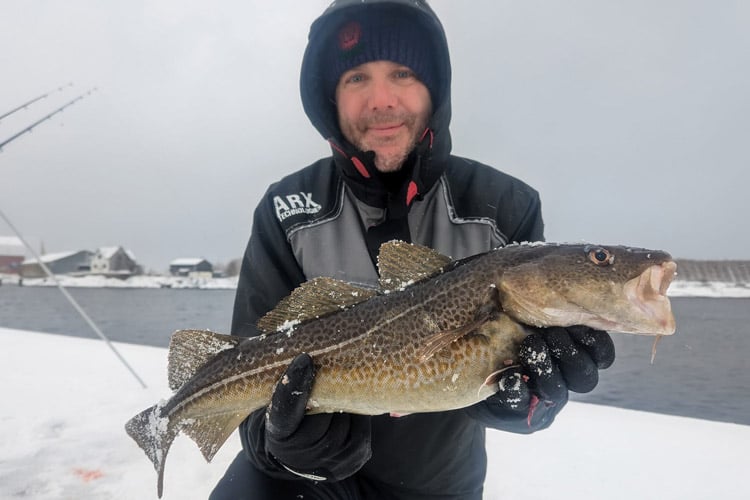 The worst of the weather is coming tomorrow, with the winds forecast to hit 65-70mph. As a result, I expect another grueller, but then finally our prospects start to look up from Sunday with much-improved weather and the tides picking up nicely too. We certainly won't give up!
Week 1 Day 3: Things are looking up…
Now don't be confused by the subtitle…the fishing has still been very difficult today with just a few fish landed once again. But the weather is on the up! That means we can finally access some open coast marks tomorrow, where we will hopefully find some numbers of fish.
Today though was another struggle. Despite the winds passing through overnight, the swell on the coast still made it unfishable for us, so another local sheltered mark was chosen….Mortsund.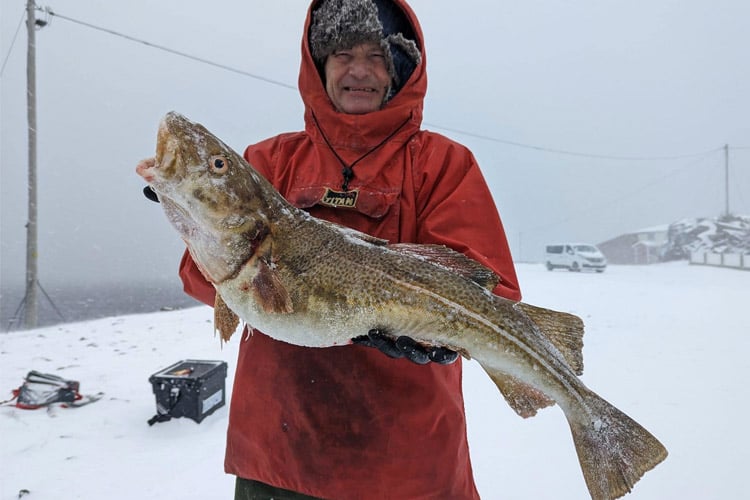 This spot has regularly produced good cod and halibut for us over the years, but the fish were certainly not hard on the feed today. The lads did manage a couple of cod to 8.5lb, a single halibut and a dab though. Plenty of small bites missed too, which were likely to be more dabs.
Tomorrow, it's the bridge and Sorvagen. Feel as though a good days fishing is on the cards.
Week 1 Day 4: Mixing it up…
Well, the 7mm of snow predicted overnight turned out to be closer to 7″, meaning open coast rock marks were a no-go once again. As a result, we ended up at the bridge, fishing some deep water where almost anything can turn up.
It did throw up a few species as well. Not large numbers of fish, or big ones in general, but constant bites to keep the guys interested. Species landed were cod, dab, coalfish, wolffish, ling and SS Scorpionfish.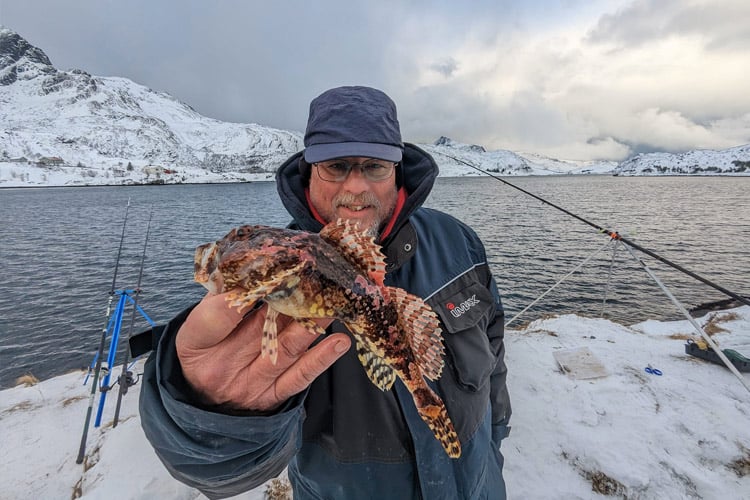 More snow yet again overnight, so we're back up to Svolvaer again today. Hopefully, the bigger tides and later high water will result in some better fishing. Options are severely limited though at the moment
Week 1 Day 5: Quality over quantity
A continued struggle to find numbers of fish yesterday, but fair play, the lads are continuing to fish hard.
In the end a few nice fish were caught, topped by a 12lber for Geoff. Piers also had a nice brace of Cod to 7.1lb and lost a good halibut.
Last day today and the lads fancied the bridge again. After all, it is where we've had the most bite action. Much nicer weather too..thank god!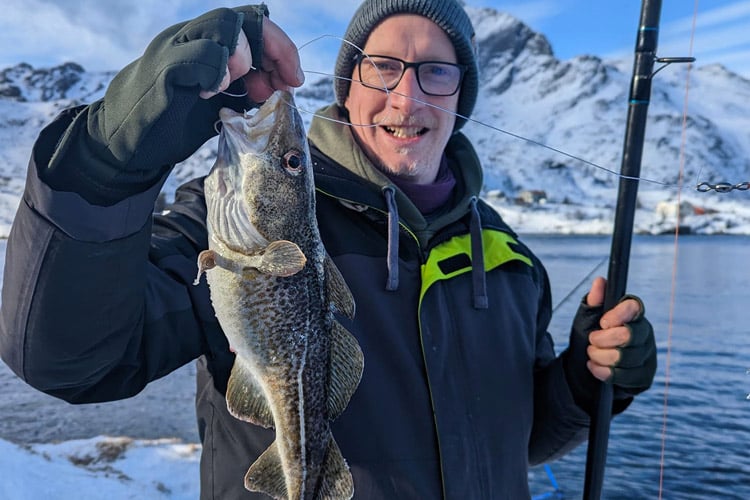 Week 1 Day 6: Roles reversed…
Well if yesterday was quality, today was more about numbers…not masses of fish, but certainly better numbers than we've had any other day this week.
In the end, two marks were fished, the bridge and Fredvang Pier. Both produced plenty of bites and a few fish for the lads to take home. We finally saw some baitfish about too, which is a promising sign for week 2.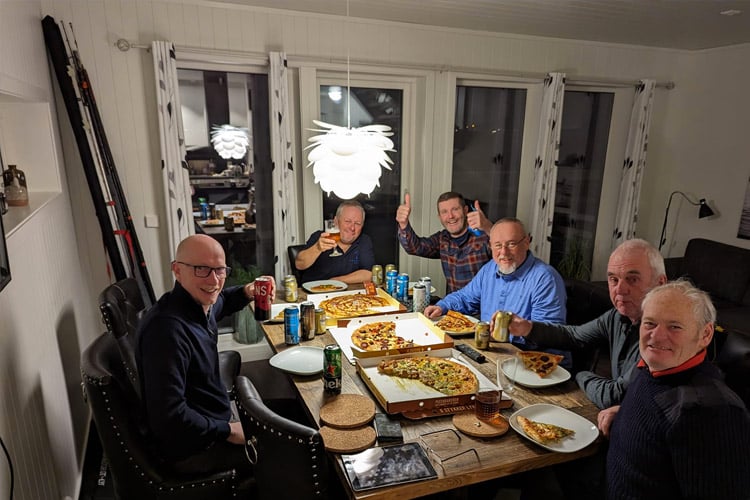 As always, at the weeks end, we gather together and enjoy pizza and beer evening. The guys have been very unlucky with the weather this week, but have gone away smiling, even if they were a little disappointed with the quality of the fishing. That's what it's all about!
A new group arriving this evening, so let's hope I can find them a few monsters.
CONTACT US
If you would like to see more of our fantastic shore fishing tour to northern Norway, you can visit the full tour page here. Alternatively, if you would like to discuss this trip with one of our dedicated sea fishing professionals, you can contact Paul stevens on 01603 407596 or by emailing him directly at paul@sportquestholidays.com.