Nappstraumen Week 2 Day 1: The open coast produces….
Well in stark contrast to last week, the weather to start week two was fantastic. Light winds and no swell on the coast. Finally a chance to fish open sea and deep water.
After a quick stop at Fredvang so I could check the angling ability of the new group, we were off to Cod Rock. The first hour was slow, with just one bite, but from there on in, it was chaos.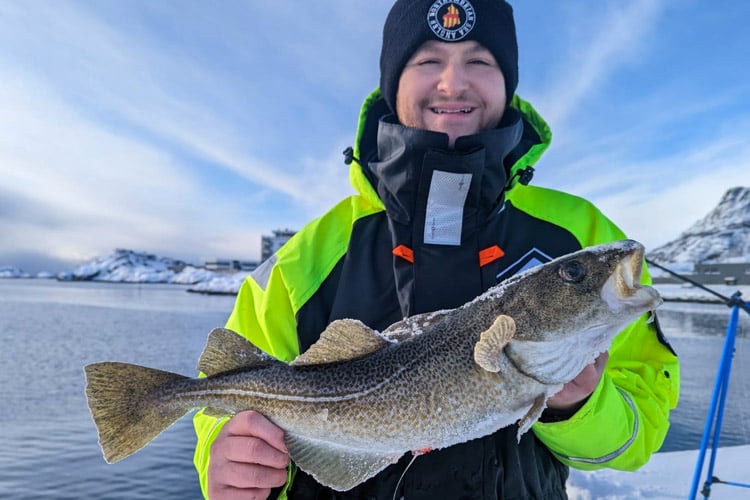 Almost every cast for 4 hours, the guys had instant bites. I can't tell you how many were missed, but plenty of fish were landed as you can see from the pics. Included in the haul were Cod, Haddock, Ling, Coalfish, Dabs and a small Halibut.
Today, we're in Svolvaer harbour, as the 8″ of snow overnight, has once again spoilt plans of more open coast fishing. Hopefully see another butt and a few nice cod.
Nappstraumen Week 2 Day 2: Bagging up on the breaky….
Another great days fishing yesterday, just proving how much the weather can effect the result.
We fished a venue that we couldn't access last week, the outside harbour breaky at Svolvaer. Although its a bit kelpy, it always seems to hold a good number of fish, mainly Cod and Lumb, but it does throw up a few Coalies, Haddock and Halibut on occasion too.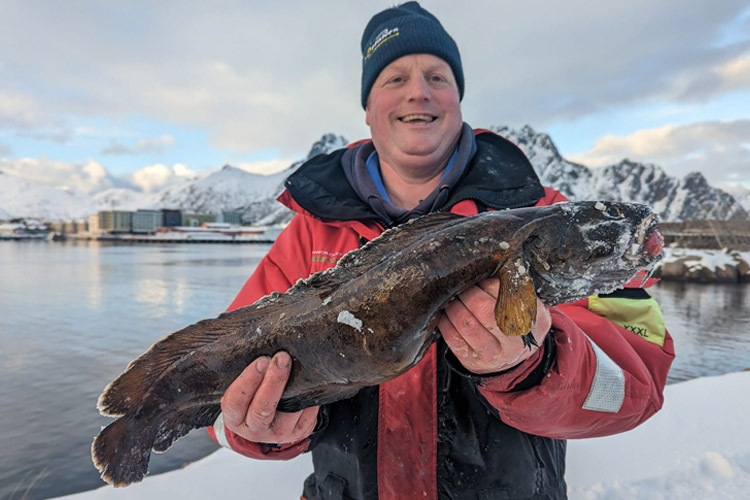 Yesterday, it was mainly Cod, with a good number of fish landed to 11.9 and plenty between 6-10lb. Lee had the only Lumb of the day at around 6lb and one Coalie of 7.11 was also caught by Jamie.
Trying a few more deep water venues to the south today hoping for a few long and maybe some Haddock for dinner
NAPPSTRAUMEN WEEK 2 DAY 3: TUCKING OUT OF THE WIND…
After another downpour of snow overnight and a forecast showing strong westerly winds, we had no option yesterday but to find some shelter in the fjords.
As expected, the fishing was a bit slower away from the open coast, but the lads still had a good haul of small Cod, Coalies and a Lumb was caught by Steve.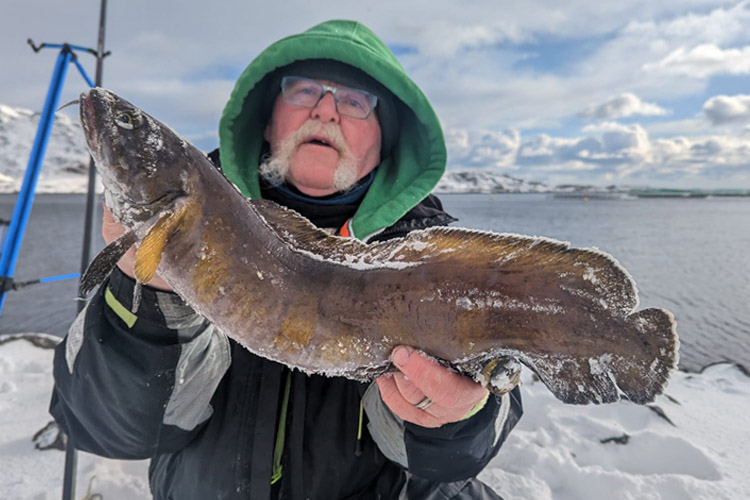 Today, we're back down to cod rock, as we know there's plenty of fish there ATM. It's a bit of a mission to hike to it through the thigh deep snow now, but hopefully the result will make the effort worthwhile
NAPPSTRAUMEN WEEK 2 DAY 4: ANOTHER BUSY DAY ON COD ROCK…
Well once again, some lovely sunshine and calm seas greated us on day 4. A perfect opportunity to head back to cod rock.
Fishing was frantic at times, with almost every cast of the session producing a bite. They were very tricky to hook at the start, but as the bigger fish moved, plenty of nice Haddock, Cod and a small Halibut once again graced the bank. They made for a lovely Thai fish curry.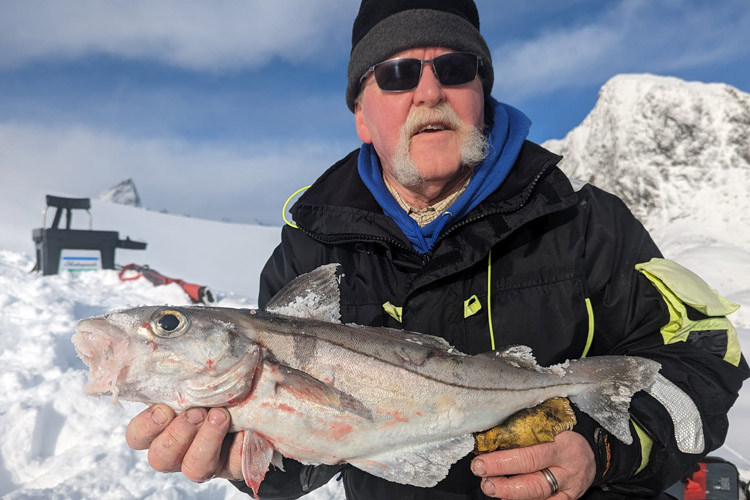 Poor Jamie had troubles hooking fish all morning, so when he did hook up to something rather large, we thought his luck had changed. But after getting a braided mainline caught around his hooklength, it was game over…just not his day.
Today we're on the long trip north to one of our monster fish marks. It's never prolific, but there's always that chance of a beast. Let's hope our lucks in
NAPPSTRAUMEN WEEK 2 DAY 5: DOUBLE TROUBLE…
Well yesterday, it was a long two-hour drive north to our Cod hotspot. As stated yesterday, we never pull large numbers of fish from this venue, but it does have a very good average size.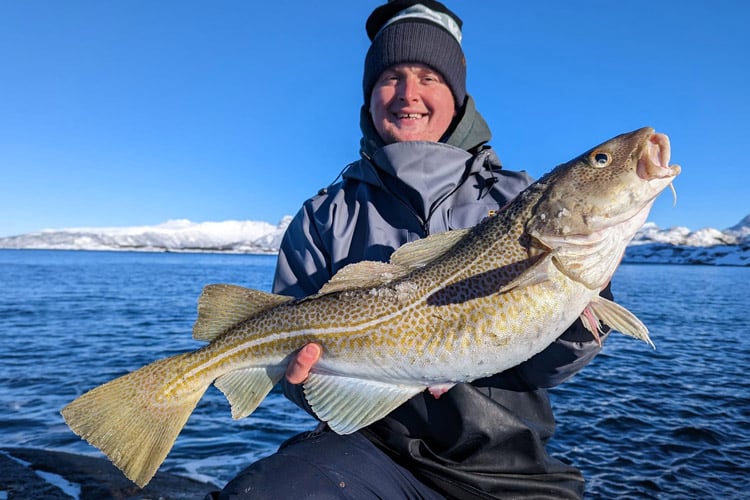 The lads fished from 9-4, getting bites fairly regularly throughout. In the end, 8 Cod were landed (smallest ~6lb), 2 Lumb of 7.5 and 8.5 and a Plaice of 2.4. Multiple good fish were lost due to missed bites and hook pulls too. Best fish of the day were a 10.9 for Lee and two doubles to 13.15 for Jamie.
Last day today, so we're gonna try something different. A few hours hunting an early layby halibut before we head back to Svolvaer, where the lads loved fishing on day 2. Should be a good one .
CONTACT US
If you would like to see more of our fantastic shore fishing tour to northern Norway, you can visit the full tour page here. Alternatively, if you would like to discuss this trip with one of our dedicated sea fishing professionals, you can contact Paul stevens on 01603 407596 or by emailing him directly at paul@sportquestholidays.com.