What an amazing week these guests had out in Vesteralen, the guests were able to land themselves Nice Cod, Coalfish and some fantastic Halibut during their week.
Pleasant Mix fishing!
Another week is over here in Vesterålen, and this week has been spent testing out some different fishing. The weather was great the first few days, until Sunday when the wind would pick up again. It can be difficult to top last week's fantastic weather, but luckily we had some great days at sea anyway. We were visited by a wonderful group that I have had as guests on several occasions before, and it was all going to be a delightful week with lots of fish!
We started the week's fishing by going west. Here we were to look for the Cod. After driving out on a sea view ocean, we arrived at the fishing grounds. Last week we had an extreme Cod breed in very shallow water, and I hoped we could test ourselves on it in the beginning. We scanned peaks after peaks, and it was really thick with small oysters. You could also see the Cod chasing in between the small Coalfish, but they were incredibly hard to catch. Only a few single fish on each top, although the average of them was about 8-10 kilos, so it was not the same action as before. Well, we moved on. Finally, we found a steeper edge with a lot of small Coalfish that stood high in the water layer. Here was the Cod, and we got a bunch of Cod between 5 and 10 kilos. No real giants, but it was a very nice start! After pumping Cod for a few hours, we were to lie down on a deep edge down to 220 meters. Now the Redfish stood to press, and it was just a matter of heating up the crank arm. For it was not long before the bait hit the bottom, until it nipped at the rod tip. The Redfish were here, and we could pull a dozen before we turned our snout home.
Friday was reported to be very nice, but when we came out towards the fishing spot we had chosen, it was quite windy. Today's goal was again Cod, but we decided to spend a couple of hours on Halibut to begin with. We had several contacts already in the first drift, and Jörgen landed the first Halibut of around 70 cm. We had contacts at every single drift, but only succeeded in landing one just below the minimum size. Well, we fought on upon the Cod grounds. On a base peak there was some nice Cod of 5-8 kilos, but we continued the operation towards a 60 meter gutter. The echo sounder quickly filled up. Here it was thick with big Coalfish, and we experienced an insane race of Coalfish between 8 and 14 kilos! The boys had never experienced this before, and all the reels in the boat could howl away continuously. Not only that, but the Cod also stood under the Coalfish down there. So here we also got a few Cod up to 10 kilos on the same spot. After an intense fishing, we headed home after a windy but fishy day at sea…
After the end of the fishing day, we looked at the weather forecast that the weather would get worse over the weekend. Already on Saturday night, the wind was supposed to pick up. We agreed that we would go out early Saturday morning, and aimed for another day after the Cod. In the morning the weather was absolutely amazing! The sun peeked out, the wind had completely subsided and the sea was flat. It also seemed that the Cod liked the good weather, so we went straight to Cod fishing that day. We got to drop most of it, but we really had quantities of pretty Cod up to 13-14 kilos. And the same as the day before, the great Coalfish had planted itself in a deep gutter of about 60 meters. We could not stop trying again, and Lars caught a really nice Coalfish of about 13 kilos at the end of the day. This would be the last day of this week with good weather, so we made sure to take full advantage of the hours…
The coming days looked tougher, with winds up to 13-14 ms… Fortunately, our camp here in Vesterålen is very protected inside the fjord. Which means you can almost always get out anyway. Sunday and Monday were two shorter days, but Marcus and co used these days to lie in the protected Eidsfjord, and fish in the deep. Only a few minutes away from the camp, you can have a very pleasant fishing for Redfish and Whiting (excellent food fish). So these two days were used to winch up from the depths, with a very nice result! There are no giant redfish in the fjord here, but great food fish up to 3 kilos are not uncommon here.
As is well known, Tuesday is the last fishing day here in Vesterålen. The boys were now eager to try again at the Halibut. The wind had finally started to calm down, and we left at 9 o'clock. There are really small Coalfish everywhere, so the bait fishing went like a dream, and we could start our fishing around 10. Already in the first drift we have a couple of contacts, but no fixed fish. But inside this sand flake, there was really a lot of fish. Unfortunately, there were no huge fish, but Lars was still able to clock in today's first Halibut of about 70 cm after only 1 hour of fishing. We continued to have several contacts, but we quickly realized that this was an area that held a lot of "small fish", and chose to move us. A little further north, the conditions were somewhat tougher, but still fishable. In the first drift, the Coalfish were hungry. Now the pole was in full tension, and the line fell out from the reel. The TV creak was turned on so we all got to hear the wonderful sound. After a good rush we get to see the fish, and I get Lars a great Halibut of 100 cm! The fishing continued with many contacts, and we unfortunately lost 3 pieces after a few seconds of fighting. The Halibut seemed incredibly gentle this day, but we got at least a couple of pieces to end the week.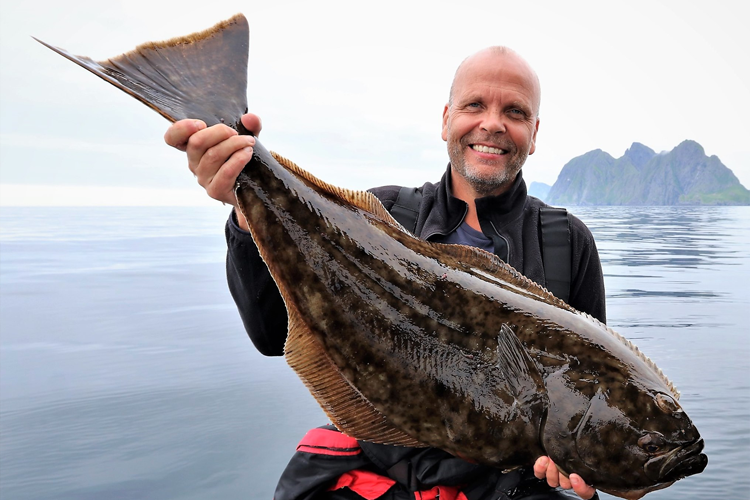 I would like to thank Marcus, Lars, Claes & Jörgen for an incredibly pleasant week here at the camp! See you again next year… Now there are new guests on the way, here we are working to prepare before the new guests arrive later today. The weather looks tough initially, but this weekend it finally looks like it will turn around. We cross our fingers for good weather and a long trip at the beginning of next week!
Tight Lines // Jørgen Zwilgmeyer, Håkon Nilsen
Contact us
We do still have the odd week available for the 2022 season at Vesterålen. If you would like to join us at the famous Northern Norway destination call us on 01603 407596 or email us info@sportquestholidays.com.
Tight lines,
Paul