Weather:
We got mostly rainy days.
Temperatures between: 20 ºC and 35ºC
River Conditions:
Water levels skyrocketed at the beginning of the week and fishing got slow, but on the final two days, we found better conditions.  The water already dropped quickly and the fishing improved a lot.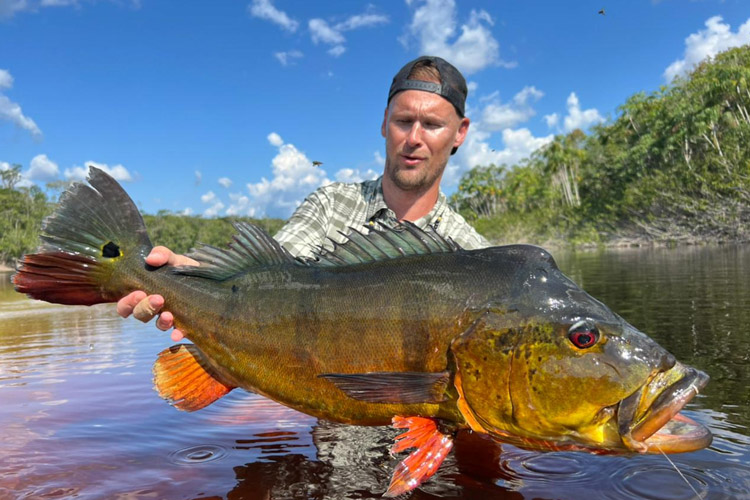 Fishing Summary: 
This week we received another mixed group. We had 9 guys from the USA and 2 from the UK, one being the famous British fly fishing photographer Matt and the other, his friend Patrik, a former Liverpool soccer player.
Fishing Stats:
Number of anglers: 9 from the USA and 2 from the UK.
Peacock Bass caught: 263
Temensis over 10lbs: 5
Temensis over 15lbs: 4
Temensis over 20lbs: 3
Highlight of the week:
We always tell our anglers that you should never give up, and that a big fish could be waiting at the next cast. Of course, after a tough week of fishing, you may start to doubt that theory. So, with no more than 5 minutes of the last day of fishing, Michael was already preparing to give up and return to the mothership. And if not for Alonso, his guide who insisted on making his last cast of the day at a spot he thought would pay, he never would have seen the best surprise of the trip. Michael made the cast, and to his delight, a big fish was there waiting for his fly, 20lbs. of peacock bass! Congratulations, Michael!
See you next week!
Rafael Marques and The  Marié Guides
CONTACT US
If you would like to learn more about our Rio Marie Lodge tour, you can visit the full tour page here. Alternatively, you can contact our fly fishing expert, Peter Collingsworth, on 01603 407596 or by email at peter@sportquestholidays.com.