With all of us locked up in our homes, the fishing guides who live over at Sørøya have found themselves the time to do a little bit of fishing and there is only one thing on their mind at this time of year and that's the Skrei Cod. The guides have been keeping busy with general maintenance of the cabins and other bits and pieces but the draw of good weather, no clients and Cod packed waters was too much of a tease, so this below report was from just one day's fishing:
Mental Cod Fishing – 24 Over 20kg / 2 Over 30 Kg
Us guides went out to fish for cod around 10 am and our only target was BIG Cod. We searched in some shoals but didn't really find the honey hole before the clock was around 1 pm. When we finally found the big ones, then the ***** really hit the fan…
First drop into the mega shoal on the sonar, Daniel put some serious bend in his rod, and we could tell from the bite that this fish was humongous… A couple of minutes later, a FAT PIG broke the surface, and both of us shouted "30+!!!". Bilal's 15kg one looked like a rat compared to Daniel's cod. and sure enough, the cod weighed in at 30.8KG roughly 67lb and measured 143cm!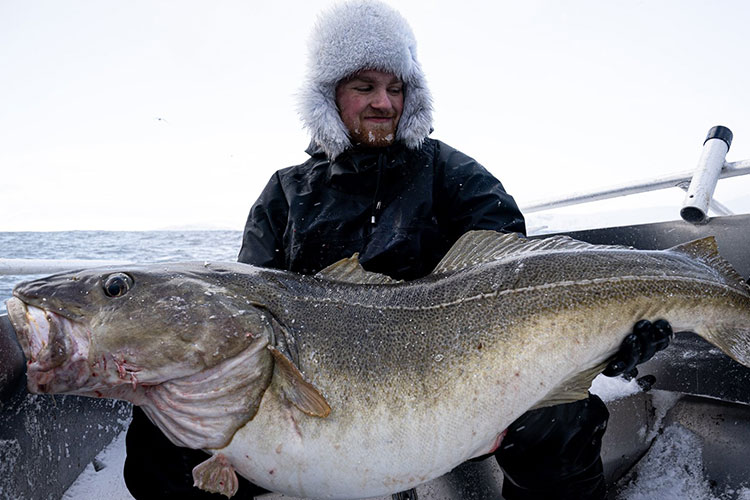 The size of these Cod blow me away
Next drop, double hook up with two MONSTERS. Daniels wasn't taking any drag but felt SUPER heavy. Bilal's started running after a couple of seconds and ended up getting loose after a 20m run… A couple of curse words later, he was hooked up again. This was a "smaller" one, around 10kg, so it didn't put up too much of a fight for an adrenaline-infused teenager.
A couple of minutes pass and Daniel's second MEGA SKREI surfaced! This one was clearly bigger, especially longer than his last one. This brute weighed 33,5kg or 74lb and measured 152cm! stunning fish!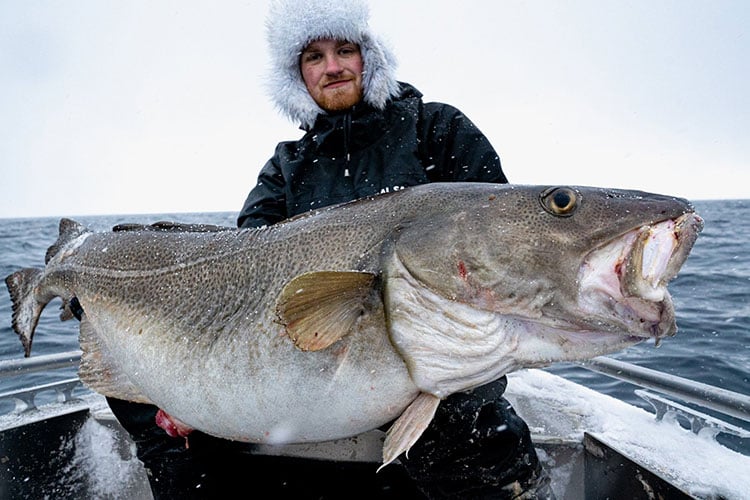 Check out the length of this beast
The next drop, another double hook-up with monsters! Bilal hooked a 28,4kg / 63lb cod and Daniel 28,2 / 62lb!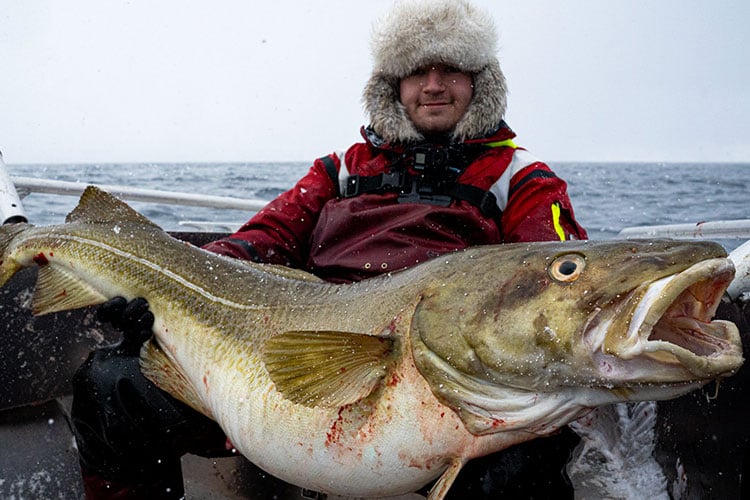 Wow, we all cant wait to get back out there
The following 1,5 hour we had 19 more cod passing the 20kg mark… WHAT A TRULY EPIC DAY?!
Top fish were as following;
74lb, 67lb, 63lb, 62lb, 61lb, 59lb, 55lb & 55lb!!!
A day for both of our history books for sure!
Stay safe and tight lines!
//Daniel & Bilal
Wow, what a day, Sørøya each year never ceases to amaze me. I have fished over there many times now and it just blows me away how many big Cod get caught each day.
The boys also supplied us with a great video which shows just how crazy the fishing is at the moment in Norway, take a look –
Exclusive
Extra cabins and boats added for 2021 Hosted Trip
Due to people moving their planned 2020 trips over to 2021 we have increased the size of the hosted trip to accommodate more anglers. The first week we increased and has now become sold out, so we increased the second week. We currently have 5 spaces available to join our hosted Skrei trip in March to Sørøya so if you fancy catching yourself a Cod like this then be quick. Contact our office on 01603 407596 or reply in the comment section below. You can also make an enquiry HERE