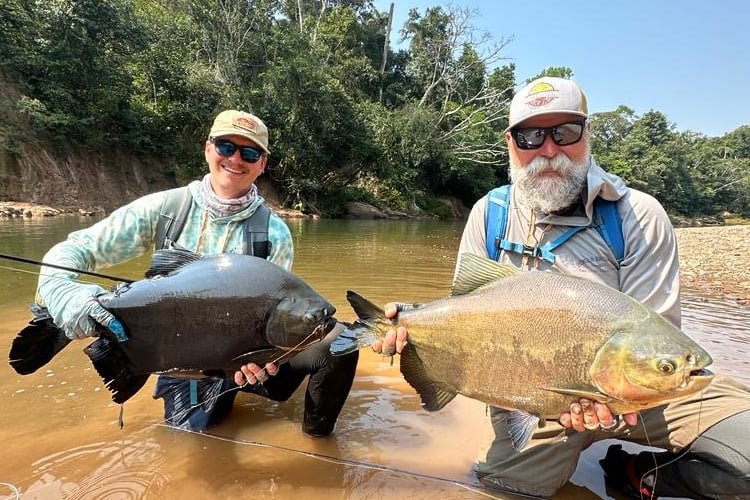 In this, our seventh week of the helifishing program, we had the pleasure of receiving several repeat guests: Mussil's father and son, Bob, all from the United States, and a couple from Russia, Alena and Oleg, who have shared many good times with us in every Tsimané destination. Both the weather and the fishing were on our side, and we were able to fly to various environments and enjoy the benefits of being one of the very few people who set foot on the headwaters.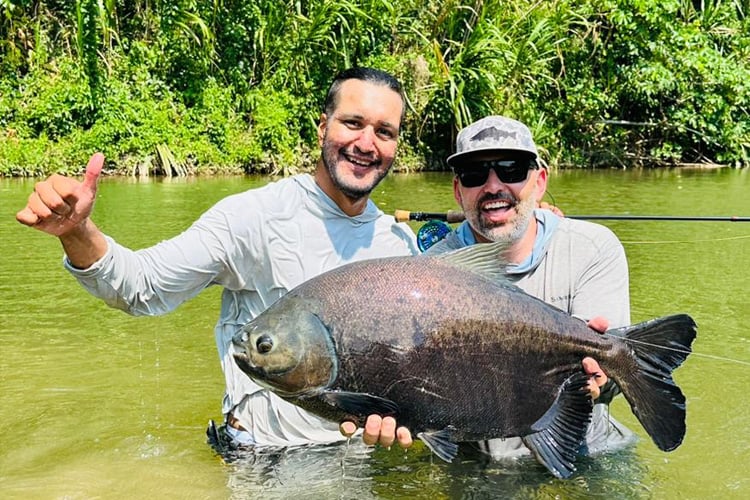 The thirteenth chapter of the season at Sécure Lodge began with a group of friends who kicked off the week with tight lines, losing several fat dorado and landing two pacú on the first day. The lower section became more active throughout the week, giving us chances with some feeding frenzies and attacks when we hit the logs and cast deep into structure. Throughout the rest of the week everybody got nice dorado on their rods, including two twenty-pounders.
The "pacú game" showed us a very good program with a good number of hookups, and black plates from ten to sixteen pounds stranded on the beaches.
The headwaters far up above the camp were technical as always with crystal clear water, sight-fishing situations, and very nice yellow gifts. The biggest fish of the week was a 21-lb. dorado.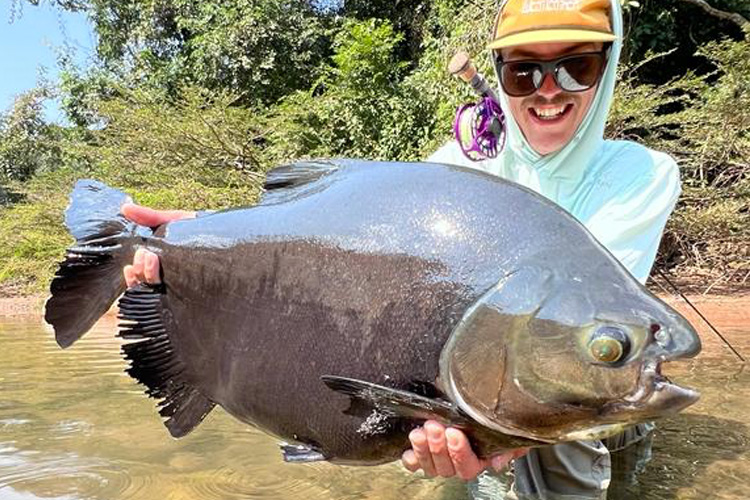 On the thirteenth week of the season at Pluma Lodge we hosted six American and two Australian anglers. The week started with hot days, growing fresher at the end. Due to the dry season the water level was low with crystal clear water, which allowed every angler to get their golden trophy.
Last week we had an enjoyable visit from two friends from home, Ryan and Bill, from the United States. The weather was good but with very hot conditions that in some moments made fishing a bit slow due to the high water temperatures. Fishing in all our rivers, we had very good chances of dorados, pacú, and giant yatorana.
By the end of the week, we landed a couple dorado around 15 Ibs., two over 20 Ibs., two large pacú, and several big yatorana.
CONTACT US
Do you think you could handle the Dorado that reside at Pluma, Secure, Agua Negra and our brand new Heli fishing tour? You can take a closer look at the tour page, where you'll find all the information you need to get you ready for the trip of a lifetime!
If you have any questions, call our offices on 01603 407596 or email us on info@sportquestholidays.com and one of our experts can assist you with any queries.