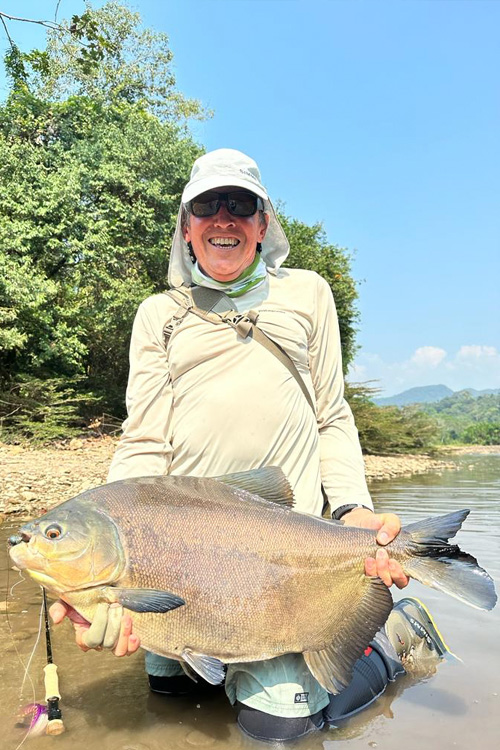 This week, the tenth of the heli fishing program has been special. We had the pleasure of hosting famous photographer Matt Harris, old friend Bill "La Nutria", new friends Paul and John—the first Dutchmen to visit our show—and local influencer Bianca Foianini. With them we were lucky enough to witness the advantages of having a helicopter at our disposal, achieving clear water even after a heavy rain. The fishing has had ups and downs during the week following the rhythm of the weather, but everyone has enjoyed the immensity of the intact jungle and the privilege of being one of the few to set foot in these headwaters.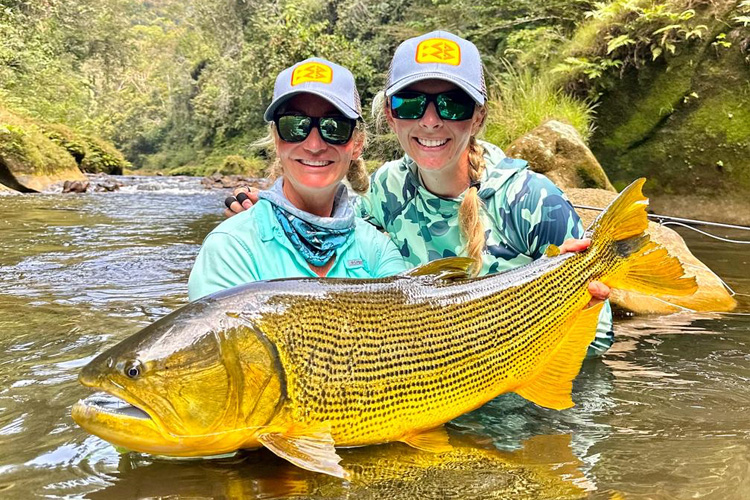 We received this week in Sécure lodge a team of five ladies hosted by Meredith McCord, a super fun week with great energy, awesome highlights, and a bunch of stories to tell.
The week began with high temperatures and low water everywhere, but despite the challenges on the creeks and the upper sections far up gave us chances where a careful approach and a good presentation made the difference.
Making camps, walking a lot, going deep into the creeks, and fishing top water flies everywhere we went, big golden ones and fat black plates were stranded on the beaches ready for us. In the middle of the week, a little rain offered a window for some amazing feeding frenzies.
The biggest fish of the week were a 21-poundD orado and a 20-pound Pacú.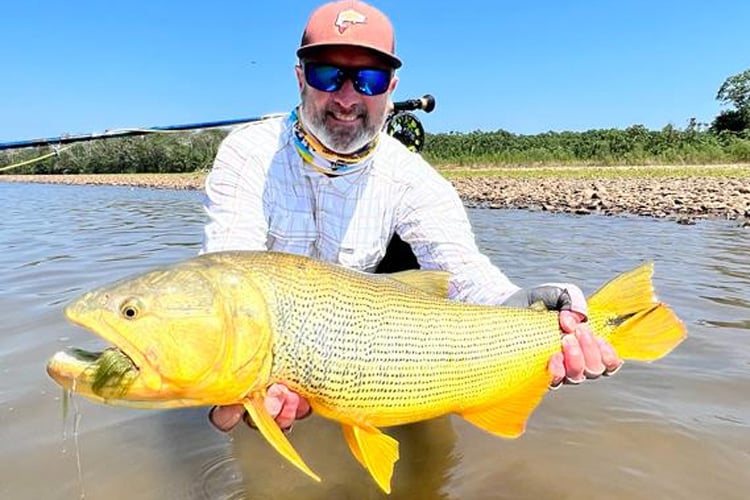 On the 16th week of the season at Pluma Lodge we hosted eight friends from the United States. With a low water level due to the dry season, all rivers of this system were crystal clear, perfect for sight-casting situations.
All the crew made the most of these conditions, catching big Dorado on streamers. The conditions were also perfect for Dorado to chase Sabalo in very skinny water, offering many spectacular feeding frenzy situations.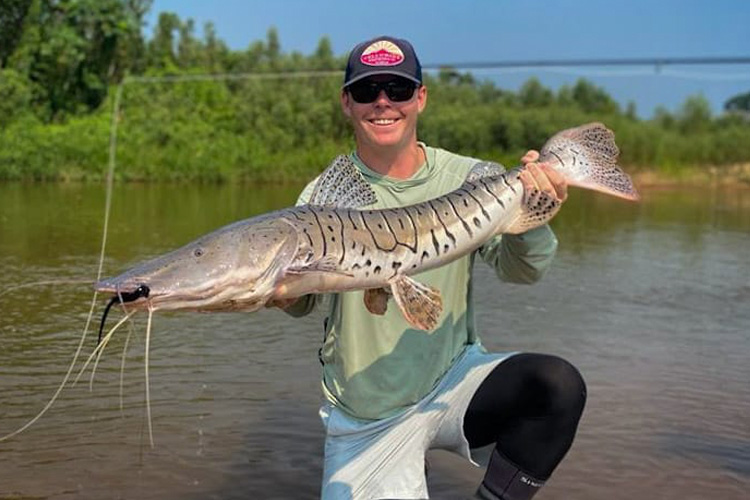 Last week, after many days without rain, we were lucky to have a front in the middle of the week that made the rivers rise slightly, giving us better chances, mainly in the tributaries.
We had the greatest pleasure to meet George, Will, Campbell and Colter, four friends from USA who enjoyed the best jungle experience.
We had a large number of chances on good fish; we landed more than six Dorados over 15 lbs., a good number of medium-size Dorado, four Pacú, several Yatorana, and a Surubi on the fly!
CONTACT US
Do you think you could handle the Dorado that reside at Pluma, Secure, Agua Negra and our brand new Heli fishing tour? You can take a closer look at the tour page, where you'll find all the information you need to get you ready for the trip of a lifetime!
If you have any questions, call our offices on 01603 407596 or email us on info@sportquestholidays.com and one of our experts can assist you with any queries.