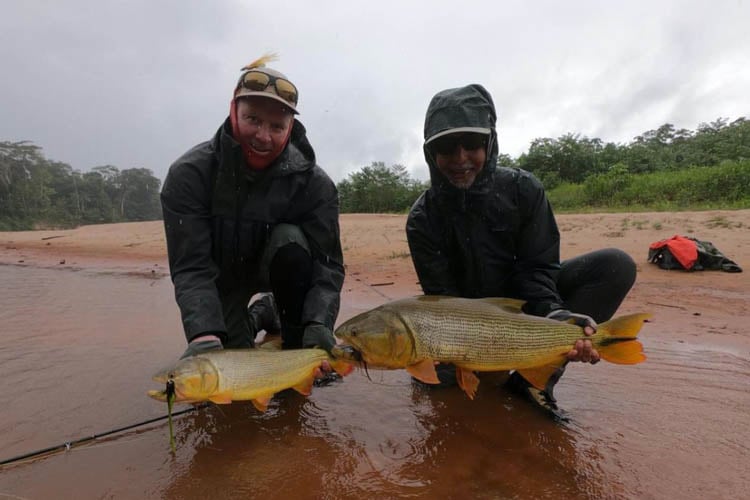 This week we received eight angler: Spike with Kerry from Montana in their second trip with us, Dax who is a famous guide and hosted traveler came with Dave from Canada, Gary from Sacramento, Vicente from California, Gary from Nevada, and Brad, a fishing guide and owner of Fishing with Larry.The weather was very unstable with a storm in the middle of the week.Water conditions were perfect the first three days and then we had a little bit of muddy water, with perfect water returning Friday.

The week was normal to very good in the fishing. We landed one Dorado over 20 pounds with many fish around the 15 to 18-lb. range. The upper sections of the Itirizama and Pluma were the revelation this week, with activity producing very nice fish. Around the confluence, the Secure is maintaining both quality and quantity of fish. The low and upper sections are fishing better and better week-to-week.We are waiting and looking forward to an excellent next week.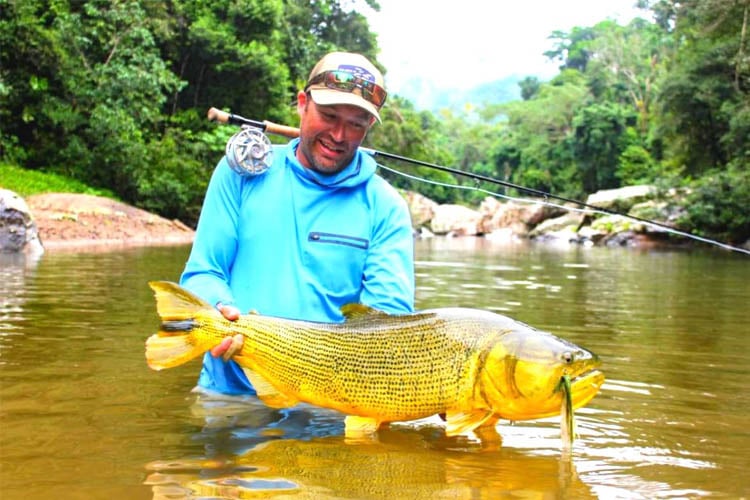 The weather was good during the first days of the week, then a southern front caused the temperature to drop and the rivers to rise slightly.
Fishing was good all week, mostly in the Chimoro and the Lower and Upper Agua Negra.
By the end of the week we landed more than ten fish over 15 lbs. and four fish over 20, along with a handful of very nice Pacu and a few big Yatoranas.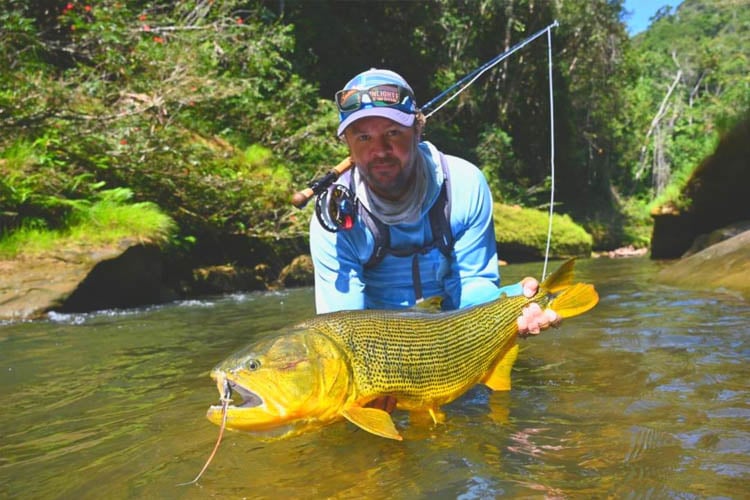 For the sixth week of the season we hosted a group of six American anglers, four of whom joined us for the first time, and a couple who have already visited every lodge at Tsimane.

The week began with low water but great temperatures, and the dorado were active in every section of the Secure as well as in both creeks. Brian Gustafson landed a great 18-lb. Dorado sight fishing in the Ashahana Creek.By midweek a storm hit the area and before the rains, as usual, the Dorado began chasing Sabalo all over the river.

We found big packs of fish in every spot, with a nice average size of landed fish 10 to 15 lbs. The Dorado were not the only active fish, as we landed the first three Pacu of the season; two of them sight fishing in the upper section with black streamers in shallow water.
CONTACT US
Do you think you could handle the Dorado that reside at Pluma and Agua Negra Lodge? You can take a closer look at the tour page, where you'll find all the information you need to get you ready for the trip of a lifetime!
If you have any questions, call our offices on 01603 407596 or email us on info@sportquestholidays.com and one of our experts can assist you with any queries.