After the guides told us a little about what the trip to Veberget (Jurassic Park) was all about, and what kind of fishing you can get out there, it didn't take long before all the boats decided to hang out there. At 8 o'clock all the engines were running and all the rods were rigged, for fantastic weather met us at the wharf's edge. With Alexander and the Danes in boat 5, with Kristian and Bo in the guide boat. Vesterålen showed its most beautiful side on the way out. With 20 degrees and almost no wind, it was difficult not to have a smile on your face. There was a short stop out by the ball (west side) to bring in some bait fish, as so to speak all of the Coalfish out there are quite large. Our first stop out on Veberget was the 38 meter peak.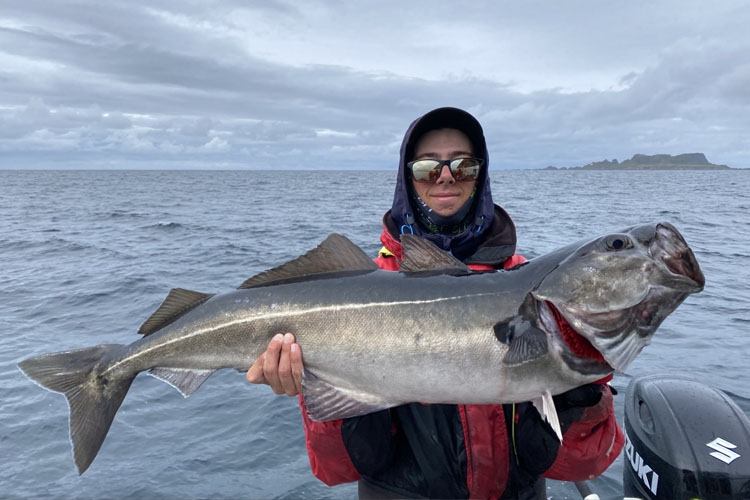 The echo sounder was filled with fish, from top to bottom! There were also larger chasing fish during the shoal of Coalfish that filled the screen. It didn't take long before the first big fish was reported. It was a large Cod of 18 kilos and 125cm! As boat 5 got on a crazy daisy 400 gram jig. What a start! Several beautiful Cod in the 10-15 kilo class were quickly reported at the first stop of the day. After about an hour in the first place, Alexander took the Danes in the boat further north, to really aim for quail. A place that delivered well with Halibut before too. We laid down on a section of sandy bottom of around 60 metres, and began drifting after large Halibut. It didn't take long before Anton stood in my boat with a real rod bend and a crazy outburst that followed. We quickly realized what it was that had inhaled the jig to Anton. The fight lasts around 20 minutes with several good runs. Anton really got to know what the white people out here have to offer! Alexander secured Halibut on the side of the boat with it, and it was measured at 148cm! After a short image sequence, the fish was controlled and released back again. There was a really good atmosphere in the boat with lots of laughter and wide smiles. Everyone was really happy that Anton had got his first chicken ever! Kristian in the guide boat, which was just a little further north than us, could also tell shortly afterwards that they had a good bite on one rod, but it spat out the baitfish. But soon after Erik had contact. He gave the fish plenty of time and hooked it perfectly! After a short fight, the fish came up, a fine Halibut of 96 cm that was taken home. Following this, they also got a beautiful Cod of 10 kilos.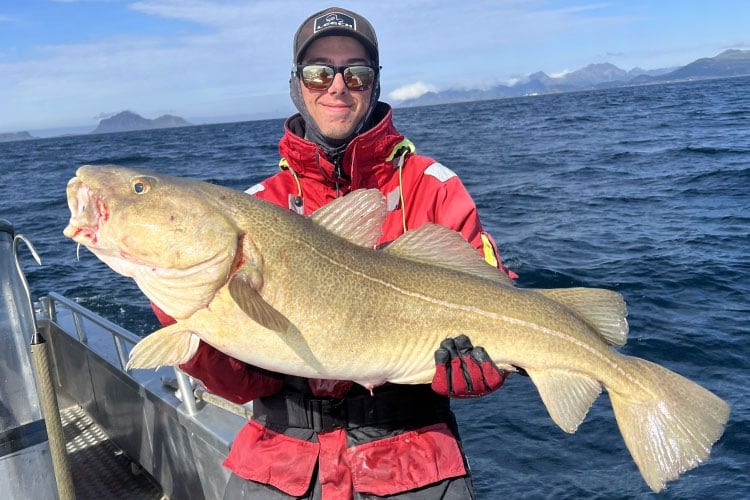 Boat 6 with Mikael Johanson and boat 2 with Mark Turner as captains could also report two rafts of Whiting. Boat 6 with a halibut of 105cm and boat 2 with one of 106cm. In the meantime, boat 1 captained by Andrew Stabright had started fishing in the areas around the long edge. A lot of action happened there! They had caught a nice Halibut of 137cm. They had also found something on the bait fish rig that was in the middle of the water layer. A completely insane outing for a short fight, this was probably a big hope run!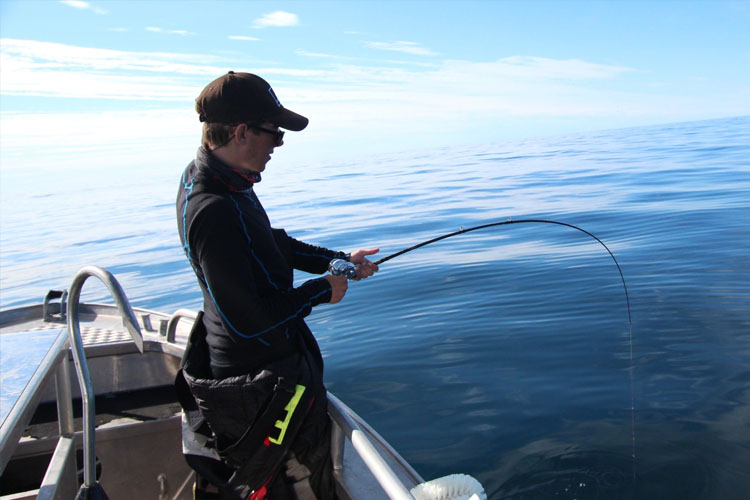 Later we moved to another area further south. Kristian in the guide boat could tell that it took 5 minutes to fish, everyone was standing with a rod. They were excited about what came up. Santa who was fishing with a large Mackerel had a very heavy fish. The fish did well, and a little later in the back of the boat 2 lengths came up. But they were very excited about where the last fish was, under the boat they could see a very big fish coming up. It turned out to be 165cm long and around 22kg! Alexander was just beyond and had a very good Cod fishing with top fish in the 15-19 kilo class and some better langers of around 17-18 kilos. The Cod were really in the cut this day and took all the bait/jigger we presented to them, and they took it hard! We had up to several times that all the fishermen in the boat had big fish on each of their rods.
All in all, this was definitely an absolutely crazy day! On the way home, we saw a Minke whale, which was on its way. It's always cool to see you!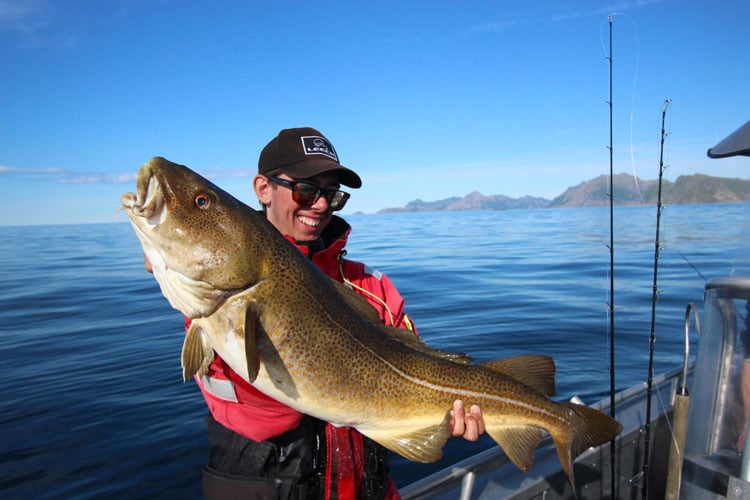 It was decided quite quickly the day before that there was a mood for a long trip that day as well. It's great that you get the chance for a two-day long trip to Veberget on a Redfish. With Kristian and Bo in the guide boat, all the boats except boat 6 set course for You just have to enjoy these days with scorching sun and flat seas. Out in the fishing area, the boats spread out according to what they wanted to fish for. Noen bet on Halibut, while some fished deeper for Redfish. We continued fishing where quail were caught the day before. But this day there was not as much speed in the fish. We in the guide boat had some contacts but nothing more. The British gang in boat 1 and 2 said they had found a place where there were big Cod. So we put the course out there, when we were ahead so we had a lot of say on the plumb line. Here we also got some food Cod.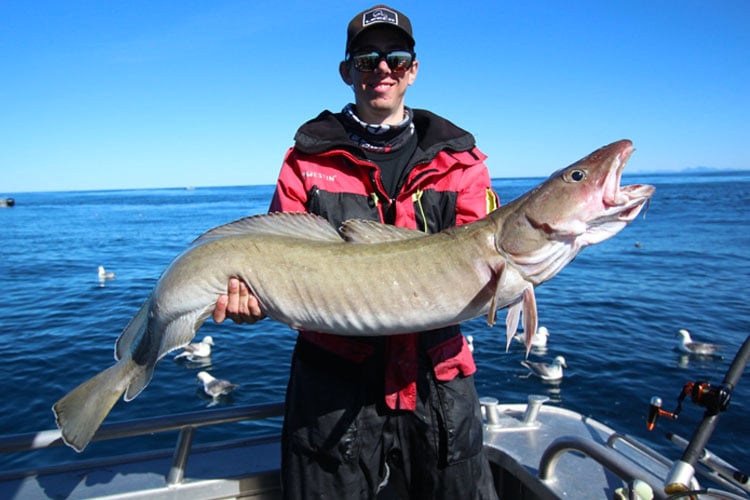 Since the fishing had been a little bad, we decided to go closer to land to an area where there is usually a lot of Coalfish. We laid down on a steep edge and it didn't take long before Erik drove fish! he fished with light gear so it was a long and funny fight! We had hit the Coalfish and immediately had a triple hit. Erik's Coalfish was rough and weighed 14.5kg and new PB for him! We had a real Coalfish-race for a period and then the arms get worn out! Eventually I drove the boat to a shallower area and there we caught Cod from 7 kilos and upwards. Also on this day, a large lange of 175cm and 23kg was caught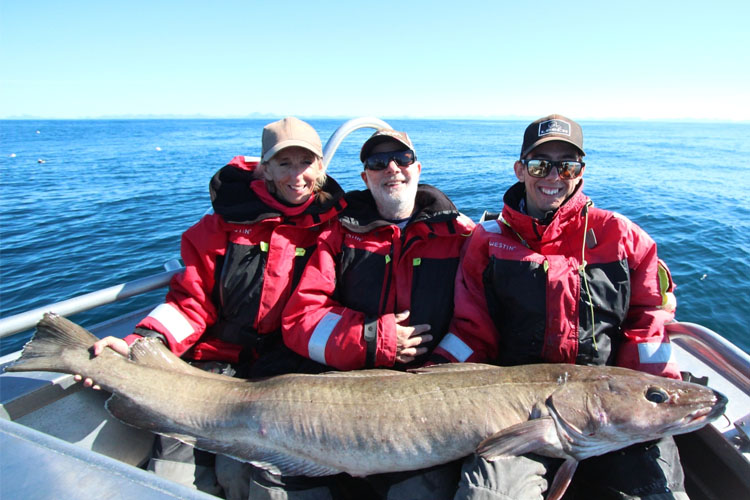 This day, the weather forecast predicts a rising wind of up to 14 meters per second off Litløya which began at 10 o'clock. We then decided to start the day very early to get out to our most productive Halibut spots out on the west side. Both boat 1 and boat 6 accompanied us. Boat 6 with the Swedes had had a Halibut of around 120cm up by the boat, but when they were about to land it unfortunately loosened the hook. But soon afterwards they hooked a new fish, and this time it was better. They caught a nice Halibut of 90 cm. This fish was brought home for dinner, which they ate together later this evening. For us in the guide boat it was a little slower so when the wind started to build up we decided to drive to the number 14 favorite which was in lieu of the wind that came from the north that day. The goal there was to get some big cod. After a bit of searching in the area, Alexander found an area of ​​chasing Coalfish with bigger fish just below! This resulted in Erik catching a very beautiful and strong Cod of 14 kilos in the boat. The fish took the jig hard and put up a good fight. There were also noe tjukke sei in the 5-7 kilo class that happily took the jig that we let down. While we were fishing for Cod, boat 1 had pulled towards the ground just outside Holmsundet. There they could tell that they had just landed a dream halibut of 190cm! The fish had taken a large baitfish in the middle of the water. After 40 minutes with 8 outcasts down to 100 meters, they were finally able to secure the fish of their dreams! The fish was secured in the best possible way by the side of the boat. Congratulations Andrew on a fantastic Halibut! After a short image sequence, the Halibut was released again and they could see it swim back to the depths.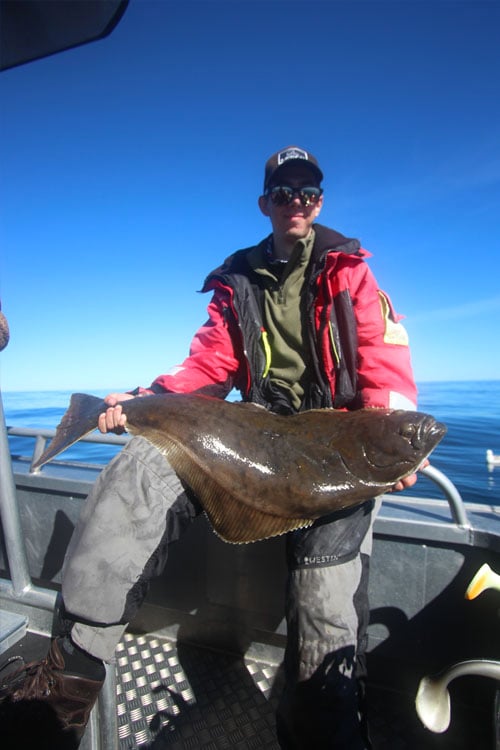 Boat 2 was able to tell us later in the evening that they had been fishing near Gaukvær and that a Whale had swum right under their boat. ANYTHING can really happen here at camp Vesterålen.
On the last day of fishing, all the boats were out to give one last effort. But all the boats could report the same slower fishing. Due to a lot of wind, the boats had to stay inside the fjords. Boats 1 and 2 got a lot of big fish, 2-3 kilos. Kristian who drove the guide boat today delivered some nice Coalfish up to 10 kilos and some smaller Cod. They were all in the same area around the base skull. There were many of the smaller sizes of the fish. But regardless, this week has delivered big! Our groups have really had many great experiences they will not soon forget. It was a short fishing day on all the boats after a long, action-packed day.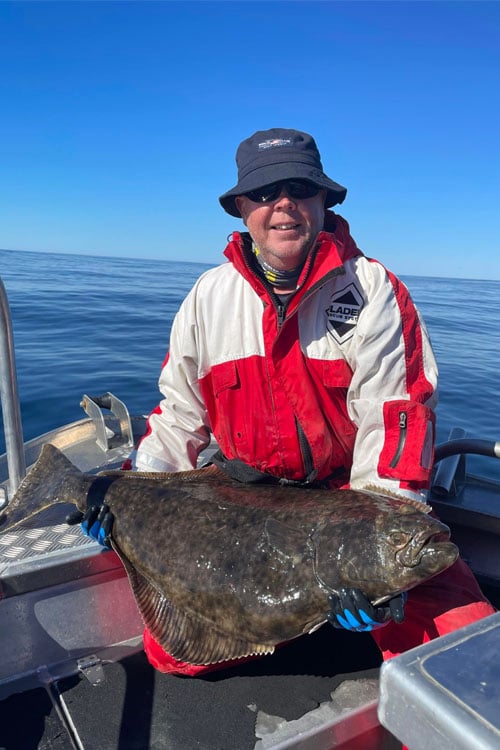 We at Vesterålen thank the guests for some fantastic days, and warmly welcome all new guests to this fantastic destination.
Tight Lines// Alexander Brøther, Kristian Hausken, Bo Gustavsson
CONTACT US
If you, like many others, have ever dreamt about fishing the prolific waters of Vesterålen and would like to know more information on how you can join us, you can contact our sea fishing specialist, Paul Stevens, on 01603 407596 or email at paul@sportquestholidays.com.