This week it is a little calmer for our guides in Vesterålen as a group chose to rent the guide boat themselves as they were a group of 6 people. As a result, however, we do not have as much footage from this week. However, the guide Alexander and Oscar have given all guests all the necessary tips and tricks to succeed with their fishing during the week. Which has also been shown to work when you see what fantastic reports they come back with even if the fishing has been sluggish at times.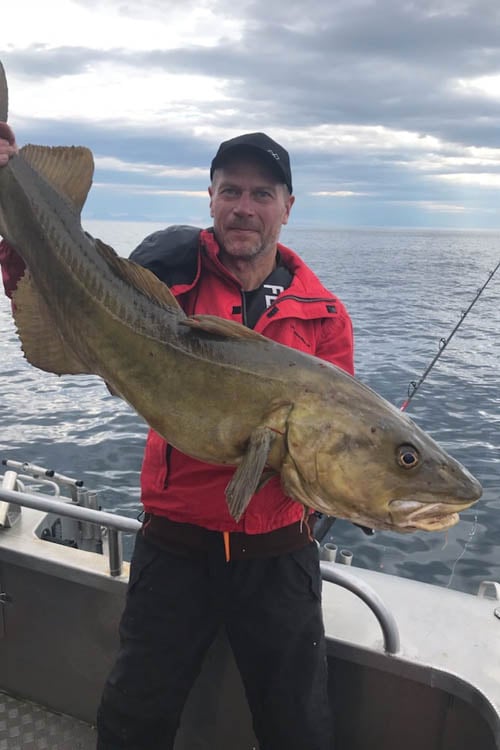 On the first day, it was tough weather conditions with strong winds that limited the guests to the local area. However, the sun broke through on Thursday night and during the night so the wind calmed down and the guides hit the big drum and told us about our long trip to the V-mountain where anything can happen. Several of the boat teams were charged for this and early the next day they went in a convoy towards this mythical place. The guests said that Cod was caught sporadically during the day, but several of the boat teams had managed to get a couple of really big Cod. Among other things, Anders Eriksson and the gang with boat 1 and boat 2 reported that they spotted some really big summer Cod with top fish of 21 kg and 24 kg respectively. Boat 2 also landed Cod up to 15 kg. Not only that, we also managed to find the "Långakanten" which is a relatively small area where we usually have really good Ling fishing. They landed two Lings of 15 kg and one of 13 kg and 12 kg. What was interesting about two of these Lings was that they still carried roe. The game that otherwise usually takes place earlier in the season. Boat 2 also landed two nice Halibut out on the V-mountain. One of 92 cm and one of 105 cm.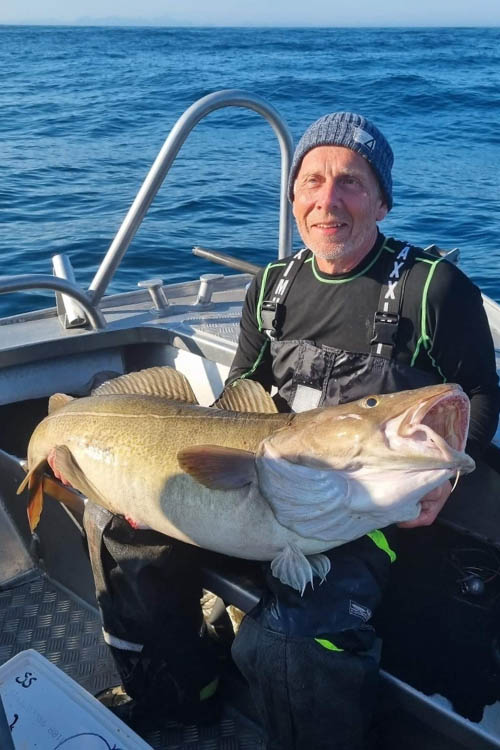 Ola and the gang that had rented the guide boat also reported Cod up to 14-16 kg at the top. The Cod fishing was sluggish but it was still caught sporadically during the day and when the average size was so good, it will still be really exciting to lie out here on the V-mountain.
However, it was a group that stood out from the group with Lars Segerheden behind the wheel. They did not stop on the V-mountain but continued out to Eggakanten. Ie. the deep edge down towards the continental shelf. This is where you can dive deep and catch all sorts of strange species. Lars and the gang knew this and had focused on the Blue Halibut or the Miner Halibut as it is called in Swedish. A Halibut species that does not grow that large and resides in really deep water. It is very similar to the Halibut but its mouth is larger in relation to its body size. It also does not get as big as the usual Halibut. What distinguishes it a little extra is that its white side is not white but is marbled like the top but still a little lighter in color. It also hunts in the semipelagial, ie, further up in the body of water.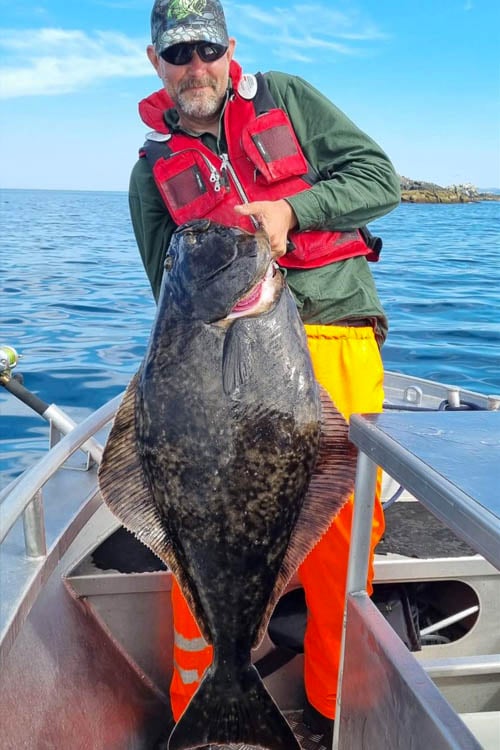 Lars and the gang went out on 800 m to give it a try. It takes a long time to just get their tackle down to these depths. However, it would prove to be a success when they could report if 2 smaller Halibut landed from their expedition. A really cool achievement that stands out from what we normally fish for. This is also one of the arguments for why you should go to our camp in Vesterålen. A real mecca for deep sea fishing as you can get out to this Eggakant where anything can happen. An exciting place for those who have the patience and desire to try to catch odd species during their week with us. We take off our hats for Lars and the gang with their successful deep-sea venture.
The next day, some boats went out on the west side to test the fishing there. Lars and the gang tell of a relatively sluggish fishing for both Cod and Coalfish, but on the other hand they were visited by a group of killer whales who gilded their day. A powerful experience that we get to experience when we go out to sea here from Vesterålen. The guide boat with Ola and the gang, on the other hand, had Halibut and succeeded well with 3 landed, 122 cm, 121 cm and 82 cm.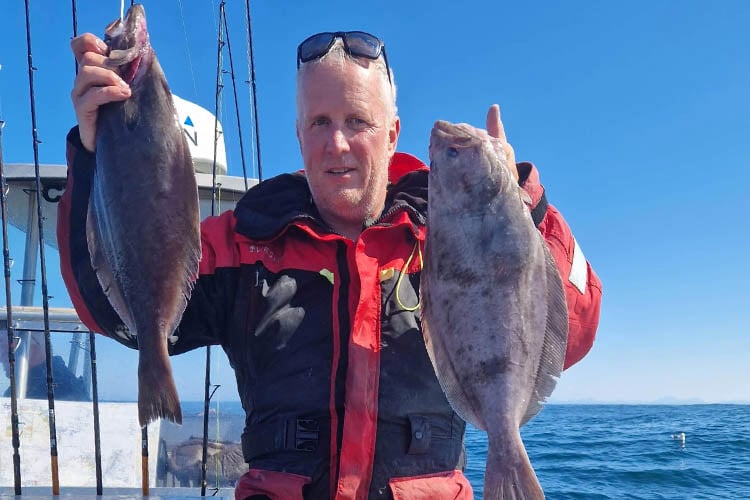 On Sunday, our guide Alexander followed with boats 1 and 2 and set his sights on Strandgrund when the hopes were to catch Cod. A place that always keeps a lot of fish and also other species such as Coalfish, Pollock, Haddock and the occasional Halibut. Alexander says that the fishing was very difficult that day, but he managed to score correctly and got to experience a little Cod race. Top fish of about 7 kg so no giants, but many nice in good food size. This was also what the guests wanted. A quiet and wonderful day at sea with the boxes filled with fish.
Alexander also says that the Mackerel has come to Vesterålen, large boils of hunting Mackerel can now be seen here and there at sea. The perfect bait fish for our large top predators Cod and Halibut.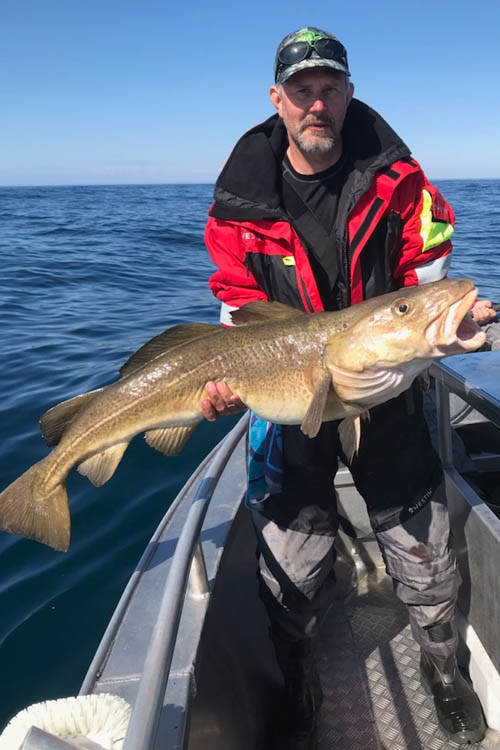 We want to take the opportunity to welcome everyone to our destination Vesterålen. A place for species richness, scenic environment and with a good chance to catch your dream fish!
CONTACT US
If you, like many others, have ever dreamt about fishing the prolific waters of Vesterålen and would like to know more information on how you can join us, you can contact our sea fishing specialist, Paul Stevens, on 01603 407596 or email at paul@sportquestholidays.com.