You can't say that the last few days have been nice weather for us here in Vesterålen. There have been major weather changes between northerly and southerly winds. And although the sun has shone on us for a few hours this week, there is now a 10 cm layer of snow on the hill. But it hasn't slowed down the fishing at all! Although we have had to fight in strong winds, we have fought on, and got some nice catches in the local area!
On Sunday, I took Roland and Eva with me in the Guide boat for a trip to the outer edge of the fjord. The options are quite limited when the wind is 12 meters per second from the southwest, but we found a nice and shallow sand channel not far from the camp. Already in the first drift, things started to happen, and we caught a nice fish under the boat. The bite was not to be mistaken, but unfortunately, the fish did not sit for Roland. We continued the war, and had several contacts. Eva hooked a very good fish which unfortunately came loose after a 2 minute fight. The wind picked up, and we decided to call it a day. But it gave hope that the next few days could deliver…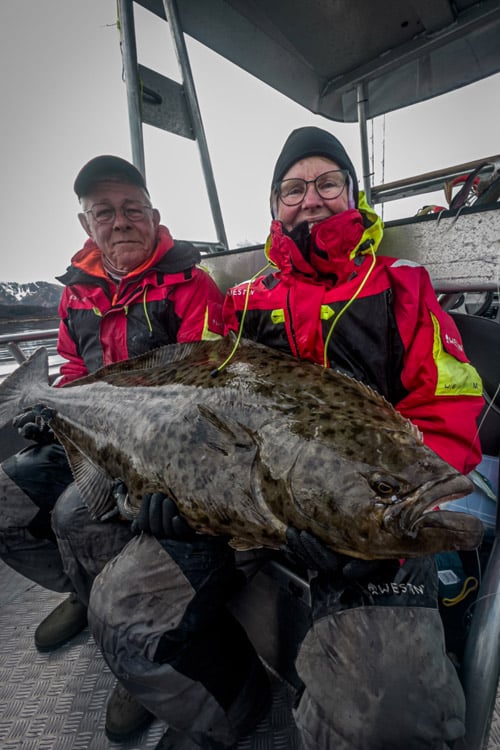 Alexander went out with the Guide boat on Monday, with the British in boat 6 in tow. The wind would subside during the evening, so the plan was to fish in the same area where we had had so many contacts, then go out to the Cod places further out. Not long into the fishing session, Eva was finally able to land her first Halibut at a fine 101 cm! There were several contacts, but no solid fish before they decided to go out for the Cod, And the Cod fishing seems to have started! Eva narrowed down with a huge Cod of 10 kilos, and there were several big fish immediately under this weight on the remaining boats as well. After Cod fishing, with very good action! Then it was time to head towards the camp. Now the wind had completely died down, and Alex decided to drive slowly across this sand channel near the camp to see if he could see any Halibut on the bottom. And he did.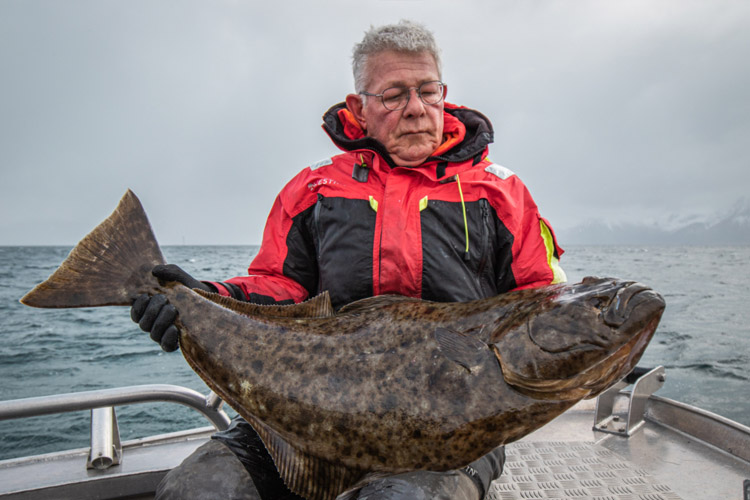 First he spots a fish around 80-90 cm, which comes right up against Roland's jig, and cuts it! What an intense experience! But what happens afterwards, it's really quite an experience. For when the fish makes a small rush, there will be two larger shadows swimming towards the small Halibut that has taken. Alexander is quick to throw out another jig. Even though the interest was great for the smaller jig that the monster Halibut had taken, it shifts its focus and "locks" itself completely onto Alexander's jig, and cuts it right away! Double whammy! at a depth of 8 meters! The bigger fish rushes out, and Roland puts the fish back around 80-90 cm carefully as they have to drive after the fish! During this time there was another large fish swimming under the boat which was swimming peacefully away when this chaos arose. Eva takes over the bar from Alexander, and can fight and land a wonderful fish of 127 cm! You can go to our facebook and see the clip of this intense experience! All of you on film!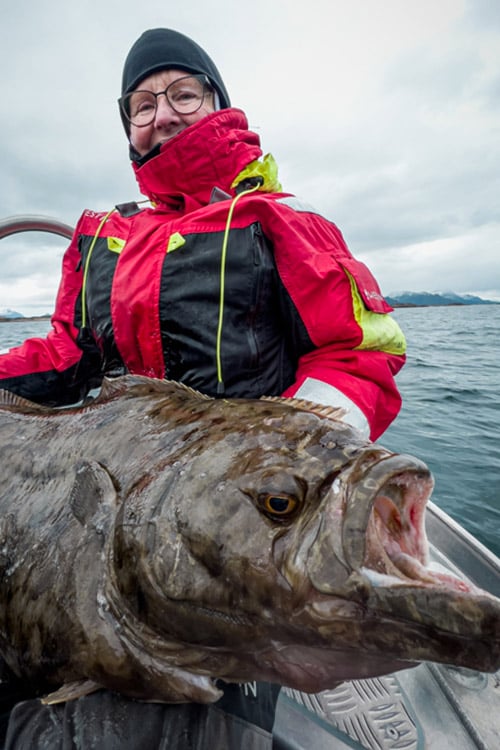 With this in mind, there was no doubt what we would find on the very last day of fishing. We went to some other sand channels nearby, and it didn't take long before Eva clipped a nice fish of 98 cm, followed by a small fish around 80 cm that got its freedom back! The wind picked up once more, and we moved closer to the camp. We set up a new drift, and it really can't have taken more than 30 seconds before Roland is in the lead with a heavier rod bend! The wind made it difficult to land the fish, and especially since it was so shallow the wind was blowing, so the lens stood straight out. But after a bit of chaos and laughter, we were only able to land one nice fish of 107 cm! Soon after, Roland only gets one nice fish around 90 cm too. It was a demanding situation, and although we had several contacts in the future operations, we decided that it was enough for this time, and we went home.
Well, it's time for a new uke, and finally it looks like the weather will stabilize a bit. The fishing is really on fire, and you don't have to go far this spring to experience these power plugs in shallow water. We are very much looking forward to a new uke, with new fishing stories and memories!
Tight Lines // Jørgen Zwilgmeyer & Alexander Brøther
CONTACT US
If you, like many others, have ever dreamt about fishing the prolific waters of Vesterålen and would like to know more information on how you can join us, you can contact our sea fishing specialist, Paul Stevens, on 01603 407596 or email at paul@sportquestholidays.com.