It has without doubt been a tough week in terms of the weather, and it has really affected our ability to go out to desired fishing spots. But we have also occasionally had longer periods where the wind has calmed down, and we have really taken advantage of that! The week started with gradually nicer weather throughout the evening, so then we started a longer trip out towards the morning, and fished our way out towards midday.
Today's target was once again the big flats. Spring is still here, and the temperature in the sea is still around 5-6 degrees. Which means that the fish are still very shallow. It lays the foundation for some very cool fishing, and even though the fish were not 100% in feed mode, there were still some nice catches. After a few hours of fighting, Erik in the Guideboat gets a Halibut in the 90 cm class. In the same operation, Palle stands with a larger rod bend, and after a 100-metre rush upstream, we were able to land his first Halibut of 142cm! Alex raced with the British in boat 6 and landed just after a nice fish of 130 cm, as well as a fish of approx. 110 cm! All the fish came through a very distinct short cutting period, and when nothing happened after another hour, we went out for a bit of Cod fishing instead. And the cod were really feeding!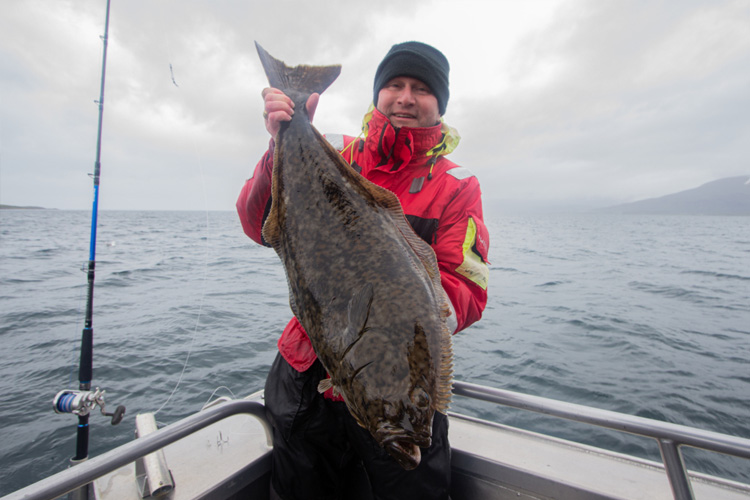 On Friday, the target was Halibut and Haddock in Guide boat. Only minutes into the second drift, Alexander sees that something is coming up on the echo sounder, and not quite wrong, another Halibut clips onto Calle's jig. This allowed Calle to land his best Halibut of 92 cm! Little happened after this session, and the focus was put on the Haddock instead, with good success! There were several nice Haddock around 2-3 kilos, and Calle also got a good Plaice as a by-catch during this fishing!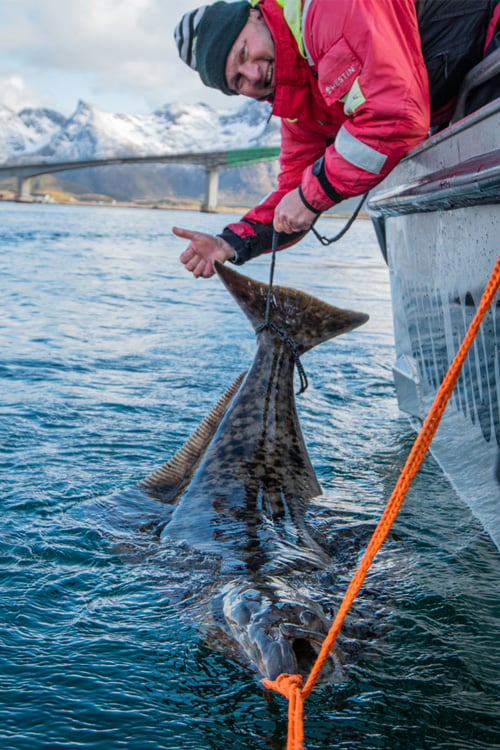 The weather got tougher in the coming days, and so did the fishing. Although the tops held a lot of fish, they really weren't hungry. Only when Calle lowered a large baitfish did a really nice Cod of around 14 kilos hit! Alexander also took the Guide Boat to one of our newer locations, and had good action! Not long after the fishing started, Palle hooks a nice Halibut of 121 cm deep in shallow water! They saw more fish coming up the lot, but they were difficult. Into the last minutes, it was Palle's turn once again to catch a nice fish of 94 cm! But the highlight of the day was probably that a small family of killer whales circulated around the boat for quite some time. Something everyone dreams of seeing… It is truly a powerful sight to see these large animals swimming around the boat.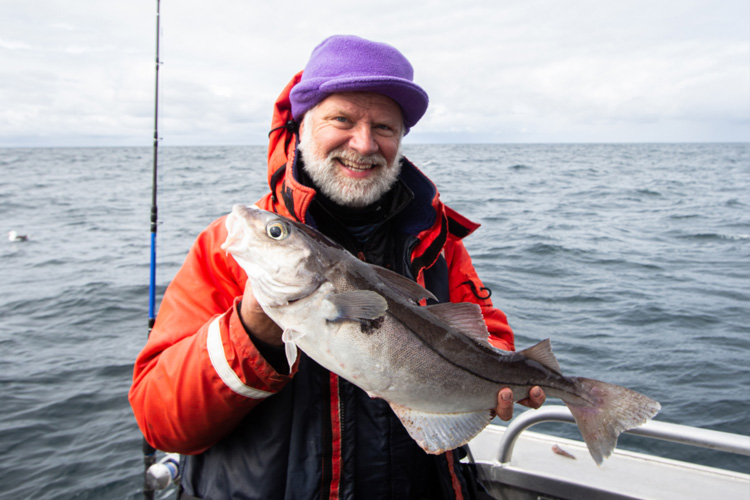 All boats are out fishing at the time of writing, and the weather has finally calmed down. The next few days look very promising in terms of the weather, and we are already aiming for our well-known long trip next week. A place that really holds a lot of big fish. We haven't been out there for a long time, so we're super excited to get out there – if the weather holds. Stay tuned!
/
Tight Lines // Jørgen & Alexander
CONTACT US
If you, like many others, have ever dreamt about fishing the prolific waters of Vesterålen and would like to know more information on how you can join us, you can contact our sea fishing specialist, Paul Stevens, on 01603 407596 or email at paul@sportquestholidays.com.