Vesterålen continues to report fine catches with both big Cod, Halibut and absolutely fantastic Ling fishing!
This week we have had a wonderful mix of fishing-hungry guests from France, the Netherlands, England and Sweden. Regardless of nationality, everyone was here for the same reason – To experience the fantastic species fishing that is here in Vesterålen with, among other things, a chance for big Cod, Coalfish, Halibut and to experience the Ling fishing that should be a class of its own.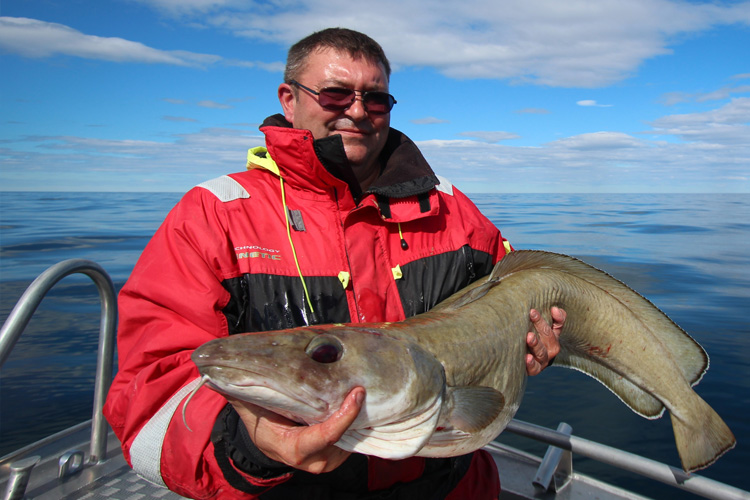 The week began with absolutely fantastic weather, mirror-bright sea and of course a long trip out to one of our favorite places that goes by the name V-berget. A place where anything can happen, where you have a chance of Coalfish, big Cod and Halibut. It is also the place we had the absolutely fantastic Ling fishing before. When the guides Håkon and Alexander welcomed all guests and informed them about tomorrow's plan, the guests were excited to say the least. Together they go out in a convoy towards this fantastic place.
A long boat ride but which turns out to be worth every second as always. Despite a relatively slow start, luck turned when there was a little more speed in the water and the reports began to pour in. Several fine Cod were landed during the day with a peak of 20 kg! The occasional Ling was tricked but then the guides showed the way to the famous Ling place. As always, it cuts right when you do it right. Långan is very concentrated and it is really important to position the boat correctly in order to meet them. But the good thing is, as soon as you hit right, you can hardly fail. A bunch of really nice Lings with a top of 17 kg were caught!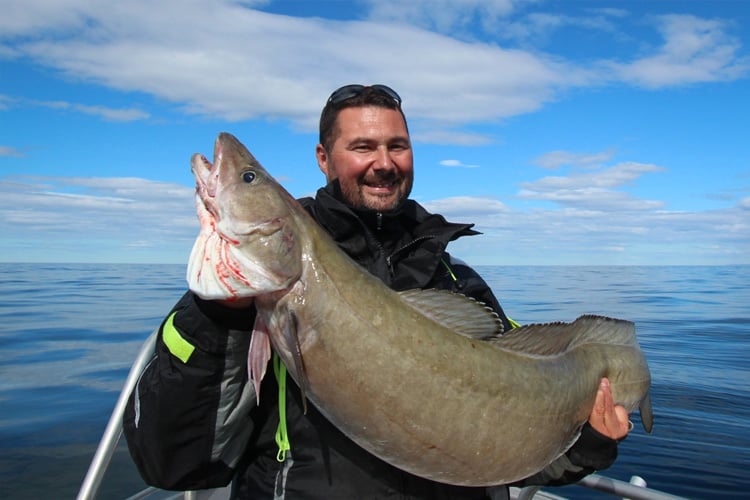 When the guests felt satisfied with both the Cod and Ling fishing, some of the boats decided to do a more targeted Halibut fishing a little closer to the camp. A decision that turns out to be very successful when the Swedish guest Tommy smacks of a cruel Halibut of 156 cm, a magical start for the guests to say the least!
Our new guide Alexander also guided a nice Halibut of 130 cm before they chose to end this magical day at sea and headed towards the camp.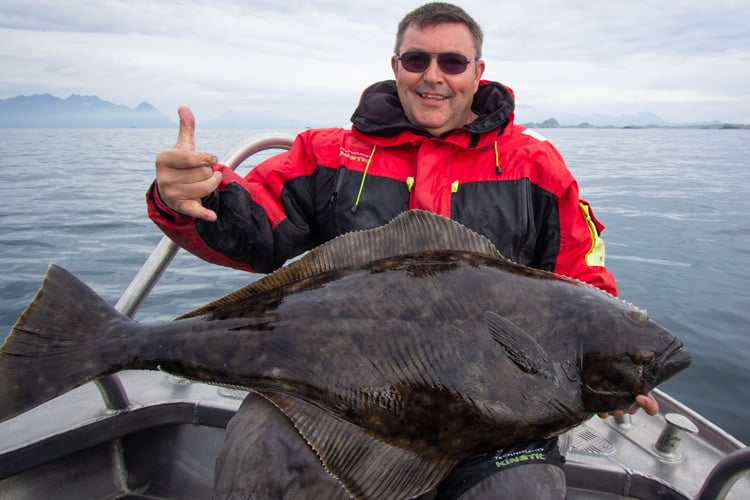 The next day offered a mirror-bright sea with only a slight breeze. Most people chose to focus on fishing for Halibut this day as their arms hung far down to their knees after yesterday's Ling trip. Most chose to direct fishing on the west side where we previously had really good Halibut fishing and where the two large Halibut were caught during the first day. Nice conditions but the Halibut were really difficult that day.
However, the French managed to score correctly and landed both one of 105 cm and one of 85 cm. Some coastal Cod and Coalfish were also caught that day, but otherwise there were relatively few reports. A wonderful day where many recovered from the first day's long trip. Something you should not underestimate, long days at sea are felt in both body and mind.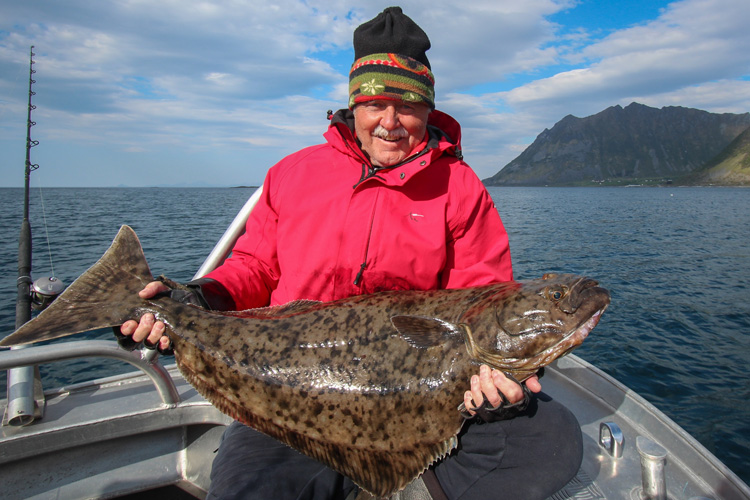 On Saturday it started to blow. Alexander, who was out guiding, says that they went to one of our safe Halibut place not far from the camp and there it was a little better already on the first drift. Unfortunately, it broke free only a few meters from the boat. He does not dare to say how big it was, but that it was a better fish was out of the question. They continued fishing but they could see how the weather quickly started to change for the worse and after less than 2 hours of fishing they had to stop fishing and go back to camp.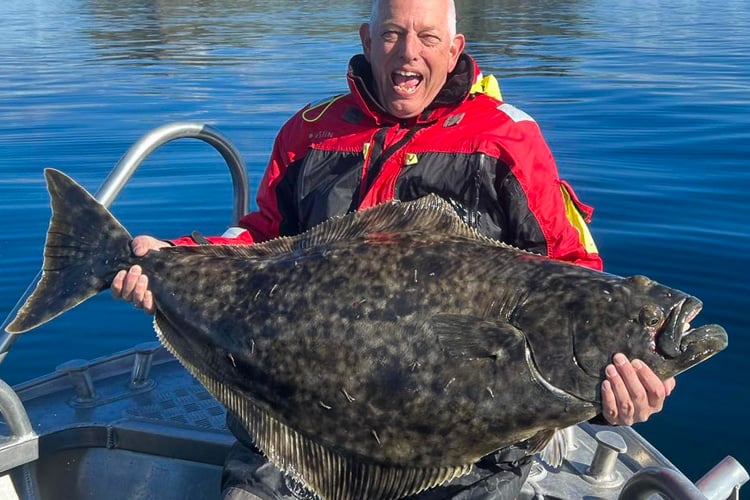 Even on Sunday, they were very limited due to the weather. Some braved the weather and went out into the Jörnfjord where another Halibut was unfortunately dropped at the boat's edge. However, it is a good sign that you are only a stone's throw away from the camp. This was something that the other guests heard about. Unfortunately, they were completely blown away on Monday. But on the last day they fought their way out into the Jörnfjord and this time there were several boats that directed the fishing for Halibut just a few minutes from the camp.
It turns out that it would be a success despite the harsh weather that limited them in the last days. The British managed to land a really nice Halibut of 132 cm but the Dutch countered with two nice ones, where one was measured at 82 cm and a top of 137 cm! These were taken at a depth of only 7 meters and the hot method of spin fishing for them.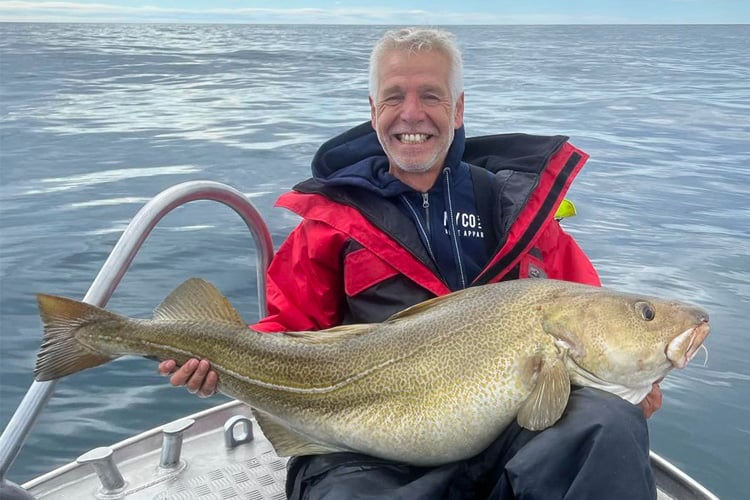 Despite the bad weather at the end of the week, a lot of nice fish came up and the atmosphere could not have been better at the camp after the magical start. The fact that a BBQ was then set up where all groups gathered and shared their fishing stories and toasted between each other was just another sign that regardless of nationality, sport fishing brings us together, which creates a wonderful atmosphere where everyone is welcome.
We thank all the guests who have been with us here in Vesterålen and wish the next group a warm welcome!
CONTACT US
If you, like many others, have ever dreamt about fishing the prolific waters of Vesterålen and would like to know more information on how you can join us, you can contact our sea fishing specialist, Paul Stevens, on 01603 407596 or email at paul@sportquestholidays.com.