Overview
Category: Fishing Holidays, Sea Fishing, Hosted Sea Fishing


We are extremely pleased to be able to offer you yet another fantastic opportunity to fish this part of the world as a single angler or small group and would like to welcome you to Vesterålen. Located in the north of Norway surrounded by some of the most stunning landscape Norway has to offer. Known locally as the 'Kingdom of the Whales' it is home to a huge population of different species of Whales. This stunning Island is north of the world famous Lofoten Islands and the Arctic circle, the archipelago of Vesterålen reaches out westwards from the mainland of Norway and into the Atlantic ocean.
Due to how popular our other destinations have become on the Lofoten Islands, has led us to research this area and try to bring you new exciting destinations that offer the same world class fishing opportunities. Vesterålen will open up some great fishing areas and is what we like to class as almost weatherproof as you have access to two huge fjords, Jörnfjorden where the camp is located and then Eidsfjorden being just a 5 minute ride away and with your host you will explore some fantastic fishing areas.
Eidsfjorden is a deep long fjord with depths as deep as 200mtrs and has many plateaus, peaks and structures that will hold big Cod and Coalfish all year round. This has also been a great area for Redfish and huge Ling. On the sides of this fjord there are some great sandy plateaus close to land which will offer fantastic Halibut fishing along with Plaice and Dabs.
If you continue a short distance to the west or south west you will find yourself in the open ocean where there are many more peaks, channels and plateaus. The population of big Cod, Coalfish and Halibut is great in this area. The fishing area stretches all the way up to Hovden, which is a lighthouse on the north west side of Vesterålen about 25 nm away from the camp.
The accommodation at this destination is first class and is another reason why we have chosen this destination as we like to offer you the traveller something a little special to stay in. The cabins are brand new and very modern, a world away from a lot of other destinations in Norway.
With our partners 'Nordic Sea Angling' we have managed to secure the same high standard boats as we run at many of our other camps. The boats that you and your host will be fishing from are known for their excellent handling and safety at sea. They are very sturdy even in rough conditions and are constructed to deal with heavy seas. The boats are 23.5ft Arronets aluminium boats and come fitted with 150hp Suzuki 4 Stroke engines which are one of the most fuel efficient engines money can buy. The electronics on the boat are of a high standard with big displays on the fish finders and chart plotters. These boats are kept to a very high standard and are maintained on a regular basis. We also have a spare boat just in case of unforeseen breakdowns.
If you have been looking for your next hosted sea fishing adventure then Vesterålen is the place for you as once you have fished here and stayed in the luxury cabins, been looked after by our onsite guides and caught that dream fish, you will not want to go anywhere else.
Accommodation
The large cabins at Vesterålen can accommodate up to 8 people and with it being spread over three floors it is the perfect place for a large group of friends. The fixture and fittings in this cabin are top quality and all kept to a very high standard, we strongly recommend this cabin if you have a larger group than 4 people.
On the bottom floor you will find two twin bedrooms both with single beds and located next door is the first bath / shower room. On the second floor you will find a fully equipped kitchen with stove, oven, microwave, refrigerator and dish washer. In the living room there is a wide screen TV and as all our cabins, free WIFI. The top floor is where the rest of the bedrooms are located all with comfortable single beds.
Each of these cabins have the use of all our onsite facilities: freezer room, drying room, filleting station, tackle shop and an excellent Barbeque covered area (Logs can be bought at the camp).
Board: Self Catering
Rooms: Twin Rooms
Internet: Free WIFI
Power: 230 Volt
Equipment Hire: Chargeable
Shop: Tackle shop
Cards Accepted: Debit / Credit cards
Freezer Room: Walk in fast freezer
Filleting Area: Covered filleting house
Species Information
Halibut
Season: May to September
Peak: July
Weight: 15LB to 300LB
Average Weight: 60LB

Cod
Season: April to September
Peak: April
Weight: 5LB to 100LB
Average Weight: 25LB

Coalfish
Season: April to September
Peak: June
Weight: 5LB to 40LB
Average Weight: 15LB

Redfish
Season: April to September
Peak: August
Weight: 2LB to 18LB
Average Weight: 6LB

Ling
Season: April to September
Peak: June
Weight: 10LB to 45LB
Average Weight: 20LB

Wolfish
Season: April to September
Peak: July
Weight: 5LB to 20LB
Average Weight: 9LB

Plaice
Season: April to September
Peak: September
Weight: 1.5LB to 8LB
Average Weight: 3LB

Dab
Season: April to September
Peak: September
Weight: 0.5LB to 2LB
Average Weight: 1LB

Suggested Itinerary
Although the fishing has set weeks, we have daily flights departing from the UK, therefore should you wish to either extend your stay with additional days at the beginning or end in Norway, the itinerary below can be tailored to suit.
DAY 1: 
Depart UK (alternative routes available)
Arrive Oslo
Depart Oslo
Arrive Evenes
Once you and your host have arrived at Evenes and collected bags make your way out of the terminal building where the Fly Bus will then transfer you to Sortland. (Fly Bus transfer approx. 2hrs) When you have arrived at Sortland our guides will be waiting to transfer you the rest of the way. (Transfer approx. 50minutes)
Once you have arrived at the camp you will be shown to your cabin and then a brief talk about the camp and the boats. You are then free to relax and unpack. Our host will then come round to each cabin and give you a little run down on tackle, setting up the tackle and answer any questions you may have.
Overnight Accommodation: Vesterålen Cabin S/C
DAYS 2 TO 4: Fishing Days.
As you have a host on the trip he will be there to help you tie rigs, set up rods and also help on taking photographs.
Each days fishing your host will check to see what everyones targets are and try to help you tick off some of your species. Our hosts have vast knowledge of fishing in Norway and will be on hand to help you.
Overnight Accommodation: Vesterålen Cabin S/C
DAYS 5 TO 7: Fishing Days.
This hosted trip has been put together to help single anglers or small groups travel to these parts of the world. You will be fishing with like minded anglers and is a great way of meeting other travellers in the same situation as yourself.
At the end of each day our host will visit each cabin to make sure that you are getting the most out of your holiday.
Overnight Accommodation: Vesterålen Cabin S/C
DAY 8: 
In the morning you and the rest of the group will be transferred back again via private bus to Sortland in time to catch the Fly Bus back to Evenes airport.
Depart Evenes
Arrive Oslo
Depart Oslo
Arrive UK
Dates & Prices
Remember that Sportquest Holidays' services are completely FREE! When you book a trip with Sportquest Holidays, you never pay more than when you book directly with the lodge and flights independently. Plus what's more if you book with Sportquest Holidays your holiday is protect by our ATOL and the Travel Package Regulations Act. To see more details CLICK HERE.
Dates & prices are best viewed in landscape.
You can scroll the table left and right to view prices and availability.
Start Date
End Date
Days
Nights
Fishing
Angler
Non-Angler
Availability
10/06/2020
17/06/2020
8
7
6

£

1,717
On Request
Sold Out
17/06/2020
24/06/2020
8
7
6

£

1,717
On Request

Book Now

16/06/2021
23/06/2021
8
7
6

£

1,717
On Request

Book Now

23/06/2021
30/06/2021
8
7
6

£

1,717
On Request

Book Now
Price Match Promise
We are so confident that our packaged prices are the best available and offer great value for money.
If, however, you find an identical holiday available with any other fully bonded Tour Operator at a lower price, we will match that price.
Price Notes
Prices are based on four adults sharing transfers, fishing and accommodation (unless otherwise stated) and are correct at the time of going to press. Subject to time of year or date and currency fluctuations, these prices may fluctuate slightly due to flight price increases or fuel surcharge.
ATOL
Holidays or flights booked with Sportquest Holidays Limited are protected by the Civil Aviation Authority by our ATOL bond (Number 6371). ATOL protects you from losing your money or being stranded abroad. It does this by carrying out financial checks on the firms it licenses and requiring a guarantee, called a bond.
Price Supplements
Still need some inspiration
Why not enjoy browsing our destinations in the comfort of your own home.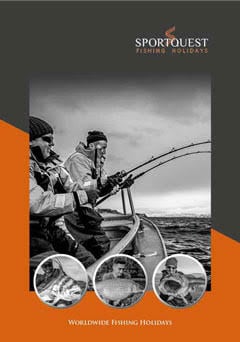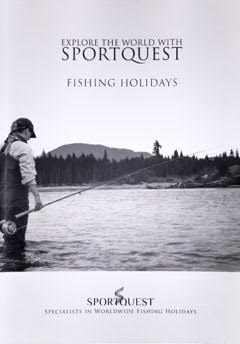 Request a free brochure
What's Included & Excluded
Included
All international flights (Based on London departure)
Flybus ticket (already pre-paid)
Transfers to and from Vesterålen to Evenes
All accommodation as per itinerary
6 days fishing
Fishing Boat with Sonar, chart plotter (GPS), VHF & radar
Freezer storage for your fish
Access to professional guide for guidance
Bed linen, towels and final cabin cleaning
Excluded
Fuel for boat
Fishing tackle
Personal holiday insurance
All meals
Final boat cleaning
Options
Other UK departure airports are possible (additional cost) Please call a member of the Sportquest team for further information.
Additional luggage can be added, please enquire about up to date prices
Fishing equipment (rod, reel, line) £50 pr week
Survival suits £40 pr week
Tour Notes
Visa
A machine-readable passport with at least 6 months before expiry. No visa for UK citizens required.
Medical Requirements
No vaccinations currently required.
Please Note
All details of visa and medical requirements are correct at time of press however please check these requirements for changes.
Departure tax
There is no additional airport departure tax when leaving Norway.
Flight Route & Flight Time
UK – Oslo (approx 2.5 hrs) Oslo to Evenes (approx 1hr 30 mins)
Baggage Allowance
Your actual allowance is based on both which airline you are flying with and also what class of seat you are travelling in. Normally in economy it is 1 checked bag, Premium Economy / Business 2 checked bags, First 3 checked bags. In addition to your checked bags you are also allowed 1 cabin bag and either 1-laptop bag or ladies handbag. The actual size and weight limit for bags is dependent on the airline. We therefore recommend that once your flights are booked you check on the airlines website for the up to date allowances.
If your itinerary includes private light aircraft or helicopter flights, we will advise you on your baggage and weight allowance.
Transfer Time
Evenes to Sortland (Approx. 2hrs)
Sortland to Vesterålen Cabin (Approx. 50Minutes)
Tour Reviews
Sportquest Holidays is proud to be different, and one way we stand out from the crowd is our tried and trusted information we provide our customers. This information is not just provided on our own personal experiences but also REAL CUSTOMER reviews.
We are the only fishing & shooting tour operator to operate our own review system whereby customers can review both the packaged holiday and also how we performed on each destination.
How This Destination Performed
How We Performed On This Destination
How Our Customer Feedback Works
See how our customer feedback works and our latest customer reveiws.
Read More
Write a Review
Have you ever visited this destination? Why not write a review and let everyone know how you rated their services?
Write a Review
Nick says:
Overall Rating:
Another fantastic trip with Sportquest. Highlights definitely were:
The location and scenery
seeing orcas in their natural environment
the company - great set of anglers
oh...and a new Halibut PB!
Only improvement suggestion would be to install wardrobes / cupboards in the lodge bedrooms - we were literally living out of a suitcase
Paul (Sportquest Holidays) says:

Hello Nick, it was great to see you again and really pleased you managed your Halibut PB. It was an awesome fish. What about the statue, you forget to mention the statue!!

Anyway, hopefully will see you again soon

All the best

Paul
Luke says:
Overall Rating:
Fishing was unbelievable better than I hoped for!
Scenery Beautiful and our guide Marcus was really helpful and pleasant.
Accommodation was very clean and comfortable.
Could not fault the holiday.
Matt (Sportquest Holidays) says:

Hi Luke

Thank you for the great feedback

It sounds like you had a great time in Vesteralen I will chat to you soon

Tight Lines
Clinton says:
Overall Rating:
Seeing a family of killer whales in the wild was awesome.
This was my sixth trip with Sportquest and this destination was by far the most scenic
Paul (Sportquest Holidays) says:

Hello Clinton, So glad you got to experience those killer whales and it was great to fish with you once again. Vesterålen is a magical place with awesome scenery. I cant wait to get back there next year

All the best

Paul
David says:
Overall Rating:
Although the fishing was very good the travelling to the fishing grounds I thought was to long 4.5 hours one day when the sea was rough. Seeing killer whales to me was the highlight. Sometimes I just want to go fishing on a holiday at a respectable hour and not get up early in the morning to catch big fish and long distances
Paul (Sportquest Holidays) says:

Hello David, Thank you for your feedback. Yes it was a tough weeks weather and those long distances would of been half the time if the sea was flat calm. But when we got out there the fishing was worth it with two Cod pushing 50lb and those ling made the journey worth it. Those Killer whales we saw were amazing and to have them so close to the boat was even more exciting.

All the best

Paul
William says:
Overall Rating:
Our group enjoyed a very memorable trip with excellent accommodation and a great guide called Marcus who could not have been more helpful and actually joined us for a couple of evening meals.
He gave us great information and tips on where to fish.
Your own service has also been outstanding and we all agree that we will be returning to Norway with Sportquest at some point in the future.
Matt (Sportquest Holidays) says:

Hi William

Thank you for the great feedback, it sounds like you had an amazing time in Vesteralen.

Tight lines

Matt
Matthew says:
Overall Rating:
Great location with fantastic accommodation and 'away from it all' setting.
Good fishing grounds with some limitations in adverse weather - Huge potential in Calmer conditions for Halibut, Cod and Coalfish.
The guide Marcus is fantastic. Limited by being a one man operation on site.
Recommend Blackout blinds to improve lodges during 24 hour daylight.
Self catering welcome packs. Recommend a 'basket' of Bread, Eggs, Milk, Cheese etc.
Location/fishing grounds/guides. Please send in advance to allow initial planning for the trip. (Nordic do this)
As usual, Minor points as the overall package is very good.
(Sportquest Holidays) says:

Hi Matt, thanks for your feedback all the tips are very helpful for future travellers.

Sounds like you guys had a great time and caught plenty of big fish.

We do have lots of maps with fishing marks for people who require them. Perhaps we will start to send them out with the paper work. I shall suggest a welcome pack as it is sometimes very helpful especially if your flight arrives late in the day and the shops are closed so that would be a great idea

All the best

Paul