The staff at Sportquest Holidays try to ensure that our customers are able to find on our website everything you would need for a successful fishing holiday. We regularly write many helpful blogs and tip reports to help you plan your holidays by advising what tackle to take to what to pack in your suitcase. All this experience and knowledge has come from years of travel and picking up very valuable information that helps make for an easy journey on your very next fishing adventure.
In this useful blog we have managed to sit down our Norway sea fishing guides and ask them the questions about self-catering that we get asked by many of our customers, with regards what to pack, what food can I take into Norway, what food can't I take into Norway and how do I know what I am going to need?
All these questions are very important especially for first-time travellers, for seasoned people who often travel to Norway it is second nature but for first-timers, it can be a daunting prospect, but the team at Sportquest Holidays are here to take away all the stress and offer our personal experience with helpful tips.
As I mentioned, we have sat our guides down to find out all their secrets about how to make a self-catering fishing holiday a tasty one! I got them to share their hints and advice on money-saving ideas, tips on what to take and what to leave at home, as well as some of their favourite easy to cook recipes.
Our guides soon realised how expensive the Norwegian supermarkets could be for certain items. For instance, some things are more than twice the price than in the supermarkets in the UK and you will need a second mortgage to buy pizza!
This means it's a great idea to self-cater and there are lots of advantages.
Ultimate freedom to eat and drink when and what you want
Never have the annoyance of having to deal with the kitchen being closed
Not spending a fortune on eating out every night
Improving your cooking skills
Forward preparation leading to less time spent in the kitchen, which means more time fishing (always good!)
"Self-catering is much cheaper than eating out in Norway"
The first tip is to get yourself a good coolbox, a Colmans 30l is ideal.
It's strong and durable and will withstand the baggage handling at the airports, not only can you take out your food items in this keeping everything chilled and fresh for when you arrive, it means that you can bring back the beautiful fish that you catch.
Bringing Your Catch Home
There are filleting areas at each of our camps and if you don't feel confident filleting fish, you can ask our guides to show you how it's done and if they have spare time they will be more than happy to show you. Remember, after filleting your catch, make sure you empty all the remains in the sea and don't leave them in the box, as seagulls are a major issue around these areas of the camp and tend to make a mess. As of 2021 you are legally allowed to bring 18 kilos of filleted fish (This can change from year to year so always check on current restrictions) At all of our Norway sea fishing destinations you will need to register your daily catches on the Go-Fish App which will be explained when you arrive. Each day you will have to enter on the app the time you leave for fishing and then again when you arrive back. When you arrive back you will need to submit your catches and then at the end of the week, the owners of the camps will issue you a certificate to produce, if asked, at customs on your return. If the destination you are travelling to does not offer this system then they are not registered and you will NOT be able to bring fish home. Always make sure before you book that the destination is registered fish camp.
Food Restrictions & Helpful Hints
There are currently no food restrictions when entering Norway from the UK so you can bring all your favourite foods. Basic items such as milk, bread, butter, eggs, oil are all fairly priced in Norway, which means you buy them once you get to camp and can save room in your coolbox for more pricer items such as meat and fresh vegetables
"Save weight by buying your food in packets rather than in glass jars"
Our guides always avoid anything that they would normally buy in a glass jar such as coffee, this can be bought in re-sealable packets to save a great deal in weight. You can also throw away any extra cardboard packaging and repack items into ziplock plastic sandwich bags, just take the amount you need saving space for something tastier such as chocolate!
These are the top 20 items our guides recommend to take with you:
Meat (chicken breasts, minced beef, sausages, steak, bacon and packets of sandwich meats)
Cereals (take the bag of cereal out of the box to save space)
Mashed potato (powder mix)
Packets of mixed spices (Jamie Oliver does some great mixes to sprinkle on fish)
Ready-to-use sauces (Chilli, Spaghetti Bolognese and White Sauce for your fish dishes)
Cheese
Tea Bags
Super Noodles
Cup-a-soup
Dry pasta / spaghetti / rice
Fresh Vegetables -Mushrooms, peppers, onions and garlic
Gravy Granules
Salt and Pepper
Sauces – Tomato / Salad cream / salt & pepper
Chocolate
Biscuits
Coffee (not in a jar)
Sandwich bags (in case you want to bring fish home)
Tinfoil
Boiled sweets
In the list above we talk about taking meat with you, our top tip for this is to ask your butcher to vacuum pack individual portions. We have found by chilling your meats and not freezing them is a much better way of transporting these, as when you turn up at camp, you can simply pop them straight in the freezer and get them out, as and when you need them.
As a lot of us don't know what to cook and especially how to cook it, the Sportquest team has come up with an easy and absolutely stress free way of enjoying your fishing holidays in Norway by suggesting some really easy made meals. Let's be honest, cooking isn't for everybody, but we can certainly help you to make it easier to fill your empty stomachs after a long days fishing.
Norway is definitely the place where you will catch plenty of fish. Why not use your freshly caught fish for cooking a tasty dinner for all your fishing buddies?
Right, let's get started!
Helpful Cooking Recipe Ideas for Self Catering
One of the easiest made meal and definitely loved by all is Fish & Chips.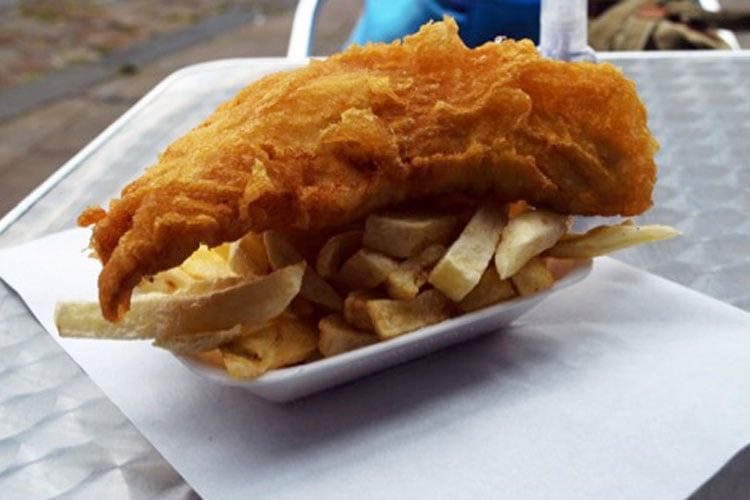 To get you started, you will need:
(Serves 2, just double everything if there are 4 of you or more)
Fresh Lemon or lemon juice
Salt
Pepper
Flour
Melted Butter
2 Cod Fillets
Prepare the cod fillets. Rinse them under running water for a few minutes and pat them dry with a paper towel to absorb any excess water.
Preheat your oven to 175ºC.
Mix the butter and lemon juice. Stir the melted butter and lemon juice together in a small bowl until the ingredients are completely combined and you've made a smooth butter mixture
Mix the flour, salt and pepper together in a different bowl.
Dip the cod fillets into the butter mixture and then coat the fish with the flour mixture. The butter will make the flour mixture stick to the fish. Gently shake the fish to remove any excess mixture.
Place the fish in a baking tray.
Pour the remaining butter mixture over the fish.
Bake the cod fillets uncovered for 25 – 30 minutes, until the fish flakes easily with a fork.
Serve. Garnish with lemon slices and enjoy.
The next 3 recipes are some of our guides favourites and use Swartz packets mixes which are ideal and for convenient one-pot cooking. For more recipes visit www.schwartz.co.uk
Chicken Curry
To get you started, you will need:
1 sachet Schwartz Biryani Recipe Mix
15g (1/2oz) butter, unsalted
1 onion, sliced
4 fillets of Cod or 4 Chicken breasts
400g tin chopped tomatoes
150ml (1/4 pint) water
175g (6oz) basmati rice, rinsed
100g (4oz) frozen peas
Directions
Heat the oil in a skillet over medium heat. Place onion in the skillet. Reduce heat to low, and cook, stirring often, 15 minutes, or until soft and brown.
Add chicken and sachet contents, stir and cook for 2-3 minutes.
Stir in remaining ingredients and bring to the boil. Reduce heat, cover and simmer for 15-20 minutes, or until chicken/cod is cooked through and the rice is tender.
Fluff rice with a fork and serve.
Chilli Con Carne
To get you started, you will need:
1 sachet Schwartz Chilli con Carne Recipe Mix
450g (1lb) beef mince
400g tin chopped tomatoes
400g tin red kidney beans, drained and rinsed
125ml (4floz) cold water
Directions
Brown mince for 4-5 minutes. Drain excess liquid.
Add sachet contents, tomatoes, kidney beans and water. Bring to the boil, stirring.
Cover and simmer gently for 15-20 minutes, stirring occasionally.
Serve with rice and garlic bread.
Sausage Casserole
To get you started, you will need:
1 sachet Schwartz Sausage Casserole Recipe Mix
450g (1lb) sausages
1 onion, sliced
2 tbs tomato puree
175g (6oz) mushrooms, sliced
300ml (½ pint) cold water
Directions
Pre-heat oven to 180ºC, 350ºF, Gas Mark 4.
Fry sausages for 4-5 minutes, until browned. Drain excess liquid. Add onion and cook for a further 3-4 minutes, until softened. Stir in tomato puree and cook for a further minute.
Transfer to a casserole dish and add mushrooms. Mix sachet contents with water and add to casserole dish. Cover and cook for 1 hour.
Serve with mashed potatoes and green cabbage.
These are just a few helpful suggestions from our Norway guides to hopefully make your self-catering experience that little bit easier.
We'd love to hear all about your tips for catering and travelling and please share your favourite recipes with us below…..
Lets make the ideal recipe list for self catering in Norway.
Until next time, tight lines
Paul Stevens
CONTACT US
If you would like to speak to one of the Sea Fishing specialists at Sportquest regarding Norway , then call the office on 01603 407596 or by emailing them at info@sportquestholidays.com. Lots more information on other useful tips and tricks can be found on our sea fishing blogs, the main page here and also all the information on all our hosted sea fishing holidays can be found here.