As you drift along on the cold Norwegian waters winding your saltwater surface popper lures in, the lure itself creating bubbles and disturbance in its wake, out of nowhere the water around it erupts, with both fish and lure now airborne. You tighten down and the rod doubles round violently, excitement takes over your whole body as its now fish on and this fish is screaming off at a rate of knots. Ladies and gentlemen this isn't just any Norway fishing, this is Surface Lure Fishing for the immensely strong, hard fighting, Coalfish.
Here at Sportquest, we have a lot of customers asking us about this type of fishing, it is something out of the norm for Norway and is proving very popular due to the excitement it gives those doing it. With this in mind, we have collared Sportquest destination manager and Norway host Paul Stevens for a few minutes to answer some of the questions we get asked about using these lures in Norway. Hopefully, these questions and answers help those of you that are planning to head out to Norway and give Surface Fishing a go in the near future.
What rods reels and lines would you recommend for fishing in Norway?
I like to use a rod around 7 – 8 ft with a casting weight of 40 – 140g. The rod I am using currently for this style of fishing is the Westin W6 travel popping rod, I think it's just over 7ft. Theses rods are expensive but I am a strong believer in buying them once and you get what you pay for. The reel of choice is the Penn Slammer, these are great bits of kit and will handle most species with ease. My go-to braid is 65LB Power Pro Braid, I find it is the most suitable for this type of fishing. Hardly ever any wind knots and very smooth through the eyes. Couple this with a short 60LB mono leader.
What destinations and at what time of year would you advise customers to go out to Norway to use saltwater surface popper lures?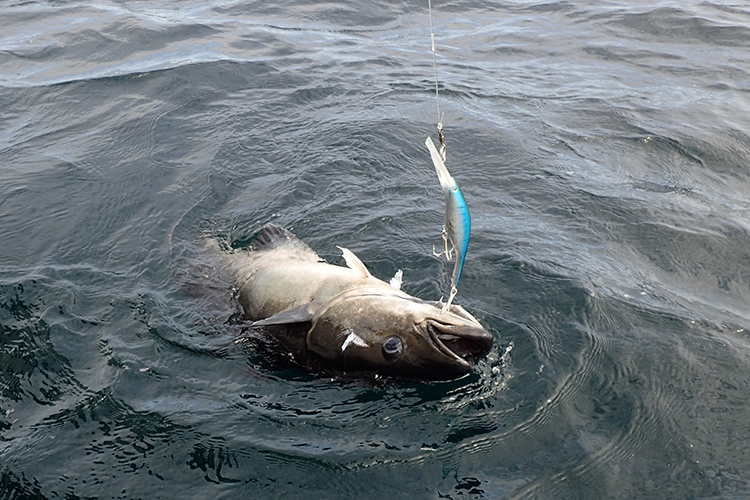 The best destination I have been to for surface caught Coalfish has to be Å on the Lofoten Islands. There is an area called "The Stream" where two currents meet. When this happens the fishing for Coalfish is off the scale. The season for the Coalfish is June through to October with the peak surface months being July – September
What conditions do you need to have the best chance of catching with saltwater surface popper lures?
Personally, I like it to be overcast with high pressure this will bring the Coalfish to the surface. If you have bright sunny days then try fishing during / late evenings the sun will not be so high.
What saltwater surface popper lures would you recommend?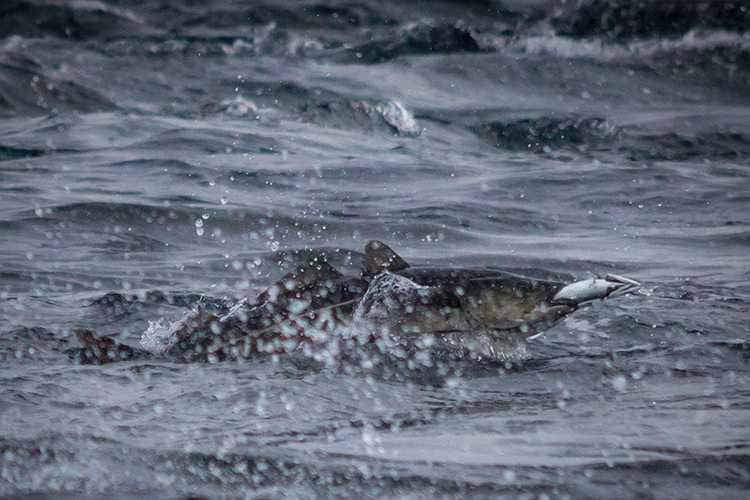 My go-to lure for this style of fishing is the Westin 12cm Swim / suspending lure. They produce a few different patterns but they all work. To be honest, I have seen people use so many different types of lures and they all work as there are so many fish shoaled up in the stream that they do not have time to think about the lure they just attack it. Other surface lures such as the Rapala X-Rap explodes all work very well.
What is the best way to make the popper work how it should and get the Coalfish interested?
As mentioned above, the shoals that patrol the stream are massive and will attack pretty much any style of technique. That's why it's such a good place for beginners to practice lure fishing as the Coalfish are more than obliging to hit pretty much anything. I find that a good speedy retrieve is the most important thing, it seems the faster you retrieve the bigger the fish you catch.
How do you practice catch and release with the Coalfish, how do you handle them in the boat?
I have fished for Coalfish for many years and it's a fact that the big ones are hard to release, but I got told something a few years ago from a very good friend who guides for a living. The best way to release big Coalies is to crank up your clutch so they can not take any line. Once you have won the battle and if you want that trophy shot, carefully cradle the fish out of the water by its head and tail lift it quickly for a picture and then throw it headfirst back into the water (please make sure you have the camera and scales ready first before bringing the fish onboard) and be as quick as possible as these fish fight their hearts out.
How will I know if the Coalfish are feeding on the surface?
The best and most obvious is birds feeding on the surface. It's always worth a look if you see this happening no matter where you are in Norway. The signs I look for at Å on the Lofoten Islands are when the two currents start to meet this causes huge boils which in turn disorientates the baitfish making it easier for the Coalfish to use their speed to smash the bait balls and the other obvious sign is Coalfish throwing themselves out of the water as they push the bait to the surface.
Can I catch any other species whilst using saltwater surface popper lures in Norway?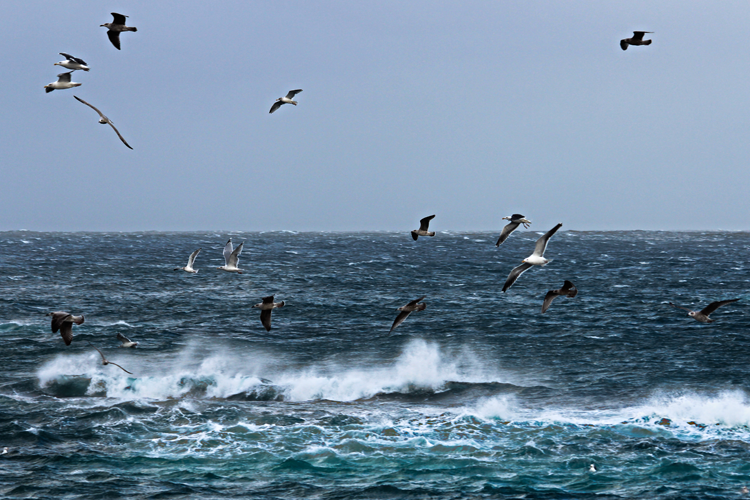 It is very unlikely.
Do I need any other specific items in the boat with me when doing this type of fishing?
A good pair of pliers to unhook fish, other lures rigged ready to use (As time spent rigging new lures will waste time in the feeding window) and another very important piece of equipment is a good quality pair of glasses as I have seen lures fly out of fishes mouths to only just miss the anglers face. Having a pair of glasses on will protect your eyes from flying hooks and lures.
Why would you recommend popper fishing for Coalfish to our customers?
This style of fishing is very active and visual, it will appeal to so many anglers out there. The first initial hit from one of these Coalfish is like receiving an electric shock down the rod then the fish tries its hardest to rid itself of the hook. It really is something that everyone should try and believe me once you have witnessed a feeding frenzy of big Coalies on the surface, you will be hooked.
Some very helpful answers there, thank you for your time, Paul. Hopefully, this helps any anglers reading this article that was wanting to give this fast-paced, action-packed style of fishing a go.
There has been an amazing video made of this type of fishing over in Norway, You can find the full video here on our channel.
Tight Lines,

Sportquest Holidays
Contact us
If reading this has got you interested in trying this type of fishing, then why not have a closer look at our tour of Å in the Lofoten Islands, Northern Norway. This tour comes in two versions, one with guiding and one without guiding and is where all images in this blog have been taken! If you would like to speak to a member of our sea fishing team, you can contact them on 01603 407596 or by emailing paul@sportquestholidays.com.