Madagascar is home to some of the worlds best popper and jig fishing for such species as GT's, Dogtooth Tuna and many other reef-dwelling species. A big attraction to this location is the fact that you don't have to be hugely skilled in lure fishing as there are many chances per day to get your dream catch, whether you decide to popper fish all day every day or mix it up a bit with some verticle jig fishing or even trolling.
Of course, having some knowledge of this style of fishing will benefit you, but along with the fishing guides and boat captain, you will be in great hands, and they will soon be having you throw lures like a pro.
Another advantage of fishing in Madagascar is the different varied routes or areas you can fish. This will be decided on a couple of factors which will be down to the species you want to target and the weather conditions at the time. The Captain will decide on where you will fish depending on these important factors.
As you will notice, the accommodation will be based on one of the stylish Catamarans that will take you out to the best fishing grounds. You will then depart each day on the sleek sport-fishing boats designed for lure fishing with big casting decks suitable for up to 4 anglers to fish comfortably. Why base the accommodation on a Catamaran and not land-based? The simple answer is the fishing is better the further you get from the Island as the fish see far less pressure. Below we have listed the options that will be offered when you have booked your next fishing adventure.
Fishing Regions of Madagascar
3 regions around Madagascar are accessible to anglers wanting to fish these waters; departing from Nosy be you will have the opportunity to fish the Indian Ocean and head either North, South or West from the harbour to the 3 different areas in which you can fish. These areas all have different marks from which you can catch the resident species. Which will include big Giant Trevally, Dogtooth Tuna, Sailfish and Marlin, all of which are viable targets on both poppers and jigs.
North Nosy Be
Firstly we have North Nosy Be as a fishing destination. The fishing here will be conducted from Madagascar's northwestern coast, from the legendary Cap Saint-Sébastien to the fiery Cap d'Ambre (the extreme north of Madagascar) to the surprising and unknown area of Banc Intermediaire or the famous Courrier Bay.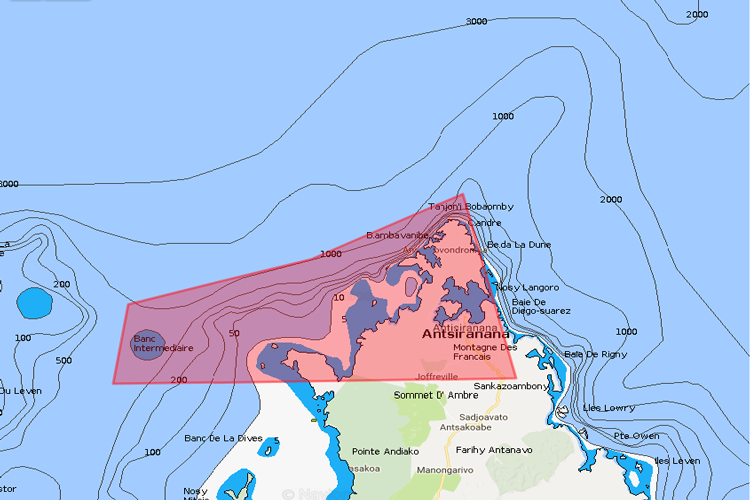 The northern region of Nosy Be
These are preserved sport fishing sites and are exceptional for their breathtakingly wild beauty and prosperous sport fishing opportunities. These areas are a fabulous anglers playground, on a coastline of over 120km and a continental shelf over 15km wide.
You will have the possibilities to fish in several different areas during your stay, which you will discuss with our fishing guides once onboard the Catamaran. Here you will have the chance to battle with some phenomenal species, including GT's, Dogtooth Tuna and Dorado.
West Nosy Be
Next up as a fishing destination is west Nosy be. Being 40 km north-west of the island of Nosy Be, why not discover the fabulous Leven bank, which covers an area of about 2500 km² and is by far the largest offshore bank of Madagascar.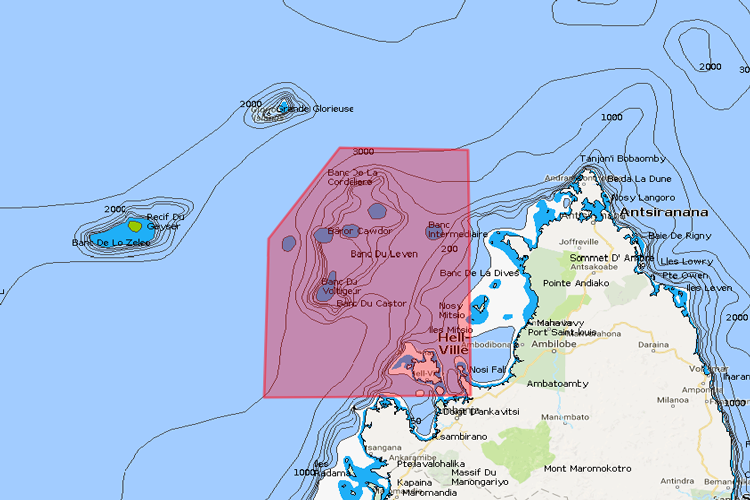 The Western region of Nosy Be
In connection with the auxiliary banks of the Great Beaver in the South, the Voltigeur in the South-West and the Cordelier in the North, it forms a base of volcanic origin. Being 90 km long and 15 to 30 km wide, this bank appears as a vast mass tabular bank with cut out contours.
This really is a gigantic anglers playground whose surface is swollen by up to 15 metres deep, where many coral formations develop. This is a fantastic place to fish, with great fish coming from here each year, including some monster Giant trevally to both popper and jig tactics.
South Nosy Be
Last but not least is South Nosy Be, which has some beautiful waters for you to fish, some of these being virtually untouched by anglers.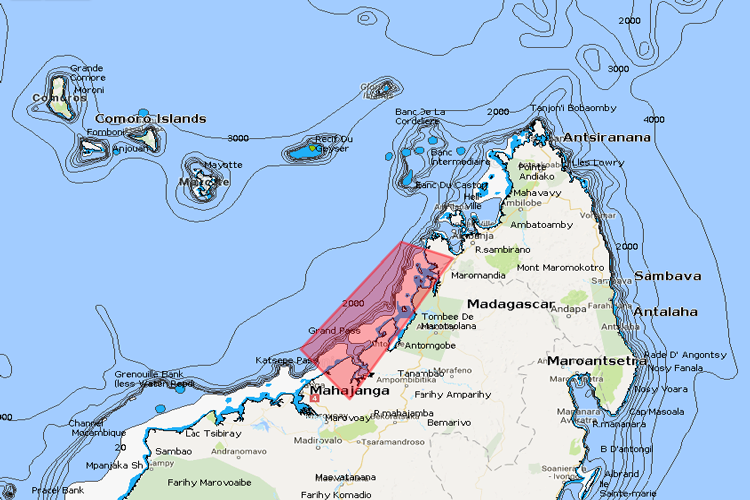 Southern Region of Nosy Be
We fish some of the most famous areas from the archipelago of the Radama through to Nosy Lava Island, which is a truly spectacular place to fish. You will also have the opportunity to head to and fish marks such as Narinda Bay, Moramba Bay and to the gates of Majunga (according to the length of your cruise).
When fishing these marks, you will soon discover the huge, diverse fishing opportunities that this part of the world has to offer, and you may even fish virgin spots still abundant with big uncaught fish.
Madagascar Fishing Holiday
So as you can see, the destination of Madagascar is one that just cannot be missed. This truly stunning country, along with its beautiful fish-filled waters, gives the travelling angler the chance to target some of the planets hardest fighting species.
Contact Us
Madagascar really is a one-of-a-kind destination, catering to both anglers and holiday-makers. You can visit our Madagascar Fishing Holidays page for even more info here. Alternatively, you can contact our big game fishing team today by calling 01603 407596 with any questions you may have or by email at info@sportquestholidays.com.
Tight lines,
Paul Stevens