Over the years of driving boats in Norway we tend to take it for granted that everyone knows how to drive them their selves, but sometimes this is what puts people off from travelling to this stunning fish packed country. Yes, you get an orientation when you turn up but this is normally fairly quick and then you are left on your own to work things out. Having been to Norway for the last 15 years it has taken me some years to get everything right and its only with practise that I can now safely drive one of the Nordic Sea Angling Boats.
The onsite Nordic Sea Angling guides try their hardest to make sure you are 100% comfortable before you take a boat out, but we are fully aware that you may find yourself saying you know what to do but deep down are dreading the thought of being responsible for the boat and three other crew members. So, we thought we would try and give you as much helpful and useful information as we can from years of driving these amazing boats, and we have also asked some of the other Sportquest Holidays guides to give us some of their top tips to also bear in mind when taking a self-drive boat out for the first time.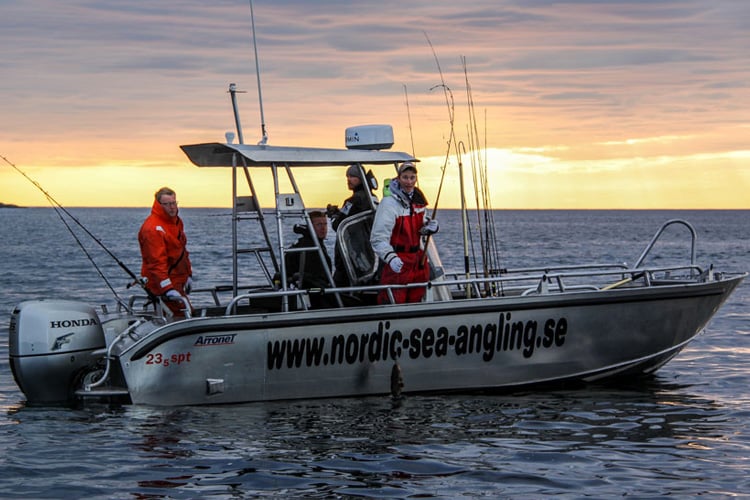 We will start with things you need to bear in mind before leaving the country. There is a very old rule in Norway that many lodge owners are trying to get over turned due to it being very out of date, however, we still have to stick to this as currently it is in place and a legal requirement when hiring self-drive boats, but remember this only applies to people born after 1980. I will explain the process –

In Norway, persons born in or after 1980 need a power boating licence in order to operate a recreational craft of between 8-15 meters in length, or with an engine with a greater effect than 25 HP

Powerboat Licence
OK, so basically one person in your group will need to book and take part in the process of passing your boat licence. The licence is very easy to get and many marinas around the UK will be able to offer this. There is a charge but if the entire group chip in a little money each for the 1 person to do the test then it is not too bad. It's normally performed over 2 days and you can find many different dates available and is very easy to book. Here is some further information to help you. Please don't worry about this as I have been assured it is very rare for anyone to fail and will only need to be taken once then you can use it year after year.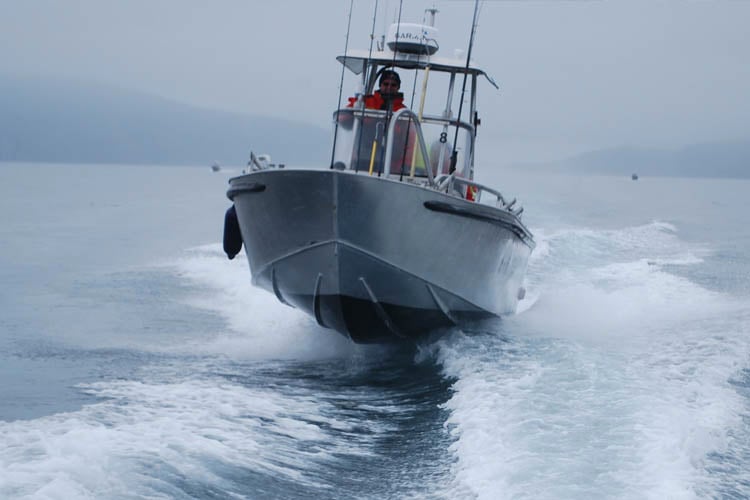 The course provides the skills and background knowledge needed by the competent powerboat driver and is the basis of the International Certificate of Competence. It aims to teach boat handling and seamanship in powerboats. It focuses on low speed close quarters handling, man overboard recovery, an introduction to driving at planning speed, and collision regulations. The course can be taken at an inland or coastal location. It may be conducted in a variety of boat types, both planning and displacement. The certificate issued will be endorsed to show the type of boat in which the training took place.
Here is a link to find out more and also book your course – https://www.rya.org.uk/training/courses/level-2-powerboat-handling-pl2c
Now you are fully prepared for your journey to begin. Once you have arrived at any of our Nordic Sea Angling destinations (Havoysund, Vesteralen, Nappstraumen and Å) you will receive a briefing on your self-drive boat. The guides try to cover everything they can but the briefing is quick as they have lots to cover and lots of guests will be arriving at the same time. We strongly suggest that the entire group go down to listen to the briefing and that way there are 4 pairs of ears and the pressure isn't just on the captain of the boat. They will talk through, fuelling the boat, how to turn the boat on and off, a little about the chart plotter and fish finder and lastly safety at sea. I will below cover these important points in more detail. You will then be invited to the fishing office to sign some paper work for the boat where you will have to provide 2 different mobile numbers and they will ensure that you put their phone number in your phone so please make sure you remember to take your charged up phone with you every day as if you are in an area with no radio signal they may need to call you in case of bad weather coming in.
Fuelling The Boat
When you arrive at any of the Nordic Sea Angling destinations your boat will be fuelled ready to go and it is your responsibility to ensure that the fuel is topped up after each outing. We recommend you getting into the habit of topping the fuel up each day. Each destinations has different methods of fuelling but the same principle applies at each location. Here is a little information on fuelling at each destination, how to do it and how to pay for it.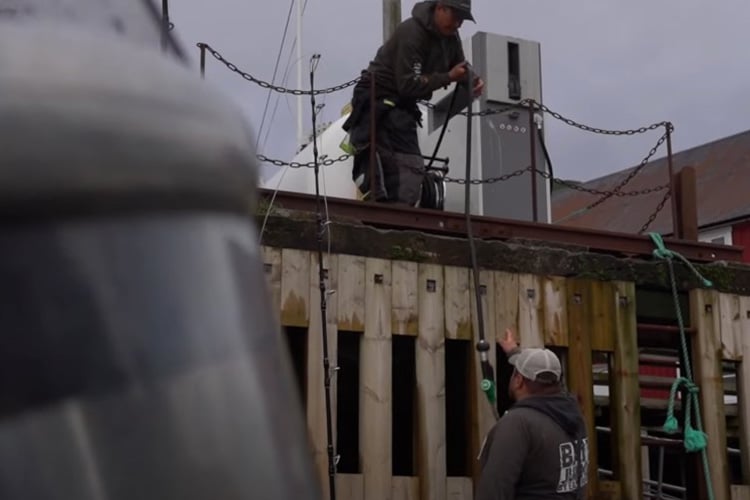 Havoysund – As previously mentioned, your boat will come with a full tank of fuel ready for your first day. When you hand your boat back it must be full the same as when you received it. The fuelling station is located on a separate dock just behind where the boats are moored. Each day, simply move your boat to the fuelling dock, then someone needs to go up the slope where you will find a petrol pump. You must have with you a Debit/credit card for this process. Simply pop your card in, enter your pin, and then a friend can then start fuelling the boat. Once you have finished you can then request a receipt from the machine. Please be warned that AMEX cards are not accepted at the fuel pump.
Vesteralen – As above with regards to keeping your boat fuelled pleas ensure this is done after each fishing day and return the boat at the end of the week, completely full. The fuel is received differently here and Nordic Sea Angling have a large metal shipping container that has 25ltr petrol tanks already for the boats. Each time you need fuel an onsite guide will assist you with however much fuel you need. TIP – Before heading to get your fuel make a note of how much you have used which can be found on the electronic read out located next to the throttle on your boat. The guide will then issue you with the correct amount of petrol cans which you will then be requested to sign for so you know how much you have used during your week. At the end of the week you will then be invited to the fishing office to settle your bill at the end of your week. All fuel MUST be paid for on a card at the end of the holiday.
Nappstraumen – The process for fuelling the boats at Nappstraumen is identical as Vesteralen, however, you can, if you so wish, go to the local petrol station and get your own fuel. Please remember that all fuel used must be paid for on a credit/debit card.
Å – As above, please keep your boats fuelled up each day. The guides will inform you when you arrive on how to and where to fuel your boats. The fuelling dock is located a couple of minutes' drive from the main dock. Pull your boat up and walk up the little gangway to the fuel pump which you can then lower down to one of your friends who can fill the boat. Each cabin and boat will come with a card that looks just like a credit card. On the back there is a unique pin number associated with that card, this is what you will use to fuel your boat. Simply pop the card in to the fuel pump and follow the instructions. At the end of the holiday you will be invited to the reception where they will request the card which they will then download your fuel usage and the request a card for payment. You will then get a print out of the fuel used.
Switching The Boat On & Off
This may sound very easy and straight forward but there are some simple steps to make sure you follow to ensure you don't lose any time in the mornings with flat batteries. Each of the Nordic Sea Angling boats have two major switches located at the rear of the boat behind a latched door. Behind this you will find two red power switches, it is important that you remember to switch these off after each day as you will be disappointed in the morning when your boat doesn't start. When you get to your boat in the morning, there are a couple of things you will need to make sure you do.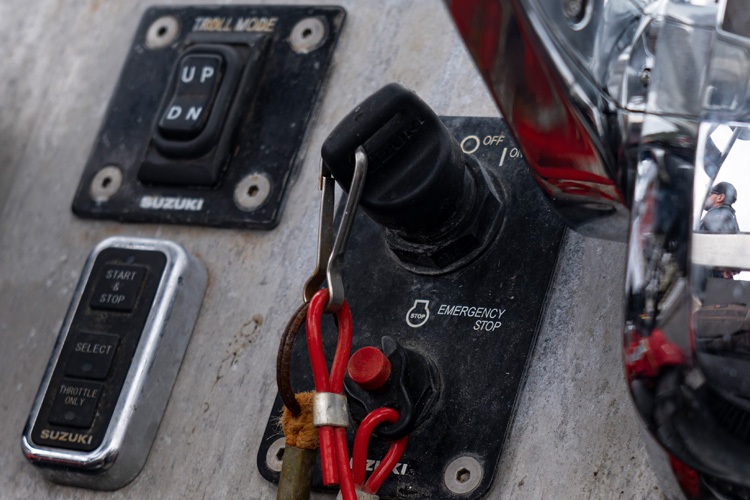 First, open the latched door at the back of the boat and switch the two red switches to the 'on' position. You will hear the chart plotter kick in and also the radio.
Second, once the electrics are on you will need to lower the engine so the propeller is in the water (after each day it is advisable to lift the motor using the electronic trim up & down button press the up button all the way until the engine stops moving then when you get on your boat make sure you perform the opposite action and lower the engine back in the water) once you have lowered the engine it is time to hit the start switch located next to the throttle. Keep this pressed until the engine kicks in.
Once the engine is running you can then make sure the radio is on the correct channel (this will be given to you by the Nordic Sea Angling Guides) turn on both the chart plotter and the fish finders and you can set sail.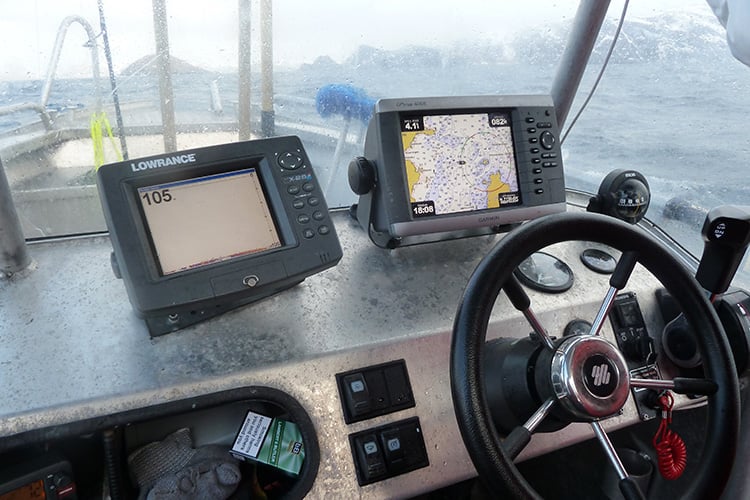 Chart Plotter & Fish Finder
Both the above are vital to get the most out of your fishing holiday and used correctly can make a huge difference. We wont go to much in depth with these as this blog would just go on and on but here are some useful tips to get you started and hopefully will put more fish on the boat.
Both the plotter and fish finder will be automatically set up on a standard setting which for most will be absolutely fine but there are just a couple of things that you could know that may help you.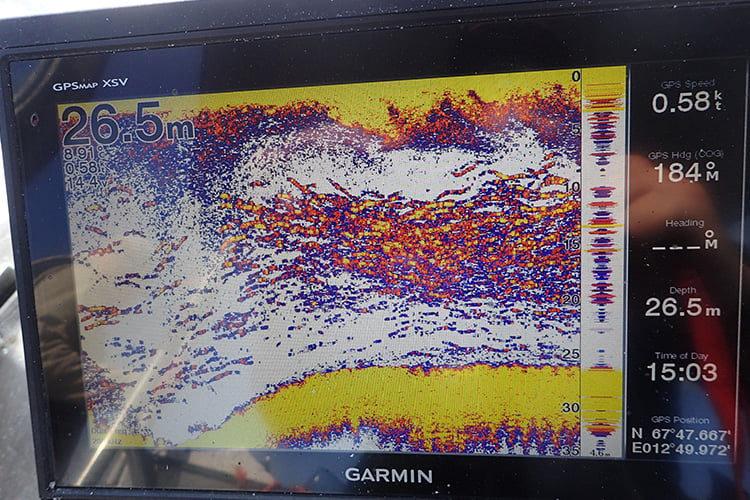 I will start with the chart plotter. These have many different marks on that the Nordic Sea Angling update on a regular basis. If you have already chosen a fishing mark then simply press on the little square button with the up and down arrows until a cursor appears on the screen you can then move the cursor to your chosen fishing mark. Once you have the cursor where you want it, press select course or navigate to and then you will see a thick line appear which will be from your current location to your chosen fishing spot. Once you have started motoring you will see that you map is showing your heading and then it's as simple as following the navigation line which will tell you when you have arrived at your location. Remember that this line is what they call 'As the crow flies' and isn't like a sat nav on a car so if there is a mountain in between where you are and where you want to fish, the line will go straight through the mountain but of course, you will need to navigate round it.

Once at your location it is advisable to go through the menu on the chart plotter and change it from Navigation to fishing chart. When the screen changes to fishing chart this will give you the contours of the sea bed which is very helpful for finding likely looking areas to fish.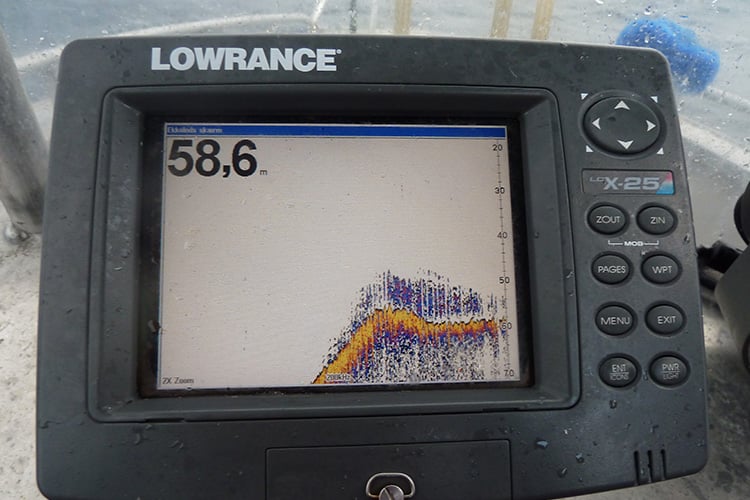 Things to look for are steep shelves which are ideal areas for Halibut to patrol, flat sandy plateaux's with good average depths are also good Halibut holding areas. Areas for Cod can vary but a good area to look is where there are steep drop offs and fish on the deeper side. Areas to target will all depend on tides, times of year and also species targeting and will come with experience. If you are unsure on where you should be targeting certain species, always ask the onsite guide to show you areas to target your chosen species.
The fish finder is always set up to be the most effective it can be so unless you know the ins and outs of this piece of equipment it is advisable to leave it as it comes. The guides have set these up to what they think is the most preferred way and in my opinion, it is normally more than sufficient.
Safety At Sea
This part, you really must take note of the briefing at the start of your holiday as it is of paramount importance that you abide by all the rules and regulations to ensure you are kept as safe as possible whilst out on the water. Remember that even in the summer the water temp is still very very cold in Norway and very rarely gets above 15 degrees and in the Spring can be as low as 4 degrees so it's important that you pay attention and respect the sea.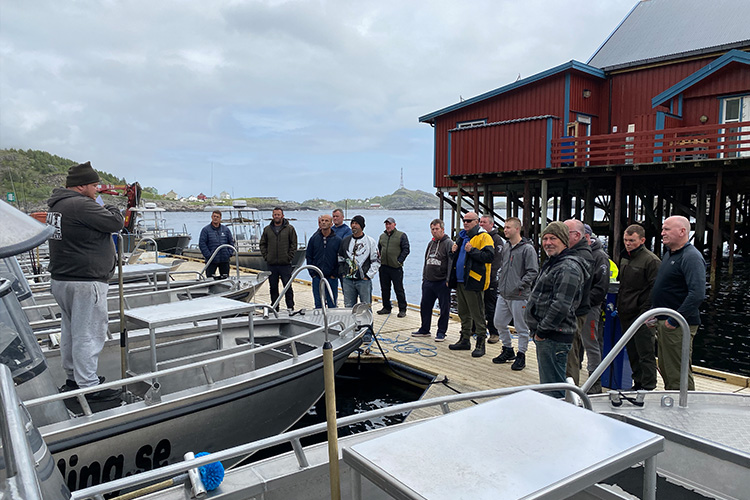 One of the most important things to remember is the zero alcohol tolerance when taking a boat out in Norway. The guides at Nordic Sea Angling are very strict on this and if anyone is found to be drinking or taking drink out on the boats will remove the keys from the boat for a day. Please remember this as you may think that what is a couple of beers going to harm anyone? It may be the difference of you making the right decision that needs to be made in a split second, you just never know when something may happen and having a clear head will always improve your decisions.
Before getting on your boat please always hire a flotation suit or a life jacket, this may not sound that important but believe me it may just save someone's life.

When driving these boats ALWAYS make sure people are sitting at the back of the boat. No one under any circumstances should sit forward of the wheel house when the boat is underway as if you hit a wave doing any more than 18 knots the person at the front of the boat could be flipped in the air and come crashing down on the solid boat causing life changing injuries. Simply sit behind the wheel house and everyone will be safe while moving from spot to spot.
The captain of the boat will always have to stand while motoring around, this standing position will help you see more of what is coming up. You never know what can be floating in the water and having extra seconds to see any objects may save you hitting it.
When out fishing, the boats must always stay turned on with engine running. This is very important as you will still be using all of the onboard electronics and if you switch the boat off they may well not start again. The boats use very little fuel when in tick over and the most important thing is that the batteries will not go flat and will get you home.
As previously mentioned, please ensure at least two fully charged mobile phones are on the boats at any given time and that you have the guides phone number stored in both phones. TIP – It is wise to speak to your provider before travelling to make sure you have international calling set up for Norway.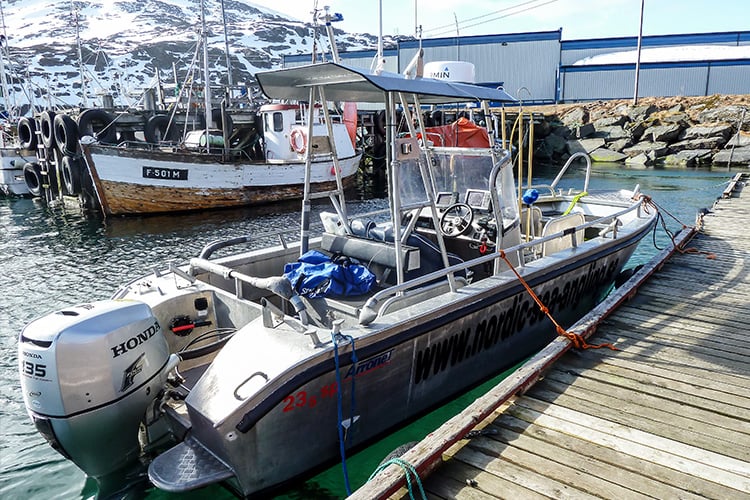 All the Nordic Sea Angling boats come equipped with a system called AIS which is an automatic Identification System (AIS) This is an automated tracking system that displays other vessels in the vicinity. The broadcast transponder system operates in the VHF mobile maritime band. Your boat also shows on the screens of other vessels in the vicinity, provided your vessel is fitted with AIS. The onsite guides can also track your boat in case of any emergencies, an invaluable system that all boats should come with when out on a self-drive holiday.
The Boat Comes Equipped with
Each of the Nordic Sea Angling boats come equipped with the following items to make sure you have a good day at sea. 1 bucket on a rope, an unhooking tool, a pair of bogey grips, 1 tape measure for measuring your halibut, a lip hook attached to a length of rope for securing your halibut, a tail rope to slide over the halibut for securing to the boat (Video showing you how to do this), small hand gaff, a large gaff, a fish box if you are keeping your fish and an emergency pack with flares.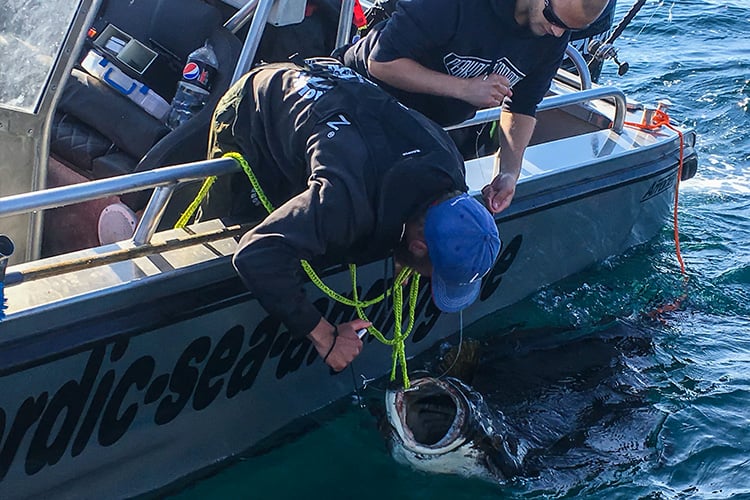 TIP – There some items that are worth packing that you may not of thought of – A heavy duty pair of side cutters in case you have to cut the hooks, a pair of long nose pliers for removing deeply hooked fish, a filleting knife to bleed your fish, a printed out Halibut length to weight chart (downloaded from the internet), a set of digital scales, a large bag (like the Ikea bags) or carp fishing sack to weigh your fish in.
Useful Apps & Websites
A good weather website for the whole of Norway is YR.no
A good app to have on your phone is the Navionics Boating App this will give you all the charts on a free two week trial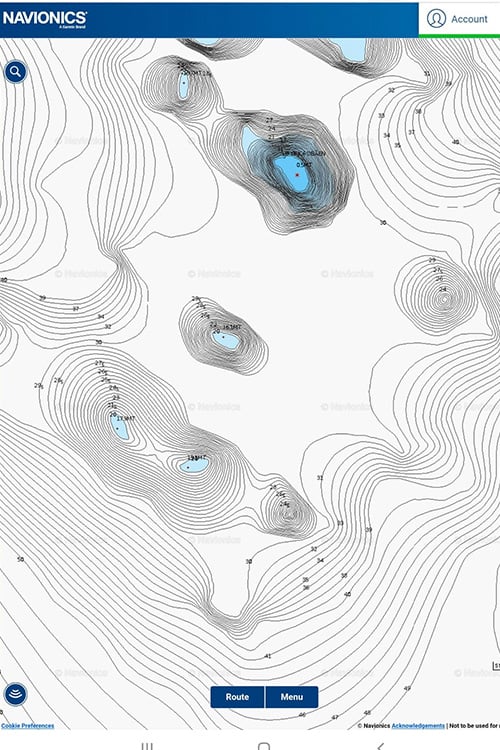 Kystinfo is also a very useful app showing what the bottom of the sea is made up of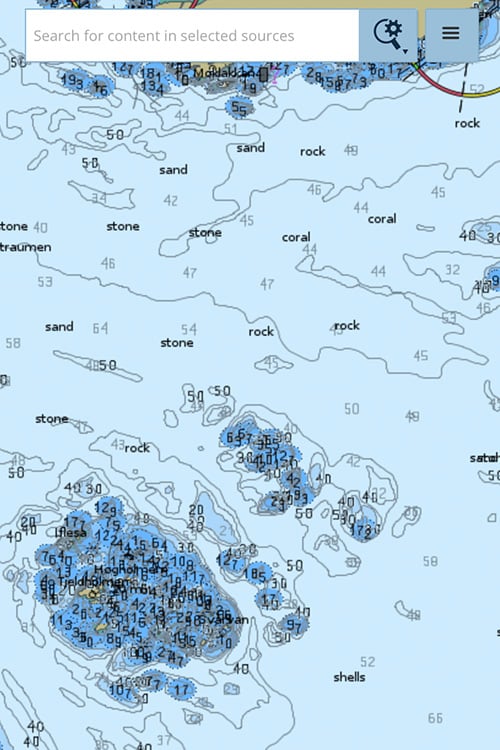 The best and most accurate app available and one that I use all the time is BarentsWatch then look on the for wave forecast. This gives the most accurate prediction and live forecast for anywhere you are thinking of fishing.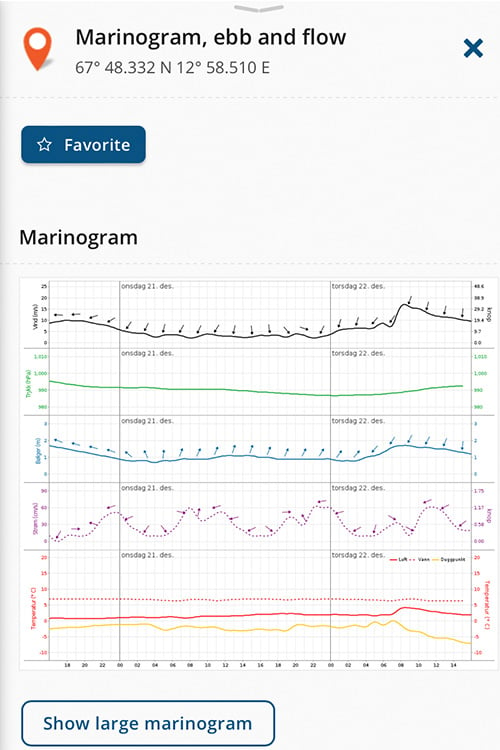 You can pick the area you are thinking of fishing and wit will tell the wave height, wind speed, tide and air temperature. It is one that shipping vessels use and you can also track any other boat that has the AIS on their boat, so it will pick up all the commercial boats which sometimes are very handy to know especially when fishing for Skrei Cod.
CONTACT US
If you have any questions regarding our Norway sea fishing holidays, please feel free to contact us on 01603 407596 and our experienced team will be happy to help. Are you looking to explore some Cod, Halibut or Coalfish destinations? You can get a great look at our tours on our dedicated Sea Fishing Youtube Playlist.